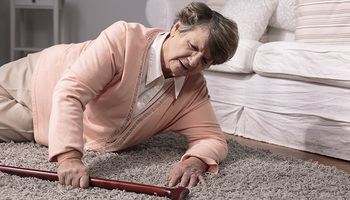 All Rights Reserved
If you have an aging loved one who lives alone, it's normal to worry from time to time about their safety. For many older adults, a personal emergency response system (PERS) can be a lifeline, ensuring they get the help they need in the event of a fall, slip or other medical emergency.
These devices connect the user to professionals who will diagnose the seriousness of the situation and decide whether to call an ambulance or a designated family member or a friend.
The typical medical alert system package contains the equipment — including a receiver console that plugs into a regular telephone jack, and a small push-button receiver — and a call service that connects the user to the system's emergency response center.
Choosing the right medical alert system package for you or your elder loved one can be life changing, but since there are so many different systems available, it can be tough to know where to start. We've rounded up eight of the top-rated medical alert systems for seniors available today.
1. Bay Alarm Medical
Bay Alarm Medical offers the versatility of choosing from a traditional medical alert system that works with or without a landline, or a mobile GPS that doesn't keep you attached to a mobile base station. The company is also known for its excellent customer support. Plus, you don't have to sign up for a long-term contract.
Pros: Wide range of services backed by excellent customer support, and an incredible 1,000-foot range. It also comes with a 30-day free trial.
Cons: Few, if any.
Cost: Services start at $27 per month.
To order: BayAlarmMedical.com
2. Life Alert
Life Alert is a well-known name in the medical alert systems field, including for its long-standing commercials with the famous refrain — "I've fallen and I can't get up!" But the brand is also well known for its reliability. The Life Alert wristband provides round-the-clock emergency help even if you or your loved one can't reach a phone.
Pros: Life Alert's wristband package offers a 911 mobile phone and has a range of 300 feet. Its monitoring services are in-house, not outsourced.
Cons: The wristband doesn't have automatic fall detection.
Cost: $50 for landline, $60 for cellular phone, $70 for mobile phone.
To order: LifeAlert.com
3. Philips Lifeline
One of the oldest and largest medical alert companies in the U.S., Philips Lifeline has long been an innovator in the industry — including the introduction of automatic fall detection. It offers both HomeSafe and HomeSafe with AutoAlert packages, and both types will call for help if you fall, even if you can't press a button.
Pros: It comes in both pendant and wristband form and has a two-way voice communicator that allows the Philips Lifeline response center to hear you from multiple spots in your home.
Cons: The system's warranty is limited to one year.
Cost: Starts at $29.95 per month.
To order: Philips.com
4. Lively Mobile
You can take Lively Mobile's medical alert system with you wherever you go because it's so easy to wear. It can be stored in your handbag or pocket, with a keychain clip, on your belt or on a watch-like wristband.
Pros: Lively Mobile's basic package is one of the most affordable and, again, you can take it almost anywhere — including in the shower, since it's waterproof.
Cons: Fall detection costs extra.
Cost: Basic packages start at $19.99 per month while the alert device costs $37.49.
To order: GreatCall.com
5. BlueStar Honor Care Ranger Mobile
BlueStar Honor Care is unique in that it's a veteran-owned company that is "dedicated to making life better for seniors veterans and their families," according to its website. Its Ranger Mobile device is easy to use and requires minimal installation. It's also waterproof, so you can bring it with you into the shower or tub.
Pros: The Ranger Mobile is the smallest mobile medical alert system on the market, and can be worn around the neck. And your price is guaranteed for life as long as you're a current customer.
Cons: There's no indicator on the device to let the user know if it's in need of immediate charging.
Cost: Packages start at $39.95 per month.
To order: BlueStarHonorCare.com
6. QMedic
QMedic offers users the choice of a waterproof wristband or pendant, and the option of a cellular or landline base station — meaning your home is covered whether or not you have a landline. It also features activity alerts that detect deviations in sleep and activity patterns.
Pros: QMedic is equipped with an impressive 1,000-ft. radius and a two-year battery life.
Cons: No GPS option for away from home.
Cost: Starts at $25 per month.
To order: QMedicHealth.com
7. Life Station
Life Station is a traditional, reliable medical alert system that also offers a new mobile emergency button which contacts 911 in case of an emergency. Installation is simple, and Life Station offers a rare 30-day money back guarantee. Just return it for a refund if you're not pleased with it.
Pros: Easy-to-use and install equipment, an excellent call center and a 30-day money back guarantee.
Cons: Not all pricing options are available on the Life Station website.
Cost: Starts at $29.95 per month.
To order: LifeStation.com
8. MobileHelp
MobileHelp is a mobile life alert system that comes in three different forms. The MobileHelp Classic is ideal for seniors who only need help at home, the MobileHelp Duo includes both the system's mobile device and wrist button or neck pendant and the MobileHelp Solo, which works both at home and away from home.
Pros: Comes equipped with both fall detection and GPS tracking capabilities, and users can try it out risk-free for 30 days.
Cons: The system only works in areas with AT&T coverage.
Cost: Starts at $29.95 per month.
To order: Mobilehelp.com