Oaklawn Health & Rehabilitation Center
300 Shelby Station Road, Louisville, KY, 40245
Talk to a Family Advisor: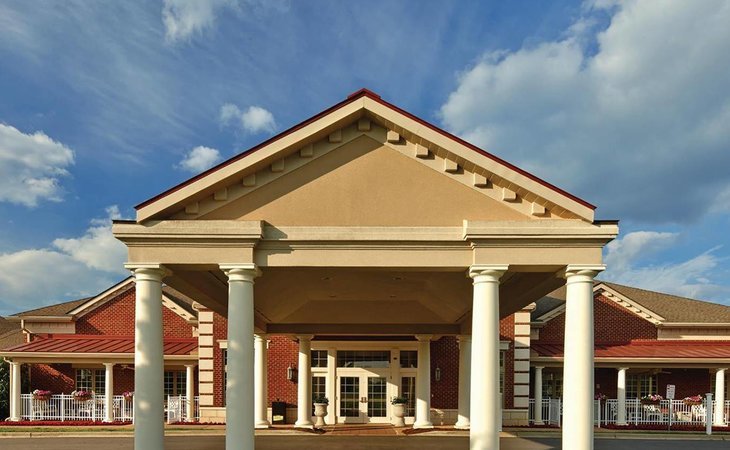 Reviews of Oaklawn Health & Rehabilitation Center
---
RitaJo
May 05, 2017
I am a friend or relative of a current/past resident
We highly recommend Oaklawn. The team that works on the rehab wing were absolutely amazing. Our family has worked in and with rehab facilities in the healthcare field. We have seen all manner of care, and have never been so fortunate as we were at Oaklawn. We especially want to thank Nurse Practioner Kaelin, who listened, and was positive and supportive; Drs Babar and Thompson who were so caring and supportive and positive. Rebecca and Brandon whose skill, caring, gentle bedside manner and compassion were outstanding. Dear LaToyea who even came in on her vacation to see how David was doing; and Hannah who kneeled down on the floor to talk with me and made sure a cot was ready so I could be near him. There are also numerous others who were so helpful. Knowing that these people were caring for David gave us all tremendous comfort. Ashley has to be the most intuitive, skilled and compassionate speech therapist we've ever seen. The dietician was fantastic, and ensured the food was spot on, checking in frequently to make sure things were satisfactory. Evangeline and Janice with PT and Corey with OT worked so hard to help David get stronger and more independent. They responded to all our requests and were flexible in letting us come along and be a part of the sessions, thank you. We also want to thank Carol in billing, she is knowledge and was wonderful to work with! Going through such a difficult time was made so much easier by this caring and compassionate team. Our family could not think more highly of them, and we are sincerely grateful.
---
mgs
February 15, 2017
I am a friend or relative of a current/past resident
My Mom has been there about 5 weeks. Since she arrived the bed soar on her butt has gotten larger and deeper. She does not get the food on time and there is always something missing from what she orderd. She is not getting the care she needs.
---
WDWoodz
February 04, 2017
I am a friend or relative of a current/past resident
House of Horrors: My dad was sent to Oaklawn for rehab but was placed on the nursing home unit because their was no bed available. The unit was under staff and his care along with others on the unit was neglected. He was on the wrong diet, he developed at uti and none of nurses detected it for weeks. They did not change him regularly and he developed a raw scotum as a result and it took 5 days from the time I was notice until the prescription arrived. The were administering his medicines incorrectly. To top it off he was slapped in the face by one of the CNA. While I was visiting I witness neglect of other patients on the floor. The outsource the CNA from a local agency which is provides substand and inconsistent care. The place looks nice and it clean, but that is a window dressing to the level of care that they provide. The therapists were excellent. Thank God my dad is home and in our care. I would highly discourage sending a love one there for nursing care and would not ever send my dad back in that mess.
---
SuzetteScheuermannRN
September 17, 2016
I am a friend or relative of a resident
NEGLECT! My friend was admitted to Oaklawn for rehab after open heart surgery. He lost 40 pounds, developed a decubitus to his sacrum, and was neglected. He had a thick layer of brown material from his lips to his throat which required significant nursing care AT HOME to remove. Please reconsider using this facility if you love your family member. If you want a slow, miserable death, this would be the place! Suzette Scheuermann RN
---
Caring_2643098
August 10, 2016
I am/was a resident of this facility
I have been a patient and I also work in healthcare so I can speak from both sides. The therapy team at Oaklawn is outstanding- the best around. The food was very good, and I met the chef in May and my entire family liked the food and selection. The nursing staff are hard working, and I know there are also some changes made to have better experience for patients. There is a Patient Advocate, and they don't have any agency staff which is unheard of in healthcare. I'd say overall experience 4.5 STARS
---
Bettyliz
March 27, 2016
I visited this facility
My husband was a patient at Oaklawn in January and I would not recommend this facility to anyone. The care was substandard at best. He was there over a weekend but that is no excuse for his treatment. I called the administrator to voice my complaints so his treatment does not happen to someone else and I am still waiting for a return call. There must be better places than this for a loved one.
---
Barbara108461250
June 26, 2015
I am a friend or relative of a resident
Our circumstances had changed, and mom had to go straight to a nursing home. This nursing home is called Oaklawn. I was familiar with it, for one thing, and I knew the people who had been there. This is her third trip there, so she is comfortable. The food is excellent, and every day they had some sort of activity. They do something just about every day, but mom is not able to participate.
---
gravelpt
December 30, 2014
I am a friend or relative of resident
If you have a loved one that is unable to talk or care for themselves, please DO NOT take them to Oaklawn. My mother had a severe stroke and received horrible care. If it hadn't been for all of our family taking turns she would've been stuck in her bed 24/7, left unattended. I came to see her one day & she was burning up with fever. From then on out we had to continuosly ask the nurses & aides to take her temperature. The website states that "Our trained and tenured staff are here to serve the many differing needs of our residents, promoting creative thinking and learning, with patience, kindness and, above all, compassion." This is the furthest thing from the truth. Several of the aids wanted to keep my mother's pajama pants off (after changing), for everyone to see her with a diaper. My mother would've been appalled! I even saw other seniors being neglected while my mom was there. A little woman was in the dining room trying to eat by herself but couldn't because her hands were shaking so bad. THe aid asked her if she was finished and the little old lady said, "no, I'm hungry but I can't eat because my hands are shaking so bad!". THe aid then said, "Ok, well let's go back to your room." So no...I DO NOT recommend this place.
---
Shirley49
June 17, 2014
I am a friend or relative of a resident
My husband went to Oaklawn. It is a owned by a company called Elmcroft. The people there were lovely. They seemed a little understaffed, though, but not relative to his care. Regarding his care, we couldn't have asked for more. As far as the treatment, the people could not have been lovelier. His care was just excellent. The staff doctor actually stayed in touch with me. He made several calls to me. I couldn't have asked for more. My husband's room was beautiful. The facility itself was clean. It was lovely. It was one of the newer facilities. As far the environment and aesthetic, it was really a pretty place. It looked like a nice hotel. I absolutely would recommend them to others. I would use it myself.
---
Kinz91
November 08, 2012
I am/was a resident of this facility
The staff was incredible, helpful, and extremely friendly at this facility. The volunteer coordinator especially helped plug you into activities with the residents and formed close relationships with the residents. The food services were fantastic and they even offered free food for visitors on occasions. They had activities such as bingo and small parties where the residents could earn prizes and quarters. The outside of the building had a garden, pond, and fountain and was absolutely gorgeous! One time, they even hosted a prom fashion show in which all of the girls from the local high school came and modeled their dresses for the ladies and it was so much fun to be apart of. Oaklawn staff has a way of keeping their residents connected to the outside world, but making it feel like a home. If I ever had to go to a nursing home, this is where I would want to go.
---
erin2006
August 28, 2012
I visited this facility
Oaklawn is a newer facility and it shows. The staff are very attentive and it is always easy to find a nurse or nurse assistant when one is needed. The facilities are clean and well maintained. The front desk staff is kind, courteous, and welcoming. They always have activities for the residents to participate in.
---
OaklawnGrampa
October 20, 2011
I am a friend or relative of a resident
My experience has been very good with Oaklawn here in Louisville, Ky. The staff treated both of my father's parents (my grandparents) a few years apart with excellent care. To start, the facility is very well managed, the floors are clean, activities are offered, and in house physical therapy is available. The building reminds me of a 4 star hotel with its accents and pictures on the wall. Both of my grandparents had a very large private room. My grandfather died at Oaklawn a few years ago but my grandmother got better and just recently left and is now living by herself back at her home. The staff is very well mannered and the food is made by top chefs. The price is very steep but for just over $3000 a month you get all the care and resources you need to keep your family members comfortable. After seeing the cost of such services it makes you realize the importance of buying long term care insurance starting in your 40's while it is cheaper. The grounds at Oaklawn had many wildlife animals running around and into the lake such as the ducks and other birds. The back of the property was wooded and very pretty at night to watch sunsets and to sit at the many simi-private decks to look out and get fresh air. They even have a large bird cage with colorful bird chirping and greeting you as you walk in. Each room had several chairs, a desk, table, tv. couch, hospital bed, private bathroom, and 24 hour on call care technicians, nurses, and care aids. The facility is very nice and perfect to rest and heal if you just got out of a serious surgery and need to rest for a few weeks. Oaklawn is a nursing home for long term care, assisted living home for those with slight limitations, or can be used for short term rehabilitation. I highly recommend this facility if you can afford the price tag.
---
SporksMik
June 01, 2011
Friend or relative of resident
I have had two separate dealings with this nursing home. My mother had had both of her knees replaced and had to stay at a facility where she could be watched and taken care of on a 24 hour basis, as well as complete physical therapy at least once a day. This facility was excellent to my mother and I. They had great food, and even allowed me to have Christmas dinner with my mother, which to my surprise was a first class meal. The nursing staff was great, and catered to my mother's every wish. The physical therapy department was also great, and they allowed me to sit in on sessions when I was able to visit. My overall review of this facility would be the best possible place for my mother to stay. They treated her very well, and myself as well.
---
About Oaklawn Health & Rehabilitation Center
---
Oaklawn Health & Rehabilitation Center is a nursing home in Louisville, KY that provides patients with skilled nursing care as well as private or shared accommodations. Contact Oaklawn Health & Rehabilitation Center for more details on housing, services, and rates.
Features of Oaklawn Health & Rehabilitation Center
---
Costs
Minimum Rate:

$5555/month
Medicare (ratings last updated: 07/10/17)
Health:
Quality:
Medicare Provider Number: 185455
Ownership Type:

For Profit Corporation

Date Certified:

06/01/2017
Location of Oaklawn Health & Rehabilitation Center
---
Request Info
Get full access to reviews, cost information, and amenities