Douglasville Nursing and Rehabilitation Center
Talk to a Family Advisor: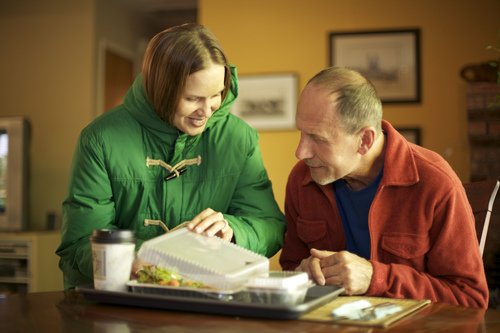 Reviews of Douglasville Nursing and Rehabilitation Center
---
CaringReviewer140370
June 30, 2017
I am a friend or relative of a current/past resident
My dad didn't get any physical therapy at Douglasville Nursing facility. We had so many problems with them. He didn't get changed. He is incontinent, so he is wearing a diaper. He suffered a stroke. He lay in bed for 6 months and declined. They forgot his doctor's appointments; they didn't transport him to his doctors. They didn't even get him ready for his care plan meeting. He didn't even attend his own meeting. They charged us a thousand dollars for a month even though we had full coverage.
---
enter-at-own-risk
May 21, 2017
I visited this facility
The care lately is not adequate.. Leaving my loved one in a soiled diaper for 3 hours. The required stroke recovery rehab is constantly being suspended & when it is again reenacted, the dr orders are not followed. Lost Rx has happened, only to be located else where in the facility. Lost patient property wheelchair & wheelchair accessories has occurred. The breakfast was hot last week when inspectors were there. Weekend care is almost non existent. And to top off this experience, we now find out, thousands of dollars have been taken from accounts that insurance & govt should have covered. We were told there is nothing that could be done now - sorry. Finance dept has changed its story about costs for months, while never providing documentation to the changes or charges. If you have nothing else in your life to do - let a loved one live there. They will eat your time correcting their errors & doing their job.
---
Tomhillary
November 12, 2016
I am a friend or relative of a current/past resident
My mom was just discharged from douglasville nursing and rehab.before she was admitted I was told by a few to never go there.when I went for the tour I met a gentleman named Stephen,as I toured he answered all of my questions and my many concerns.as I left I had never been more convinced this was the place for us.I did have a few small issues in our 2 months there but Stephen and his team handled every concern I had and immediately.my mom is actually stronger now that she was before she got sick.therapy was just great.if anyone is looking for a rehab for their loved one this would be the place .
---
Shawn865024
July 01, 2016
I am a friend or relative of a resident
Douglasville Nursing and Rehabilitation Center was kind of middle of the road. Sometimes they are short-staffed. When my dad needed help, sometimes it takes several times and several hours to ask for somebody before they respond. I'm not blaming the people. The rehab section is new and the rooms are very nice. The nursing home area is older and does not look friendly. The food is average.
---
Grandson4her
June 01, 2016
I am a friend or relative of resident
Concerned Grandson.. My 97 year old Grandmother has had trouble with her heart recently. After a short stay at Douglas General which was fantastic just so everyone knows . My Grandmother was placed in this facility for 20 rehab that would teach her how to remain active and continue to live a life in our home where she has been for years. After arriving i kinda felt like i was about to buy a used car i really didn't want, You know that uneasy feeling. my Grandmother was placed in a room. I actually felt like i time traveled back to the 50's . Old beds the room must have been at least 90 degrees wheww . Next stop the bathroom, Think about the worst port a potty you have ever been in and there you go. After placing my Grandmother in the bed i was told i needed to get up to admissions where the real selling begins. I sat across from a fast talking guy that flipped through papers like it was a contest to see how fast he could make me sign them all . The entire time trying to ensure me that everything was paid for by Medicare (i'm really not sure but i think somehow this guy now owns my house). It was the kinda sell that you really aren't sure about. After signing i headed back to see my Grandma and spend some more time before i went home. Strangely i had a flash back to one of the papers the hustler had me sign,,, "you cannot bring any chairs of any kind " at the time i didn't think much of it as i laughed and signed the paper , Well .. Guess what not a chair to sit in . I couldn't believe it . was almost comical to think this fast talking hustler knew why i was signing it as i laughed. "stay as long as you like enjoy the HARD tile floor and thanks for signing that paper. I just spent Six nights next to my Grandma in hospital but at least there was a chair and a blanket. As i left to get a bite to eat i Have this really bad feeling about leaving my Grandma so i went back and stood a while by her bed. I pray that she has a fast recovery and we can get her home fast cause this place seems like a horror story that's only out for one thing .. Getting Paid Through Medicare> I hope they understand care for our aging is the most important thing next to the care for our children. Ill keep you posted with reviews , Lets hope everything gets better soon
---
Eboni.Redding
August 18, 2015
I visited this facility
With yesterday being my first encounter of this "rehabilitation" I was very disappointed. I started off in the wrong building because I was lost, everyone i encountered seemed to be confused on what their job was. I finally asked a fourth young lady if she could help and wanted to know if there was some sort of computer that could help me locate him, she just gazed at me like i spoke another language she then said she's not familiar with the name and maybe he 's across the way, I entered that building where it seemed everyone was nice, i was greeted with a smile, they directed me to my uncle. Here's where my heart broke! My uncle is paralyzed but does have a wheelchair that he usually sits in all day until it's time for bed, he told me he had been laying in the same position since FRIDAY, it was MONDAY when he told me this. During my stay he started having difficulty breathing, again he's paralyzed so he can only blow to turn the call light on, it took the staff over 3 minutes to answer that call light! I stepped outside of his room to find 3 young ladies at the front desk on their cellphones laughing and giggling with one another! I loudly asked if someone could come and aid him, where i then got nasty looks from the staff. Needless to say i was appalled, angry, and frustrated. It wasn't until Sharonica and Natasha visited his room that i felt at ease. Those two young ladies along with the CNA made me feel better about leaving my uncle there alone through the night.
---
CaringDaughter_1
November 17, 2014
I am a friend or relative of resident
My mother was at this nursing home for a few weeks for rehab. She liked it here and loved the food. I visited her about 5 days a week since I live in the same city. The regular week day Staff was very good and took good care of my mother. The actual nurses who administered the medication on the weekend and weekday was awesome, so was the rehab physical therapist. The weekend staff who took care of the patients was horrible. Very lazy and barely did anything. Wish they had weekend staff like the weekday.
---
pinkilee
March 27, 2013
I visited this facility
I noticed that Douglasville Nursing is an old facility. As I walked in, it just gave me the impression that it's strictly a nursing home.
---
imagagirl71
August 21, 2012
I am a friend or relative of a resident
I would consider this facility a 4 out of 5 stars facility. Not fancy, but above average. While my grandfather's needs were met, I felt the amenities and activities were lacking for an assisted care facility. An upgrade on amenities and more effort in planning activities would make me give this facility 5 out of 5 stars. An onsite pool to assist in exercise, would have been amazing.The staff were excellent in their duties, very nice and respectful. I liked that they were personable and listened to my grandfather tell jokes and stories. One staff member in particular, became very close to him during his time there. The facilities were not extravagant as some I have seen, but they were clean and well kept. Any maintenance issues in my grandfather's room were addressed in a timely manner. I would recommend this center to anyone looking for a local assisted care facility.
---
delandlisa
March 31, 2012
I am a friend or relative of a resident
2 years ago, I wouldn't let this place watch my TV, but recently, my mom needed to be place immediately, and this facility is only 5 minutes from the house, so I said it would be OK to send over her documents. I went for a tour, and the change is AMAZING! You wouldn't recognize the place. Medicare.gov still has it as a one star, but I don't think they've evaluated it lately... Its beautiful, its clean, has one of the best therapy programs in the metro Atlanta area, and has mostly new staff...
---
About Douglasville Nursing and Rehabilitation Center
---
Douglasville Nursing and Rehabilitation Center is a nursing home in Douglasville, GA that provides patients with skilled nursing care as well as private or shared accommodations. Contact Douglasville Nursing and Rehabilitation Center for more details on housing, services, and rates.
Location of Douglasville Nursing and Rehabilitation Center
---
Request Info
Get full access to reviews, cost information, and amenities