The Carriage House
| Independent Living
Talk to a Family Advisor: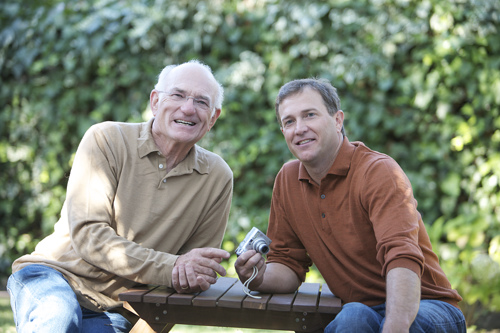 Top nearby Independent Living Communities
Reviews of The Carriage House | Independent Living
---
Bob357506
April 14, 2017
I am/was a resident of this facility
We moved into The Carriage House. I like that the people are very friendly. It is a very warm, family atmosphere with lots of nice activities and in our price range. They have a pool, a gym with weight machines and a putting green. We are very involved in the activities, like bocce ball, shuffle board, and Wheel of Fortune. We like the food very much. We also like the fact everybody eats together, so for all three meals, it is a family gathering. The staff is friendly and helpful. They make us very comfortable here.
---
Bonnie750555
March 27, 2017
I visited this facility
The Carriage House had all apartments versus cottage type housing. Good food, excellent facility, and good activities. They had a pool, a putting green, a game room, a card room, and a library. I've had lunch there twice, and the food was very nice. The staff was very helpful and very nice.
---
Richard465620
February 01, 2017
I visited this facility
The Carriage House was very nice. The staff was friendly. The rooms were nice, clean, and just right. The dining area was adequate, and the residents looked happy. The outside was neat and well kept.
---
Anonymous120480850
January 11, 2017
I am a friend or relative of a current/past resident
My dad was in The Carriage House for a while. It was a beautiful facility but a little too large for him. The food looked good, and the staff was very cheerful, but it was too overwhelming for him. There was nothing wrong with it. I liked the location, and they had a lot of recreational things to do.
---
caring daughter73282850
February 16, 2016
I am a friend or relative of a resident
My parents are at the Carriage House. The staff is magnificent, and they're very well-staffed. The room is perfectly adequate for what they need right now. They've been there for two years now, and they're able to give my mom good meals, so they're doing great. They have a whole list of activities all day long with everything from taking them to church, to bingo, to a movie theater, lots of card games, puzzles, and coloring books.
---
Margaret109281150
November 30, 2015
I am/was a resident of this facility
I stayed at the Carriage House for a couple of months with my husband when he was sick. It was magnificent. I had an apartment with a living room, a bedroom, a bathroom, and a patio. The price is unbelievable. The staff is wonderful. They have a lot of younger people working in the dining area dressed in black aprons, white shirts with black pants, and they take your order and serve you. The tables are set for four with flowers in the center. They have lemonade, iced tea, and hot coffee with homemade cookies available any time of day.
---
Caring111264950
August 14, 2015
I visited this facility
What I did not like with it was that there was not a kitchen and there was a communal laundry room. It did not have a laundry or a facility washer and dryer in the unit. The rooms were OK. In the Carriage House, it is kind of mandatory that if you want to eat, you go down to where they are serving food because you don't have a cooking facility except for a microwave in your own unit. You don't have a stove or a refrigerator, so you have to have their three meals a day if you want to eat. In the other places that I saw, a couple of them do have the washer and dryer, and they also have a regular kitchen in your unit, so that is the difference, and this is what I did not like about the Carriage House.
---
Caring108120650
June 11, 2015
I visited this facility
Carriage House was very nice, and they were very willing to give a tour and answer questions. We weren't able to see as many rooms there as the other community because Carriage House was all full. We just saw a couple of people that were living in. They don't have a full kitchen there. We didn't taste the food, so we don't really know as far as the taste. However, they are a little bit stricter as far as the time you eat and how many times you eat meals. I don't think they have quite as much of a selection. They have a lot of activities there. They have some people that come in to do music. I think they have some kind of church service there. Then they have an activity room where you can put a puzzle together and play games. For my mother's needs, she likes a full kitchen. Maybe not everyone is like that, but in our case, it helped us to make a decision for the other community and not Carriage House.
---
Caring104769850
April 20, 2015
I am/was a resident of this facility
We lived in Carriage House which was 5 miles away. It was attractive and roomy to live in. Everybody was nice; the staff was nice. They had a big dining room, and they had rules. You could only eat at certain times. They had 200 people eating at the same time, and you can imagine how noisy that was. They could change the hours of dining and the food.
---
Mary96657450
November 03, 2014
I visited this facility
The staff at Carriage House was absolutely fabulous. What we didn't like there was that the community was really elderly. I know my parents are also old, but they were elderly elderly. There was no kitchen in any of the apartments; they have a refrigerator and a microwave. They have a big modern kitchen downstairs, so if you wanted to cook for your family, you could go downstairs and cook, and they would give you the pans and dishes and everything else. The people who were there really liked it, but it was not for my parents.
---
Bonnie38
October 25, 2014
I visited this facility
We picked Carriage House because it seemed like they were the right fit for my parents as far as the building itself, the rooms, and the dining area. We are going to take my parents there probably next month to check it out. The rooms were adequate. We saw the list of activities they offer, and we saw people taking part in the activities while we were there. The staff seemed knowledgeable, and they were friendly, answered a lot of questions, and they seemed to enjoy their job.
---
Steve31
August 30, 2014
I visited this facility
The Carriage House was really a very good place but we prefer some place that would be closer to our friends. The staff was absolutely nice during our visit. The food there was quite good. They have a pretty extensive community activity program. They had all games, crafts and trips. It was quite interesting. They had large rooms and nice facilities. The place seemed a secured and a comfortable place.
---
Caring94170750
August 27, 2014
I visited this facility
I visited Carriage House and the place is nice. The people and the staff were very cordial and very nice. They also have nice rooms and the dining room looked like it was very adequate.
---
Mildred7
August 21, 2014
I am/was a resident of this facility
I will be moving to Carriage House and I chose the place mainly because of the price. There were others that I liked, but they were over my budget. I was very impressed with the place. So far everybody is very nice and helpful. The rooms are not the best, but it's not the worst either. I have eaten there twice and the food was very good and adequate. The people seemed happy and everybody is cordial. They all talked to each other and to me -- it was nice. They have every sort of activity, but I haven't tried any of them because I haven't actually moved in. They have everything you could want right there. I sure would recommend the facility to others. Everything is very convenient so you don't have to walk far away. There are elevators that are very handy and it's very for me easy to get in and out.
---
Dick8
June 19, 2014
I visited this facility
I looked at The Carriage House. It's an independent living facility and it's a large community. They have about 150 people that are living there. The staff are very friendly, and they have a lot of activities.
---
a. nonymous
June 05, 2014
I am/was a resident of this facility
As a former resident of The Carriage House, I feel compelled to express my personal experiences and opinions regarding the facility. Overall, The Carriage House isn't a terrible place to live... but it is certainly not without it's problems. The staff is quite friendly, with the exception of the management team, who seem less than genuine. It appears that they are more interested in pleasing prospective residents than they are in keeping current ones. They attempt to pacify most issues presented to them with such phrases as "We'll look into it", yet seldom follow up on anything. They also have a tendency to speak condescendingly to residents, guests, and staff alike, which I found insulting. There have been numerous occasions where I was seated in the lobby and could overhear inappropriate conversations or obscenities regarding hiring, firing, unfavorable residents and employees, etc. They also seem a bit understaffed, which led to poor or slow work performance (especially in the housekeeping and maintenance departments). The parking lot is too small and doesn't accommodate enough vehicles. There are humidity issues throughout the facility which cause mold, although the staff insists that it's mildew. I hope my review is beneficial and helps others in choosing the right retirement community. I understand that no property is without flaws, but some flaws are easily reparable or simply inexcusable. I dearly miss some of the friends I made during my residency at The Carriage House, but I definitely do not miss residing there.
---
Janet72436550
April 22, 2014
I am a friend or relative of a resident
Carriage House was the one my friend stayed in. It was very nice. The only complaint I would have is her room was tiny, but then she didn't need a big room. She had a bedroom, a living area, a tiny little kitchenette, microwave, and a sink, but they provide all the meals. Very nice dining room. It's very handy. You could walk to Wal-Mart, and there are churches right there and a big shopping center.
---
Caring80790650
March 26, 2014
I visited this facility
The Carriage House is only two years old. It was very nice, beautiful and everything was clean. The dining area is really nice with a very nice menu. The waitress came and took our menu choices, and they serve salad before and dessert after. They have studios, one bedroom and two bedrooms. The residents seemed happy.
---
Melissa12
February 13, 2014
I am a friend or relative of a resident
We liked the Carriage House because they've got three meals a day and a housekeeper that comes and clean the apartment once a week. They have a bus that takes my parents to their doctors' appointments. The manager lives onsite which give us a peace of mind knowing there's someone there round the clock. They have everything you can possibly think of, fun, puzzles and games. They have a fitness center and the give chair exercises in the morning, they have a pool for water aerobics, yoga and entertainment from morning 'til night.
---
Joseph24
February 01, 2014
I visited this facility
I enjoyed my visit at the Carriage House. I looked around and I had lunch there. I liked the way they showed me around. I thought the staff was very helpful. The dining room seemed to be satisfactory. They have a pool table room, swimming pool, and a movie house. They even have a place for my dog to play. I think they do just about everything. I really didn't find anything wrong with it except that it's expensive like all of them.
---
Caring74088250
January 18, 2014
I visited this facility
The Carriage House was close to where I live. The building was nice and new. However, I didn't like the surroundings because it was plain. We were invited to its open house and we had lunch there. The food was good. I only met a guy who toured us around and a lady in the office who talked to us for five minutes. I saw the apartments and it's not where I wanted to be. The money that they were asking for the apartment's size was ridiculous. The monthly rate that they said was worth it, I'd be broke for less than a year. They had activities like bingo and they went on trips. But I didn't anything outrageous. I could recommend them to see it, but I couldn't say it's great because I don't live there.
---
Caring74627450
November 22, 2013
I visited this facility
Because Carriage House was new, it was beautiful and very pretty. Their dining room was also beautiful. They did have wonderful activities for their residents. I really love the staff there. They were very warm and personable. They really know how to sell the place. Even though we haven't been back there, we got a call from the person who showed us around. There were lots of followups, invitations, and calls. I did eat there and the food was not as good as the other facility. However, the people that I met and talked to were pleased enough to live there. With regards to accommodations, they don't have washers-dryers in their apartments. They did have a laundry facility section on your floor. They also don't have a stove. They only have a refrigerator and a microwave. They have a kitchenette and not a kitchen.
---
Mike35
November 22, 2013
I am a friend or relative of a resident
The place that Mom was in was The Carriage House which is a Hawthorn Family community. They have single family homes. There must be close to 2,000 or 3,000 family units there and these independent living apartments are just part of it. It's about an hour and a half to two hours away from me. I was feeling that if mom was having some health problems, I'd run over there. The staff there was very accommodating. In fact, they didn't want Mom to leave and they were willing to bend over backwards to make sure she'd stay but they didn't have the kind of assisted living that she needed. There was more independent living. They had a small pool and a putting green. Their food was very good. In fact, they had some pretty high rated chefs on staff.
---
Donald8
July 31, 2013
I visited this facility
The people were very nice at the Carriage House and the residents looked happy. The have swimming, shuffleboard and a lot of card playing go on. They have a movie theatre and library.
---
---
The Carriage House is an independent living community in Oxford, FL designed for seniors, normally 55+, who are able to care for themselves and wish to live independently. Contact The Carriage House for more details on housing, services, and rates.
Location of The Carriage House
---
Request Info
Get full access to reviews, cost information, and amenities