Royal Oaks
| Independent Living
1763 Royal Oaks Drive North, Bradbury, CA, 91010
Talk to a Family Advisor: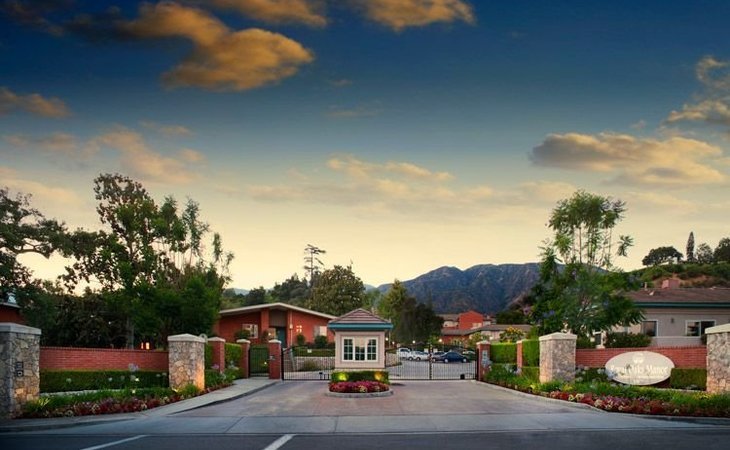 Reviews of Royal Oaks | Independent Living
---
Marti511531
March 27, 2017
I visited this facility
Royal Oaks is a smaller property, so it's built up higher so it's very much apartment living. We were also kind put off because you have to dress for dinner. You put on nice clothes going for dinner. We kind of eliminated that for those two reasons. They have a swimming pool, organized games, and trips though. The dining area was nice, and the facility itself was beautiful. But it is also more expensive than the other facility I visited.
Provider Response
Thank you for coming to see us, Marti, it was a joy having you here, even if Royal Oaks wasn't quite what you were looking for. While we do offer a more formal dining experience during our evening meal, lunch tends to be more casual, and there are also plenty of opportunities on campus to break out your casual wear including our park, walking trail, swimming pool and fitness center. If you have any questions, or if I can provide more information on any of our programs and services, please contact me directly. Rob Salierno, Executive Director, Royal Oaks
---
Mark831602
October 10, 2016
I am a friend or relative of a current/past resident
My mother settled in Royal Oaks in Bradbury. It is the nicest. They have the nicest apartment. Plus, there is somebody there that we knew who is a guest as well. My mother is in a 1-bedroom apartment with a kitchenette.
Provider Response
Thank you so much for the positive feedback about your Mom's move to Royal Oaks. We are so pleased to hear your mother is settled in and enjoying her new apartment in our community. Having a familiar face as your neighbor is always helpful! I'm sure you are feeling a sense of peace knowing she is happy, safe and enjoying her new life at Royal Oaks.
---
Maria121661050
March 16, 2016
I visited this facility
The staff member who helped us at Royal Oaks was excellent. She was very sweet, very accommodating, and very nice. It was a very nice facility, but they did not offer individual cottages for independent living, which was what my aunt was looking for. The rooms were a little small, too.
Provider Response
Dear Maria, Thank you so much for the positive feedback. We are pleased to hear our team member provided excellent service during your visit to our community. Royal Oaks does offer a variety of choices for independent living residents, everything from studios to and including cottages. There may not have been a cottage available for you to view during your visit. We are happy to talk with you and schedule a return visit that would include viewing of a cottage residence. There is a wait list for our cottages and we would be happy to discuss the process of placing your aunt's name of this interest list. Please let us know how we can be of further service.
---
Betty118536350
January 27, 2016
I am/was a resident of this facility
I was a resident at Royal Oaks, and the experience was very positive. I stayed there for almost three months. I had a nice room, and it was very comfortable. The quality of the food was fine.
Provider Response
We are delighted to hear you enjoyed your stay with us. We look forward to being of service in the future.
---
Elvira1
September 30, 2015
I visited this facility
Royal Oaks did not have any openings, and they were a little more expensive. I would move there if I could afford it. It was very nice. We had lunch in the dining room, and the food was good.
---
Anne111116550
August 21, 2015
I visited this facility
We visited Royal Oaks. It was a much larger location. They have like separate two-bedroom condos where the residents have their own garage and driveway, and also they have a little more assisted living type area. I like that they could go from being very independent to being someone requiring medical attention. The unit that I saw was a two-bedroom condominium, completely independent, and it was very spacious. They have like a game room where they have bingo, and they also have transportation to any organized activities that they have on almost a daily basis. I only met with a gentleman who was a grounds keeper, and he was very friendly and very helpful. What stood out with this place was just the fact that my mother wouldn't have to move from one place to another if she needed more help, and she could stay in one location with people that she had gotten to know.
Provider Response
Dear Anne, We are delighted to receive your review, and were especially pleased to read your kind words about our community. It made us happy to know you appreciated the spacious, beautiful grounds, amenities and ability to have a continuum of care. We look forward to the opportunity of getting to know you and your mom. Thank you for considering Royal Oaks as your mother's future home.
---
Cynthia and Tom
July 28, 2014
I am/was a resident of this facility
My husband and I decided to downsize to facilitate our life style and enable us to close our house/apartment and travel more frequently. We knew of several other independent living facilities, but none in the near Los Angeles area had the grounds and space that Royal Oaks has. We also met several couples whom we had not known before who had moved in and were very happy here. It has now been 9 months and we do not find even one down side to this big change in our lives! Regular and special activities, congenial people, food service, entertainment.....we could not be more satisfied with Royal Oaks.
---
The McGees
July 09, 2014
I am/was a resident of this facility
We took a leap of faith when we moved to Royal Oaks - and to our surprise, we've never looked back once. Like a fine wine, our life here just gets better adn better with time. It's filled with many new adventrures, great new friends, wonderful food, and a beautiful apartment. Who could wish for more?
---
AnonymousRO1
July 03, 2014
I am/was a resident of this facility
Things I like about Royal Oaks: Friendliness of residents Multitude of activities & events - "Something for everyone." Meals adaptable for many types of diets, and surprisingly good. Helpful transportation for those of us who don't drive. Capability and prompt response of staff and maintenance for repairs, replacements, etc. Nurse office on premises. Beauty Shop on premises. Acorn Room sell toothpaste, greeting cards. Monthly weight and blood pressure checks if wanted. Interesting and talented residents who are fun to meet and be with. Residents came from many states.
---
Canolisue
July 03, 2014
I am/was a resident of this facility
My wife and I had looked at several senior residences in the past out of curiosity. Her mother had been a resident in another one prior to her death. My wife had worked as a volunteer there for several years and was familiar with what they offered and generally if there was a homey, family atmosphere rather than an institutional aura about them. Finally, after several falls, stays in the hospital and visible concern of our daughter we decided that we really weren't 'too young' after all, and to 'get real' and look around again. We visited three different places in the area, all of which were lovely. Of these three, Royal Oaks was the one that impressed us the most. There were a number of reasons that we were drawn to Royal Oaks. First of all the general overall beauty of the well-maintained grounds and a feeling of home and safety one senses when entering the property. We were shown a number of available apartments. While all were very attractive and seemed acceptable for occupancy, the sales person explained that they could be modified to some extent, based on the desires of the potential new resident. The person at the front desk was so capable, friendly and genuine. He made us feel at home and that he really liked people. There was an impressive lobby, great room and dining room. One could greet and entertain guests there with no misgivings. They feature marvelous holiday brunches fit for a king. There is a wonderful staff at every position, from management through service and mechanical positions. All are competent, polite, cheerful and desiring to 'do a good job'. Royal Oaks is very well maintained. It is cleaned regularly and is spotless in all the public areas. The other residents are what one would hope them to be and would select as neighbors if that was even possible.. Finally, but most certainly not the least important, is that skilled nursing and assisted living accommodations are available on the grounds. If one's loved one becomes infirm, the other person rapidly recognizes what a wonderful benefit it is. There are other excellent qualities. Come see for yourself. It can't hurt and you might be grateful that you did! You may even be invited to lunch.
---
LUVITHERE
June 29, 2014
I am/was a resident of this facility
Security - stress-free environment - cultural enrichment opportunities - new friends - beautiful campus with easy access to major metropolitan center. Not one moment of regret in moving to this caring community.
---
The Smocks
July 31, 2013
I am/was a resident of this facility
We were so well informed by the Marketing Staff that there have been no surprises except very pleasant ones.
---
Ruth G.
July 06, 2013
I am/was a resident of this facility
I give Royal Oaks an A+ for their annual "Celebrate America" held this year July 3rd. Red, white and blue balloons and flags decorated tables, planters, walls and walkways. All staff and residents were dressed in patriotic attire. The event started at 4:30 with a delicious BBQ buffet. At 6:30 the fun really began under the oaks. As the resitdents and guests sipped root beer floats, they were entertained by a young gypsy jazz group. A great evening was enjoyed by all.
---
Faith P
September 15, 2012
I am a friend or relative of resident
Approach this organization with great care. Extraordinarily expensive and "surprises" crop up regularly. Contracts require enormous "up-front" buy-ins and once the resident is located, tremendous pressure is put on the resident to "submit" to a different contract with different terms that are much more favourable to the facility. The resident is essentially forced to "sign on the NEW dotted line" or "move out in 24 days." My mother regretted her decision to enter "Ponzi Oaks" until they day she died. be.group = be.careful.
---
Marlene2
August 14, 2012
I visited this facility
I'm from Georgia before, and I'm glad to find a facility in California. It's near my loved ones. They have a nice scenery and amazing backyard. The facility is nice and they have a big beautiful garden. They have a swimming pool and a big gym so that all the residents can still enjoy their daily lives in the community. All the people and staff from Royal Oaks are really caring. They are exceptionally very friendly and great! I would highly recommend this beautiful place to live.
---
Michael F.
November 03, 2011
I visited this facility
I would have to say that this is the best facility that I have ever visited in my caregiving career. The staff were very friendly and attentive to the clients, yet gave them the needed space to still classify it as independent living. The view was amazing. They provided a garden for their clients to care for plants and to grow flowers, and the stream flowing behind the facility made a great water-flowing noise in the evening that my client said "gave her the best sleep ever."
---
Royally Pampered
August 22, 2011
I am/was a resident of this facility
I have now spent 7 years now in "Seventh Heaven" here at Royal Oaks where all of my needs are beautifully taken care of by well-trained, caring staff in an aesthetically pleasing environment among friendly, stimulating fellow residents. Activity choices are varied and voluntary. Meal hours are flexible with a wide choice of appealing menu items and dining companions. What more could anyone ask?
---
Mary Ann Prelock
August 19, 2011
I am/was a resident of this facility
Not ready -- too young -- but circumstances convinced me it was time to bite the bullet and take the first step toward my Third Act in life. I've lived at Royal Oaks just a year, and have never had a moment of regret. Beautiful campus, wonderful apartment, stress-free environment, stimulating intellectual and physical opportunities, caring and sensitive staff -- WHAT'S NOT TO LIKE?
---
CF Brubaker
August 18, 2011
I am/was a resident of this facility
I have lived at RoyalOaks almost 9 years. As a provider of Independent Living, Assisted Living and Skilled Nursing Royal Oaks of Be.Group is the best. I am a former volunteer of 23 years in the Be.Group formerly SCPH and I have great respect for the Headquarters group and for our staff at this facility. Both my wife and i have been in Skilled Nurseing for recoveer from surgery. The care of the staff is magnificent. We hae a plan that includes 1 meal a day and the dining room and food served there is great, both in quality and in healthy nourishment.
---
---
Royal Oaks offers a peaceful oasis for seniors looking to enjoy California retirement living at its finest. Tucked away in the foothills of the San Gabriel Mountains along historic Route 66, our community is just minutes from major freeways and all of the cultural and recreational attractions of Los Angeles.
Royal Oaks is owned and managed by HumanGood, a nonprofit public benefit corporation serving older adults since 1949.
Featured Amenities
Our luxurious apartment homes come in a selection of layouts to suit a variety of lifestyles. Choose from studio, one- and two-bedroom floor plans, some of which feature multiple bathrooms, full kitchens, in-unit laundry facilities, fireplaces and private patios or balconies. All apartments come with plush carpeting, ample closet space and full baths in suite.
At Royal Oaks, you'll have to do nothing more than step outside your front door to enjoy the many community amenities we have available. Take a cool dip in our outdoor swimming pool or practice your swing on our putting green. Challenge your friends to a game of pool in our billiards room or explore your creative side in our arts studio.
Available Services
We are proud to offer a range of senior living options. From independent living to assisted living to 24-hour skilled nursing care, we are here to support you in your retirement years. Our professional staff is available to provide assistance with life's daily activities, such as dressing, grooming and managing medications, and our skilled nursing center offers both acute as well as long-term care.
To help you make the most out of your retirement years, we take care of the housekeeping, landscaping, building maintenance, local transportation and provide 24-hour security. Breakfast, lunch and dinner are prepared fresh on-site and served daily in our community dining room.
For more than fifty years, Royal Oaks has set the standard for gracious retirement living in Los Angeles County.
Property Info
Emergency Services: Less than 5 Miles
Shopping: Less than 1 Mile
Recreation: Less than 1 Mile
Minimum Age: 60
Resident Capacity: 300
State License #: DHS: 950000121, DSS:191502216, COA: 301
Studio Apartments
1-Bedroom Units
2-Bedroom Units
Cottage-Style Homes
Air Conditioning/Climate Control
Washer/Dryer in Apt
Kitchenette
Full Kitchen
Emergency Call System
24-Hour Staffing
Employee Background Checks
Parking Provided
Fitness Room/Gym
Beauty/Barber Shop
Library
Chapel Services
Exercise Pool
Putting Green
Arts Studio
Billiards & Games Rooms
Activities
Full-Time Activity Director
Social Events
Trips & Outings
Spiritual Activities
Exercise Classes
Live, On-site Entertainment
Educational Opportunities
Amenities
Outside Patio/Gardens
Computer/Internet Access
Cable/Satellite TV
Dedicated Concierge
Pet Policy: Pets allowed
Special Meals: Diabetic, Low-salt, Gluten-free, Low-fat, Pureed, Renal, Vegetarian
Meal Service Available
Services
Nurse Availability: On Site 24/7
On-Site Medical Visits: Geriatric physician, Podiatrist, Speech Therapist, Occupational Therapist, Physical Therapist
Medication Management
Diabetes Care
Help with Activities of Daily Living
Transportation to Medical Appointments
Other Transportation Provided
Guest Apartment
Guest Meals
Private Laundry
Housekeeping
24-Hour Security
Additional Languages Spoken: Spanish
Features of Royal Oaks
---
Costs
Minimum Rate:

$7836/month
Room and housing options
1-bedroom apartments
2-bedroom apartments
Studio Apartments
Detached Homes
Features
Beauty Barber Shop
Computer Room
Resident Transportation
Golf
Garden And Patio
Resident Parking
Pool
Cleaning services
Housekeeping
Laundry For Clothing
Technology and entertainment
Cable In Rooms
Internet Enabled Rooms
Guest services
Guests At Mealtime
Overnight Guests
Licenses
Licenses:

DHS: 950000121, DSS:191502216, COA: 301
Get Cost Information
Get full access to reviews, cost information, and amenities