The Laurels & The Haven in the Village at Carolina Place
13150 Dorman Road, Pineville, NC, 28134
Talk to a Family Advisor: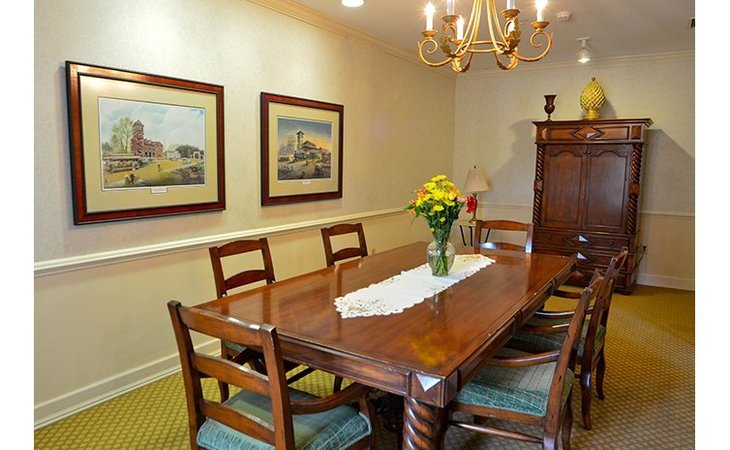 Reviews of The Laurels & The Haven in the Village at Carolina Place
---
robert528301
May 31, 2017
I am a friend or relative of a current/past resident
The food at The Laurels is excellent. My uncle has really enjoyed the food. He seems to be getting pretty good care, too. The community is clean and seems to be well maintained. The staff is good, and the nursing seems to be pretty good. The location is convenient for us. We live not too far away from The Laurels, so that's been very convenient. He's not participated very much with the activities, but he's only been there for 5 weeks.
---
april687523
May 20, 2017
I visited this facility
The Laurels' rooms were clean and spacious, and the bathrooms were nice. They had clean facilities. The ambienc was good and welcoming. There were activities like arts and crafts, fishing trips, and different kinds of excursions. They had a barber shop, beauty shop, fitness room, and a cafeteria. The price was affordable.
---
wbkb3347
May 20, 2017
I am a friend or relative of a current/past resident
Very nice facility, great activities, wonderful, loving staff.
---
Joy463555
April 13, 2017
I visited this facility
I like The Laurels & The Haven in the Village at Carolina Place. The staff was really nice. The lady that took me on the tour was very nice. The place was clean. They got their activities on the calendar, and it's big calendar. You know what's going to happen everyday. This community is close to a mall, and the hospital is very close too.
---
Jenny530775
March 08, 2017
I visited this facility
What I like The Laurels is that this place is very nice, but it does not accept Medicaid. I like the people. I like the staff, and even though they knew we would not be able to move in there, they still gave me a senior magazine with lots of information in it. She gave me tips on what to look for. Their dining room is very nice. The place is very comfortable and well kept.
---
Concerned Daughter701143
March 06, 2017
I visited this facility
We chose the Laurels and the Haven for my mother because we went through there, and the residents seemed to be actually happy. They had a lot of energy and were talkative, the room sizes were nice, the place was relatively easy to navigate, and it was bright and sunny. It also had a nice backyard area outside and a front area. The guy we toured with was very kind and gentle, and it was nice that he talked directly with my mom instead of talking to me and to my sister. The lady who was trying to get us the assessment because my mom is from another state worked very hard to find someone in Georgia to do the assessment, and she was very good to follow through. Most of the people we have spoken to had been very kind and open. There was just one thing that was a little weird which was the nursing staff because they did not align their schedule with our thing, so like a last minute request not to move in on a weekend which was fine because we weren't planning to be there. But that was more of a communication breakdown and not really a reflection upon the capabilities of anyone there. So far, they seem really good. The woman that we met who would be my mom's caregiver was very warm and affectionate, which is great because my mom loves warm, affectionate people.
---
Rhonda074255
November 07, 2016
I am a friend or relative of a current/past resident
We really liked The Laurels & The Haven; it's great. They keep it clean and nice. My mom seems to like the food. The staff really goes out of their way to make the residents feel at home. Security seems to be good, they have really good activities, and she also has something to do if she wants to. I was pleased with everything I have seen, and the location is very convenient -- 15 minutes from my house.
---
Ellen160614
August 22, 2016
I visited this facility
I was very impressed with The Laurels & The Haven in the Village at Carolina Place. It was a lovely community. Everything was five-star. It was kept incredibly clean, and they were incredibly service-oriented to the clients. There were lots of activities for memory care, and it was very cheerful. I would be very safe there. Residents could walk outdoors, and it was all gated and very safe. The Laurels was just as meticulous.
---
Alisa224734
July 13, 2016
I visited this facility
The Laurels & The Haven was a little dated. They could definitely use some updating, some new carpeting, a new format for their decorations, etc. They still have furniture that was really popular in the '80s, which makes it dated. There were other qualities I liked about it, like the three different wings, so that they did not have so many of the residents in one spot. The rooms were set up in a circle around the nurses' station so every room could be seen by the center part, which I liked. I think they're very competent as far as the medical staff goes. It just seemed a little dated.
Provider Response
Thank you for your input, we appreciate it. The Laurels & The Haven offers a variety of floor plans crafted to fit our residents' individual needs and budgets. All rooms are regularly maintained and periodically updated and renovated. We would like to invite you over for another tour to showcase a variety of accommodations available, also what a flourishing, vibrant and outstanding community The Laurels & The Haven really is. Please visit our web site to schedule a tour here, we would love to see you back https://www.fivestarseniorliving.com/communities
---
JM662348
May 27, 2016
I visited this facility
The Laurels & The Haven in the Village at Carolina Place was very nicely set up. They had a small downtown right in the center of it, little offices that looked like stores that the residents can walk around, and the wide-open common area. A couple of the people had come out and were more than happy to show us the rooms inside. Everyone seemed happy. The dining area was set up like a cafeteria. The staff was excellent, very warm, and receptive. You felt like you can drop somebody off there and not have to worry.
---
Robin121851850
March 31, 2016
I am a friend or relative of a resident
My first impression of The Laurels & The Haven in the Village at Carolina Place was really good. They seem very helpful, and overall, we're pleased. My mother has a one-bedroom and with a full handicap bathroom and a kitchen area with a refrigerator, a microwave and a sink with some cabinets. She has a nice closet in her bedroom, a television hookup, and big windows. With all nursing home staffing, you get good ones and you get bad ones. We had a really hard time getting them to help her with her bath on a regular basis. About every month, I have to call over there and check, and nobody's helped her to do that. My mother needs very limited care, and that's really about the only care she needs because she has a fear of falling. The staff turns over a lot. The food will be pretty good for six weeks, and then it will be pretty bad again. The food is the biggest frustration for her because vegetables are always so overcooked and don't have any flavor, so they're mushy and not usually in a wide variety. She says it's always potatoes. You can tell when the cook changes because the food changes.
Provider Response
Robin, thank you for taking the time to provide feedback about The Laurels & The Haven in the Village at Carolina Place. We value feedback from residents and their families and use it to help us continually improve. Regarding your comments on the food please contact us so we can arrange a tour of the kitchens and an opportunity to speak with the head of our dining services for you and your mother. We know that the dining experience is a very important aspect of life at The Laurels & The Haven and strive to accommodate the food preferences and tastes of our residents.
---
Family Member15
March 18, 2016
I visited this facility
I like the fact that The Laurels & The Haven in the Village at Carolina Place has a very bright atmosphere and set out in the country. The surroundings were very nice. The residents seemed to be very happy.
---
Sharon118749250
January 13, 2016
I am a friend or relative of a resident
My parents are at The Laurels and The Haven in the Village at Carolina Place. The workers' attitudes are very good. I've been very impressed with the staff. My parents really like the food. The common dining area is set up with individual tables all around the room, where they place different people together. They have plenty of activities, like different types of workouts, bingo, and music in the great room, which has a piano, a fireplace with gas logs, and lots of wingback chairs and couches. It is a huge room, and people like to go there. We got my parents a one-bedroom apartment with a huge bathroom, which has worked out really well. It is very nice. We are very pleased with it. I like that the facility is so nice as well as its proximity to my home and to where my parents used to live.
---
Chicago girl
December 21, 2015
I visited this facility
The Laurels is a very large and a very nice facility. The people that greeted us at the door were very friendly, and the people that give out medicine were very nice. The rooms were very nice, and the bedroom was large.
---
Anonymous113098350
October 29, 2015
I visited this facility
We visited The Laurels & The Haven. The staff was excellent, accommodating and very friendly. The CNAs were a little bit better than some other places, and the turnover was not that great. It's really lovely. The rooms were spacious compared to some other facilities. They redid their dining room and their living room a while back, and they looked real nice.
---
Angela K.
October 29, 2015
I visited this facility
I liked that the Laurels had an old-world charm; the décor was really cute, and I think it makes residents feel very comfortable and at home. They just seemed very warm and friendly. They had some really great outdoor space. They even had a little play area for the kids when they come to visit with a nice old playground, which was something I never saw at the other facilities I have gone to see.
---
Caring113119650
September 29, 2015
I visited this facility
I visited The Laurels. I specifically like it had six dining areas which would mean that the residents wouldn?t have to walk very far to their dining areas. I also like that I can see residents interacting to other people. Their accreditation score was very good as well.
---
Caring95092450
August 15, 2015
I visited this facility
My mother-in-law is actually going into The Laurels & the Haven. It is an outstanding place -- very nice -- and it is three miles from our home. She came down for a visit and really liked it, so she is pretty much looking forward to moving there. We visited two or three places, and this is by far the nicest of them all. It is very nice and probably less than six or seven years old; they had very nice rooms, very nice dining facilities, and everything else that we needed for her.
---
Sesmith731
August 01, 2015
I am a friend or relative of resident
My grandmother has been in this facility for 7 months. Before she went she constantly read, was walking better than most 89 year olds and was attentive for someone with alziehmers/dimentia. With in 7 months the facility has removed the carpets and put in hardwood floors (why you would do that with a bunch of elderly using walkers is beyond me), she has been put in the wheel chair with an alarm on her if she even tries to get out of the wheel chair, she has gained over 50 LBs and it hasn't been addressed/ dealt with,I or my family has been and there have very few or no staff in her neighborhood and they have been completely rude or ignored the residents, there have been times that the soap dispensers have been completely empty in the bathroom. The place is awful.
---
anonymous109126950
July 21, 2015
I visited this facility
The Laurels & The Havens in the Village at Carolina Place was absolutely the best place I have ever been to. The person I talked to was outstanding. I could not ask for a better place. It was beautiful and clean. The food was fantastic. The people were friendly.
---
Caring107263750
March 07, 2015
I am a friend or relative of a resident
My mother is in The Laurels at Carolina Place. The staff is very attentive and very professional. The rooms are always kept clean, and they are very roomy. It is very secure, and we are very comfortable. The food is great, and the dining room is also great. It is very open, airy, and very clean. They have bingo, music, entertainment and travel programs. They have singers and choral groups coming in. They take bus trips to local stores and sometimes to the restaurants. It is very well done. It is recommended to us, we find it very well done, and I will definitely recommend it to others.
---
Caring101429250
January 26, 2015
I visited this facility
I visited The Laurels one time, and I liked it very much. It's just that I wanted to stay in South Carolina. The rooms were spacious, but I didn't like the smell, and the carpets were dirty as well.
---
Nancy100101850
January 06, 2015
I visited this facility
We looked at The Laurels & Haven, but things did not work out here. They evaluated my husband, but it's not a good fit. The facility is very good, but it is not as homey as the other facility we have chosen. It is very near the hospital. The rooms are very nice, and the grounds are very nice as well. It's just not a good fit.
---
Parentsdaughter
November 30, 2014
I am a friend or relative of resident
My parents lived at the Laurels for about 2 years until they passed away. The Laurels Assisted Living was originally recommended to us by word of mouth. We visited many facilities in the Charlotte area and found that it definitely provided the nicest and largest living arrangement for my mother and father. They had plenty of activities and social events for making new friends. What really makes a place feel like home, however, is the staff. Not only did our family like the staff but my parents, and especially my mother (who still wanted to be living in her own home) genuinely liked the staff. Of course there were times when things didn't go so smoothly (as always happens everywhere in life) but when it really counted the Laurels was fantastic. They knew what they were doing and they cared while doing it. It's not easy to move out of one's home and into a strange place, especially when one is getting older and life is getting harder. The Laurels went above and beyond to make my parents' experience as uniquely comfortable to them as possible. I think it is a wonderful place with wonderful people.
---
Icy McGinnt
July 14, 2014
I am a friend or relative of resident
With mom, it was her independence, or more accurately, the losing her independence that concerned her. With her daughter (me), it was her safety. Finding The Laurels met both our concerns. From the moment we walked through the doors we felt at home. She feels love and care everyday from David in food service making sure she is happy with her food to Darius in maintenance who jumped up, left his lunch one day to assist her with lifting something and everyone in between! Her caretakers are so sweet and helpful. They always tell her how pretty she looks. And her independence? Well let me just tell you. She is far more independent now than when she lived alone. Independent of waiting on someone to get her to the grocery store. Independent of yard work. Independent of the fear of falling and being alone. She even rides the bus to some doctors appointments without depending on me. She is very independent and she LOVES The Laurels! I do too!!!!
---
chapstick
July 11, 2014
I am a friend or relative of resident
We chose the Laurels because of the 24/7 nursing and the all-day dining services they offer. My mom likes to sleep until 10:00 some days and she can still have time to get up, dressed and then get breakfast at 11:00. Everything and everyone is very nice and more convenient than any other community we visited. We couldn't be happier.
---
mlawson1054
July 11, 2014
I am a friend or relative of resident
This is a great place. My parents were in another community in Charlotte before moving to the Laurels. The Laurels fits their needs 100%. Quality of care is excellent. The staff is friendly. And the quality of food is better than other communities in the Charlotte area.
---
Elaine19
June 19, 2014
I am a friend or relative of a resident
My husband is at The Haven in The Village at Carolina Place. This facility is one of the better ones that I've looked at. Mostly the staff is good, and their security is great. They can't get out of there; all the doors are coded. They have private rooms and semi-private rooms. The rooms are a little smaller. The only thing I can say that I don't care about there is that they don't have a shower in each room. They have a bathroom in each room with a sink and a toilet, but I would prefer a shower. They have two showers that everybody uses. That is the only negative I can see. The food is good.
---
Debbie82688250
April 30, 2014
I am a friend or relative of a resident
Mom is at The Laurels & The Haven in the Village at Carolina Place. It's a great facility, but the care is not so great now. In the two years she's been there, we've seen it go downhill. They have one or two attendants who are very attentive to the residents, but the rest of them are just there for their pay. Her apartment is very nice. The cost has gone up, and the care has gone down. I think they should be more attentive to the individuals there. The staff tends to get frustrated with the residents because of how they act sometimes.
---
Caring75291150
March 18, 2014
I visited this facility
The Haven is very nice. It was clean and they had a crafts room. The rooms are spacious and they have a selection of items in the menu.
---
wilcom
October 31, 2013
I am a friend or relative of a resident
This facility is designed exclusively for the care of residents with Alzheimer's disease. The staff and administration are very caring in their approach when dealing with residents. There are a number of activities to keep the everyone busy during the day. The meals are well prepared and taste very good. The facility is clean without any objectionable odors. The structure has a lot of natural light with high ceilings. The residents can go outside and enjoy the fresh air when the weather is nice with walkways, grass, plants and flowers that are attractive and well groomed. The facility is very open and attractive to the residents.
---
Jennifer17
June 12, 2013
I visited this facility
The Laurels is a very, very nice community. It's gorgeous and it was thirty minutes closer to me than the other ones I visited. Everybody there was really helpful. I couldn't imagine anybody not liking to stay there but I just couldn't afford to get my father in law in there.
---
tinabug98
March 21, 2013
I am a friend or relative of a resident
The Haven in the Village at Carolina Place seemed like a really good place and the layout was really good, but I'm not pleased with it at all. The staff has been in turmoil since we got there. They lost the director, then the nursing director, and the staff who work with the people directly do not care. I complained and they did nothing. Those people are still there and I think it's just they were against everything cheap. The food and the care is cheap, and it's bad. The only thing they furnished is the closet, which is broken. They have spelling activities for Alzheimer's patients, bingo, ice cream socials, and they take them out occasionally. I don't have a problem with their activities. They can improve on the food and hire people that actually care about the patient. My mom has Alzheimer's, so she can't tell you if she likes it there or anything.
---
llcckk1
May 27, 2012
I am a friend or relative of resident
I have a friend who has a family member in this facility, they say they are very happy here. The staff and the enviorment of the facility are all in very good standings. I went to the facility to visit with my friends family member and really enjoyed first hand the attention not only did my friends family member recieve but I recieved as well. The entire Laurels staff welcomed me and assisted me with directions on how to get to the resident I was visitings room and also talked to me about how I was doing and how I was related to the resident. They seem like majority of the staff at the Laurels really do care and not to mention how neat the facility is. I really feel like this would be a good place for one of my loved ones to live and I am thankful for the care that my friends family member is recieving there as well.
---
TinaR3
May 08, 2012
Other
This facility has a great sales pitch, but their follow through is nothing to write home about. My mother, who was at the beginning stage of dementia, went to live there after having had a stroke. They placed her at a dining table for her meals with 2 women who had had debilitating strokes and could not talk. This was extremely upsetting for my mother. On the 3rd evening there, she started complaining of pain in her leg. I told her to tell the nurse when she came around with her medicine. The next evening, I went to see her after work. She was still complaining of pain in the same leg. I asked if she had told the nurse and she said the nurse had just given her Tylenol. The staff had been bringing my mother's meals to her room for 2 days, because she said her leg hurt too much to go to the dining room. I felt her leg and it was cool to the touch. I called our doctor's office. They told me to bring her to the ER. Turned out, she had a blood clot in her thigh and one in her aorta. If I had not visited her that night, she could have lost her leg, according to the doctors. The night my mother was released from the hospital, I went to the Laurels at about 10pm to pick up her medicines. We had decided we were not going to bring her back there to live, so we brought her home. I went in and out of the facility about 5-7 times carrying armloads of my mothers things out to my car. No one stopped me to ask who I was or what I was doing until about the 5th trip. I could have been robbing somebody blind there. The front door was not locked and there was no staff whatsoever in the lobby area. Also, during my walks in and out, I heard a man yelling "Help!" over and over from his room, where the door was ajar. There was no aide in the hallway for over 10 minutes of this. I finally poked my head in his door and asked him if I could help him with something. He was 1/2 raised up in bed and shocked to see me. He asked who I was. I told him my mother lived there and I had heard him calling for help. He said he was ok, that he just gets nervous. I held his hand and chatted with him for a few minutes until I was sure he was ok. He was quiet the rest of the time I was making trips in and out with my mother's things. Seems he just needed a little TLC, which was lacking from the staff at The Laurels. This is not a place I would recommend anyone leave their loved one.
---
Balangao
October 26, 2011
I visited this facility
This place is phenomenal! After three other places my mother was, this was by far the most caring, the best equipped, the staff was dependable, much more "giving," much more honest. I saw Administration zero-in on one who secretly mistreated a patient. No more stealing from patients at this facility.
---
From The Laurels & The Haven in the Village at Carolina Place
---
We've thought of everything at The Laurels at Carolina Place! The building is designed around individual neighborhoods, each with it's own personality, which fosters closeness and community within the residence. Each neighborhood contains a mixture of one- and two-bedroom, alcove, and studio apartments; each is handicap adaptable.
Residence features include a private, lockable entrance, individually-controlled thermostats, a 24-hour emergency call system, smoke detectors, a beautifully-appointed living room with a fireplace and a piano, an ice cream parlor, a community/activities room, a wellness room, and a hair salon. In addition, our residents enjoy a glassed veranda, which overlooks our landscaped yard. And for your dining pleasure, we provide three delicious meals a day, served restaurant style in our dining room.
The Haven is an assisted living residence designed, programmed, and staffed for individuals with early, middle, and late stages of Alzheimer's and dementia.
Tailored to enhance dignity and foster independence, The Haven has licensed, onsite nurses and offers a progressive approach, which encourages family participation through care planning, education, special events, and support groups.
What Makes Us Special
---
* 24/7 Nursing! We are one of the few assisted living communities that offer 24/7 nursing! * In-house therapy! Our own FiveStar Therapists working with your loved one! * All Day Dining! Come down for a meal anytime between 7AM and 6:30PM. No strict dining schedules!
Features of The Laurels & The Haven in the Village at Carolina Place
---
Costs
Minimum Rate

$3795/month

Minimum Memory Cost

$4025/month

Rent Plus Care Fees
Fee Structure Extra

We Offer A Month To Month Rental
Room and housing options
1-bedroom apartments
2-bedroom apartments
Companion Suites

We Offer Companion Suites

Studio Apartments
Dining options
In Room Kitchenette
Dining Room Shared Meals
Features
Beauty Barber Shop
Computer Room
Resident Transportation
Coffee Shop
Party Space
General Store
Tv Room
Garden And Patio
Resident Parking
Spa
Features Extra

Library, Fitness Room/Gym
Cleaning services
Laundry For Linens
Private Cleaning Services
Housekeeping
Laundry For Clothing
Technology and entertainment
Cable In Rooms
Wifi
Technology Extra

Emergency Call System
Health services
Medication Management
Physical Therapy
Nurse On Staff

Yes

Pharma
Activities
Offsite Activities
Music
Games
Stories
Religious Services
Lectures Discussions
Book Clubs
Wii Sports
Tai Chi
Fitness Room
Yoga
Gardening
Cooking
Arts And Crafts
Activities Extra

Computer Class
Financial guidance
Home Sale Assistance
Va Benefits Consultation
Financing Advice
Guest services
Guest Parking
Guests At Mealtime
Overnight Guests
Diet
Diabetic
Low Fat
Low Salt
Renal
Vegetarian
General
Staff Patient Ratio

15 To 1

Respite Care
Minimum Age

None

Pets

Small Pets Allowed
Licenses
Licenses

North Carolina

State Licenses

HAL-060-104
Location of The Laurels & The Haven in the Village at Carolina Place
---
Get Cost Information
Get full access to reviews, cost information, and amenities