Brookdale Medford
3033 Barnett Road, Medford, OR, 97504
Talk to a Family Advisor: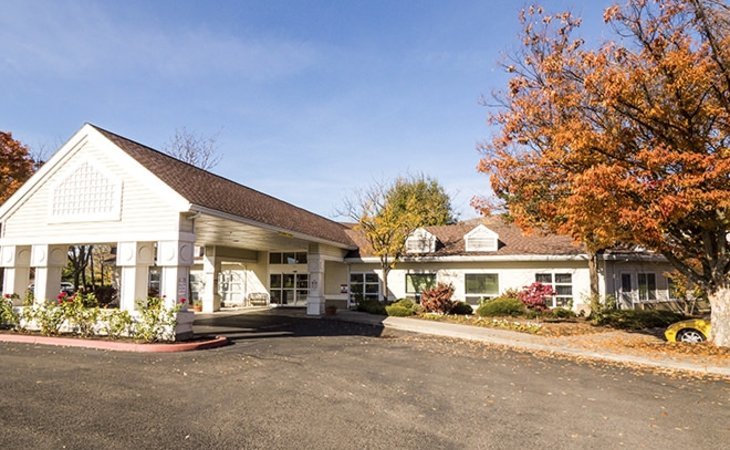 Reviews of Brookdale Medford
---
Ellen738226
February 11, 2017
I am a friend or relative of a current/past resident
The staff at Brookdale Medford was very nice and responsive. The room was adequate, and I have a friend also who has a 1 bedroom apartment; her living room space is smaller than his studio apartment. I think I like his studio better than a 1 bedroom apartment. The grounds were nicely kept.
---
David116341550
December 31, 2015
I visited this facility
I didn't like Brookdale Medford for my parents. I just didn't like the way it felt, and it was a little too dark for my taste. The staff appeared to be competent, friendly, outgoing people.
---
Anonymous116381150
November 30, 2015
I visited this facility
Brookdale Medford had more care provided and it seems bigger rooms and more welcoming lobby and entrance. Cleanliness was great, and they also had activities.
---
Lance4
May 18, 2015
I visited this facility
I went to Brookdale Medford twice -- once by myself and once with my dad. It seemed nice, but he didn't seem to like it. The staff was nice. It was a quick tour, and we went over things. They do their care a la carte instead of by level.
Provider Response
We apologize that your tour of Brookdale Medford did not meet your expectations. We want to thank you for taking the time to visit and providing feedback.
---
Sandy106514150
May 05, 2015
I visited this facility
Brookdale Medford was great. They had grass outside the door which I thought was kind of cool because my parents have a little dog. It was convenient. It was in town and was close to a hospital.
---
Janice105005650
April 20, 2015
I visited this facility
Brookdale Medford was fine. We liked it because it was very nice. We ate there, and we thought the food was very good. We toured the rooms. Some of the rooms were very nice. The staff was wonderful. They were very good, and they showed us everything. I would absolutely recommend it. They had a calendar of several events that you could participate in.
---
Maxine3
August 21, 2014
I visited this facility
Wynwood has trips. They do the laundry; they clean the rooms. They have nurses on staff; they take you to the doctor's if you need to go. They take you grocery shopping. There's not much they don't do.
It seemed really clean. Everybody was friendly. While we were eating, some of the caretakers stopped by to say hi and introduced themselves. The head nurse and the social person sat down and talked with us. They were very helpful. They answered all our questions. They didn't side step anything. They gave my friend information on financial help. They told her the exact cost. They let her know that, for instance, if I wanted to come to dinner, I was welcome, or if they were going to take a trip to the coast, I could go along at my own expense, but if she wanted to take me along, I could go.
She showed us 3 different rooms. It was built in such a way that the every room had windows, and they had a nice central open area, a nice yard and a running stream with a little waterfall. It was just nice; it was very comfortable. The food was delicious. What they do is they have a menu, but if you don't want what is on the menu, then you select something else and they'll cook it for you.
---
Leon4
May 10, 2014
I visited this facility
The staff at Wynwood of Rogue Valley were really nice. They were very accommodating, and they brought me lunch. The saleslady sat down with me and had lunch. And we talked, and she told me about the place. The food was very good and tasty. The rooms were spacious, and there were also activities.
---
Bunnyhooper
March 05, 2014
I am a friend or relative of resident
My mother in law moved to this facility just over year ago. As a family we were very hesitant to the idea of her having to move to a "rest home" after the passing of her husband. Through the whole process our whole family felt nothing but security in knowing we had found the right place. We had lunch and tours at several communities and this is the only one we felt "just right" about. Food is good and we've even had our thanksgiving meal with mom at her home.....beats cooking :). The staff is very warm and friendly and although my mom still wishes she could be at home we know this us best. The nurses have helped our family out when we were confused about some of the aging process happening with my mother in law. Overall if the choice has to be made I would recommend to anyone.
---
Ray7
December 28, 2013
I visited this facility
The staff at Wynwood of Rogue Valley when I visited this facility was very nice to me. They were polite too. The facility looked clean and feels very comfortable. I was able to see their food and it looks very fresh and new. I don't think they are giving pre-frozen food.
---
Grateful daughter DH
December 20, 2013
I am a friend or relative of a resident
My father has been a resident at Wynwood for over two years now. Overall, we have been fairly pleased with his care. The nurses are excellent, very caring and compassionate. My dad is treated with respect and kindness. As with any facility, things occasionally go wrong, but the staff at Wynwood works very hard to quickly correct anything that does go wrong. It is very clean, the food is good, administrative staff and aides are friendly, helpful and competent. They have many events for residents to participate in also. My dad has been well cared for.
---
Sherry 1
February 19, 2013
I visited this facility
I thought Wynwood of Rogue Valley was a great facility. The staff was very thorough during my visit and the place was clean.
---
nick077
October 12, 2012
I am a friend or relative of a resident
My grandmother was a guest at Wynwood for the last 3 months. I have visited her on numerous occasions and was able to see the many amenities provided to folks living there. One two different occasions, one of the helpful staff members, helped to get together a meal for our family. Once was on my grandma's birthday and one was on a weeknight where my grandma was feeling a bit more energized than usual. We really enjoyed the food and location where we sat. They gave us a small private dining area to eat in. Overall, the staff was very friendly and kind to visitors. All of the staff and other guests seem to be enjoying themselves because we always hear about the wonderful activities that go on in the place. Everyone seems to be very happy living there, especially since the place is so beautiful. While my grandmother is staying there, they provide her with a great little apartment with a nice view from the balcony. The furniture and carpet were in good shape. I would recommend that anyone who wants to check out the place do so. It is a wonderful environment and I would like to end up there when I get older!
---
dbryan
June 30, 2012
I am a friend or relative of a resident
This seems to be a very nice facility with many amenities. They offer a full schedule of activities for the residents each day ranging from movies and games in house to trips to stores and local scenery. They serve three meals each day and cater to the resident's individuals dietary requirements. They also have snacks available on request and had cookies and coffee/tea available in the lobby. They have a salon onsite that does hair and nails. They offer laundry service and also have facilities to do your own. They have a library, lots of games available and comfortable places for residents to sit and visit so they don't have to stay in their room. The grounds are nicely landscaped, they have a garden, an outdoor patio for eating and some paths to walk on. The common areas appeared to be very nice and all the staff we encountered was very friendly and willing to stop and chat. No one was ever in a rush. The staff arranged for our family to have a meal (free of charge) with my grandmother and the food was very good. We were seated in a private dining area and had good service. My grandmother had a private 1 bd/1 bath apartment with a balcony. It was in very good condition with new carpet and nice furnishings. They came every day to empty the trash and brought her medications several times a day. She said she felt the staff was pushy but nice. The only negative was that there were several problems with the nursing staff and getting her medications in the proper doses and times. The staff at the nursing desk did not follow through with requests to doctor's offices, would not administer supplements that were recommended by her physician and at one point my grandmother became very ill because of a lack of follow through on coordinating her Coumadin dosage with the doctor. Our family was out of town when this happened and after contacting the facility (our grandmother contacted us to tell us she was sick and the nurse confirmed) they told us they couldn't do anything and that we should contact 911. We were forced to do this and after she got out of the hospital we decided to remove our grandmother from care there because of the medication problems.
---
Glenn925
May 12, 2012
I visited this facility
As we were shopping around for a place for my father, we came across Wynwood though Caring.com. We visited this facility about a week ago. The experience has been good. Diane, the marketing lady, has stayed in touch with me via email, and she invited us to come in for a tour.
Wynwood is a clean facility. Some of the rooms we looked at weren't that bright. I think for older people, all the rooms should be bright for their well-being.
We took the tour and got the brochures. Diane gave us the pricing for what we needed.
---
caringformymom
February 25, 2012
I am a friend or relative of resident
With the recent remodel my mom is living in a beautiful enviroment. The staff always seems very happy and eager to help. My mom at times can be hard to handle and they all work so well with her and I can see the care and compassion they truly have for her. I on several occasions join my mom for meals because the food is wonderful! Whenever I walk through the door I am greeted with a hello and a smile like I am part of the family. I have only had a couple concerns that Im sure are par for the course and they were dealt with promptly with no issues. Finding a place for my mom wasnt easy. I feel I was blessed when her transition was so smooth and she feels like she is treated like part of the family.
---
Son in law
July 17, 2011
I am a friend or relative of resident
This company promises to love and care for your family member. The staff, in general, does try to do this but they are so overworked they fall woefully short of the promised level of care. When our mom paged that she needed to go to the bathroom, it could take up to 2 hours for someone to show up.Sometimes no one showed up. Management was completely unresponsive to any suggestion that there was a problem. They just smiled and said they would look into it. No change. They repeatedly overbilled for services not given while our mom was in the hospital for extended periods of time and then referred us to corporate accounting for help. They gave us the corporate shuffle and did nothing until we refused to pay anything else unless they gave us an accounting. It took them over 6 months to receive this accounting and then they added on 5 late charges totaling $1250. On top of this they sent us to collections for their refusal to do the accounting they promised to have done in a few days. We have never not paid a bill or been late on a bill and take pride in that fact. When we finally got the accounting with the late fees dues to their dragging their feet, it still had the late fees attached. I told them I would pay the bill in full at Wynwood, Medford that day minus the late fees that we due to their not doing their job as promised. They agreed finally. When I asked for something in writing showing that this would settle the bill, they said they couldn't do that. "Trust us" is what they said. I said we trusted you for 6 months and had to practically sue you to get you to reverse the unearned extra charges, so no letter, no money. After much heated arguing they finally relented and gave us a typed letter at Wynwood, but they had a clerk give it to us and said the manager, who we feel had lied to us on several occasions, was unavailable. Note also that they charged us nearly $800 for the first week of the next months rent even though they knew mom had died and that we would be completely moved out by the end of the month. This was four and a half months ago and we figured it was a closed issue, until we got a bill yesterday for $1250 for the 5 late charges. I can't wait to hear their explanation for this. Probably more excuses and passing the buck like before. One this is sure: their not getting another dime from us. These people in my my opinion are in it for the money only. The low level staff try but are overworked and understaffed and underpaid. I would look at any other facility if it were me.
---
---
Brookdale Medford provides assisted living residents with lifestyles, housing, and services in comfortable surroundings combined with exceptional amenities, programs, and care. Through Brookdale's signature Personalized Assisted Living, we customize our care offerings for the individual. This allows each resident at our community the freedom and opportunity to make choices that will ease their lifestyle transitions. Residents enjoy life with the support they need, coupled with the appropriate accommodations as their needs change.
We promise Respect for Individual Preferences by offering personalized care needs and providing an atmosphere that encourages each assisted living resident to live in health and longevity. We also offer special housing and care options for those who require assistance with the activities of daily living such as dressing, bathing and assistance with medication. We offer graduated levels of care based upon the individual need of residents, as determined by our continual assessment process. We are dedicated to enriching the lives of residents every day with signature services for those who value their freedom and independence, but desire or need services providing them with the highest level of quality, care, and value.
Features of Brookdale Medford
---
Room and housing options
1-bedroom apartments
2-bedroom apartments
Studio Apartments
Licenses
State Licenses

1149776637
Location of Brookdale Medford
---
Get Cost Information
Get full access to reviews, cost information, and amenities