Atria Windsor Woods
13707 Dallas Drive, Hudson, FL, 34667
Talk to a Family Advisor: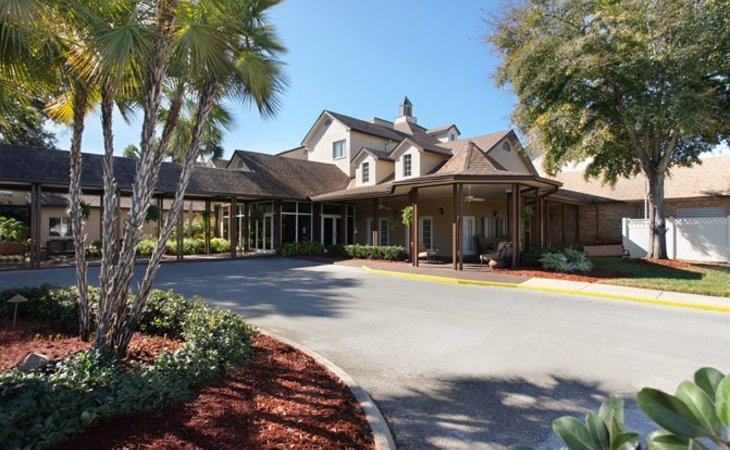 Reviews of Atria Windsor Woods
---
William018652
January 23, 2017
I visited this facility
Atria Windsor Woods was very nice and very clean. The people were very friendly. It was a nice place. They had activities, like bowling and a pool table. We saw the dining area and had some delicious cookies that they made.
---
Anonymous151776
October 06, 2016
I visited this facility
I visited Atria Windsor. The place was clean, secure, and large. The staff was friendly, and the food was good.
---
Ruth466360
October 04, 2016
I visited this facility
We went around and looked at Atria Windsor Woods, and it was very nice. They gave a nice tour and showed us all the great things. It was very neat, clean, nice, and organized. It has a lot activities; in fact I got something in the mail today with their calendar telling me what they're having this month. They have something going on all the time. They do have a pool where you get therapeutic exercise. We had a friend that lived there before that loved it. We liked the screen porches; everybody has a screened patio -- which was very nice and scenic. Their meals looked really great too. Elegant lifestyle living and upscale.
---
David068402
October 04, 2016
I visited this facility
Atria Windsor was a very nice place, and they did a really good job there. Mom lived there for 3 and a half months, and they were the best out of all I saw. Staff looked very attentive and good; it's just that in that facility they have their own little room; they can't really monitor the people. They have a lot of activities as well. Food was really good; they have three dining rooms and a wide selection of food on the menu. They have physical therapy, activity room for different games, a library, and bands coming in to play music. They have a bus that takes them to shopping.
---
Jack48
December 29, 2015
I am a friend or relative of a resident
My friend has been in Atria Windsor Woods for two months now. He is impressed with it and likes the layout and the food. He is happy there. The staff is tremendous. He is in a room with a kitchen and a bathroom. However, they should get him a roommate; he would be happier, then.They have a lot of activities.
---
Judith W.
December 16, 2015
I visited this facility
Atria Windsor Woods is a beautiful facility, but their cost is a little higher than others. The facility is too quiet for my mom and does not really suit her needs. I like the amenities that they have with the pool and everything. The chef is wonderful.
---
Christine115709250
November 10, 2015
I am a friend or relative of a resident
My parents used to live at Atria Windsor Woods. My mother loved their apartment which was on the ground-floor and very spacious with a big porch that led out to the pool.
---
Jennifer110963250
July 31, 2015
I visited this facility
I was very impressed with Atria Windsor Woods. It was very clean and home-like. The people there were very friendly and nice. They have a chef there, but I just felt food was fair. Also it was in a very safe neighborhood. There was a hospital within walking distance.
---
Jean107023150
May 28, 2015
I visited this facility
We chose Atria Windsor Woods because it's my mother's favorite. We will be signing with them. It was very elegant, and it had everything that we were looking for as far as her being to age in place. The food is good. Everything was clean and very fancy. The staff we dealt so far has been wonderful. The apartments were beautiful and of perfect size. It has a beautiful view from all the rooms.
---
Mike104323550
April 27, 2015
I visited this facility
I liked Atria more. It's independent-living, but you have the ability to go from independent to assisted without having to move. You didn't have to go out and find somebody to come in and give you the medical care that you needed; they actually had them on site.
We had a very good meal. It was stuffed cabbage -- something I hadn't had for a long time -- and I was very impressed with it. Their dining area was an elegant dining room with a wait staff so it was very nice. There was a 2-bedroom. There was no oven, but you had a 2-burner cooktop that you could do cooking on in case you didn't want to go down to eat breakfast. They had heated swimming pools, water activities, outings, and transportation to medical appointments within a certain radius of the facility.
The lady that we met was very knowledgeable. She had lunch with us, sat down, and answered all of our questions the best that she could. We did not feel like we were rushed at all. If she didn't know, she actually would find help for us, so it was enjoyable. They do evaluations on the residents every 3 months as to whether or not they feel they need to have any type of assistance which is good. My in-laws were both impressed.
---
Mtrainor1967
March 07, 2015
I visited this facility
I visited Windsor Woods for my parents who have not visited, yet. I found the staff incredibly helpful, friendly, compassionate and empathetic. Sharon is a dream and listened to me while shopping for "communities"
When it comes time for me and my husband to settle down Windsor Woods is in a great location and near top rated hospitals and doctors. Their amenities are over-the-top!
---
Caring98002150
February 11, 2015
I visited this facility
We have decided to go to Windsor Woods (Atria Windsor Woods). We chose this place because it is not fancy. It is cozy, clean, and friendly. It is a little more inexpensive than a lot of the places. The staff was friendly and accommodating. The rooms were spacious. I've tried the food, and it was good. Also the facility is right across the road from one of the better hospitals.
---
Caring104302450
January 13, 2015
I visited this facility
We decide we will go to Atria Windsor Woods because it is a cozy place. It is warm, and the food is great. It is a very pleasant place. The staff is terrific. It is close to a hospital which is right across the street. I have a calendar of the activities, and there is plenty going on. They take bus trips. They have all kinds of exercises, crafts, and bingo. They have the whole nine yards.
---
Caring103807350
January 04, 2015
I visited this facility
Atria Windsor was newer and beautiful. The food was excellent. They had a lot of activities. They had like a theater room. The dining room was very elegant. It was like you were on a cruise ship. The staff was very nice too. It was near Hudson beach. They had bus trips every week. It was cheaper than the older one we visited.
---
Caring94009650
November 03, 2014
I visited this facility
We looked at Atria Windsor Woods. The staff was very welcoming and nice. They had a pool and an exercise room. They had field trips all the time. The place was really nice. It was comfortable. It had a restaurant style dining room, which is very clean and very neat. The waiterss were very nice, and the meal was very good. It was very impressive, and we decided that's where we would like to go, if and when we need to go.
---
Caring95910350
October 18, 2014
I visited this facility
I am unimpressed with Atria Windsor Woods. The rooms are very dated, but the staff are friendly, and the residents looked happy and busy.
Provider Response
Thank you for visiting us at Atria Windsor Woods. While we did not end up being the perfect fit for you, we would love to share information about our other great communities in the area. Please feel free to reach out via customerservice@atriaseniorliving should we be of further service to your family and if you include "Atria Windsor Woods" in your subject line, we can quickly connect you with the right people to help!
---
Aline1
August 05, 2014
I visited this facility
I did not like the Atria Windsor Woods at all. It was too much like a nursing home. There were people around all the time and you could barely go through the front door because there was always somebody there in a wheelchair -- I just did not have a good feeling about it because of that. And then, one time I was a guest there and because the lady was ill at that time, we were late for dinner and the staff was very nasty about that. I thought I would never want to be there. The staff was not good and I was unhappy. The rooms were not neat at all and they were just not good. I was so unhappy that I did not stay very long. The whole thing just turned me off right away. They need to change the whole place around because it is not conducive to having people come in to visit. It is just not nice.
Provider Response
I am sorry to hear that you have not enjoyed your visits to our community and of your unhappiness with our staff. We would like to connect with you personally to gain a better understanding of your experience and how you feel we can improve. If you are willing, please email us directly at customerservice@atriaseniorliving.com and if you would kindly include "Atria Windsor Woods" in your subject line, we can include the appropriate directors in the correspondence. We are here to help and hope to hear from you soon.
---
Caring87141450
June 30, 2014
I visited this facility
I really liked Atria a lot. They have different sizes of rooms. They have studio apartments. The staff that I met was very, very good. I tasted some desserts; they were good. They had a movie room; they had bingo. They had quite a few things. I like where it's located. It's a very attractive and cheery place. There are stores around there, too. I liked pretty much the whole thing.
---
Cindy5017
June 27, 2014
I visited this facility
The staff who gave us a tour was very nice. The rooms were very nice.
---
BettieL
May 30, 2014
I am/was a resident of this facility
I used to live at Atria Windsor Woods, and I really enjoyed my stay there, but I just couldn't afford it, so that is the reason why I moved out. I was in a one-bedroom, and compared to the apartment I am in now, it was very small. They had good activities, and we could have transportation wherever we wanted to go and whenever we wanted to go, usually. The staff are mostly accommodating. I can highly recommend the food because they keep changing their chefs. I like living there, but the rent kept going up and my income didn't.
---
Reeni
April 30, 2014
I visited this facility
We were able to visit Atria Windsor. The staff, the facility, everything I saw was better than I imagined. They were really good. We considered this facility to be at the top of our list. They had beautiful grounds, and you could look out at any window and see nature, which was nice and uplifting. The apartments were open and spacious and very practical. The halls were like you're in a nice hotel. You can just go down and order anything you want at any time you want in your dining room. They also allow pets.
---
philly5695
March 20, 2014
I visited this facility
Atria is a beautiful facility and everything there is top-notch. It has chandeliers and stained glass windows, and covered parking. They don't have a dementia unit, though. The cleanliness is excellent. They have a separate dining room and adequate waitresses. The food is excellent. The staff is excellent as well.
---
Mike35
November 22, 2013
I visited this facility
The Windsor Woods was pretty much a ground level operation. It looked nice and I was comfortable with it. It's right across Fivay from a regional hospital there which is handy also. The big drawback was the distance from my home. It was too far to be convenient if Mom needed me for whatever reason or when I have to take her to a doctor's appointment or get her hearing aids adjusted. They had pretty extensive activities to keep everybody entertained and communing with each other.
---
Taz1
July 22, 2013
I visited this facility
The Sales team (mainly Sharon) was wonderful and so respectful to my father. They spoke directly to him and listened to his questions. It felt collaborative and they introduced us to various department heads as well as residents. We came back a second time and had a delicious lunch followed by more apartment viewing. My father committed to moving in on this 2nd visit! This was major shift from his anger and sadness at prospect of giving up his home and "stuff". The staff enabled him to see himself as a resident, and the fact there are so many other Veterans there is a major plus. This facility is close to my home and I feel he will be safer and happier here.
---
Michelene
July 12, 2013
I am a friend or relative of a resident
My grandmother is staying in Atria Windsor Woods. This community is not far from her hometown. It just felt comfortable there. The rooms they have there are very clean and are of a good size. She got an apartment that includes a mini-kitchen, a bedroom and a living room, and the apartment overlooks the pool. She just really loves it. The staff is very professional. They check on her every morning and remind her when it is time to eat. If she is not feeling good, she can order food up to her room. They also offer medication management which I think is really important. They just seem hands-on in terms of care. Also they have many activities throughout the day. They also offer transportation around the community and they can take her to the doctor. My grandmother is happier since she moved into this community. I just wish they could add on a unit that specializes on Alzheimer's care.
---
caring1326
May 31, 2013
I am a friend or relative of a resident
My parents live in a two-bedroom apartment at the Atria Windsor Woods. They love the food there. The staff are good and they have entertainment all the time. They have all kinds of games like mind games. They bring the residents to the stores and they go to church. My parents are happy there.
---
Caring 5116
March 20, 2013
I visited this facility
We had lunch at Atria Windsor Woods and it was very good. The apartments are somewhat small but so was the price tag. It was an intimate place. They do not have a set fee for assisted living.
---
caring7724
February 28, 2013
I am a friend or relative of a resident
Atria Windsor Woods looks like a little country club. I go up there every week and visit my friend. The staff is extremely nice and very caring to the person who lives there. Everybody that works there knows almost every resident by name. They get them involved in all the activities. They also do outings and take residents to places. They do the laundry and do other extras and don't charge for it.
They have a chef that cooks their food. There are three dining rooms. You can eat anytime you want. There's another dining room for people who are handicapped that needs some assistance with eating. However, they could improve on the price. It's too high. But it's very competitive. My uncle would be a resident there soon, as well as one of my neighbors.
---
sueplumpton
February 06, 2013
Other
My husband and i have been in the music industry for over 40 yrs. We have played all over the United States. Canada and a bit in Europe. We have played large venues and small and almost everything in between. I am especially fond of Atria Windsor Woods, the building is well maintained the residents are happy and involved there is something for everyone to do at any givin time. The pool is well maintained and beautiful at all times. They have music at least once a week, they have a monthly birthday party with live music and they also have a monthly celebration dance of some sort. As entertainers we are usually not treated as anything special however at Windsor Woods we are welcomed by all and treated awesome. The staff is great, the food is better than 90% of the better restaurants in the Tampa bay area. The residents are very happy and great to talk to and i have found that at every event they are well looked after never needing for anything. I guess it is more like living in a nice hotel rather than an assisted living facility, I also noticed husband and wives also live together I would recomend taking a look and see for yourself, you can book a room for an overnight experience and tour because just going in for a tour for an hour does not give you a true outlook of the people the staff and the 10 well maintained acres that are offered.
---
Transit5495
September 20, 2012
I visited this facility
This is a very nice facility. The grounds are well maintained. The appearance is classy. It's rather expensive-$2200 a month, The dining room is very elegant. The staff I think is short on training. Especially in the dining room. The food is adequate. I've eaten there many times and have enjoyed it. They offer a variety of entertainment. Usually a Sunday singer/guitar player. Games and activities are posted daily. The calendar of events is a little complicated, especially for those that are not as sharp as they used to be. The apartment/rooms are spacious and comfortable. It could use new carpeting in the hallways.
Provider Response
Thank you for your review of Atria Windsor Woods. I'm so glad that you have enjoyed your visits at our community, and I would love to speak with you more about your experiences with our staff. If you are willing, please contact us at customerservice@atriaseniorliving.com to set up a time to talk (be sure to include the community name in the subject line). We truly appreciate your feedback.
---
orestis_amy@yahoo.com
June 14, 2012
I am a friend or relative of a resident
Atria Senior Living in my own opinion was a very neat, clean, and organized assisted living facility. The staff was very courteous to my mother's needs. The facility has two or three very spacious dining rooms, where the breakfast, lunch and dinner was impeccable. They also had gorgeous banquet rooms where a family could go and eat together. The amenities at Atria included, game rooms, a swimming pool, a fitness area, and they also had activities planned throughout the week for the residents, such as a scrapbooking club. The rooms were very spacious and well maintained. The grounds around the facility were kept up to par and looked exquisite. There was an ample amount of parking and it was not far from the buildings. Overall, I was very happy with the service this facility provided to my mother. My experience with Atria was good and I would recommend it to other people.
---
Warewolveswin
June 12, 2012
I am a friend or relative of a resident
I visited recently and found the facility to be extremely well kept and the staff to be very helpful and cheery. The whole atmosphere of the place is very nice and the layout is easy to get around. They have a pool and exercise facility for residents and guests, 4 star dining, and a shuttle service that takes residents to do shopping at any of the local stores.They even have special trips available to take residents to different parks and beaches and other local attractions.There are so many things available to do every day that even i wouldnt mind living there, especially since most things are taken care of.Food is top class and you can order things that arnt even on the menu as long as it is reasonable and they have it in the pantry.As far as other activities they have different computer lounges and classes to help learn how to use them so as to keep up with the times, and they have all sorts of different card clubs, like canasta and bridge and euyker.I would definitely recommend this facility to anyone looking for a great place to have their relatives live with assistance and still feel like they have freedom.The biggest perk of the facility is the fact that they allow patrons to retain ownership of a car as long as they show competence driving and no issues getting around.
---
virtual reader
November 28, 2011
I visited this facility
This facility made me think of a large ranch when I first pulled into the parking lot. I did notice that there was ample parking for staff and visitors.
As I walked into Atria Windsor Woods I noticed immediately that the majority of residents were female and after walking through and talking with many of the fine residents I also found that the facility has the Red Hat Society members and meetings.
The facility offers several types of apartments, whether you want a studio or larger, it is offered. I also noticed that several of the residents have their pets residing with them.
I arrived between breakfast and lunch so didn't get a chance to sample their food, but I noticed that the dinning room was a restaurant style dinning room so that the residents can pick and choose what they would like to eat. I did ask some of the residents how the food was and all replied it was delicious. Atria Windsor Woods has a large activities department and I noticed there is a calendar posted stating the different activities offered on the days of the month. I did not see any days left blank.
One of the amenities that I did notice was they offer a 24 hour café that is always staffed and offers beverages and light snacks. I did notice a number of residents gathered around the café.
If a resident does not want to sit inside or partake of any activities offered for that day, they can walk around the 10 acres that is like walking through a nature trail. A safety feature I noticed is all rooms and apartments offer a call system for emergencies
---
tampabayCNA
November 07, 2011
I visited this facility
Altria Windsor Woods , not far from US Hwy 19, is easily accessible. The building is set back on a narrow road quite a bit from the main stretch. Once entering the building the first thing you come across is the "welcoming desk" . Taking note of the deep rich colors in this building, the décor is far from the "key west" color scheme. One you pass the front desk, you enter a hallway that seems to go on for a while. The pivoting point where you can only go right is announced by a dinning room that is delightfully decorated. Waitresses and waiters take your order and cocktails are served in what appears to be full service dinning. Each apartment is reasonable in size and clean in appearance. Each apartment seems to be fully functional. The two things about this building that I personally did not like was the fact that it seems to wind around and dead end and such that I myself got lost twice. Elevators to the second floor are scarce and not easily accessible. There is one elevator near the dinning area and one way far away. I had asked where a room was on the second floor and the staff could not give me clear indication of how to get there, and to me that was concerning. If you like the idea of living in an apartment like setting that has a full dinning experience daily and physically no challenges on being ambulatory "¦ this ALF is perfect. I did see several staff workers working diligently and they were very courteous to their residents.
Provider Response
Thank you for taking the time to leave your feedback about your experience at Atria Windsor Woods. While it sounds like you were pleased with our community in general, I would like to offer additional details about the layout of our building. Our elevators are balanced throughout the building so that residents don't have to walk to one single area to use them. An initial visit could be confusing until you become accustomed to the various areas, but rest assured that residents don't generally have difficulty getting to and from their destinations.

If you have any suggestions for our community, we would love to connect with you. Just email us at customerservice@atriaseniorliving.com and be sure to include the community name in your subject line. We also welcome you to stop by for another visit any time.
---
Anthony Cilluffo, Ph.D
August 22, 2009
My loved one stayed here
clean and beautiful facility, warm and caring staff, excellent food program, outstanding activities and social programs, excellent bus and transportation programs, excellent maintenance and laundry services
---
---
Atria Windsor Woods is a warm independent and assisted living community that offers seniors all the comforts of home. Look forward to a fulfilling day with social opportunities, activities, educational programs and wellness events. Take a morning swim in our pool or enjoy a short walk outside; we offer countless opportunities to make the most of retirement living. We are located on 10 acres in Hudson, Florida, a suburb of Tampa, FL. Creating an environment of trust and companionship, Atria Windsor Woods provides the ultimate senior living experience, with delicious dining, dynamic calendars with more than 200 monthly events, and the freedom to choose which opportunities to explore next.
Atria Senior Living is a leading operator of independent living, assisted living, supportive living and memory care communities in more than 180 locations in 28 states and seven Canadian provinces. We are the residence of choice for more than 21,000 seniors, and the workplace of choice for more than 13,500 employees. We create vibrant communities where older adults can thrive and participate, know that their contributions are valued, and enjoy access to opportunities and support that help them keep making a positive difference in our world.
Features of Atria Windsor Woods
---
Licenses
State Licenses

ALF AL7242
Location of Atria Windsor Woods
---
Get Cost Information
Get full access to reviews, cost information, and amenities