The Solana at Vintage Park
19929 Chasewood Park Road, Houston, TX, 77070
Talk to a Family Advisor: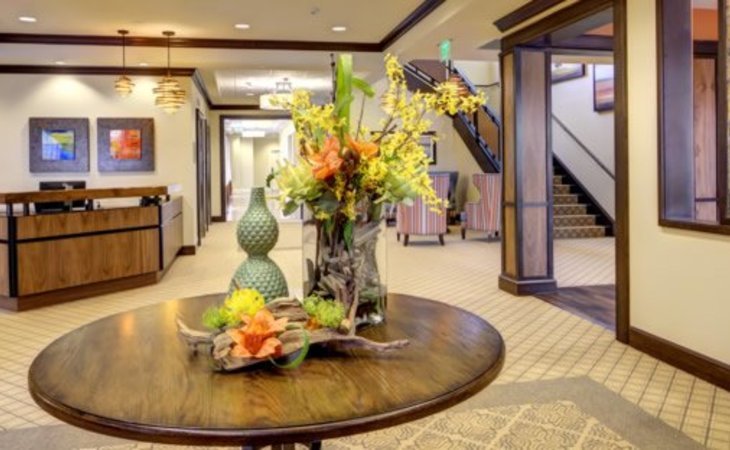 Promotion ends in 7 days!
NOTHING SAYS SUMMER LIKE SAVINGS. Move into a Brookdale community by June 30, and receive a $1,000 rent credit! *Eligible new residents will receive a one-time $1,000 credit to the Basic Service Rate/Monthly Fee following the first 90 days of residency.
Reviews of The Solana at Vintage Park
---
Maggie31
October 15, 2015
I visited this facility
I did go to the Solana, and it was very nice. It was kind of like a high hotel; the lobby area was just like what it would be in a hotel lobby, and I was very impressed. The social activity director came and filled in; he took us around and was pretty pleasant, and I got the information I needed. They showed me what the cost of something like that would be, so I got a good idea. I wouldn't mind sending my mom there except that the food was not right; I wanted her to have meals of congee and rice. I only saw that they were having Bingo in their front area where people visited or have little snacks, and then they had a craft room upstairs with a craft lady who took us around. There was a movie theater, a library, a physical therapy room, and a beauty salon.
---
Joy32
September 30, 2015
I visited this facility
We visited Solana at Vintage Park. They were wonderful. They were not able to accept my mom because of her physical requirements, but they did such a thorough careful assessment over a long period of time.
---
Gretchen7
November 15, 2014
I visited this facility
The Solana was very nice, very professional. It was a brand new facility. It was state of the art. It had lovely park courts, rockers, and plants. Physically, it was a very beautiful facility. The dining room was big and roomy. They had a menu out for the residents. It was very accessible with the wheelchair. It was very nice. I observed some physical therapy activities. They had several people in there. Then they had another where there were people doing something else. I also visited the memory care where they were doing breakfast activity. They were talking about what kind of food they would like to eat. The staff was very attentive to the patients. Everywhere I walked, they were dealing with patients, addressing their needs, and helping them around. Even the staff that wasn't responsible for them would stop and help them.
---
JRH1950
November 11, 2014
I am a friend or relative of resident
My dad has been living a the Solana now for over a year. He is 92 and although it was hard to convince him this was the place for him, he now enjoys being there and our family is too!! I have to greatly complement the staff at Solana as they are friendly, helpful, and show a great deal of respect for all the tenants. I can't speak enough about them, there great and would recommend this facility to anyone needing to provide a family member with a special place to call home!!
---
lkpeterson
November 11, 2014
I am a friend or relative of resident
My husband is a resident in the assisted living area of Solana, and he likes the facility very much. In particular, he likes the food - which is quite varied. He also enjoys the other gentlemen with whom he dines, and he really enjoys the outings that are scheduled for the residents. I like the attention and affection the aides give to all the residents.
---
StephenB
November 10, 2014
I am a friend or relative of resident
My family and I moved my Mom into the Solana in August of 2014 from a Senior Living facility because we were looking for a place that provided more care and caring for her. We looked at 6 other facilities in the area and decided on Solana for many reasons such as it is close to my home, it is a new facility, they have the programs and options for care that we were looking for. But the main reason we chose it was because of the staff which were genuine and sincere during the selection process. I am glad to report that they are still genuine and sincere after having Mom there for over 3 months now. The facility is great with wide clean spaces for Mom and all of the residents. The on-site Dr and PAs take care of Mom's needs without having to get her up and out for basic Doctor visits. The grounds are maintained meticulously with the front porch and back yard garden being Mom's favorite hang outs. They are continuously playing some sort of games or movie nights with the residents. And the monthly parties are a great time for family get togethers with Mom. We are looking forward to Thanksgiving with her there on Nov 20th. I would highly recommend the Solana.
---
ESD
November 09, 2014
I am a friend or relative of resident
. Mom was not happy to be moving to assisted living but now she tells me daily how happy she is at Solana. The family had their reservations as well. But all of the staff have been wonderful in getting her involved in activities. The staff are always smiling and upbeat.
---
SWP-cypress
November 09, 2014
I am a friend or relative of resident
The Solana is a beautiful facility that does not have the "nursing home" feel that some other assisted living/memory care facilities do. The rooms are lovely and the facility provides whatever services each resident might need depending on their individual needs. The staff is very caring and attentive and you feel like a part of the family there. There are many activities offered as well as outings. The Solana has been a great choice for our loved one.
---
tx_
November 08, 2014
I am a friend or relative of resident
I looked at dozens of assisted living facilities when it came time to move my Dad. This was the one place that stood out -- modern design, super clean, and the friendliest staff you've ever met. My father has been here for about a year now and I can tell you that I still continue to be impressed. The activities director is fantastic - she's got so much energy and my Dad loves the trips and events. The nursing director is also great -- always available and a great communicator. On the very rare occasion that there have been little hiccups, they've always been handled quickly and with respect. I never worry about the care that my Dad is getting. If you're in need of a caring home for a loved one, the Solana Vintage Park is the best of the best.
---
Spring Tx
November 08, 2014
I am a friend or relative of resident
My Mom has to have help with every simple task since her stroke. Skilled nursing facilities are awful on this side of town and Solana staff has been able to provide a level of care well above what we had previously experienced. The provide a safe, loving environment and she is the happiest she has been post stroke at this assisted living facility. Expensive, but worth every penny.
---
GloHorse
November 08, 2014
I am a friend or relative of resident
My mother-in-law has experienced both sides of the Solana. She started in the assisted living side (for 1 year) and then because of her diminishing memory function, we moved her the Clarebridge side. We are very happy with her continuing care. The staff is friendly, attentive, and caring. They make individual "adjustments" for her as she has some special needs. If they can't be reached immediately, they return my call within the hour. Communication is clear and open. The activities allow us to be involved socially with other residents as well. Best of all, SHE is happy. 5 stars!
---
spsammons
November 07, 2014
I am a friend or relative of resident
My mom moved into this beautiful new facility last year. The staff is sweet and caring as well as very competent. They go out of their way to make everyone feel "at home" and cherished. One day it was raining as I was dropping my mom off under the front canopy. I got out to walk her in, but the concierge saw us and ran out to wrap her in her arms and help her in out of the windy rain. That's going the extra mile! The Solana is bright, clean and has a vibrant atmosphere. There are many activities and events. There are even monthly family nights that are fun for the entire family. I know making a decision of a move like this is difficult and we all want the best for our loved family members, and my experience with Solana has never been anything but exceptional.
---
Randy Fish123
November 07, 2014
I am/was a resident of this facility
My Mom was one of the first to move in after Solana opened. She loves it. It is bright, cheerful, well decorated, and is exceptional in design for senior living. The food is wonderful. The staff are all caring, considerate, and friendly. I even think the Property Manager (Chuck) knows every resident by name and who their family members are. My Mom has never had a complaint, and my wife and I are more impressed at the quality of Solana every time we visit.
---
Charles40
August 27, 2014
I visited this facility
The Solana is only assisted living, but is one of the prettiest ones that I saw. They've only been open sincelast year. Whoever designed it, decorated it and put the flooring in was very, very good. The staff is very nice. They said they had 40% men there which is very unusual. There's a waiting list there now.
---
Diane90480950
July 30, 2014
I visited this facility
The Solana Vintage Park is beautiful and the people were very nice. The problem was that it is very typical of most assisted living places. It is a hotel type building in the middle of a parking lot; very busy, heavy traffic. They have beautiful homes all around it, it is a wonderful area, but I knew it was not suitable for dad. It would have been fine for me, but it would not be fine for dad because he likes more outdoor space. On my visit, they were excellent. The manager was very nice. The place was well-done, very tastefully done. The interior was very pretty and it was very comfortable. I would think living there is nice and relaxing,
---
Caring87409850
June 26, 2014
I am a friend or relative of a resident
My husband was in the Solana, and the only reason why I moved him was because of the rates. It's wonderful. I like the staff. They are very good. They just were very interested. The staff seems to be very caring, and it's just a very nice facility. What I like the most about it is that the caregivers seem to just go a little further than most. They're very caring, and they're just really very attentive to the needs of the residents. The sanitation is excellent. The food is good also. They have tablecloths in the dining area, and it is very attractive. They have the assisted living in the front. The memory care is usually in the rear. He has dementia, but he seemed to be content, and I was very satisfied. I like the arrangement of the rooms. His room opened right up into the dining room with a hall between them. They shared rooms that each had a door for privacy, and they shared the bathroom. They also shared a little living area where we had a love seat. I visited several times, and this is the place that I would have him if I could afford it.
---
Caring81723050
March 27, 2014
I visited this facility
The staff took a lot of time with us when we had our visit at Solana Vintage Park. They are very friendly and informative. The rooms are small, but they are very nice. Everything is very nice about the place. They showed us their activity room and movie room, and we saw some of the residents playing games. I just thought they needed some rooms that are for couples; they need to have rooms that are a little bit large for this type of selection.
---
Anonymous0254
July 10, 2013
I am a friend or relative of a resident
Solana is a brand new community and it's a convenient location for me. All the people that work there are really kind and helpful. The people living there seemed to be happy. They have cards and board games, they take them out maybe once a week to Walmart or lunch, and they do exercises. They have a library and activity room. My mother complains that the service is too slow, she likes to drink a lot of coffee and they hardly get it to her before she's done. She seemed happier a week ago. They could improve on increasing the personnel for serving and helping the residents so the others can get the time and attention they need.
---
From The Solana at Vintage Park
---
The Solana at Vintage Park provides assisted living residents with lifestyles, housing, and services in comfortable surroundings combined with exceptional amenities, programs, and care. Through Brookdale's signature Personalized Assisted Living, we customize our care offerings for the individual. This allows each resident at our community the freedom and opportunity to make choices that will ease their lifestyle transitions. Residents enjoy life with the support they need, coupled with the appropriate accommodations as their needs change.
We promise Respect for Individual Preferences by offering personalized care needs and providing an atmosphere that encourages each assisted living resident to live in health and longevity. We also offer special housing and care options for those who require assistance with the activities of daily living such as dressing, bathing and assistance with medication. We offer graduated levels of care based upon the individual need of residents, as determined by our continual assessment process. We are dedicated to enriching the lives of residents every day with signature services for those who value their freedom and independence, but desire or need services providing them with the highest level of quality, care, and value.
Our Clare Bridge Place program serves those with Alzheimer's disease and other forms of dementia. Each day, we promise to work to deliver Daily Moments of Success for each resident. The Clare Bridge Daily Path provides structure and activities each day designed to meet specific needs of those with dementia, while the Clare Bridge Dining Program, designed by a gerontologist and registered dietitian, helps residents in need of Alzheimer's care retain the ability to enjoy and master the daily dining experience.
Features of The Solana at Vintage Park
---
Room and housing options
1-bedroom apartments
2-bedroom apartments
Studio Apartments
Location of The Solana at Vintage Park
---
Get Cost Information
Get full access to reviews, cost information, and amenities