The Horizon Club
1208 South Military Trail, Deerfield Beach, FL, 33442
Talk to a Family Advisor: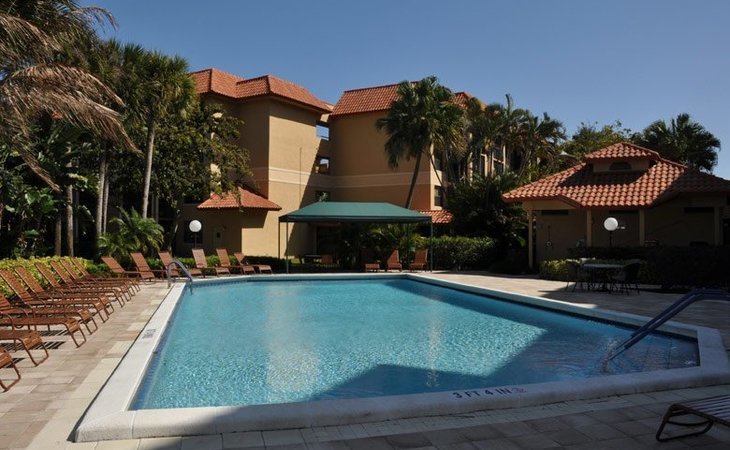 Top nearby Assisted Living Facilities
Reviews of The Horizon Club
---
Mark665186
March 08, 2017
I visited this facility
The Horizon Club's general appearance was OK, but the dining room looked like it needed to be redone. Some areas were more worn than others, and they were rebuilding the assisted living area, which basically looked like a hospital with only studio apartments. It was not a place I would consider putting my mom. Something they said to me that really turned me off was I explained that my mom goes to the bathroom a lot, and she could go herself but needs help getting up and they said they trained the residents to use the toilet like kids and take them to the toilet every two hours. They need to improve their attitude toward people in assisted living and give them better care so they don't feel like they are in a hospital. They had sing alongs and movies for their activities.
---
Les600806
July 01, 2016
I visited this facility
The staff at The Horizon Club was professional. The place was very clean and upgraded. They had accommodations for both assisted or for people needing full-time care, like people with Alzheimer's. Plus, they had basic things like assistance with medicine and lots of activities. It was a very nice, good-sized, clean, neat, very well organized facility with easy access for people who live there, and the rooms were very nice. It was completely remodeled and redecorated and had a lot of amenities.
---
Anonymous70189950
October 28, 2015
I am a friend or relative of a resident
The Horizon Club is beautiful, and the people seem very friendly; however, since my aunt has been there, I'm not really thrilled with the care that she has gotten. She has fallen many times. In 2 1/2 months, she has probably only stayed there maybe 15 days, because she keeps falling and they keep sending her to the hospital. I'm just really disappointed in the care that she has gotten. They misinterpreted themselves when we first initially spoke with them. They assured us that they could take care of her, and now, I'm being told that she can only stay there if I have 24-hour aide, which I have to pay for. Maybe somebody who is with better physically strength than my aunt would do well there. I've seen many of other residents who seemed very happy. Unfortunately, I guess my aunt is in a different stage, and we were told that this was not a problem, that she could be accommodated there, and it turned out she can't be. Also I don't see how they're being helpful at all. Every time my aunt is there, they would check her every two hours and then find her on the floor where she fell. Now, I have 24-hour aide there, so I don't see where they're being anything to me. The place is beautiful, and I thought it is very inviting and very uplifting, but maybe it just turns out that it is not the right fit for my aunt.
---
Anonymous114091750
October 19, 2015
I am a friend or relative of a resident
My parents are in The Horizon Club. They have a two-bedroom, two-bathroom. They have an elevator and a pool. They serve two meals a day. They have facilities there, like drug store, a hair salon and a card room. They have a beautiful entry. It is a very nice place, and kept very clean. Someone comes in once and week and does some cleaning. The staff is great, friendly, and very helpful. The food is excellent. They have speakers and entertainers coming in.
---
upset at assistant living
August 14, 2015
I am a friend or relative of resident
I am writing this comment with regards to the supervisor of the Assisted Living Facility. I want to clearly state that this is not a review of the Entire community, of which I would offer great reviews. But, I need and want an outlet to describe my disgust at how I have been dealt with by Belinda, who is the supervisor of the Assisted Living. My mother is now extremely ill, and in hospice. Belinda called the hospice to tell them that she could continue to care for my mother in the club. She did this without even the courtesy to see my mother in her current state. My 91 year old mother had major surgery, and her needs are much greater than the assisted living facility can handle. Besides the hour by hour care, that would not be sufficient, the assisted living facility is undergoing extensive construction with 12 hours of noise that is at a very loud level. I cannot imagine a 91 year old women, who can no longer stand on her own two feet let alone walk, is a candidate for their care. In the 6 months that my mother was in the assisted living, I never once received a call from Belinda to let me know how my mother was doing. The one call I received was to ask me if I would like to move my mother to the more expensive section of the assisted living apartments. I could go on and on, but I don't want to strain the reader here.
---
Caring110291450
July 07, 2015
I am a friend or relative of a resident
We had dad at Horizon Club, and it has been a great experience so far. We chose this place because it's like an apartment style place as supposed to a hospital. I have no issues with them, and everyone is very nice and treats my father well, so that is a good thing. He also likes his apartment and the food as well.
---
Caring103432150
March 19, 2015
I visited this facility
We went to Horizon. I actually liked it, and my dad liked it too. It was very clean. The staff was very friendly. There were also younger and more active people. The rooms were in nice size. They were lacking in the sense that they didn't have a lot of live daily entertainment. They had activities, but not daily professional performers coming in. My dad was quite interested in that one. The ambience was good. It was warm and welcoming. It smelled good and clean. Everybody was friendly.
---
Caring68053450
February 10, 2015
I am/was a resident of this facility
Our experience in The Horizon Club has been fantastic. The staff is really great. The rooms are really nice and have their own kitchen and bathroom. I see nothing wrong with the food. You just have to know what to eat and what not to eat. I use to call it as palatable, and I think it is getting better with more diversified stuff. They have a whole list of activities listed in their newsletter. I do trivial pursuit, a poker game on Wednesday nights, and I'm on the Resident's Council. The one thing I really like about the place is I can sleep late in the morning.
---
Caring97310650
December 28, 2014
I visited this facility
Horizon Club had so many big buildings. It was just too big that if I go to the dining room, I almost could use a horseback. It was a nice place, but it was too big. They had closer places, but the closer you go, the higher the rent, and I didn't want to pay extra just to get nearer to the dining hall. I didn't disqualify it totally, but it is second place.
---
daufgter of resident
March 11, 2014
I am a friend or relative of resident
My mother has been a resident for 5 months, and her life is completely changed. She is now active, social and enjoying life again. She has many friends, plays cards, enjoys the entertainment, and is able to get to her appointments with the wonderful transportation department. The service is excellent, and all her needs are anticipated and met. The staff is extraordinary, without exception. She enjoys her new lifestyle every day!
---
Melani
February 28, 2014
I am a friend or relative of a resident
I think Horizon Club was one of the best that I looked at. It was kind of what we're looking for. I liked it because it had an apartment feeling, but had all the extras. There was some nice landscaping and it was well-maintained. It is a good price that came with nice amenities. It's also in a good location and easy to get to. The staff was very nice, very helpful, and very informative.
They have a good maintenance department that if you have any problems, they're right there help you to fix it. You pretty much see everybody almost every day. So if ever you have a problem, they're walking around and you can ask for help. They also know you by name. The food is pretty good.
They do a lot of different things, like my dad is learning Spanish. They have a men's group, they do dances, happy hour a couple of times a week where they provide free drinks to everybody that come down. They do a lot of entertainment where people would come in to play piano, concerts, formal discussions, card group that meet a couple of times a week, Bible study, and morning exercises every day. There's just a lot of different things. There's also a pool and a hot tub. You have a lot of activities to choose from. There's transportation too, which is another reason we like them.
---
Caring75575350
December 24, 2013
I visited this facility
We did a comparison between Horizon Club and another facility and Horizon Club was 10 times better. We got a lot of wonderful info for Horizon Club. At this point, were we to become disabled or whatever, we would go to Horizon. Their environment, rooms, working staff, and food were good. They have activities there too. They have a fitness center which I like. They also have happy hour, entertainment, trips and stuff like that. I found their activities very attractive. What I like best during my visit there was their willingness on their part to impart information and cost information through different stages of assisted living.
---
Caring60746350
December 24, 2013
I visited this facility
The Horizon Club was a really nice place. The facility was beautiful. The people were nice. I referred someone there and her father went in there. Two weeks ago, we had lunch and her father said, "I wish you brought me there a year earlier." He really likes it. They have lot of activities like arts and entertainment. That place was really nice. I'm thinking of going to Holland next year and I have to go and see them again to see if they could take my husband for a month. What I like best about this facility is that during the visit, they showed us around and they're very knowledgeable. It was just a warm place and I really like it.
---
Thomas19
October 30, 2013
I am a friend or relative of a resident
The visit at The Horizon Club was fine. We were looking for some place that has both assisted and independent living and this place has both of them. We also saw three or four different styles of rooms, both in independent and assisted living. The working attitude of the staff, as far as we know at this point and what we dealt with them, has been great. They have regular staff on board and then they have a company that works through them if you need extra help.
---
James43
September 26, 2013
I visited this facility
I was able to do a visit at Horizon Club and it was a pretty cool facility. The apartments were nice. I think the dining room was nice. The facility seemed okay, but it just didn't have that homey feel.
---
Chuck Oliver
August 15, 2013
Other
I am a friend of a man who was living at The Horizon Club and recently (June 7) passed away there. I recommend The Horizon Club because he was a very difficult patient near the end and the staff was very kind and professional under very difficult circumstances. The care they gave him was matchless and he was made as comfortable as possible. Additionally, the facility is unusually pleasant, clean and airy with excellent food and service in the dining rooms. Activities were abundant and well managed.
---
realtorbrian
February 19, 2013
I am a friend or relative of resident
My mother has lived at the Horizon Club for over five years. At first she was hesitant to try this type of living... but she loves it.. the lifestyle she has now is wonderful. She has great food, enjoys socializing, loves the activities, shows, lectures and exercise classes all while getting the care she needed. The staff treats her like a queen. They take care of all the residents like that. You have to see it to believe it!
---
---
The Horizon Club is a resort-style, independent and assisted living community that offers compassionate senior care in Deerfield Beach, Florida. If you can live independently but would like the security of having extra needs taken care of, then our Independent Living is for you. Our Assisted Living program is based on a detailed care plan that we design for each resident that includes assistance with bathing, dressing, laundry and housekeeping. Our warm, well-trained staff works closely with each resident to create a home-like atmosphere. As part of Five Star Senior Living, everyone at The Horizon Club shares the Five Star Values, and is committed to a high level of caring in all that they do. Please schedule a visit to see why we are the best choice for senior care in Deerfield Beach, Florida.
Location of The Horizon Club
---
Request Info
Get full access to reviews, cost information, and amenities