The Best Hearing Aids for Seniors of 2020
| Hours of Research | Brands Considered | Brands Selected | Hearing Aids Considered | Hearing Aids Selected |
| --- | --- | --- | --- | --- |
| 70+ | 21 | 10 | 62 | 27 |
Best for Low-Cost Digital Hearing Aids
Starting at $399 for Two Ears
Bluetooth Enabled Options
Call Now: 1 (800) 230-4081
---
Best for Inner Ear Comfort
Starting at $1,850 for Two Ears
Audio Personalization
Call Now: 1 (866) 349-6189
---
Because hearing loss is such a normal part of aging, many people don't understand how risky it can be to allow deafness to go untreated. Not being able to enjoy one's normal activities, like taking in a movie, talking with friends, or even being able to hear timers and appliances in the home, essentially cuts a person off from their own life. Studies have increasingly shown that the isolation that conditions like unaided hearing loss can cause often leads to further problems, including both physical and mental health challenges.
Many seniors who do not treat their hearing loss fail to do so simply because they believe they cannot afford a pair of hearing aids. The costs involved can be daunting, from audiologist appointments, to fittings, to hearing aid and accessory purchases. Other seniors may neglect their hearing care because they feel behind the curve where modern technologies are concerned.
With this guide, our goal is to demonstrate what a broad variety of price ranges and high-quality hearing aid styles are currently available, even for people on extremely limited budgets and those who are not technologically inclined. By handling hearing loss when it occurs, seniors become better equipped to age in place and can delay a lot of the negative aspects of getting older.
Below, you'll find our top ten hearing aid brands for 2020, with a total of 28 hearing aids reviewed. Our selected devices run the gamut from extremely low-cost analog hearing aids to the latest, high-end technologies.
At a Glance: The 10 Best Hearing Aids
Overview of the Top Recommended Hearing Aids
Company




Styles Available




Price Range




Hearing Loss




Audiologist Programmed




Audicus




Receiver-in-canal,
Behind-the-ear




$499 - $1,398




Mild to Severe




Yes - Remotely




Eargo




Invisible-in-canal,
In-the-canal




$1,850 - $2,950




Mild to Moderate




No




Lively




Behind-the-ear




$1,650




Mild to moderate




Yes- remotely




MDHearingAid




Behind-the-Ear




$199 - $1,299




Mild to Severe




No




Embrace Hearing




In-canal,
Receiver-in-canal




$599 - $2,398




Mild to Profound




Yes - Remotely




Phonak




In-the-ear,
Receiver-in-canal,
Behind-the-ear




$1,500 - $3,000*




Mild to Profound




Yes - by local audiologists




ReSound




Behind-the-ear,
In-the-ear,
In-the-canal,
Receiver-in-canal




$1,200 - $3,000*




Mild to Profound




Yes - by local audiologists and remotely




Signia




Slim-receiver-in-canal,
Invisible-in-canal,
Behind-the-Ear,
Receiver-in-Canal,
Completely-in-Canal,
In-the-Ear




$1,349 - $1,799*




Mild to Profound




Yes - by local audiologists and remotely




Starkey




Behind-the-ear,
In-the-ear,
In-the-canal,
Receiver-in-canal




$1,500 - $3,100*




Mild to Severe




Yes - by local audiologists and remotely




Widex




Behind-the-ear, 
In-the-ear,
In-the-canal,
Receiver-in-canal




$750 - $3,000*




Mild to Severe




Yes - by local audiologists and remotely



* Exact prices for hearing aids are often closely guarded by companies that do not sell their devices directly to consumers. An asterisk indicates that the listed price ranges may not represent a brand's average prices, as our information is taken from various online dealers who may set their own prices or offer discounts.
How We Chose the Best Hearing Aids
Finding the best hearing aid brands becomes a simpler process when you apply a few fundamental principles to your search. The devices that made our list of the best hearing aids of 2020 all have compelling features that demonstrate what modern hearing care can accomplish. Below, you'll learn about some of the qualities that we looked for to compile our list.

Individualized Adjustment: We have largely excluded hearing aids that are not audiologist-tuned for the individual, or which do not at least offer versatile, user-programmable sound settings. We have also worked to exclude brands that are 'locked' so that buyers can only have their hearing aids adjusted through that specific brand's audiologist locations.
Sound Quality: We have included devices that have directional microphones, noise reduction, wind reduction, and feedback reduction, and some that provide more high-tech features, like specialized processing of the wearer's own voice and in-ear memory prompts.
Modern Features and Designs: Most of the brands and models recommended below offer features like Bluetooth connectivity, smartphone application controls, telehealth capabilities, and intuitive adjustment. We've also included a broad range of fit styles, including new 'invisible-in-canal' designs.
Value: We have done our best to include a consistent range of prices and feature sets for people with any severity of hearing loss.
The 10 Best Hearing Aid Brands of 2020
Best for Low-Cost Bluetooth Hearing Aids
Audicus is an online company offering some of the most affordable digital hearing aids available. What makes Audicus a top hearing aid provider is that its offerings rise above comparable low-cost products through the benefit of proprietary German engineering by Hansaton, which also produces Phonak brand hearing aids under ownership by parent company Sonova.
Audicus is able to offer such competitive base prices by offering a-la-carte upgrades for the volume and sound capacity of their premier device, the Clara hearing aid, and by selling direct to consumers via Audicus.com. However, Audicus aids are not 'one size fits all' like those offered by so many other direct-to-consumer brands. Audicus allows users to upload their audiogram results to the website when they purchase, then has a team of audiologists program each hearing aid to suit the buyer's hearing loss profile.
Even at their lowest prices, both Audicus models are fully digital, directional, noise suppressing and Bluetooth compatible. All of these things make the overall value of Audicus hearing aids hard to beat.
Features
The Clara
The Dia II
Fit Type
RIC
BTE
Max Decibels
47dB (Standard Receiver)
57dB (Power Receiver)
56dB (Slim Tube)
Rechargeable
Yes (Optional Upgrade)
No
Battery Size/Life
312
312
Bluetooth (Wireless) Enabled
Yes (with Added Accessories)
Yes (with Added Accessories)
Directional Microphone
Yes
Yes
Noise Reduction
Yes
Yes
Feedback Reduction
Yes
Yes
Processing Channels
8 to 12
8
Telecoil
No
Yes
Auto Adjusts to Changing Environments
Yes
Yes
Physical Volume Button
Yes
Yes
Pricing (Single Ear / Both Ears)
$699 / $1,398
$499 / $998
The Clara
Clara is a small receiver-in-canal device and Audicus' premier model, offering up to 57 decibels of gain. Unlike this brand's other model, the Dia II, the Clara hearing aid can be upgraded for enhanced clarity ($100), which increases the available number of user-programmable channels. This model is also available with a rechargeable lithium-ion battery at an additional $400.

The Clara retails at a base price of $1,398 for a set of two and is available in the buyer's choice of four colors. It is suitable for people with mild to severe hearing loss.

The Dia II
The Dia II was temporarily discontinued, but Audicus brought it back 'by popular demand' as it has remained its most popular offering. Buyers seem to appreciate the unusually low price for a fully digital hearing aid that delivers all the modern features consumers have come to rely on, including custom pre-programming by audiologists. This is a behind-the-ear hearing device that is available in three colors. The Dia II features 56 decibels of gain, directional microphones, and eight user-programmed channels.

This device is suitable for mild to moderate hearing loss. It holds up to 140 hours of battery life and retails at $998 for a set of two.

Best for Inner Ear Comfort
Eargo offers some of the least visible completely-in-canal hearing aids available, and unlike the majority of other hearing aid brands, all three Eargo models are rechargeable. But what makes this brand unique is its approach to inner-ear comfort and sound amplification.
Featuring soft silicone earpieces that are suspended within the ear canal rather than plugging it, Eargo hearing aids give users with mild to moderate hearing loss a far more breathable option than ever before. Eargo's Flexi earpieces fit deep inside the ear, hiding the hearing aid from view, and they leave plenty of room for bass-heavy sounds to travel into the wearer's eardrum unamplified while only high-treble sounds are picked up and aided by the device. The result is natural sound and unrivaled comfort.
Eargo hearing aids are sold directly to consumers via the company's website, Eargo.com. Though these hearing aids are not pre-programmed using individuals' audiogram results, Eargo offers a capable and user-friendly app through which users can program their devices and reach Eargo hearing specialists.
| Features | Neo | Neo HiFi | Max  |
| --- | --- | --- | --- |
| Cost Per Pair | $2,350 | $2,950 | $1,850 |
| Fit Type | CIC | CIC | CIC |
| Max Gain in Decibels | 111dB | 111 dB | 110dB |
| Rechargeable | Yes | Yes | Yes |
| Bluetooth Streaming | No | No | No |
| Audio Personalization | Yes | Yes | No |
| Wind Reduction | Yes — up to 13dB | Yes — up to 13dB | Yes — up to 14dB |
| Active Noise Cancellation | Yes | Yes | Yes |
| Noise Reduction | Yes — up to 17dB | Yes — up to 17dB | Yes — up to 12dB |
| Dynamic Feedback Reduction | Yes | Yes | Yes |
Neo
Eargo's Neo was fully redesigned to feature improved build quality and an even more discreet form factor. This model delivers Eargo's great noise suppression capabilities and stable gain, as well as sound wave personalization through the Eargo app. The most noticeably different feature of the Neo is its updated Flexi earpieces, which sit more lightly in the ear canal than Eargo's other models thanks to their innovative, flower-like design.

A set of Eargo Neo hearing aids retails at $2,350 and comes with six medium-sized Flexi Palm earpiece replacements.

Neo HiFi
Neo HiFi is Eargo's newest hearing aid model, designed to provide an even clearer hearing experience than Eargo's other devices. The Neo HiFi features enhanced noise and feedback reduction and amplifies mid and high frequencies for a natural sound. The earbuds are Eargo's new Flexi TetraPalm design which have an extra layer of flexis for wearers' comfort. Like other Eargo models, the Neo HiFi is a CIC device and nearly invisible.

A pair of Neo HiFi aids costs $2,950 and includes a charger, six extra Flexi TetraPalms in three different sizes, a wax guard, cleaning brush, USB plug and USB-C cable.

Max
The Max, with its rechargeable batteries and advanced sound quality, provides users who have mild to moderate hearing loss with industry-best comfort thanks to its Flexi Fiber earpieces. The Max provides four sound programs, and rather than beeping when program changes are made, users hear more specific prompts spoken in a friendly voice.

Eargo Max hearing aids retail at $1,850 for a set of two and come with ten extra Flexi Fiber earpieces.

Best for Low-Cost Digital Hearing Aids

MDHearingAid is the most affordable brand on our list, offering one of the few analog hearing aids still available from a major retailer. This is great news for analog-lovers who appreciate the highly natural sound of analog amplification, but MDHearingAid also provides two digital models at economy prices.

This brand offers shoppers individualized recommendations from a licensed audiologist who can interpret audiogram test results. Though MDHearingAid devices are not pre-programmed for the individual, the company notes that about 80 percent of hearing loss cases result in the same basic type of loss pattern. To ensure that its customers can find their best hearing results, this direct-to-consumer retailer offers a no-obligation, money-back guarantee within the user's first 45 days from the date of purchasing their hearing aid.

| Features | The Pro | The Air | The Volt | The Core |
| --- | --- | --- | --- | --- |
| Fit Type | BTE | BTE | BTE | BTE |
| Battery Size | 13 | 13 | Rechargeable | 312 |
| Rechargeable | No | No | Yes | No |
| Bluetooth Enabled | No | No | No | Yes |
| Directional Microphone | No | No | Yes | Yes |
| Noise Reduction | Yes | Yes | Yes | Yes |
| Feedback Reduction | No | Yes | Yes | Yes |
| Digital Sound Processing | No | Yes | Yes | Yes |
| Processing Channels | 2 | 4 | 4 | 4 |
| Telecoil | No | Yes | No | No |
| Auto Adjusts to Changing Environments | No | No | No | Yes |
| Physical Volume Button | Yes | Yes | Yes | Yes |
| Physical Program Switch | Dial | Dial | Dial | Push-button; Smartphone App |
| Pricing (single aid/both ears) | $199/$399 | $399/$799 | $599/$1,199 | $649.99/$1,299.99 |
The Pro

The Pro is MDHearingAid's analog offering, which means that it cannot automatically self-adjust in changing noise environments and does not have directional microphones. However, it does provide two programming channels as well as noise reduction. This behind-the-ear (BTE) hearing aid retails at only $200 per ear, making it the most affordable option that we have reviewed

The Pro is suited for use in quieter environments, such as in one-on-one conversation or while watching TV at home. Its noise reduction feature can block out minor noises, such as the hum of home appliances or outside traffic. For more sound-rich environments, like church gatherings or restaurants, MDHearingAid suggests a more advanced, digital model be used.

This hearing aid can provide battery life lasting up to 40 days. It's easy to adjust using physical switches on the device itself and comes with a set of bonus batteries and a free protection plan for shoppers who purchase a set of two Pro hearing aids.

The Air

The Air is MDHearingAid's second most affordable product and also its bestseller. This digital device is a virtually invisible BTE model and is MDHearingAid's only aid that comes with a telecoil. The Air provides noise and feedback reduction, though it does not feature directional mics or automatic adjustment.

The Air's high-quality sound production is suitable for even noisy environments, and its batteries can keep going for up to 26 days. This model retails at $799 per pair, and buyers of two hearing aids receive a free protection plan and bonus replacement batteries.

The Volt
The Volt is MDHearingAid's rechargeable model, providing 18-22 hours of power from a single charge. One of MDHearingAid's newer models, it features advanced feedback cancellation technology and two directional microphones for enhanced sound quality. Like other devices from the company, The Volt is designed with ComfortTips for inner ear comfort and fits 80% of people even without audiologist programming.

A pair of Volt hearing aids costs $1,199, and individual aids for single ears can be purchased for $599 per ear.
The Core
MDHearingAid's Core device offers arguably the most advanced tech of any MDHearingAid device, including the Volt. The Core stands out from other offerings due to its Bluetooth compatibility which allows users to connect with a smartphone app to adjust the aid's settings for a customized hearing experience. The Core is on par with the Volt in terms of noise cancellation and feedback reduction, both providing crisp and clear sound.

A single Core hearing aid costs $799, and a pair can be purchased for $1,599.

Best Customer Experience

Lively is a direct-to-consumer brand offering a hearing aid equipped with FDA-approved technology at a lower cost than many of its competitors. By primarily operating as an online company- there is only one brick and mortar location, in Manhattan- Lively is able to keep costs lower than the industry average while still providing a top-of-the-line product. Its hearing aids are designed to be user-friendly and come with a 2-year warranty and loss and damage coverage free of charge.

What sets Lively apart from other companies in the industry, however, is the customer experience. The entire process, from the initial hearing assessment to adjustments, can all be completed from the comfort of users' homes. Lively contracts with a network of audiologists to provide remote assessments, assistance, and adjustments for its customers. Each pair of hearing aids are programmed specifically for each user's ears based on their remote hearing assessment, and the aids can continue to be adjusted as often as needed, since two years of follow-up care with audiologists is included with all Lively purchases. Using the Lively mobile app, customers can even contact audiologists for remote, on-demand adjustments to their hearing aid when they enter a new environment or just need a bit of a tune-up.

The Lively hearing aid is Bluetooth enabled and can easily be paired with iOS devices. Sold only directly from Lively, a pair of Lively hearing aid costs $1,650, or $69 a month with 0% APR for qualifying customers.

| Features | The Lively |
| --- | --- |
| Fit Type | Behind the Ear |
| Battery Size | 312 |
| Rechargeable | No |
| Bluetooth Enabled | Yes |
| Directional Microphone | Yes |
| Noise Reduction | Yes |
| Feedback Reduction | Yes |
| Digital Sound Processing | Yes |
| Processing Channels | 12 |
| Auto Adjusts to Changing Environments | Yes |
| Physical Volume Button | Yes |
| Physical Program Switch | Push-button; App |
| Pricing | $1,650 per pair |
The Lively
The Lively hearing aid is currently the only model available from the company. It is always sold as a pair and bundled with 2 years of follow-up care with an audiologist and a 2-year warranty and loss and damage coverage policy. All users also have free access to the Lively mobile app, where they can make adjustments to their device and contact audiologists for on-demand assistance.

The device is equipped with 12 warp channels and gain channels for a very high resolution and high degree of adjustability. It also has noise-blocking technology to cancel out background noise and white noise, though the hearing aids can also be manually adjusted by the user or remotely by an audiologist. The behind-the-ear component of the Lively measures about one inch long and is available in seven colors intended to match users' hair for a nearly invisible device.

Best User Support

Embrace Hearing is one of the most affordable dealers of digital hearing aids on our list, and one of the few online, direct-to-consumer retailers that actually pre-programs its devices based on a buyer's uploaded audiogram results. This brand provides 24/7 user support and also offers personalized recommendations for shoppers based on their hearing loss profile, making for a great customer experience.
Embrace offers three series of hearing aids — the essential A series, the CIC-style C-series and the top-tier X series, which comes with Embrace Hearing's most advanced feature set. We have selected one model from each series, each of which we believe represents Embrace's best value for consumers with various budgets and levels of hearing loss.

| | A-410 | C-660 | X-920 |
| --- | --- | --- | --- |
| Type | RIC | CIC | RIC |
| Wind Reduction | Yes | Yes | Yes |
| Noise Reduction | Yes | Yes | Yes |
| Sound Processing Channels | 10 | 16 or 32 (with the upgrade to SpeechBeam Package) | 20 |
| Telecoil | Yes | No | Yes |
| Volume & Program Control | Yes, with button on hearing aid or remote control. | Yes, with the free app. | Yes, with the free app. |
| Bluetooth Compatible | Yes (with purchase of Premium Remote) | Yes (with purchase of Premium Remote) | Yes (direct streaming) |
| Warranty Period | 2 Years | 3 Years | 3 Years |
| Pricing (per ear/both ears) | $599 / $1,198 | $949 / $1,898 | $1,199 / $2,398 |
The A-410
The A-410 is Embrace Hearing's most affordable model, best suited for mild to severe hearing loss. It sits over the user's ear with the receiver lodged within the ear canal and features ten programmable channels with a large size 312 battery.

As is often the case with low-cost models, the A-410 is great for quieter environments, but may not live up to the challenge of noisier settings. It does have auto-adjust to changing environments, but is limited with only three listening environments compared to 5-7 environments on the other, more costly A-series hearing aids.

The A-410 retails at $1,198 per pair. It comes in three neutral colors and, with the purchase of a premium remote ($299), becomes Bluetooth compatible with a broad range of devices.

The C-660
The C-660 is one of Embrace Hearing's more discreet models as it sits completely in the ear canal (CIC). Though this device is only intended for mild to moderate hearing loss, it provides an advanced level of clarity in most sound environments.
This model features Embrace's live speech focus software and provides up to 32 user-programmable channels, and for an additional $300, buyers can upgrade to receive Embrace Hearing's SpeechBeam technology for enhanced clarity in conversations.
The C-660 retails at $1,898 per pair and can be programmed using Embrace Hearing's free smart remote app and other compatible accessories.
The X-920
The X-920 is a significantly more capable hearing aid than the A series models, though it features the same receiver-in-canal design. It delivers advanced clarity of sound and noisy environment performance, but what makes X series hearing aids from Embrace a potentially better value than their other models is that X series models can connect via Bluetooth to a broad range of other devices without the purchase of separately sold accessories. The X-920 has an impressive 20 programmable channels as well as 7 auto-adjust listening environments.

The X-920 retails at $2,398 per pair and comes with a three-year warranty.

Best for Group and Classroom Conversations
Phonak was originally a Swedish brand that started in 1947, and today continues to aspire to a mix of Swedish craftsmanship and Silicon Valley technologies. Under ownership by hearing care giant Sonova, the Phonak brand is manufactured by Sonova's German hearing aid engineering firm, Hansaton, which also manufactures Phonak's sister brand, Audicus.
Phonak is a prolific brand offering seven different hearing aid models in a broad range of fit styles, including multiple custom-fit options. What sets Phonak apart is its wide selection of hearing aid accessories that make sound more accessible in challenging environments, such as at a distance and/or in conversation with multiple parties. This brand is ideal for classroom environments and also provides a completely invisible device — the Lyric — which doesn't need to be removed until the batteries require changing after months of use.
Features
Audéo Marvel
Lyric
Virto B
Fit Type
312: RIC
312T: RIC
13T: RIC
R: RIC
RT: RIC
CIC — 100% Invisible
10 NWO: Custom
312 NWO: Custom
10 O: Custom
10: Custom
312: Custom
13: Custom
Max Decibels
312: 50 dB
312T: 50 dB
13T: 50 dB
R: 50 dB
RT: 50 dB
Unlisted
10 NWO: 70 dB
312 NWO: 70 dB
10 O: 70 dB
10: 70 dB
312: 70 dB
13: 70 dB
Battery Size/Life
312: 312
312T: 312
13T: 13
R: Built-In
RT: Built-In
Unlisted
10 NWO: 10
312 NWO: 312
10 O: 10
10:10
312: 312
13:13
Rechargeable
312: No
312T: No
13T: No
R: Yes
RT: Yes
No — Device Must Be Replaced Once Battery Is Drained (after several months)
10 NWO: No
312 NWO: No
10 O: No
10: No
312: No
13: No
Telecoil
312: No
312T: Yes
13T: Yes
R: No
RT: Yes
No
10 NWO: Yes
312 NWO: Yes
10 O: Yes
10: Yes
312: Yes
13: Yes
Physical Button
312: Yes
312T: Yes
13T: Yes
R: Yes
RT: Yes
No
10 NWO: Yes
312 NWO: Yes
10 O: Yes
10: Yes
312: Yes
13: Yes
Audéo Marvel
The Audéo Marvel line of devices offers an RIC (receiver-in-canal) fit style and support Phonak's AutoSense OS 3.0, which is the brand's enhanced operating system. Audéo Marvel is Phonak's premier lineup of devices and includes two rechargeable options as well as direct Bluetooth streaming which can auto-adjust to changing sound input. Unlike many hearing aid brands, Phonak's Audéo Marvel devices connect directly with any enabled device without the need for added accessories.
With Audéo Marvel's exceptional sound quality and Phonak's Binaural VoiceStream technology, Audéo Marvel hearing aids are suitable for users with mild to profound hearing loss and in any level of surrounding noise. These models come in the buyer's choice of nine neutral colors.
Lyric
Phonak's Lyric is one of the very few completely invisible hearing aids currently on the market. It features an unusual design, made of a very soft material that fits so snugly in the ear canal that it must be inserted by a hearing care specialist. The Lyric can stay in a user's ear until the batteries need changing after months of continuous use. Lyric wearers can shower as normal while wearing the device, though total submersion, such as while swimming, is discouraged.
Lyric does not need to be removed by the user, but a special removal tool is included in the cost of purchase. However, the Lyric is not made to be reinserted after removal. This device is best suited for users who have mild to moderately severe hearing loss.
Virto B
The Virto B hearing aid series from Phonak consists of six custom-fitted models, each offering 70 decibels of gain. These devices are nearly invisible in the wearer's ear and provide maximum comfort for long-term wear. Like the Marvel hearing aids reviewed above, Virto B devices come with Phonak's AutoSense 3.0 operating system as well as a two-decibel directionality improvement thanks to Virto B's biometric calibration capability.
Virto B hearing aids are 3-D printed to fit the user's ear canal and are available for any level of hearing loss. Shoppers can select their choice of four faceplate colors and six shell colors.
Best for Telehealth Integration
ReSound has been in business since 1943 and continues to deliver industry-leading technologies to consumers living with hearing loss. This brand carries a wide array of fit styles, all with top sound isolation and noise reduction capabilities. ReSound also leverages smartphone technology to provide ReSound Smart Fit — a sophisticated app that gives users access to competent customer support, audiologist-assisted fine tuning, and a more exact fit.

Though this brand's offerings are all pre-adjusted by a hearing care specialist, ReSound states that more than a quarter of follow-up audiologist appointments are made for the purpose of fine-tuning a hearing aid's sound and features. But the ReSound Smart Fit app removes the need to make tuning appointments with its telehealth capabilities. It provides the functionality to perform any adjustments that can be made in person, fully remotely.
ReSound's most current models offer two rechargeable options, and all models are Bluetooth enabled. Exact prices for ReSound hearing aids can be found by contacting a ReSound authorized dealer, though because this brand is so advanced, shoppers can expect to pay about $1,000 or more for a single ReSound hearing aid.
Features
LiNX Quatro
LiNX 3D
Enzo Q
Fit Type
61: RIE
62: RIE
Custom Options: CIC, ITE & MIH
61: RIE
62: BTE
67: BTE
77: BTE
88: BTE
Custom Options: CIC & ITE
88: BTE
98: BTE
Battery Size/Life
61 RIE: Built-In
62 RIE: 13
61 RIE: Built-In
62 BTE: 13
67 BTE: 312
77 BTE: 13
88 BTE: 13
88 BTE: 13
98 BTE: 675
Rechargeable
61 RIE: Yes
62 RIE: No
61 RIE: Yes
62 BTE: No
67 BTE: No
77 BTE: No
88 BTE: No
88 BTE: No
98 BTE: No
Bluetooth (Wireless) Enabled
61 RIE: Yes
62 RIE: Yes
61 RIE: Yes
62 BTE: Yes
67 BTE: Yes
77 BTE: Yes
88 BTE: Yes
88 BTE: Yes
98 BTE: Yes
Wind Reduction
61 RIE: Yes
62 RIE: Yes
61 RIE: Yes
62 BTE: Yes
67 BTE: Yes
77 BTE: Yes
88 BTE: Yes
88 BTE: Yes
98 BTE: Yes
Noise Reduction
61 RIE: Yes
62 RIE: Yes
61 RIE: Yes
62 BTE: Yes
67 BTE: Yes
77 BTE: Yes
88 BTE: Yes
88 BTE: Yes
98 BTE: Yes
Feedback Reduction
61 RIE: Yes
62 RIE: Yes
61 RIE: Yes
62 BTE: Yes
67 BTE: Yes
77 BTE: Yes
88 BTE: Yes
88 BTE: Yes
98 BTE: Yes
Telecoil
61 RIE: No
62 RIE: No
61 RIE: No
62 BTE: Yes
67 BTE: Optional
77 BTE: Optional
88 BTE: Optional
88 BTE: Yes
98 BTE: Single
Auto Adjusts to Changing Environments
61 RIE: Yes
62 RIE: Yes
61 RIE: Yes
62 BTE: Yes
67 BTE: Yes
77 BTE: Yes
88 BTE: Yes
88 BTE: Yes
98 BTE: Yes
Physical Volume Button
61 RIE: Yes
62 RIE: Yes--Multi
61 RIE: Yes
62 BTE: Yes--Multi
67 BTE: Yes
77 BTE: Yes
88 BTE: Yes
88 BTE: Yes
98 BTE: Yes
Tinnitus Therapy
61 RIE: Yes
62 RIE: Yes
61 RIE: Yes
62 BTE: Yes
67 BTE: Yes
77 BTE: Yes
88 BTE: Yes
88 BTE: Yes
98 BTE: Yes
LiNX Quattro
The LiNX Quattro is currently ReSound's top offering. LiNX Quattro models come in various fit styles, including two rechargeable receiver-in-ear (RIC) styles and CIC, ITE and MIH (mic-in-helix) models that all feature custom-designed earpieces made specifically for the user. The LiNX Quattro has greater dynamic range and a larger bandwidth frequency than previous models, as well as updated computing and sound isolation abilities. With the LiNX Quattro, buyers get ReSound's clearest, most high-quality sound profile in any sound environment.
This model provides direct streaming from virtually any device and is a Made for iPhone hearing aid, so it needs no additional accessories to enable a Bluetooth connection with an Apple device. Rechargeable styles of the LiNX Quattro come with an included portable charging case.
LiNX 3D
The LiNX 3D provides advanced 360-degree speech recognition and noise management in nearly any sound environment thanks to ReSound's Spatial Sense and Binaural Directionality III technologies. The LiNX 3D comes in a broad variety of fit styles, including an RIE (receiver-in-ear), rechargeable version, multiple behind-the-ear models and also a custom-made option in either in-the-ear or completely-in-canal.
This device is also a Made for iPhone hearing aid, though it can also stream from Android and other devices with the purchase of additional accessories. The LiNX 3D is compatible with ReSound's Smart 3D app.
Enzo Q
Enzo Q comes in two discreet behind-the-ear models, both featuring ReSound's Binaural Directionality III functionality that enables users to identify where sounds are coming from in nearly any sound environment. Users of this model will enjoy advanced feedback reduction and industry-best amplification, as well as a telecoil, tinnitus therapy, and Made for iPhone Bluetooth connectivity.

The Enzo Q's BTE 98 version provides up to 12 days of battery life, even after streaming for up to four hours per day. This model is available in the buyer's choice of 10 colors.

Best for High-End Design
Signia is one of the most tech-forward and fashion-conscious hearing aid manufacturers of 2020. Under ownership by Sivantos alongside other top brands, like Widex, Signia has become one of the top three hearwear brands in the world.
Signia's new Nx line of hearing aids offers people with mild to profound hearing loss a broad range of options to customize the look of their devices, both during and after purchase. Signia provides uncommonly sleek and small hearing aid housings which include brushed metal finishes and wider color selections than other brands offer. Signia's patented programming also delivers multiple special features that bring an enviable quality of sound and noise management to this brand's users.
To complement its high-quality and attractive range of devices, Signia has developed a system to help clients find the best hearing aid and the best fit for them. Through a network of authorized dealers, Signia can individualize the shopping, fitting and adjustment process for consumers, and also provides a streamlined telehealth app, TeleCare 3.0, to provide live remote tuning for most troubleshooting and adjustment needs.
Though Signia devices can cost about $1,349 to $1,800 per ear, consumers with more modest budgets may find that Signia's previous line, the Primax Star series, could be more affordable.
Features
Styletto
Pure Nx
Insio Nx
Fit Type
SLIM-RIC
10: RIC
312: RIC
13: RIC
Charge & Go: RIC
ITE, ITC, CIC or IIC
Battery Size/Life
Built-In Li-ION Power Cell
10:10
312: 312
13:13
Charge & Go: Built-In Li-ION Power Cell
ITE: 312
ITC: 312
CIC: 10
IIC: 10
Rechargeable Battery
Yes
Charge & Go Model: Yes
ITE: No
ITC: No
CIC: No
IIC: No
Bluetooth (Wireless) Enabled
Styletto Connect Model: Yes
10: Unlisted
312: Yes
13: Yes
Charge & Go: Yes
ITE: Yes
ITC: Yes
CIC: No
IIC: No
Directional Microphone
Yes
10: Yes
312: Yes
13: Yes
Charge & Go: Yes
ITE: Yes
ITC: Yes
CIC: Yes
IIC: No
Wind Reduction
Yes
10: Yes
312: Yes
13: Yes
Charge & Go: Yes
ITE: Yes
ITC: Yes
CIC: Yes
IIC: Yes
Noise Reduction
Yes
10: Yes
312: Yes
13: Yes
Charge & Go: Yes
ITE: Yes
ITC: Yes
CIC: Yes
IIC: Yes
BiCROS Fitting
No
10: Unlisted
312: Yes
13: No
Charge & Go: Yes
ITE: Yes
ITC: Yes
CIC: Yes
IIC: Yes
Push-Button Volume Control
No
10: No
312: Yes
13: Yes
Charge & Go: Yes
ITE: Yes
ITC: Yes
CIC: Optional
IIC: No
Telecoil
No
10: No
312: No
13: Optional
Charge & Go: No
ITE: Unlisted
ITC: Unlisted
CIC: Unlisted
IIC: Unlisted
Auto Adjusts to Changing Environments
Yes
10: Yes
312: Yes
13: Yes
Charge & Go: Yes
ITE: Yes
ITC: Yes
CIC: Yes
IIC: Yes
Styletto Nx
Styletto Nx is Signia's top-of-the-line option that looks just like a sleek Bluetooth earpiece. Suitable for people with mild to moderate hearing loss, this SLIM receiver-in-canal hearing aid sits more discreetly behind the ear than the vast majority of BTE and RIC hearing aids currently available.
The Styletto Nx is rechargeable and ships with a small charging case that fits easily inside a pocket or purse. This device also comes in an alternate version, the Styletto Connect, which does not require the purchase of additional accessories to connect wirelessly with Bluetooth enabled devices.
Styletto hearing aids come in two-tone, brushed metal finishes, and if you get tired of the colors you initially choose, new housings are available from Signia and can be changed out at home. This hearing aid comes in three technology levels- 7x, 5x and 3x- which determine how advanced the feature set will be.
Pure Nx
The Pure Nx line of devices from Signia includes four receiver-in-canal options, including one Charge&Go rechargeable model. For hearing loss sufferers with mild to profound impairment, the Pure line offers BiCROS fittings, Bluetooth compatibility and industry-leading noise reduction and directionality.
The Pure Nx line's two most feature rich options, the Pure 312 Nx and the Pure Charge&Go Nx, are equipped with Signia Xperience, a new technology that uses motion sensors to streamline the hearing aid's ability to adapt directionally and in changing sound environments. The most discreet offering in the Pure Nx lineup, the Pure 10 Nx is one of the smallest RIC devices available, and the Pure 13 Nx is a great option for users who desire longer battery life and advanced features. Both provide better own voice processing so that the user's voice sounds more natural to them.
Insio Nx
Insio Nx is a line of four fit styles, and options for people with any level of hearing loss. Insio models are available in ITE, CIC, IIC and ITC styles, though only the ITE and ITC styles are Bluetooth compatible. Insio Nx users enjoy OneMic directionality, CROS or BiCROS fittings, and advanced noise management while in motion.
Best for Assistive Features
Starkey is an American-owned-and-operated brand that, since 1964, has developed some of the most technologically advanced hearing aids available. While other high-tech hearing aid manufacturers have focused on using AI and machine learning to advance the clarity of sound that their models offer, Starkey has taken this trend a few steps further, providing assistive features that particularly benefit the elderly.
Starkey's current models come with a live telehealth feature that connects users to a licensed audiologist who can tune hearing aids remotely. The models covered below also include features like fall detection, light-based hearing technology and Amazon Alexa connectivity. Pricing for Starkey hearing aids is available through a network of authorized dealers, and interested consumers can schedule an appointment with the dealer nearest them right through Starkey.com.
Features
Livio AI
Picasso
Fit Type
RIC, micro RIC or BTE
ITE,
ITC,
CIC,
IIC
Battery Size/Life
RIC R: Built-in
RIC: 312
micro RIC: 312
BTE: 13
CIC: 312 or 10
ITC: 312
ITE: 13
IIC: 10
Rechargeable
RIC R: Yes
RIC: No
micro RIC: No
BTE: No
Available in some models
Telecoil
RIC R: Yes
RIC: No
micro RIC: No
BTE: Yes
No
Physical Buttons or Dials
RIC R: Yes
RIC: Yes
micro RIC: Yes
BTE: Yes
No
The Livio AI
Starkey's Livio AI hearing aid is one of the most advanced hearing care devices available. As the Livio AI is Starkey's feature model, it comes packed with its best proprietary features for sound and noise management. This model now features three times more digital processing power than previous models, and gain adjustments can be made automatically on any processing channel that is not already maxed out. Users also have the benefit of a variety of tailor-made programs, such as Livio's Adaptive Car Mode that automatically reduces road noise.
Once a user sets up their sound and assistive feature preferences in Starkey's Thrive Hearing Control app, Livio AI devices become incredibly adaptive to the user's needs. This device can provide audible memory cues and fall detection alerts that are sent to the user's choice of emergency contact, as well as live transcription of conversations onto the user's smartphone. Transcribed text can even be saved and sent to contacts as a text or email.
Livio AI is available in three fit styles: Receiver-in-canal (RIC), micro-RIC, and behind-the-ear (BTE), and is suitable for those with mild to profound hearing loss. The RIC version is available with a rechargeable battery.
Picasso
Starkey's Picasso line allows wearers to obtain a completely-customized hearing aid. With four different styles to choose from (ITE, ITC, CIC, and IIC), essentially any person can find a Picasso fit that works for them. In addition to comfort, Picasso hearing aids offer feedback cancellation, customizable tinnitus relief, and three different technology levels to suit a range of lifestyles.

Picasso hearing aids are also fully compatible with Starkey's SurfLink accessories, which offer a range of features for a better listening experience. Using the accessories, Picasso wearers can stream television, music and phone calls directly through their hearing aid, adjust the aid with a mobile app, and more.

Best for Artificial Intelligence Features
Widex is one of the world's largest and most technologically advanced hearing aid brands, and since merging with hearing care provider Sivantos, has become part of one of the largest businesses in the world. This brand specializes in technologically-advanced hearing aids, but Widex also provides industry-leading sound adjustment and personalization tools, providing audiologist assistance in person and advanced app features at home.
Widex's new line of hearing aids, the EVOKE series, comes in a broad variety of fit styles, colors and feature sets, but we have selected three of these devices which we believe best represent the variety of the EVOKE line. Each of these devices is equipped with machine learning capabilities that other brands have not yet incorporated into their user technologies — a feature that Widex has named SoundSense. EVOKE hearing aids leverage artificial intelligence to gradually learn about the user's most frequented kinds of sound environments and preferences.
Beyond the AI integration of EVOKE hearing aids, this series also provides a comprehensive range of technology packages. Each EVOKE hearing aid is available in a variety of feature levels (110, 220, 330, or the most advanced feature set, 440). Each level provides a specific set of Widex's proprietary technologies, though all EVOKE hearing aids are fully directional and come with sophisticated noise reduction capabilities.
| Features | CIC | Fusion | Fashion mini |
| --- | --- | --- | --- |
| Fit Type | CIC | RIC/RITE | BTE |
| Battery Size/Life | 100 hours | 170 hours (varies by receiver model) | 165 hours |
| Max Decibels | 62 dB | 63 dB (varies by receiver model) | 64 dB |
| Noise Reduction | Yes | Yes | Yes |
| Telecoil | Yes | Yes | Yes |
| Programmable Push-Button | Yes | Yes | Yes |
| Microphone Openings | Yes | No | Yes |
The EVOKE CIC
The EVOKE CIC is a completely-in-canal device that sits discreetly within the ear canal, best for users with minimal to severe hearing loss. Though small, the CIC is just as advanced as the other EVOKE models listed here. It contains a patented Fluid Sound Controller that processes sound faster and more clearly than previous Widex series, as well as the Widex SoundSense machine learning program.
The EVOKE CIC offers up to five user-programmable channels and is compatible with DEX assistive listening devices. This model is available in three neutral tones and can be purchased in four feature levels.
EVOKE Fusion
The EVOKE Fusion is a small RIC (receiver-in-canal) hearing aid that is suitable for people with mild to profound hearing loss. Like other EVOKE series devices, it comes equipped with Widex's machine learning software, SoundSense. The Fusion is available in the consumer's choice of four feature sets, from the 110 level, which lacks features like Smartwind Manager and Speech Enhancer RT, to the 440 level, which comes with the complete range of EVOKE series enhancements.
The Fusion comes in a range of ten colors and provides up to five user-programmable channels.
EVOKE Fashion Mini
The EVOKE Fashion Mini is a mini-BTE (behind-the-ear) hearing aid for people with minimal to profound hearing loss. While the Fashion Mini delivers fewer decibels of gain than the Fashion and the Fashion Power, it still provides an impressive 64 decibels of gain and up to 165 hours of battery life. Like the other EVOKE models listed above, the Fashion Mini provides up to five programmable channels and its feature set is dependent upon which of four technology levels the buyer selects.
The Fashion Mini comes on the buyer's choice of ten colors and operates on a size 312 battery.
Buyer's Guide: How to Choose a Hearing Aid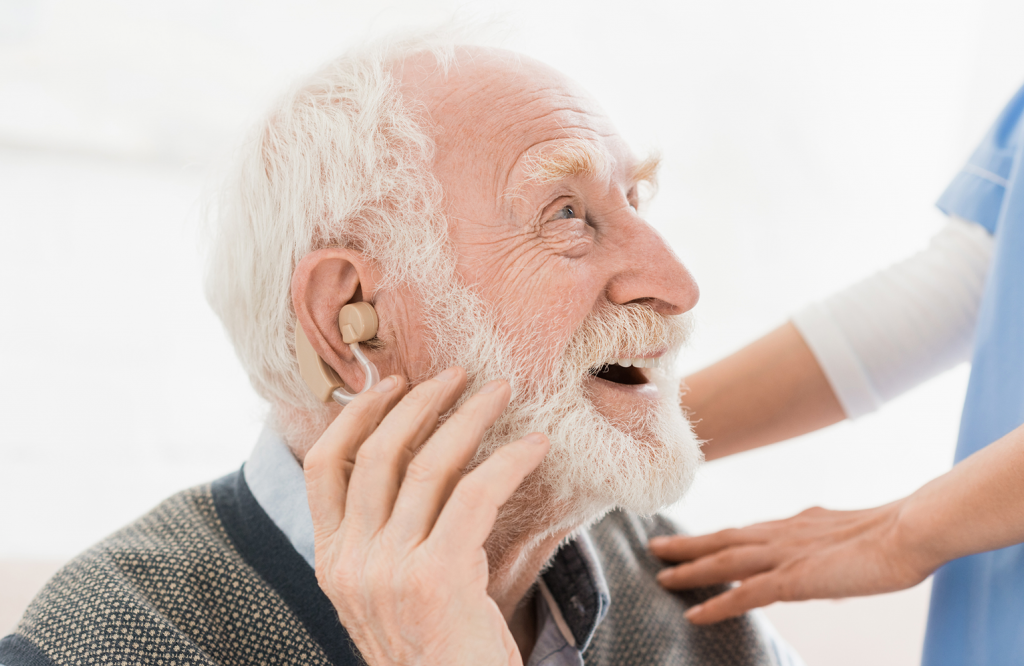 Step 1: Visit an Audiologist
Your first step on the path to a hearing aid purchase should always be to see a licensed hearing specialist. After testing your hearing using an audiogram, audiologists can provide highly detailed reports of what types of sounds, pitches, ranges etc. that you most struggle with. This information will make finding the best hearing aid for you a far more exact process and can give you a more specific price range.
Audiologists can also make recommendations for hearing aid brands, models, and fit styles. Keep in mind that audiology practices may have a few brands that they sell or endorse in particular, but once you have the opportunity, don't be afraid to ask about the brands or devices that interest you personally.
Step 2: Think Beyond Cost
After your audiologist provides a deeper look into your hearing loss profile, it may be tempting to keep things simple by shopping based only on cost and your audiogram results. However, you will also need to consider the kinds of activities wherein you'll be relying on your hearing aids. Think about what types of sound environments you frequent most often.
The cost of hearing aids varies based in part on how well they can filter out peripheral noise. If you don't often find yourself in noisy restaurants or music venues, you may wish to purchase a low-cost model that is best suited to calm, quiet environments, such as peaceful one-on-one conversations or TV watching at home. While you're at it, also consider whether you would benefit from Bluetooth connectivity that could stream sound directly from a television or radio to your hearing aids.
Step 3: Determine What Accessories You May Need
Most companies sell accessories like remotes and streamers that can make programming and using your aids more convenient. However, buying accessories for various purposes can easily make your hearing aid far more expensive. For that reason, it's best to start the shopping process by considering your specific accessory needs. The following are some of the most common accessories offered by hearing aid brands.
Streaming Accessories
Many of the devices covered here feature Made for iPhone functionality, so Apple device users often spend less on accessories as these devices stream directly to Apple devices. However, if your phone runs on OS (Android) and you'd like the freedom to connect to other devices, such as your TV or car stereo, most brands will most likely require you to purchase a separately sold accessory. Bluetooth streamers can connect a hearing aid either wirelessly or with the use of a wired adapter to a broad range of external devices, and users will no longer need to excessively crank the volume of their TV or radio. Bluetooth streamers and adapters can cost hundreds, but they can make the balance of sound in your listening environment more level and clear.
Remote Controls
It's common for brands to offer physical remotes in a variety of styles, so if you're not confident using a cell phone app for sound programming and other functions, or if you just want a backup remote, a physical remote control is a smart purchase. Not all hearing aids come with physical buttons to change the volume or the sound program which adapts your aids to different sound environments, so with some models, physical remotes are even more important.
Microphones
For conversations in noisy areas or where the speaker and listener are at a distance from one another, an external microphone can be extremely handy. These come in multiple configurations, including as a mic that clips onto the speaker's shirt, a table-top model or a small device that can be easily held and passed around during multi-party conversations. Mics are ideal in classroom environments too as some can accommodate group conversations at distances of up to about 60 feet.
Step 4: Try a Variety of Styles
Your audiologist can help you find the most comfortable and appropriate fit style for you, whether you're more comfortable with a device that sits mostly behind your ear or a more discreet option that sits fully within your ear canal. The look of a hearing aid is important to most people, but the feel of the device is also highly important as hearing aids are meant to be worn long-term.
The most commonly found hearing aid fit styles are BTE (behind-the-ear), RIC (receiver-in-canal), and CIC (completely-in-canal). Some of the brands listed above also offer a custom-molded earpiece for which audiologists must fit the individual customer. If you find that most of the fit styles you try seem uncomfortable, consider a custom fitting.
Hearing aid buyers can also determine the manner of sound amplification they prefer. Many people swear by analog hearing aids, insisting that, because these devices do not 'process' sound but instead simply amplify it, the sound that reaches the wearer's eardrum has a more natural feel. However, the audiology community overwhelmingly advocates for the use of digital hearing technologies, including the new light-based hearing aids which use a lens implanted over the eardrum to convert sound to light waves for a new level of clarity.
Step 5: Anticipate Additional Costs
Anticipating the total cost involved in purchasing hearing aids can be tricky. Costs are dependent on needed accessories, warranty coverage, added fees, and brand-specific incidentals. When you've narrowed your search down to a few select brands, research the provider's website or ask an audiologist about the following cost-related concerns.
Is there a money-back guarantee during a risk-free trial period?
Does the warranty cover lost, stolen or damaged devices?
How much do replacement batteries or earpieces cost?
Are fittings and/or servicing for adjustments included in the purchase price?
How much do accessories for Bluetooth streaming cost?
Frequently Asked Questions
What does it mean when hearing aids are "locked"?
Many hearing aid brands come from the manufacturer 'locked', meaning they can only be serviced and adjusted by proprietary dealer locations. Brands like Miracle-Ear, Audibel, and Beltone can only be adjusted in stores that bear that brand's name over the front door. Often, these brands are also 'vanity brands', which means that they are made and/or designed by a company that specializes in manufacturing generic hearing aids for various unaffiliated brands. For hearing aid users who may travel or otherwise find themselves out of range of their device manufacturer's audiology locations, owning a locked hearing aid can be more trouble than it's worth.
Why do some people prefer analog over digital hearing aids?
Digital hearing aids are the current gold standard in the audiology community, but some people still prefer analog hearing aids for the way they deliver sound. Digital aids 'process' sound digitally whereas analog devices only amplify the sounds that reach them, which, to some, just sounds more real and natural.
What is light-based hearing aid technology?
Light-based hearing aids use lenses to convert sound waves into light waves rather than digitally processing sound as most modern hearing aids do. The lens is implanted by an audiologist so that it lies flush against the eardrum, much like an eye contact lies against the eye. Not everyone is a good candidate for light-based hearing aids, but this is a cutting-edge technology and it delivers some of the most natural sound available with a hearing aid. As such, light-based hearing aids can cost close to about $6,000 per ear.
Why are directional microphones important?
Directional microphones are a feature of digital aids rather than analog devices. They can shift their focus toward the direction from which they process the most sound, and they rely on software that tell a hearing aid where the closest speaker to the aided listener is located. Lower-cost digital hearing aids may not provide directionality. This significantly reduces a hearing aid's ability to reduce noise and amplify the right sounds.
Can people who have profound hearing loss use hearing aids?
Yes! But only those who have single-sided deafness. CROS and BiCROS hearing aids are made for people who have profound hearing loss in one ear. These devices receive sound through one hearing aid but process that sound to manufacture the sensation of hearing in both ears. Sound signals are then sent to the unaidable ear where a specialized hearing aid is worn. Read more about how CROS and BiCROS hearing aids work in this article from Starkey.