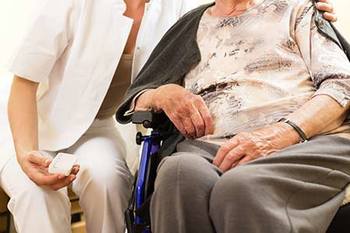 All Rights Reserved
These days, many family caregivers realize it's necessary to ask for extra help to provide caregiving support to their aging loved ones. This process can be nerve-racking and fraught with concerns, especially if we find ourselves relying on people we barely know to perform domestic chores, prepare meals, or provide more personal care assistance for our oldest and possibly frail family members. While there are plenty of recommendations and services out there to help with these caregiving tasks, there's a limited amount of information available about techniques to ensure that tasks and activities are performed to our expectations.
Here are four tips to help you trust and verify caregiving help:
Ask a neighbor, friend, or family member to visit during the task. Though you may worry about burdening an acquaintance or family member, sometimes you just won't be at peace without someone checking in. Ask them to call you after their visit to let you know how things are going.

Ask the helper to call you from your loved one's home upon arrival and departure. It is reasonable to require your helper to call you when they are starting (and again when finished) the task you assigned them. By calling from your loved one's home phone, the caller ID shows that they are actually at the required location.

Consider installing a webcam surveillance system in your loved one's home. Webcam systems are now sold widely at home improvement and electronics stores. If you are a do-it-yourselfer, they are relatively simple to install. Then all you need is an Internet browser on a computer, or even on a smartphone, to access the webcam to verify the progress of any task or activity in the home.

Use a task verification and notification service. A new service is available that can verify important parts of any task or activity, and send text or e-mail notifications to one or more interested people. The person performing the task uses a smartphone app to "check in" when ready to start, and the service can verify their location (using the smartphone GPS) and even verify their identity (using facial recognition). The family care coordinator then receives a text as the system verifies important elements of the task. The family member can even receive notifications if the person leaves the home before completing the task, or remains in one location for more than an expected period of time (if they are, for example, watching the television instead of supervising or providing care).
Hiring and verifying extra help to bear the load of caregiving is important for your health and well-being, and your loved one's. Take the extra steps to ensure that your loved one is in good hands.