Arden Courts of Silver Spring
2505 Musgrove Rd, Silver Spring, MD, 20904
Talk to a Family Advisor: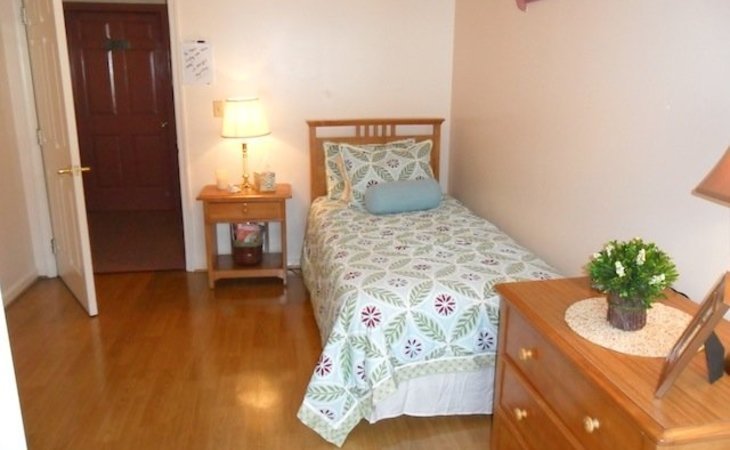 Top nearby Memory Care Facilities
Reviews of Arden Courts of Silver Spring
---
Lisa
July 17, 2017
I am a friend or relative of a current/past resident
Arden Courts seems to be a good place for people who need memory care. It's light and has a homey feel. They take good care of my mother. There's a variety of physical and memory activities. They play volleyball with a balloon. They have a salon and rooms for the whole group.
---
C425884
February 07, 2017
I visited this facility
I've gone to Arden Courts. I thought it was fine, and they had good services. I'm not sure it's the right fit for my sister; I think it's probably more than she can afford and probably more care than she needs right now. I just saw an unfurnished room, and it was clean and in good condition.
Provider Response
Thank you for sharing C425884!
---
Cheryl584211
October 10, 2016
I am a friend or relative of a current/past resident
I selected Arden Courts of Silver Spring for my husband. I had been going there and exploring them for about a year. They have single and double rooms, which is very good. My husband has a double room. The food doesn't look like it's very good, but my husband eats it. They have a lot of activities, that's one of the reasons that I've selected this place. They have planned activities every day all day. I think they probably need more aides. They don't have enough of them. I think the ladies who have to feed, clean, and change the residents are overworked. Overall, I like the way it looks, the neighborhood concept, and the fact that the residents are free to move around as they see fit.
---
bethanybeach
August 09, 2016
I am a friend or relative of resident
Over three years my Father spent in this facility and you won't find a more caring group of people to look after a loved one. The rooms are immaculately kept, food is delicious but more important, it is a facility who have people trained to deal with Alz patients. This is NOT a nursing home, The nursing staff is AWESOME.
---
BLF
September 30, 2015
I visited this facility
My mother is in Arden Courts, it's a memory care community, and it's great but very expensive. It's a really nice place. She has a private room with a bath. The food is fine. They have activities all day long, and mom is out of her apartment all day. Everybody is trained in the work of people with Alzheimer's, and so that's what makes it a nice community.
---
Anne104625550
April 17, 2015
I am a friend or relative of a resident
They were very close to my house, which was a big thing, but also they came recommended, and I liked the layout of Arden Courts. The rooms are small, but the facility is very nice. The residents can walk outside on their own when the weather is nice. It is safe, and I think everybody who works there is really nice. I haven't had any problems, but my mom has only been there for six weeks now. They have music performances, the standard Bingo and crafts, and they have like a current events thing.
---
Caring85690150
July 31, 2014
I am a friend or relative of a resident
I think my mom and my aunt really liked Arden Courts a lot more than the other communities because the caretakers seemed invested in their work. There's a lot of residents and it seemed to be a stimulating community. My grandfather was there since March. It seemed like a safe environment for the residents. He has a private room with a bed, a closet, and a shelf. Everybody is very friendly. I think the staff is great. They care a lot about the residents. The food always looks very good and he finishes his plate most of the time. They have a place they converted into a dining room with a few tables and a kitchen. They have activities throughout the day. They have singers come in and perform. They also have exercises, different arts and crafts, and open events for the family almost every weekend. I have nothing bad to say about the place.
---
makeup lady
December 17, 2013
I visited this facility
Arden Courts of Silver Spring was extremely nice. It was one of the older places and I knew the people there. They gave talks to Leisure World and I always attended. I was there for a couple of meetings. The director and executive director were extremely good. I was not able to see any of the aides or staff. My only concern was the location, I did not want to drive all the way out there.
---
2many2care4
October 11, 2013
I visited this facility
Arden Courts is nice. They set it up so each wing has its own neighbourhood. They have activities at each neighborhood. It looks clean and the people seem to be doing okay there. My husband had a snack time with the residents while I was in the support group meeting and he thought they were very disabled.
---
Nancy41145250
September 26, 2013
I am a friend or relative of a resident
I chose Arden Court because it's close to where I live. It's a memory care facility. The staff is excellent and the person that I've place there is very happy with it.
---
David34
August 01, 2013
I visited this facility
Arden Courts of Silver Spring was okay per se. However, the price was the biggest turn off for me.
---
Sandra32
July 29, 2013
I visited this facility
I visited Arden Courts of Silver Spring. It was a lovely and pleasant place. It was a winner, It has much grass and flowers. The staff was everything you would want for your loved ones. They were very pleasant and very courteous. The lady that I talked to at the reception she was an exceptionally nice lady. I wished my mother were able to go there.
---
Beverly8
March 22, 2013
I visited this facility
The Arden Courts is a one level house, the individual rooms were nice and clean. They had outdoor walking paths for the residents to use. The staff was attentive and they try to encourage the residents to join the activities. They also offer different classes for the residents. Overall, it was a very appealing facility.
---
rayb51
February 01, 2012
I am a friend or relative of resident
My Mom has been a resident at Arden Courts for three years and, other than the obvious fact that we would rather her still be at home with my Dad, never has my family regretted putting her there. The staff is courteous and respectful, always calls my Mom by her name, and uses a variety of methods to keep all residents as upbeat and "normal' as possible. When my daughter finished her second year at Montgomery College and still was unsure about her future plans, she took a year off and interned at Arden Courts. The experience there so motivated her that she knew exactly what she wanted to do in the future and she will graduate this spring from Towson University with a degree in gerentology. Many thanks to all!
---
stevebro3
January 28, 2012
I am a friend or relative of resident
Arden Courts uses many different therapies to work with your Alzheimers patient. Exercise, diet, what I call mind exercise which can be a quiz show or word association etc. As well as diet, medications, and constant positive reinforcement and keeping people occupied with the activities all day long. The worry/stress of what is next, where should I be, what time is it and am I late are removed. My mother is much calmer, less anxious, and able to relax and think and carry on a better conversation. They hit all of the major therapies on a daily basis and it has helped. The staff is permanent and full time. They are really nice people, patient with residents, and caring. The staff knows everybody and is very helpful and engaging.
---
From Arden Courts of Silver Spring
---
Memory care is all we do.
Arden Courts offers dedicated Alzheimer's and dementia care in a safe and secure environment. We take time to learn about each resident's life story and preferences so that we can focus on providing the personalized memory care your loved one deserves.
Our staff is specially trained in the latest Alzheimer's and dementia caregiving techniques for many types of dementia including:
Alzheimer's disease
Frontotemporal dementia
Lewy Body dementia
Combination of dementia diagnoses
Parkinson's disease dementia
Pick's disease
Vascular dementia
We also care for residents who wander and who display sundowning behaviors.
Our structured programs and personalized assistance help each Arden Courts resident maintain their highest level of independence and promotes their sense of well being.
Arden Courts is an intimate and comfortable community with delightful home-like settings, socializing areas, dining and entertainment, and easy access for residents with limited mobility. Our enclosed landscaped courtyard areas and 1/4 mile of walking paths are perfect for residents to socialize, exercise and garden while being safe and secure.
Our all-inclusive monthly fee simplifies budgeting throughout the disease process.
Call to arrange for your personalized tour of Arden Courts and see for yourself the difference experience makes at Arden Courts.
We know. We understand. We can help.
Location of Arden Courts of Silver Spring
---
Request Info
Get full access to reviews, cost information, and amenities