Brookdale College Square
11000 Oakmont, Overland Park, KS, 66210
Talk to a Family Advisor: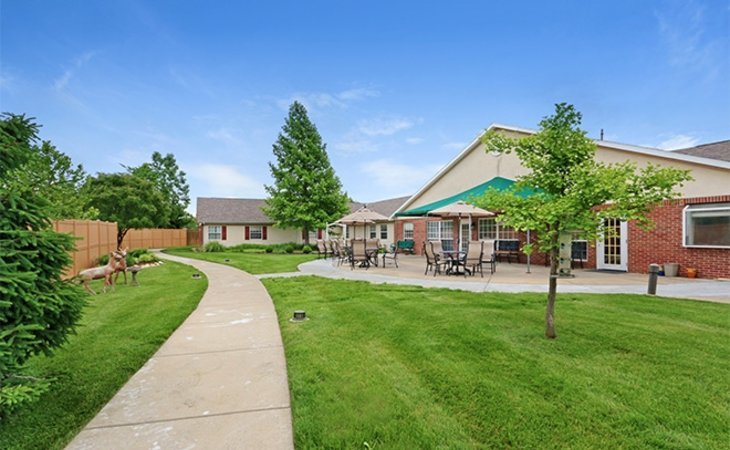 Reviews of Brookdale College Square
---
caring relative12
February 16, 2016
I visited this facility
Brookdale College Square was really nice and very upscale and had a lot to offer. They play cards and bingo. I didn't see anything they needed to improve on.
---
MP
November 11, 2015
I am a friend or relative of a resident
I chose Brookdale because the staff all seemed very capable and pleasant. They all knew the names of all the patients. Even the executive director would greet patients with hugs. I hadn't been in a place where the executive knew the patients. He moved in there just two days ago. I was there for one meal that looked and smelled good. There's four sections and each section had its own dining room. There's a living room, dining room, and a kitchen in each apartment. When we visited the place, it seemed there were a lot of people who participated in the programs, and I saw programs that I thought my husband would like. They had a special computer that the activities director used that gives them a lot of things that they can do, like programs about birds and '60s rock n' roll dance. I like the staff. If you give them feedback on what's going on with your loved one in there, they respond right away and try to do something about it.
---
Leesa1
October 22, 2014
I am a friend or relative of a resident
The staff at Emeritus is very patient. I come there day and night, and they have nothing to hide. The facility is very safe.
---
Caring81813550
April 05, 2014
I visited this facility
I liked Emeritus at Overland Park. It was nice and clean. The people were very helpful, too. My husband had dementia, he had to be in a locked area. They have four different wings. One wing had 16 or 18 patients with two CNAs. There was only one registered nurse that floated on all four wings. At first they thought they were able to take him. He was in a behavioral unit and they were trying to adjust medications for him. After that, it didn't appear to be happening. They admitted that they couldn't take my husband because of the staff.
---
Caring75484850
December 30, 2013
I visited this facility
We placed my dad in a smaller facility and he is doing well there. He is at Emeritus at Overland Park for a few days. We chose this facility because it's small and dad comes from a little place so if we put him in a large facility it would be a little overwhelming for him. I haven't really had an extensive experience from them because dad has been there for a few days only.
---
Carol49
August 28, 2013
I visited this facility
I like the way Emeritus is set up. It isn't like fancy-fancy. It is more like a normal home. I like the feel of the place for my sister-in-law. It also seems to be very secure but there are areas where you can take your loved ones outside to sit in the sun and what-not. Their rooms have their own bathrooms and they are of fairly good size. They have windows that look out to a garden. Their staff members are very friendly. I have not eaten there but they did send me a cherry pie to bring home and it tasted very good.
---
Caring Respondent
June 17, 2013
I visited this facility
Emeritus was split up into four communities. We interviewed and did a deposit at first. The first time I went there, the place seemed kind of dark. I liked the idea of the facility being a giant dome where people can walk around and everything. When my husband came with me at one point, there was a resident that was walking the building and the lady that was showing us the place got on her radio and said, 'escort him back to his community,' and I didn't like that. I mean if you're allowed to walk the building then, you shouldn't be herded, into a certain place. For that reason, we didn't put mom there. Not to mention again the location, they were out in Overland Park, and that would be a good 45-minute drive for me. But, the staff was very nice, very helpful, and the executive people that I talked to were fine.
---
reviewbydaughter
May 07, 2013
I am a friend or relative of resident
My father is a current resident at Emeritus at Overland Park and has resided there for the past year and a half. He is in the later stages of dementia. My siblings and I were very concerned with finding excellent care for him and I must say we hit the jackpot. First and foremost, I must say that they have an outstanding staff, in all areas. Everyone there does their job with excellence. They are all skilled in their positions, caring, considerate, attentive, friendly and compassionate. I do not know what their hiring process is but they know what they are doing. The facility itself is always clean and well maintained with excellent security in place. There is an abundance of secure, nicely landscaped, outdoor space with plenty of seating and a covered patio for the residents who are able to go outside on nice days. The cooks do a marvelous job and the meals are nutritious, appealing and plentiful. Activities are offered for all levels of participation and are enjoyed by all, with attentive activity directors who interact with the residents as though they were their own family. Actually, the entire staff treats the residents as though they were family. I cannot give this facility a high enough rating. This is a tough disease. It is so hard to watch your loved one slowly decline and slip away from you with each passing day. We try to make the best of each day we have left with our dad and Emeritus has helped us so much on this journey. I can leave dad each day fully confident that he is getting the best care possible, in a skilled, caring, loving environment where he is treated every minute with the dignity he deserves.
---
caring11202
December 18, 2012
I am a friend or relative of a resident
My husband stayed at Emeritus for respite care. It was pretty good. The staff seem to be very aware of my husband and how he was. However, he did had a pretty drastic decline while he was there. He was put into hospice status and it was thought that he didn't have very long at all to live because he was becoming very weak very quickly. They were keeping him in a wheelchair most of the time, and not encouraging him to walk. He's very unstable on his feet which vary from time to time.
---
MelissaF1
September 13, 2012
I am a friend or relative of a resident
My grandfather has dementia and this facility is designed to care for people with dementia or Alzheimer's. I feel that he is well cared for here and that the design of this facility is appropriate for someone with this condition. Each time I have visited him, I have noticed that he is clean and well groomed, and that his room and the other rooms in the facility are clean and safe. The setup of the facility provides a community feel for the residents in that each is placed in one of four communities of people with whom they dine and share a community room. The facility feels secure and safe while still allowing the residents room to move about indoors and out. The staff is numerous and seems attentive to the needs of the residents. Many staff members are often found assisting with meals and group activities. I am pleased with the care that my grandfather receives here.
---
Marty1
May 10, 2012
I am a friend or relative of a resident
When I finally realized I could l no longer keep my husband with alzheimer's safe, I started touring facilities and the poor guy went along with me not knowing he was looking at his future home. I toured so many facilties. Some very nice, some not so nice. Some that talked a good story some that just seemed to warehouse. Then I toured Emeritus. It was like coming home and I think Jim - my husband knew it. It is a small facility and the calm and caring feeling when we entered was immediate. Their motto is "Our Family is commited to Yours" and I truly believe that. ALL the staff know everyone's name - will stop what they are doing and will interact with a resident - have a chat - even when those chats don't make a lot of sense, take a walk, play a game, sing a song, whatever it takes to make that resident's day a little better at that time. The directors at Emeritus work so hard to keep residents, families and caregivers included in all aspects that may impact their loved ones. The nurses and caregivers have joined my husband's journey through this terrible disease and have displayed such kindness and carecaring. He doesn't know what is happening but he feels safe with them and I feel safe putting his welfare in their hands. I am so thankful that I have this wonderful place and this new found family.
---
Roberts1980
June 28, 2011
I visited this facility
This facility is tucked away on a quiet cul-de-sac in the busy suburb of Overland Park, so it is quiet, but still close to shopping and dining and other activities. The grounds are lovely, designed as a big, fenced-in square. The inner courtyards have a lot of walking paths and plenty of raised planter beds, but I was a little disappointed to hear that the residents do not have entirely free access. They may go out whenever they want, but they have to have the door unlocked by staff. I was told this was to make sure they knew if someone was out there and could check on them periodically. The interior of the facility is a bit dated. There's been some attempt at decorating but my impression was that it was a surface treatment which didn't entirely hide some of the more institutional aspects such as the hospital-blue paint on the walls. The residents' rooms felt quite small to me, which my guide said was intentional. There's room for a single bed, dresser, and night-table. In addition, there are only a couple of joined couple's rooms and most couples have separate single rooms. The rooms are organised in four separate hallways which helps memory care patients by assuring a smaller, consistent group of people with whom to socialise. My guide was very personable, as were her staff members as far as I saw. However, their approach to memory care was a little different than I've heard described at some other facilities. Rather than trying to orient the residents to today, they try to "join their journey," for example in 1945 if that's where the resident is mentally. This would certainly be an approach to research more fully before choosing Court at Overland Park, but in all other respects I would recommend this facility to a loved one.
---
From Brookdale College Square
---
We offer a home like setting and cheerful smiles from our professional staff who greet you every day. Our caring staff offers the assistance you need while respecting your independence.
Our peaceful setting, restaurant style dining experience, activities and beautiful setting combine to create a wonderful living environment everyday. Our genuine caring staff, home style meals, daily activities add to our residents' experience.
Through special events, activities, clubs and ongoing cultural enrichment programs, we offer unlimited opportunities for you to get to know other residents and us. Call to set up an appointment for a tour because we delight in showing you our home.
Amenities and Services
Daily assistance with bathing and dressing
Medication management
Dining assistance and special diets
Assistance with reminders and redirection
Escorts and assistance with walking
Emergency response call system
Housekeeping
Laundry and linen service
*Rates subject to change at any time. Level of care not included.
Features of Brookdale College Square
---
Location of Brookdale College Square
---
Get Cost Information
Get full access to reviews, cost information, and amenities