Court at Round Rock
2700 Sunrise Rd., Round Rock, TX, 78665
Talk to a Family Advisor: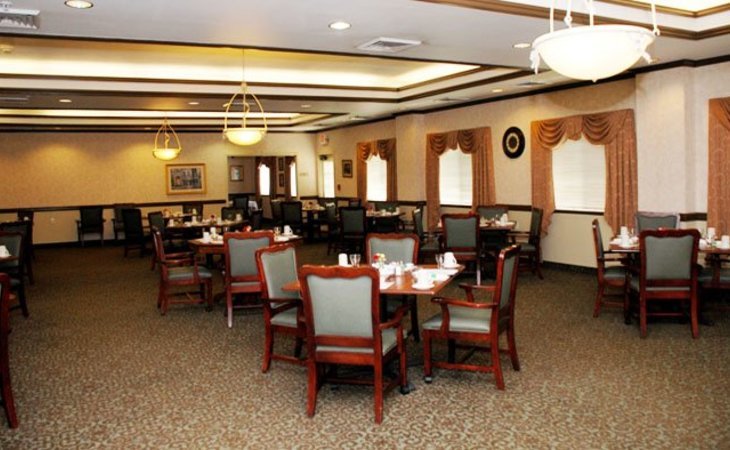 Reviews of Court at Round Rock
---
Danny256057
January 20, 2017
I am a friend or relative of a current/past resident
I've had my uncle in Court at Round Rock since the end of November. It's an older, very clean, and nice place, but it's been upgraded. The staff is very courteous. They seem to be very friendly and work really well with the people. They have all kinds of activities and a lot of stuff planned, so they are a very active center. The room that my uncle is in is a studio with a little kitchenette and a nice-sized bathroom with a walk-in shower and a little closet. It's very comfortable for an elderly person. The community is not all modern, but it definitely does the job.
---
Non Sequitorian
December 18, 2016
I am a friend or relative of a current/past resident
Facility is clean, recently updated. Staff are friendly and go the extra mile. Good food. What sold us on the Court was the residents... They were interacting with each other, hanging out in the common areas, and appeared genuinely content.
---
GeraldB
June 21, 2016
I am a friend or relative of resident
My mother and I are SO GLAD to have found this place! My mother had previously been in two other independent living homes in the area before finally discovering Court at Round Round and this is THE place to be!!! My mother is constantly raving about how great the food is there as well as all the staff. Chef Becky prepares fresh food every day (not processed or previously frozen crap!) and the meals are served like a restaurant. You are seated with a menu, and you select whatever you'd like to have. They're also very accommodating and do their best to please you when you want or need to change things around (ie: substitutions, more of this, none of that, etc). Heck, they even host a Happy Hour once a week! The staff really does care about you. They have people at the front desk 24/7, they have 7 managers, and they don't just have 1 activity director, rather they have several activity people!! The apartments have a full kitchen (though I doubt you'll ever use it) and they have a really nice gardening area, a HUGE exercise room and more. I can tell you, I've not seen my mother this happy in years. I'd like to give a HUGE THANK YOU to everyone at the Court at Round Rock for making my mom feel welcome and special.
---
tiffanym
May 15, 2016
I am a friend or relative of resident
Some of the staff are very caring and kind. However, too many issues with safety and too big of a facility to ensure each resident gets the care they need. It's very expensive, not that nice (needs to be updated), and too many residents per employee. We experienced way too many trips to the hospital that could have easily been prevented if the they followed through on things and contacted us when she was ill.
Provider Response
Thank you for your feedback. Our priority is to provide top-of-the-line care to our residents, and we take all input seriously. We would appreciate the opportunity to learn more about your experience. Please do not hesitate to reach out to our Executive Director, Shawn, at our community line should you have any additional feedback.
---
TerriHOYVD
May 11, 2016
I visited this facility
I went to the Court at Round Rock. It was a little bit more of a nursing home feel. It wasn't quite the spa-retirement feeling that the other facility is. I just took a quick tour and the staff was very nice. I remember the woman was very helpful. The place was very clean and very nicely decorated. It wasn't too big and it was a little quiet. I was looking for a little bit more of a camaraderie atmosphere. It was just too far away from where I am. There was a lot of construction on that road up there and it was just too hard to get to.
---
Skip1
December 30, 2015
I visited this facility
Court at Round Rock was great. They're a Class A facility, so they can't deal with specific resident problems, but for someone looking for their first place in independent living or assisted living on a minor scale, it's an excellent place. One of the reasons we started there is because my mom is in a sister community owned by the same corporation, but their staff, administration, and attention to detail there is far superior to the place she's in now. It's spacious and well kept, the food is excellent, and the staff has great attention to detail.
---
Anonymous116015350
November 25, 2015
I am/was a resident of this facility
The people who work at Court at Round Rock are absolutely wonderful, thoughtful, and caring. They have a beautiful garden and a gym. They take you to doctors' appointments if your doctor is within Round Rock. We have many artists who come in to perform, and we have gone to the symphony. We have a lot of activities.
---
Zuma
October 29, 2015
I visited this facility
I saw the Court at Round Rock, and this is a facility that had way too many people for him. It was more like a hotel than a home. It was a huge place, but the food was absolutely fantastic.
---
Jenn W
September 16, 2015
I am a friend or relative of resident
We researched no less than six communities when considering where my mom would be best placed. Some had bells and whistles but no core of care. Others were easy to cross off the list. The Court at Round Rock was a virtual no brainer of where she would be happiest. They have both independent living and licensed (made sure) assisted living services so when my mom is ready for increased care, she can move from one side of the building to the other without missing a beat. The clinchers for me were the care and dining. The staff is genuinely invested in their residents and it's obvious in the interactions we observed during our visits that it matters to them that the residents are happy and cared for. We went during a happy hour one Monday and it was like a party going on with food, drinks and a guy doing a sing a long in one of their meeting areas. The other was dining. We have lunch with my mom occasionally and when we toured, we got to meet the Chef, and he's a real chef with formal culinary training. My big fear was going to be food since my experience with food in healthcare is substandard. We have had some fantastic meals here. The chef's capabilities and talent are evident in the look and taste of the food as well as the hospitality of the staff. My mom and I couldn't be happier. It was a hard deciding that it was "time" for my mom let alone where she would go and who would take the best care of her. The Court is everything I could ever want for my mom to enjoy this new phase of her life and I'm so grateful and relieved that we found them.
---
Caring111843650
September 08, 2015
I visited this facility
Mom is going to the Court at Round Rock, and I liked the facility. And what I like most about the place was the people; they just seemed very nice. One of the main things was the lady that I spoke to, her father also is staying there, and that impressed me. The apartments looked like an actual 1-bedroom apartment as opposed to those extended stay hotels; the kitchen is separated from the living room, and the bedroom is separated with a wall. This place has a huge kitchen sink, a dishwasher, a normal size refrigerator, and cabinet space. It's all set up like a regular apartment. We did eat there, and the food was very good. They have Wii games, movie nights, bingo, card games, and field trips. It's a very nice place to be. From what I have seen of the rooms, the way people have been taking care of, and how the staff interacts with the residents, I really like it.
---
Caring2508
September 07, 2015
I visited this facility
I thought that they were very pleasant and that their building was very similar to one my mother was in. They really didn't have anything substantial to present to me in terms of any incentive or anything like that, but they certainly were pleasant, and I appreciated the visit. I would perhaps recommend it, but in the case of my mother, the Court at Round Rock was a very congested area. That would be one reason why I would have some reservations for my mother, plus the fact that it would probably take me a good 45 to 50 minutes to get there, and I was looking to see if there was something closer.
---
Ron109663850
August 08, 2015
I am a friend or relative of a resident
My father is in Court at Round Rock. The people are very friendly, and it is a nice place. There is a hospital nearby. He participates in activities, like they have some carnival or something like that, and he wins some prices. They also have trips. The food is great. The rooms are very nice. Right at the moment, my father is pretty independent. The staff is very friendly and very nice. I will definitely give them a recommendation.
---
Caring107156550
May 29, 2015
I am a friend or relative of a resident
Mom is at Court at Round Rock, and it is not really working for her. The people are really nice, but they just have no respect for your money or your situation; we are going to move her out of there. She is also too isolated in this place from other people. It is also too expensive.
---
Clint6
May 27, 2015
I am a friend or relative of a resident
We actually signed up at the Court at Round Rock. The community there was very friendly and very active, and the food is really good, so those were the main things. We are still fairly new, but so far I have been impressed.
---
Caring104581750
April 07, 2015
I am a friend or relative of a resident
My mom is in Court of Round Rock. We chose it because it has independent living and assisted living. The staff seems to be there for as long as 10 years, and that is important. The food is excellent and not common for that kind of place. The rooms are better than others I saw. They have a full size refrigerator, a couple small burners, and the kitchen is small, but the kitchenette is definitely there. They have activities, and I will absolutely recommend it to others.
---
Caring107233550
March 07, 2015
I visited this facility
The Court at Round Rock frightened mom. It was basically a converted nursing home, and the thing that frightened her about that was there was only one entrance to each apartment and every door led to the inside courtyard. They said they were pet friendly, but we never saw anybody with any pets the whole time we were there, and the person who gave us the tour was the maintenance man. He was nice and knowledgeable, but in every other facility that we toured, we were greeted and shown around by the manager or somebody that definitely was more used to showing people around. We just didn't expect to be shown around by the maintenance person. I think mom was turned off by the setup and the arrangement of the facility. It didn't seem that it was set up the way that she was comfortable with. Once we toured the room and saw that there wasn't like a porch or a patio for her to take her dog out, we knew that it wasn't going to work for her. They did tell us that they had a five-star chef and invited us back to lunch with them, but my mom would not have been comfortable with this facility. I am sure that they were very secure because all of their outside doors led to the inside courtyard, and there was no outside exit. There is no way for anybody to get outside the facility once you are inside except through the main front door. Their central courtyard was pretty. It had certain little sitting areas that were very attractive. I know that it wouldn't work for my mom; she just needs a different kind of setting.
---
Suzette2
January 29, 2015
I visited this facility
Court at Round Rock smelled when I visited, and the rooms seemed small. The staff seemed OK and helpful. Everything seemed old. I recommend they improve their furnishings. When you walk through the door, all the couches and chairs looked like they've been there for 25 years and well used.
Provider Response
My name is Wendy Dorsey, and I am the Assisted Living Director for The Court at Round Rock. Thank you for taking the time to give us your feedback. My top priority has always been the well-being of our residents and their families. I want to invite you personally to contact me directly so that I can address any concerns you may have. Please feel free to reach out to me by phone at (582) 310-0002 or by email at wdorsey@seniorlifestyle.com.
---
Caring102739750
December 09, 2014
I am a friend or relative of a resident
My mother lived in the independent part of Court at Round Rock before, and we moved her to the assisted living part. It is fine. We are happy. We would not leave her there if we were not happy. The food is very good. She is having the care that she needs. They have activities. Everybody is friendly. The staff seems to be family. They are doing very well, and they are above average. Maintenance is very responsive. The facility is not new, but it is pretty well maintained, and they have two beautiful courtyards. They also have a gardening club there. They bring different kinds of musicians in for sing-a-longs and things like that, and that is very interesting. Everything is very clean in their dining room. They use tablecloths and napkins. It is a very nice dining service. They always have flowers on the table. We have had very positive responses and positive experiences there. I will recommend them to others because they care about their residents, and as I have said, the food is good.
---
Caring89419850
July 30, 2014
I visited this facility
The people at The Court were very nice and very helpful. The facility has been there for several years probably 10 to 15 years maybe, but it was still nice. We looked at a one bedroom with a living room and kitchen and it was nice. They do have activities for the residents to do if they wanted to participate like gardening, shows, bingo, those kinds of stuff.
---
Caring7248
May 29, 2014
I visited this facility
Court at Round Rock was our first choice, but it didn't work out because of our timing. My father-in-law was not able to move into this facility when they had a room available, and by the time he was available, they were full. Nevertheless, this facility was top-notch. They have a good atmosphere. It is a good-sized facility. The room was an adequate size. It is an older facility, so it is well used but well maintained. The dining facility was fine. The staff was very helpful. Their residents seemed to be happy. I would rate them highly.
---
Caring81811350
April 01, 2014
I visited this facility
Court at Round Rock was an older community. I only visited the independent living side because my parents were not interested in the assisted living at the time. It's older in every sense. A lot of rooms and a lot of very white-haired people. They're probably very comfortable there, but my parents are not that old, so they weren't comfortable going to somewhere with older people. The rooms were big, had a full kitchen, and were certainly very homey, but very old. It needed an update, kind of a pick-me-up facelift. When I came in, I didn't have an appointment. I just had some time, and I stopped in. It is a big, large community. So people probably have a lot of activities. But it would be too big for my parents. It wasn't the right fit for them. It is also farther from my home.
---
Caring Daughter0000026
November 28, 2013
I visited this facility
Court is in a residential area. It was depressing and didn't smell good. The staff was nice but we didn't have a good feeling about it. The rooms were not nice, they're not renovated and they didn't appeal to us at all.
---
Sandra6
June 06, 2012
I am a friend or relative of a resident
We primarily chose a place that's close to my house but they really didn't have a room right then. So we opted to put my dad temporarily there in the Court at Round Rock which is its sister place. It's wonderful place! My dad really likes it and he's very happy there. The staff is great and dad has been treated very well. It's very clean, bright, very cheery, and very organized. The staff are extremely helpful to the family and to their residents. I have sampled the food and it's very good. Although this is not near me (that's why I'm moving him to some place near me), my dad really enjoys it there and he's been doing really well since he moved in.
---
---
Senior assisted living at Court at Round Rock offers residents the best of both worlds. All benefits of our senior living community are combined with a full spectrum of senior care services to create a premier senior assisted living community. Residents enjoy beautiful surroundings, on-site amenities and social programs alongside continual on-call medical care.
At Court at Round Rock, we adhere to state-of-the-art standards of senior assisted living while providing a special touch. Our residents receive personal and comprehensive care and are consistently treated with the dignity and respect they deserve. Whether our residents need help with day-to-day activities, getting to appointments, or medication management, our caregivers kindly and competently meet those needs.
Our assisted living community in Round Rock has been purposefully designed to provide you or your loved one with a nurturing, comfortable, home-like environment that is attractive and easy to navigate. We foster community and family by hosting many activities and events each month. Residents are encouraged to participate in as many pursuits and outings as they like, appropriate to their ability. No matter what, everyone is treated as an individual person with unique needs.
At Court at Round Rock, our residents live life to its fullest as they age in place.
Assisted Living Amenities
Personalized Care Plans
24-hour Staffing
Emergency Response System
Medication Management
Scheduled transportation to local shopping and medical appointments
Award winning Wellness Everyday™ programs, provided 7 days a week
Dining for Wellness™ - educational and wellness program
Brain Health University™
Beauty and Barber Shop
Housekeeping and maintenance service
All utilities and basic cable included
Individually controlled heat and central air
Fresh, seasonal cuisine prepared by the dining service team
What Makes Us Special
---
Within 8 miles of 4 hospitals___ Culinary school (CIA) graduate Chef prepared meals.___ Our Director is an instuctor at an Austin Culinary school and was named Senior Lifestyle's national 2012 Dining Services Director of the Year. Dining Experience beyond compare!___ We are proud of the long-term tenure of our team members and many of our residents.___ All apartments have fully equipped kitchens___ Home Health Agency on site offering physical and Occupational therapy.___ Also have visiting physicians,  psychiatrist and mobile dentist who treat our residents.
Features of Court at Round Rock
---
Costs
Minimum Rate

$3150/month

Rent Plus Care Fees
Entry Fee
Fee Structure Extra

We Offer Respite
Room and housing options
1-bedroom apartments
2-bedroom apartments
Studio Apartments
Features
Beauty Barber Shop
Resident Transportation
Party Space
General Store
Tv Room
Garden And Patio
Resident Parking
Features Extra

Billiard Room, Private Dining Room For Small Parties
Cleaning services
Laundry For Linens
Private Cleaning Services
Housekeeping
Laundry For Clothing
Technology and entertainment
Health services
Physical Therapy
Nurse On Staff

Available During Business Hours
Activities
Offsite Activities
Music
Stories
Religious Services
Book Clubs
Wii Sports
Fitness Room
Gardening
Arts And Crafts
Financial guidance
Va Benefits Consultation
Financing Advice
Guest services
Guest Parking
Guests At Mealtime
Overnight Guests
General
Staff Patient Ratio

Based Upon Acuity

Minimum Age

62

Pets

Small Pets Allowed
Location of Court at Round Rock
---
Get Cost Information
Get full access to reviews, cost information, and amenities