Talk to a Family Advisor: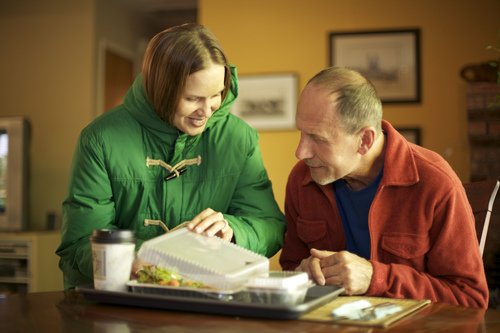 Top nearby Hospice Services
Reviews of St. Vincent Hospice
---
TheMomm
January 18, 2016
Other
My 41 yr old daughter is currently residing in St Vincent Hospice. She has less than 3 weeks to live. The staff there told her that she can't have any food brought in for her anymore. They serve food that is sent in from the hospital, you have no options what is served to you. No one likes hospital food ! If this complaint isn't enough - they also created a new rule for my daughter, no more than 15 minute visits and only 2 at a time. She's dying, for crying out loud, who cares what she eats? Lazy staff ! I rate this place a generous rating of 2. She has clean sheets and pain meds. I wouldn't send anyone there ever again. God forbid that I ever need to.
---
Kimmz
August 13, 2015
I am a past client of this provider
I am still reeling from the death of my mother three weeks ago- but felt compelled to look at reviews now to see if anyone shared my experience. St. Vincent Hospice was horrible from start to finish. All I had ever heard about the Hospice organization my whole life was that "they are lifesavers" and so incredibly passionate and helpful.. etc. My experience couldn't be further from that. They made "mistakes" at every turn. We would have been better off without them. Way to lengthy for this forum- but I regret our decision to use this service. The final straw? I was told the bereavement team/minister would call me the day my mother passed and I NEVER heard from them. Not once. Not even a letter expressing condolences. It's a business for them- not a calling. Please go somewhere else.
---
Stacey51
May 29, 2015
I am a past client of this provider
St. Vincent Hospice Review In nearly everything I have looked up, St. Vincent Hospice has received very high and favorable reviews. This makes me wonder 2 things: Was our experience that much of an anomaly or are the home care providers' expectations for hospice services in general that low? Our decision to hire a hospice service was well thought out and, we thought, well researched. We spoke with hospital personnel; we researched online; we interviewed several hospice representatives. During our interview sessions, I took copious notes as to what each service had to offer, how they differed, etc. I was very glad I did this. It enabled me to confront our hospice "team" regarding what they said their program offered vs. what we actually experienced. I clearly remember a comment that was made during the interview process, I guess to make us feel better: "There are hundreds of families that do this every day." I do not doubt the validity of that comment, but it does not begin to address the difficulties that are brought to bear when one signs on with a hospice and when said hospice drops the ball time and again. My sister had been in the hospital for 5 weeks and was dying from cancer. By the time we (her husband and I) made our decision to hire St. Vincent's, we took my sister home on a Friday. We were nervous and concerned about our roles as caregivers, of course, but the staff kept reminding us they have nurses on call 24 hours a day. That Friday afternoon, we were told to expect "our" nurse, one of the main "team" members we were supposed to count and rely on. She arrived very late in the afternoon and had me a bit concerned about some things, which I immediately addressed. She assured us she would be with us for awhile. Prior to leaving, she also reminded us of the 24 hour nurse-on-call policy, should we require help. Well, it turns out we did require help. Here's what the folks at St. Vincent's don't tell you: There is a nurse on call…maybe two. But there are a whole lot more folks calling for help than there is help available. The call center can tell give you a time frame in which to expect the nurse, but you will surely get bumped if something more urgent arises. So although we called and requested additional medical help, nobody made it to our house that difficult first weekend. The following week, a different nurse showed up. It was his job to tell us that—surprise—"our" nurse was now being replaced and they had not yet reassigned anyone to us. In our initial interview, the woman kept stressing we would have a "team"; we would feel "supported". Instead, I felt like we were left alone to fend for ourselves. I felt like my sister and my family were an afterthought of St. Vincent's. Also, I learned to be leery of the whole nurse situation. Perhaps it was the time of year. Perhaps our situation was way out of the ordinary. But the theory that we would have essentially one nurse assigned to us did not pan out, either. Oh, we had a nurse assigned and he was a bright spot during the week…when he was on duty. He took so much time off during my sister's last month that we were again never 100% certain who would show up. This brings with it its own set of problems: Incessant repeating of facts our main nurse would have known; the comfort levels of the patient and other care givers; different ways of handling situations. Furthermore, we were not always notified. Some nurse would show up and assume we knew to expect a substitute; we usually did not. Strangers often entered our home at a time when emotions were fragile and nerves were frayed. In fact, having been given no warning, our case nurse was not available the week my sister died. The nurse with us that last week was so kind and caring, but there were uncomfortable moments of just not knowing who would show up. This was another added burden during what is, to date, the worst week of our lives. In reviewing what was promised vs. what was provided, it is important to discuss the home health care workers supplied by St. Vincent's. They do have them, yes. But, at least in our case, they did not work with us. They would call very early in the morning and say they were on their way. Never did they ask if that was convenient for us or offer to pre-schedule an appointment. I will admit, my sister was very lucky that her husband was able to afford to hire a full time home health aide from a local company throughout this experience. There was one aide in particular from St. Vincent's who did not view this as an opportunity for two people to work together for the benefit of my sister. Instead, she took it up herself to boss our agency worker around while she herself did as little as possible. In our own best interest, we asked to discontinue the use of St. Vincent Hospice home health aides. Finally, I'd like to address the social worker fiasco. We were told that was our main liaison. From our perspective, the role of the social worker was either grossly misrepresented when we had our initial interview or we just got shafted. Weeks went by with no communication from the social worker. I finally called and requested a meeting. The primary goal was to go over the pre-hiring notes and promises as compared to the reality of what was not taking place. To the social worker's credit, she admitted that we had indeed fallen through the cracks. Unfortunately, as I pointed out, this was our one and only experience with this organization and we hired them based on what we had been promised. And not that even this meeting really mattered much. Our social worker quit several weeks later and the new one surfaced just about the time my sister passed away. So instead of the comfort of someone we had come to know and rely on for support, we were confronted with a stranger in our space, making the whole situation even more tense, impersonal and unpleasant for us. I regret, for the sake of my sister, that we hired St. Vincent's Hospice for the last 3 months of her life.
---
sween
March 06, 2015
I am a past client of this provider
i was an out-patient of dr. buran, having been recommended as such by my regular. the regimen prescribed was apparently effective as when i was released back into the care of my regular physician, this doctor remarked that only one other of his patients had been returned to his supervision. the weekly visits by a nurse seems to have been part of the protocol as only the usual vital sign checks were performed and medications delivered.there were a couple of visits br a social worker w hich i also think was part of the hospice protocol.i am certainly no worse for the hospcr experience and before and after don't feel as i have or had one foot on a banana peel and the other in the grave. medicare paid some hefty bucks for all this and my perception is that my original doctor was somewhat in a quandry as was a specialist to whom i was first referred. it seems dr. buran diagnosed the basis for my condition/disease better than the other doctors.
---
The Whompus
August 22, 2014
I am a past client of this provider
It was such a peaceful setting for my Aunt and the family. The staff was all very kind and helpful. My heart goes out to all of them:)
---
Cathyrambo
July 14, 2012
Other
My mother was in the St. Vincent Hospice Center for 16 days and she had the utmost best treatment I could have ever imagined. All staff was very helpful and willing to make all of us comfortable and took an extra mile to take care of my mother.
---
Indy35
April 14, 2012
I am a friend or relative of a resident
I was very impressed with this facility. The staff was extremely friendly. The care counselors were willing to work with our family to understand everything that was going on. Their accounting department went above and beyond to handle insurance issues.
---
Michael F.
October 04, 2011
I am a friend or relative of a resident
My grandfather passed away in this facility. He had decided to stop his inhaler that he had used for nearly 20 years for COPD. I commend the staff on the treatment of my grandfather - the respect and dignity that was given to him; as well as my family and I. He was given what he requested during his passing to ease his pain and suffering. The staff brought him whatever he wanted during his stay - and offered the entire family comfort during this time. I appreciate the professionalism and attention that was given to my grandfather and to my family during this difficult time. My grandfather's suffering is over - and I know where he is now - and that he is at peace.
---
Sandina726
July 27, 2011
I visited this facility
ST. Vincents hospice care located on Payne Rd in Indianapolis is amazing. I visited several times while my step mom was in there. Not only do they keep the patient in mind with extreme comforts they do the same for the family. The room is set up like a quaint little cottage your visiting, windows all around flowers birds etc. Very nice ,very private as well. The number one thing they do exceptionally well is.. Make visitors feel like this is there guest house they are so welcome. No extremes on checking in and what you can and can't do.
---
Karen Lasley
May 12, 2009
My loved one stayed here
We had all kinds of issues with the staff. Our loved one had many visitors and they told us we had to schedule his visitors. They were told before I ever signed the papers that he was the Mayor of our City and there would be many visitors and it wasn't a problem then. Our church brought in food for the family, which we shared with other patient's family members and Hospice staff and we were told that the food had to be removede from the facility. Why have a kitchen if they don't want food brought in. He was bathed and was left with blood stained clothing and bedding. We were asked if he would want a catheter and I told them 'no' due to the Urologist's consult had advised us not to do so and they put one in him when I was out of the room. He had ants in his bed. I broke down in the hallway and they called Security on me. We asked one night if they would take his blood pressure as my daughter had gone home and was at least 30 minutes away and his breathing was worse than it had been. They informed me that they only take blood pressure readings once a day and they had just taken it 1 1/2 hours before so they would not take it again. We had many other issues with them, but I will be lucky if they allow this much to go through.
---
About St. Vincent Hospice
---
St. Vincent Hospice is a hospice care provider serving Indianapolis, IN and the surrounding area. St. Vincent Hospice offers care and emotional, social, and spiritual support for patients and their families in end-of-life scenarios. Contact the provider for more details on services and rates.
Request Info
Get full access to reviews, cost information, and amenities