Rose Wood Manor
1513 Country Park Road, Scottsboro, AL, 35769
Talk to a Family Advisor: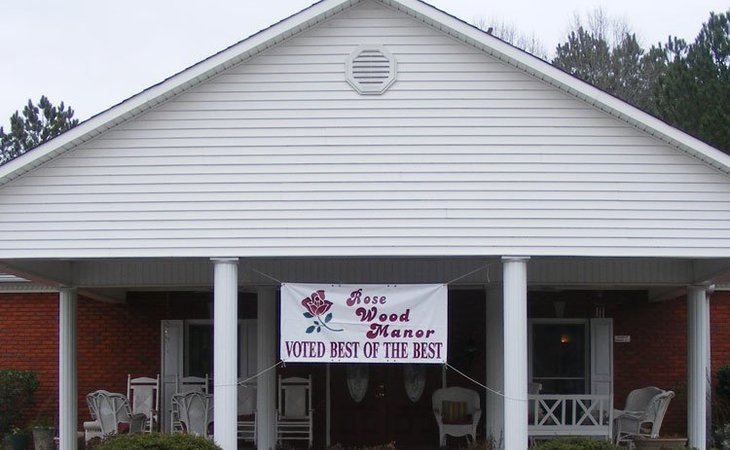 Reviews of Rose Wood Manor
---
Daughter Looking
November 29, 2016
I visited this facility
Today my family toured Rosewood Manor in Scottsboro. I am looking for some additional information so if you know this community, I would love to see your review. I am looking for a facility for my Mom and Dad, both in their 80s and healthy. We really enjoyed our tour and liked the community very much. It is very clean and well maintained. We really liked the Director of Nursing. She is smart and so helpful to us. We met several of the the residents and they looked happy and had good things to say about living at Rosewood. The rooms are a little smaller than I wanted but they will work out for us. We actual looked at two rooms that are connected to give my parents some space. The price is very reasonable and I like that Rosewood is a small community. We have looked in Huntsville as well but Rosewood is close to us. I have a copy of the activities calendar and there is plenty to keep them busy. My parents are active and like to stay busy. We were invited to stay for lunch and I have no complaints. The portions are large and the food is home cooked. Dad really loved the meal. If you know of someone who lives here, please write a review so I can hear what others have to say about Rosewood. Everything I am reading is very positive. I think we will be putting down a deposit in a couple of weeks and are considering moving in January 1.
---
Happy Thanksgiving
November 25, 2016
I am a friend or relative of a current/past resident
Hello…… I live in Huntsville and my family has been looking for a community for my Dad. He is in need of assisted living. We looked at many places in Huntsville but they were so big. Me and my brother wanted Dad in a small, loving community. We were referred to Rosewood Manor in Scottsboro. I wasn't sure about the drive but after touring this wonderful place, we made the decision for Dad to move to Rosewood. There are several males already living here so I was happy that Dad will have some friends that are men. The Executive Director gave us a tour and she was wonderful and the Director of Nursing was so compassionate and understanding. I know Dad's health will be monitored and we are very comfortable with the healthcare services Dad will get. We are a bit nervous having Dad so far from us but that doesn't matter now that we saw Rosewood. We are scheduled to move in to the community in 2 weeks and Dad is actually exited!!! I look forward to writing a wonderful review again after Dad gets settled. If you are looking for an assisted living or memory care community, don't pass up a tour of Rosewood!!!!!
---
1st hand5954
November 22, 2016
I am a friend or relative of a current/past resident
Let me start by saying this is not about the caregiving this is about how the Corporate office has no consideration for the families of the residents due to the fact that every year they choose to send out letters at the end of November to let you know due to increase in cost they will be raising your rate by 5%. What a time of year for this to happen as this is the most stressful time with your family. In the 5 years or so I have been a part of Rosewood in Scottsboro, Al this seems to be Corporates way of saying all we care about is your money not your feelings, not the fact that be enjoy picking this time of year but we (Corporate) need more money your life and feelings mean nothing. Also the rates listed on this website are very much wrong unless they are giving new comes a better rate that long time residents in which case would truly be a shame due to the fact that my family alone has probably already paid out somewhere in the neighborhood of $250,000. Why would you not reward the residents that have chose to stay rather than new residents. Now let's talk about where the 5% increase goes. It sure does not go in the pocket of the caregivers that are there day in and day out, it sure does not go on the table in the form of better meals, so with that being said it must be going into the wealthy hands at the Corporate office which is truly a shame. They are not the ones caregiving, they are not the ones serving meals, they are the rich getting richer from families misfortune. This saddens families who need this kind of care. No one cares for their fellow man anymore, it is all about GREED. One day I hope and pray that the people in this Corporate office answer for the stress they have unduly caused families every year at Thanksgiving and Christmas and the GREED that the have in their hearts. Thanks ROSEWOOD MANOR CORPORATE OFFICE for once again showing your true colors.
---
onetimer
October 10, 2015
I visited this facility
As the daughter of a resident of Rosewood Manor, I found this facility to be a good place for my mother's care. She felt the staff knew how to take care of elderly people, as she would comment to me daily. I believe what she meant was they, the staff (most of them) truly cared about the residents. My mother did not worry about how clean her room was, but instead was appreciative of the time given to her in just talking about day-to-day events with the many staff workers as they would check on her needs. My mother often said she felt like they treated her as family. That is why I believe she received good care from this facility. The food is amazing!! She gained weight once she moved in and enjoyed the company of those around her. Most of the staff who have been there awhile are good. A few, as with any company, soon realize they are not cut-out for this job and soon leave. Bless those who stay and make the residents comfortable and safe. The director amazingly keeps everything going and always makes you and your loved one her first priority.
---
staticelectric
February 20, 2015
I am a friend or relative of resident
We have been very happy with this facility. We have a loved one there and feel she is well taken care of. No place is perfect, but we drop in at random times throughout any given day and things are always to our expectations. The sweet caregivers are always working hard caring for the residence on every (OFTEN) occasion we have been there. The food is basically what one would prepare for themselves at home-- nothing gourmet, but who would expect that on a daily basis. Our loved one is bathed daily, and they make sure she has clean clothes on and gets exercise in by walking. There are even exercise classes several times a week. They don't just let her lie in bed like they did when she was at the nursing home. The rooms are small, but she has a double bed, nightstand, chest of drawers, television, recliner with a table beside it, and still has plenty of room for her walker to navigate. We feel blessed to have a safe place for her to be... a place were her medications are given at the proper times, were we know she is getting three meals a day (plus snacks). Living alone is not an option for her. Rosewood gives her the ability to be independent (not in a nursing home) while giving us a calm of knowing she is cared for. Caring for the elderly isn't a easy job, I know, but I think they are doing a great job. THANK YOU!
---
Caring83920150
July 23, 2014
I visited this facility
I was not pleased at all with the rooms and the staff at Rose Wood Manor. The staff seemed snobbish. They were just too matter-of-fact. You ask them a question, they gave you an answer. They did not elaborate. The room was just one large room with a bathroom attached. It would not accommodate my furnishings. I was not impressed with it. The facility was dirty. I walked into the bathroom, and I noticed that the garbage cans were overwhelming and the commodes were dirty; that pretty much set the pace for the entire tour.
---
mams3
January 24, 2013
I am a friend or relative of resident
it's not as bad as some say it is.. But they need more caregivers on staff... And a nurse around the clock. And a better menu. they should hire people just for laundry and cleaning so caregivers can spend more time doing their caregiving with the residents.. But it is a nice place..And the caregivers do care..
---
smh1
September 13, 2012
I am a friend or relative of a resident
I would hate to spend my last years or days in this facility. The patients are not cared for properly in my opinion. The place was dirty. Everything in the place would always stink. I would see patients ringing their bell that is for when they need help, and I overheard some of the staff saying that's okay, he/she always does that. Its not an emergency... It could have been an emergency thing time, you never know. Most of the nursing staff seems to work very hard and you can hear whispers about them being very underpaid. They run nonstop, so I could easily see this. I do not know if the place is in such bad shape because there is not enough people on staff, or if it is a lack of care to do a good job, or if it is just overall management, but it is not a place I am proud to say I had family in.
---
---
Rose Wood Manor is a home-like senior community located in picturesque Scottsboro, Alabama. Scottsboro and Rose Wood Manor represent southern living at its best. Scottsboro is known for its bass fishing on the great Tennessee River's Lake Guntersville Reservoir, to golfing on two of the most beautiful courses in the south. Scottsboro is the home of the oldest trade day in the country. Located around the Jackson County Square in Scottsboro, First Monday began at the turn of the 20th century and survives even today. You never know what you might find there.
Rose Wood Manor is nestled in the proximity of Jackson County Park and the Scottsboro-Jackson County Center Council on Aging facility. The breathtaking view of Roseberry Creek area of Lake Guntersville, intertwined with the abundance of activities throughout the week, makes Rose Wood Manor the right place to call home.
Licensed Assisted Living | Secure Memory Care
Each of our residents is provided with:
24 hour trained staff
Private room & bath (handicapped accessible)
Emergency call system
Personal care including showering
3 home-cooked meals a day plus snacks
Cable TV
Beautician/Barber services
Special diet accommodations
Housekeeping
Laundry services
Sprinkler system
Handrails
Local transportation provided senior bus
Full activity program with games, religious services, monthly birthday parties, monthly resident council meetings, exercise program- featuring Thai Chi and entertainment such as bluegrass, gospel bands, youth choirs and line dancing.
Specialty Care Assisted Living
Rose Wood Manor offers additional services for these residents with special needs:
Secure Facility
Memory Care Programs
Assistance with personal care
Staff trained using state approved program for residents with memory deficits
Medication administered by licensed nurses
We are the ONLY facility in the area with a full time Registered Nurse on staff
Beautician on site
Courtyard
Full time Activity Director
From bass fishing on the great Tennessee River's Lake Guntersville Reservoir, to golfing on two of the most beautiful courses in the south, adventure awaits. Take a journey on any or all of our numerous walking trails and enjoy what nature has to offer. We hope that you will spend a few minutes to discover all the beauty and wonder that we have to offer. Scottsboro represents southern living at its best.
Scottsboro is the home of the oldest trade day in the country. Located around the Jackson County Square in Scottsboro, First Monday began at the turn of the 20th century and survives even today. You never know what you might find there.
Whether you are looking to relocate, begin a business or just visit Scottsboro, spend a few minutes here and learn.
Features of Rose Wood Manor
---
Costs
Minimum Rate:

$2700/month

Minimum Memory Cost:

$3200/month
Location of Rose Wood Manor
---
Get Cost Information
Get full access to reviews, cost information, and amenities