Sunrise of Holbrook
320 Patchogue Holbrook Road, Holbrook, NY, 11741
Talk to a Family Advisor: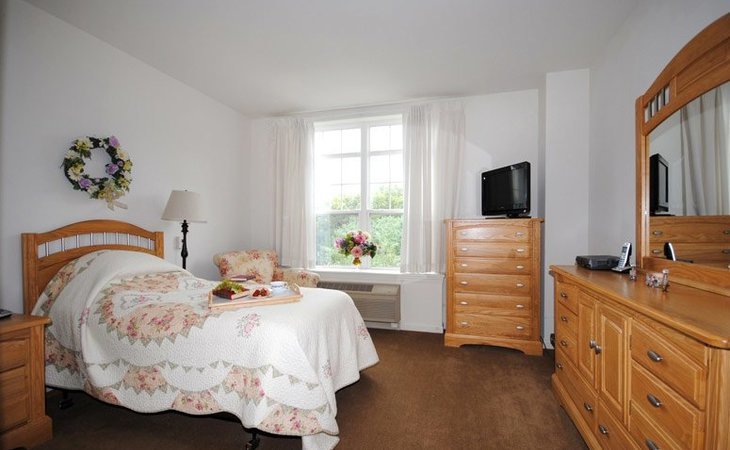 Reviews of Sunrise of Holbrook
---
Tom423626
October 14, 2016
I am a friend or relative of a current/past resident
My father-in-law was in a Sunrise facility (Sunrise of Holbrook). I ate there a number of times. Food was OK. It was nothing elaborate, but it was certainly nutritious and edible. The facility was very nice. I don't remember any of the amenities except the large game areas and talking areas. The nice amenities that I noticed there was they had these sofas that were like in the corners of the building that people could sit down and talk with their loved ones in a very private way, and that was a good feature. The place was definitely clean. The ladies were very lively. They had all sort of games for them.
---
L. Bohm
June 13, 2015
I am a friend or relative of a resident
The place itself was absolutely beautiful. Sunrise of Holbrook is probably the best out of the assisted living facilities that I saw. The staff was great. A lot of the people who were there were still very independent, but when my aunt was there, she was not, and she had an aide. And it was just great; it was like normal living. There were social activities that were nice, the grounds were beautiful, and the people were taken out. They could go shopping if they wanted, and if they were ill, they stayed, of course. It all was really pretty nice. The apartments were gorgeous -- everything was beautiful. It was decorated beautifully, which really has a lot to do with how you feel when you're there. They had lovely things for holidays -- which we went to a few of those -- and it was always really good. And they were very clean; the people who lived there were clean, that was a big deal to us, and that is why we chose it.
---
Ron44
April 27, 2015
I am a friend or relative of a resident
We chose Sunrise because of its reputation. It was recommended by other families that had family members there. It is a very nice facility -- very clean and very open. It has a lot of amenities for the people that are staying there. They have a full-time staff like nurses and attendants. They have full-time people at the front door for security. They also have a security on the front door after a certain hour wherein you can't get in without a code. My mom was accepted right away at this place.
---
Caring87637550
June 17, 2014
I am a friend or relative of a resident
I chose Sunrise at Holbrook for my husband because of its locality. It is only ten minutes from home. The whole place is clean, well kept, and the people are nice. The staff is very good and informative. The rooms are good and compatible.
---
Margaret36
April 21, 2014
I am a friend or relative of a resident
My mother is in Sunrise. We chose it because it is lovely, and it has a nice reputation. The staff is attentive and caring. The facility is very nice. She is a private room with a kitchenette and a bathroom. It is small but nice and adequate. They have a lot things going on. She doesn't participate in them, but they are available, like trips and group activities. I am satisfied, and my mom is happy with the facility.
---
Ed17
April 11, 2014
I am a friend or relative of a resident
My mother has already been placed in Sunrise of Holbrook. She has been there for about a month now. We found it almost right away, within a couple of weeks, and we're very happy with it. This community is beautiful. It is like a hotel, not like an assisted living place. It is always clean. I can only say great things about this place. Everything is very convenient for my mother. This community is actually 5 minutes from her old house and 5 minutes from my sister's house. The staff is great. They keep their residents pretty active. She plays bingo every day. She also plays cards. They have movie nights. She is religious, so they have Mass on Sunday and a Rosary night that she attends every week. Mom is also happy with the food there. They give them a choice of six meals three times a day. Again, this is a perfect place for her.
---
Appleton
March 09, 2014
I am a friend or relative of resident
My Mother in law was a resident at Sunrise for almost two years. While it was expensive, she was well taken care of. She had dementia and could be difficult. We have no complaints about her care. Our problems occurred when she had a stroke, was hospitalized, then went back under hospice care. She could not swallow, the doctor ordered Ensure pudding at $185 a case. She died a few days later. The pharmacy agreed to credit us for the unused pudding. It disappeared. We also cleaned out her room the day after she died. We were asked if we would donate her clothes, lamps, walker, etc. We agreed, then were charged for an extra day for not cleaning her room. We were forced to pay for the disappearing pudding and for trying to be kind to others. No one returns calls. We even wrote to corporate and have not gotten a response. This makes us think that maybe they are not as good as we thought.
Provider Response
Thank you for your feedback and we're sorry that you did not have a positive experience with our community. Please feel free to contact us at Information@SunriseSeniorLiving.com to share additional details so that we may learn more. – The Sunrise Team
---
Caring73386250
November 23, 2013
I visited this facility
The people at Sunrise at Holbrook were very friendly and organized. There was nothing wrong with the place. The residents seemed busy. The facility was clean. The people there seemed active. The rooms that we saw were nice and suitable.
---
Caring New Yorker
August 28, 2013
I am a friend or relative of a resident
My husband stayed in Sunrise of Holbrook for one and a half year. It was a beautiful place. They decorated it for the holidays at that time. It had a very lovely atmosphere. They also had a lot of activities there. Their food was good. The dining room was very beautiful. They would set the table like in a fancy restaurant. The staff was just beautiful. They took good care of my husband while he was there. However, he needed a lot more care, so we had to put him into a nursing facility.
---
xmenhockey77
October 01, 2012
I am a friend or relative of a resident
This place was very nice and clean. The staff was very friendly and was very helpful. My grandparents seemed happy there and were happy to still be together in the same place. They love it there from the activities to the staff and amenities. I would reccoment this place to anyone who is looking for an assisted living facility.
---
Kristan
July 08, 2012
I am a friend or relative of a resident
The staff was nice enough, but they needed to be more attentive of the people working there. The food they gave to the patients did not seem healthy at all, so I even suggested to the workers that they try and get healthier food, or at least options available to the patients. One good thing about the assisted living was that they actually had plenty of activities for the residents to do, things like salons coming in, bingo, and board games. they also had buses to shipping malls or trips to the movies, which was very nice. I think there also could have been more workers for the late night shifts, considering there were too many incidents that needed attention late night, such as residents needed to use the bathroom or otherwise. More attention should have been spent on keeping the public areas clean, as well, but the outdoor areas were quite nice.
---
Caring56
April 13, 2012
I am a friend or relative of a resident
My mother was a resident at Sunrise for a year and they have excellent care. It is was more of a medical environment suitable for her needs.
---
maryann123
December 19, 2011
I visited this facility
I recently visited Sunrise Senior Living in Holbrook to inquire about placement for my husband. The facility is unique in that it looks like a bed and breakfast, rather than an assisted living facility. It is extremely attractive, warm and inviting as you drive up. Once inside, the excitement continues as you try to take in the beautifully decorated areas and homey atmosphere complete with a resident dog, parrot, and bird. I didn't know where to look first! There are several common areas for the residents for activities, movies, big screen T.V. and lounging, as well as a beverage bar and dining room. There are no visitation restrictions and family members may reserve a private dining area for meals with their loved ones. Overall, I'd say Sunrise Senior Living offers a safe, attractive environment with all the comforts of home. The best parts about Sunrise Senior Living in Holbrook are: 1. That it provides a full service program for independent and assisted living for individuals and couples, as well as a more structured, secure and small special needs program for those with conditions such as Alzheimer's, etc. which other similar facilitates may not offer. Hospice services are also available. 2. Individual service plans including grooming, dressing, medication, and socialization activities, with skilled nursing care and rehab therapy are available. 3. Choice of private or shared room complete with basic bedroom furniture, updated bathroom, and small kitchenette area with refrigerator, sink, and storage. 4. Freedom to decorate living space with personal items, photos, and additional furniture. The worst parts about Sunrise Senior Living in Holbrook are: 1. The high cost of fees and rooms, which are private pay, although some financial options are available. Cost depends on the package, level of care and room selected. (Activities, meals, housekeeping, maintenance, insurance and property tax, lawn care and laundry service are included in all packages.) 2. Not having a model room to show prospective residents, as I visited resident rooms and felt a little intrusive. 3. Employees not easily identified. Although they did have small badges, the clothing they wore allowed them to blend easily with the well-dressed residents. Out of five stars, I would rank the grounds, the common areas, the specialty areas such as the whirlpool room a five. I would rate the residents' rooms a four if the room is shared because I felt it was a little small for two people, but if you have the entire room as a private room, I would rate it a five. Since I had limited exposure to the staff and did not see a lot of interaction or conversation with the residents during my 45-minute visit, I would have to give this area a three. Likewise, I could not gauge the quality of care from firsthand experience during my visit, so I would have to give it a three, although both these areas may be above this level. As far as organized activities, there was a small group playing bingo, but not much else was going on while I was there. Some residents were sitting in the common areas; others were in their rooms. The menu was very inclusive with residents having several choices. Overall, I would give Sunrise Senior Living in Holbrook four out of five stars. I would recommend anyone seeking these services to visit this facility. If you can afford it, it will be well worth your time.
---
FamilyS
December 08, 2011
I am a friend or relative of a resident
My husband's grandfather is at Sunrise Assisted Living in their locked unit. The have a special section available for those who are confused or wander. The rooms are well kept, a nice size and have a bathroom and small kitchenette. There is a nice frame outside the room with his name and things that are special to him so he knows which is his room. He was allowed to bring in his own furniture so the room looks very homey. The staff is always nice and helpful, very friendly. I always see the same staff also. They always have fun activities going on. We seen piano music, petting zoos, Halloween trick or treating, special holiday dinners, luaus, and all kinds of fun activities. My only concern is that they let the residents lock their doors. While the staff has a key, it just gives me the sense that they don't open it except for meal time. The food always smells good and they serve it family style.Families visit a lot, which makes me believe that we are not the only ones who are very satisfied with them.They even have facility pets, and an activities department as well as a physical therapy department. They have it all.
---
---
Step into a Sunrise community and you can't help but feel at home. We stop at nothing to make your experience warm and inviting, from our homelike exterior architecture, to our comfortable community areas and choice of suites to our exceptional outdoor gardens and landscaping. Look around and you'll notice fresh flowers throughout the residence, and you may even spot our dog or our cat. And of course, there are always the friendly smiling faces of our staff to insure that each day spent here is a welcome one.
Location of Sunrise of Holbrook
---
Get Cost Information
Get full access to reviews, cost information, and amenities