Sunrise of Henderson
1555 West Horizon Ridge Parkway, Henderson, NV, 89012
Talk to a Family Advisor: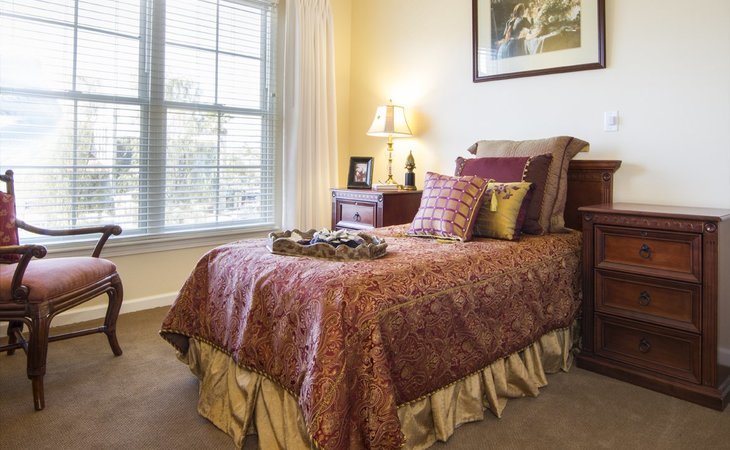 Reviews of Sunrise of Henderson
---
Debbie536147
March 27, 2017
I visited this facility
Sunrise of Henderson was my first choice, but the price was just $1,500 more than what she was going to be paying. This would be the Ritz-Carlton of senior living. It is really a fancy place, but the price per month and none of us have enough money to donate for mom's thing. She had a budget of like $3,500, and this place was going to be closer to $3,900 a month; that is just too much money. But it is a beautiful place. The staff was all very attentive, they answered all my questions, and they spent time with me. We toured rooms, we saw the restaurant, and people were eating and enjoying. If you got the money, I would go there.
---
George403015
March 14, 2017
I am a friend or relative of a current/past resident
My mom is in a studio apartment at Sunrise of Henderson. Their rooms are small, but it has a homey atmosphere. The place is very well kept up and more appealing to me than the other place she was in, although it is a little tired-looking and the carpets are worn out. The place is reasonably priced, and they take good care of her. The staff gets you involved in their activities.
---
Dale403513
August 15, 2016
I am a friend or relative of a resident
My mom is at Sunrise of Henderson. The place is very good and clean. The staff is very caring and attentive.
---
GailOBTPW
May 12, 2016
I visited this facility
Sunrise of Henderson looked very nice and clean but was small. The staff was nice and good. The person who showed us around was nice.
---
Francis10
December 15, 2015
I am a friend or relative of a resident
The staff of Sunrise of Henderson seem very committed to their job and very caring. They let me set up his room and everything because he was in the hospital, and they didn't charge until he came into the facility, which was really nice. The people were just really nice. What's really good is there are all levels, from unassisted to assisted to a memory unit; that's the reason we picked them. The food was very good. They have snacks available for them 24 hours a day, like sandwiches and that kind of stuff, and their dining hall is very nice. Their way of handling and taking them around was very good.
---
David111802450
September 07, 2015
I visited this facility
We were just real happy with the way Sunrise of Henderson looked and the cleanliness, and the people were all very friendly. We thought it would be a good place for my mother to be if that time comes. We looked through the entire facility, and we're very pleased with what we saw. We saw the other people that were there, and everybody looked like they were being well taken care of.
---
Caring111248250
August 21, 2015
I am a friend or relative of a resident
We choose Sunrise. The facility seems clean. It is pleasant, and they have a good ratio of caregivers per patients. So far, the staff did very nicely. I have no complaints. We cannot afford a single, so my son is in a shared room, but he does not have a roommate yet. The other room is empty. It is a small bedroom with a little common area for like a little table that sits three or something. My son is happy with the food. They have chair aerobics, balloon volleyball, and Wii bowling. They have bingo every day. They do have trips, but I do not know if they have done any of it because of the weather being so hot. They go to the store and stuff like that.
---
Caring111484450
July 31, 2015
I am a friend or relative of a resident
My mother-in-law has just moved in at Sunrise of Henderson a couple of months ago. Everything is good. She is in a room, and it is nice and well decorated. Everything is nice. Food is OK; it looks good. They have Bible studies, balloon volleyball, and movies. They also have music, performance group, and ice cream socials.
---
Karen113415650
July 06, 2015
I am a friend or relative of a resident
I am now living in Sunrise of Henderson. I think the staff people are very friendly and very nice. They want to help you out in any way they can, and they have. It has just been a good experience. The dining area is very nice. It is always good food, and I actually gained a few pounds. The rooms are too small here. It is most convenient for anybody coming to visit me. They'd take me -- we would go on the bus, and if I am in my wheelchair, we go all over the grounds, so there is not a problem.
---
Karen106093450
June 30, 2015
I am/was a resident of this facility
It has been fine here in Sunrise of Henderson. They provide three meals a day. I have a tiny little bedroom, but it has another room next to it. It is just comfortable. All the caregivers seem to be nice and helpful. They have activities continuously. We do things like bingo and there are several other games that they play. We have arts & crafts. We make little hanging red, white and blue things to decorate for 4th of July.
---
Mark110571050
June 30, 2015
I visited this facility
Everything about it was very nice. The staff was very good, and the rooms were nice. Everybody was doing something. It was very pleasant. You had to have a code to get in; it's quite secure. I would highly recommend Sunrise of Henderson. If I can live there myself, I would. It's like a cruise ship on land.
---
Caring108268850
June 16, 2015
I visited this facility
Sunrise of Henderson was small, and the rooms were tiny. The staff who showed me around was very nice. They have to punch codes to get in and out. They take very good care of the residents.
---
Caring106386050
May 05, 2015
I visited this facility
We went to the Sunrise of Henderson and the employees were a little bit standoffish. The facility itself was very nice, and the room that would have been approachable, money-wise, for us was a 10-10; it was very small, very tight. From what we saw, the dining room was nice, but it did not have the flexibility of hours for lunches and dinners; they only had one sitting, and that was it for all three -- one for lunch, one for breakfast, and so on.  The off-hours for Sunrise weren't as elaborate as to what you could have if you missed the meal. From my impression, the facility looked very clean, and it was also a newer building.
---
Kelly21
April 07, 2015
I visited this facility
Sunrise of Henderson was clean and a little bit bigger. They had an on-site hairdresser and parks that they take them to. The staff were really nice, friendly, and helpful.
---
Anonymous104531050
April 07, 2015
I visited this facility
I had visited Sunrise of Henderson. The staff was very nice. The facility was very nice, and it was larger. It was a little too expensive.
---
Ronald17
March 27, 2015
I visited this facility
I also visited Sunrise. It was nice. The staff seemed OK. The rooms were nice. The dining room was also nice. They had basically the same activities. They had outings, exercises, bingo, and different activities.
---
Caring71720650
March 25, 2015
I am a friend or relative of a resident
Dad is at Sunrise. Sunrise is a beautiful and magnificent place. They were very, very well trained and very helpful and wonderful. Extremely clean and the atmosphere is warm and inviting. Very positive.
---
Daniel17
February 28, 2015
I visited this facility
I visited Sunrise of Henderson, but it's all booked up. The coordinator was very caring, and it was a good tour. It was a very beautiful facility. The dining room was exquisite. I did appreciate the higher level of care, but their memory care unit was a little unusual for me. There was a secured unit where you could only get access through an elevator. It was on the second floor where everybody had memory care problems. It was a little bit too close quarters, which I felt was a little detrimental. They didn't have a whole lot of getting around. There wasn't much room for them to walk, and there was nowhere to go outside.
---
Anonymous98953650
December 27, 2014
I am a friend or relative of a resident
The Sunrise looks great, and they take very good care of my 84-year old sister-in-law, so we are satisfied. It's very clean and I noticed that she is very happy there. The staff is fantastic. They are very caring. They have activities like bingo, and they organize trips. What impressed me is the efficiency they have down there.
---
Caring101665250
November 13, 2014
I visited this facility
The people at Sunrise were very nice and friendly, both the people that worked there and the people that lived there. They had a nice looking building. The room had a minor kitchen with a microwave, a refrigerator, and sink. The only thing I didn't like about the place was the apartments that they had available were not suitable because I had two birds and one of the room faced a wall, and one was facing the parking lot where you would never see people, and my birds liked to look out the window. However, the food was good. The place was very clean, and everyone was very friendly.
---
Deb22
September 29, 2014
I visited this facility
I really liked Sunrise. It was really clean. The environment was great. The people were great. They go "Bring your mom." "Where is she?" "How come you didn't bring her," you know and I say "Oh my goodness." The rooms were very nice and very clean. It seemed like the people that needed to be attended to were attended to. I had nothing bad to say about them, and I really hated it when I sat down with the director and they said that she didn't qualify.
---
Caring1397
September 23, 2014
I visited this facility
I like Sunrise, as the people who live there seemed very active. The facility was nice, and they had a resident dog and a resident cat, which I thought was nice. The culture of the building was very positive; there is nobody sitting in the corner staring vacantly out the window. Everybody seemed to be happy and engaged. The architecture is nice, and the colors and the carpeting looked well cared for. The dining facilities looked more like a restaurant than a cafeteria. The staff is very attentive, and they called everybody by name; when passing by the people they would made a point to have eye contact and say hi. In the memory care, there was resident who was pretty out of it and it seems like she probably runs a script all day long. They were all very patient with her. There are several hospitals nearby, and Henderson is a very nice town.
---
Shirley42
March 29, 2014
I visited this facility
Sunrise of Henderson just seemed very nice. It's comfortable and clean. It smelled good and is in a good location. The staff is very friendly, and all of my questions were answered. It's up to date and was just nicely done.
---
Ewa B.
February 05, 2014
I visited this facility
Loving, caring environment. Felt very comfortable that mom was going to be taken care of. Everyone working there was pleasant and truly interested in getting the best care for mom.
---
Iris Stanfel
December 23, 2013
I visited this facility
Sunrise of Henderson was nice, neat and clean, but their rooms were not as big and they didn't have anything available for a single person. The environment was homey but it wasn't a large facility. However, everything that they had there was nicely done. The people were very knowledgeable and friendly. They even have a dog there and he was so cute. He sat out there by the reception desk like he was going to greet everyone that came in. They have transportation service, which is very nice. I think it fits the needs nicely of the residents. Their menu was appropriate but it wasn't as flexible. We didn't like that. There wasn't anything wrong with it; it was just that the other facility had a better selection.
---
Andercar
December 22, 2012
I am a friend or relative of a resident
I was extremely pleased with Sunrise of Henderson. They have a friendly and welcoming staff who are very well trained. They develop a friendly and caring relationship with their residents and provide a wonderful environment for them. Many community events are planned and run by the staff. This provides the residents with a wonderful opportunity to socialize and get out and about. The mood of my grandparents has noticeably improved since they moved in. They participate in daily community events both at the home itself and around the greater Las Vegas area. The facility itself is beautiful and modern. The accommodations are spacious and clean with a wonderful view of the desert and the mountains outside Henderson, with a beautiful view of Las Vegas at night. I would recommend Sunrise over any of the previous assisted living facilities I have visited in the past. Sunrise seems to take pride in their work and the well being of their residents.
---
none2
November 21, 2012
I am a friend or relative of a resident
My experience has been great thus far. I normally visit this facility about 3-4 times a week. Every time I visit the staff are very friendly and professional. The facility is well kept and is very clean. The person I know that resides here is still able to care for herself with minimal supervision. The times when I go visit the security is excellent and the staff makes sure to identify each and every person that comes in. The meals provided are excellent as well. The person I know really enjoys the activities provided along with all the amenities such as a movie theater, gym, music hall and library. The outside area is really clean and safe to go for a walk with the elder. There is also a beautiful park with a fountain and beautiful roses to sit and relax. Pets are not allowed but that is not a concern for most. They do allow children visitors of course supervised. During holidays they also provide a theme dinner or lunch where all residents can mingle and relax and have fun playing bingo or what not. Overall I would recommend this facility to anyone that needs someone to look over their love ones. The resident i speak of has been resided there for over 3 years now.
---
From Sunrise of Henderson
---
Step into the senior living community of Sunrise of Henderson in Henderson, Nevada, and you can't help but feel at home. We stop at nothing to make your experience warm and inviting, from our homelike exterior architecture and comfortable community areas, to our choice of suites, exceptional outdoor gardens, and landscaping. Look around and you'll notice fresh flowers throughout the residence, and you may even spot our dog or cat. And of course, there are always the friendly smiling faces of our staff to ensure that each day spent at this assisted living community is a welcome one.
In addition to offering senior housing in Nevada, Sunrise of Henderson also boasts Alzheimer's care, assisted living, respite care, and short-term care.
Sunrise of Henderson is built upon a commitment to our residents and their families. We believe no two people are alike, so the senior living services and attention we provide should never be exactly the same. That's also why we offer a variety of lifestyle, service, and care options. By providing these choices, we not only offer solutions for today, we provide the security of knowing that there are options for tomorrow.
Location of Sunrise of Henderson
---
Get Cost Information
Get full access to reviews, cost information, and amenities