2811 Bailey Lane, Eugene, OR, 97401
Talk to a Family Advisor: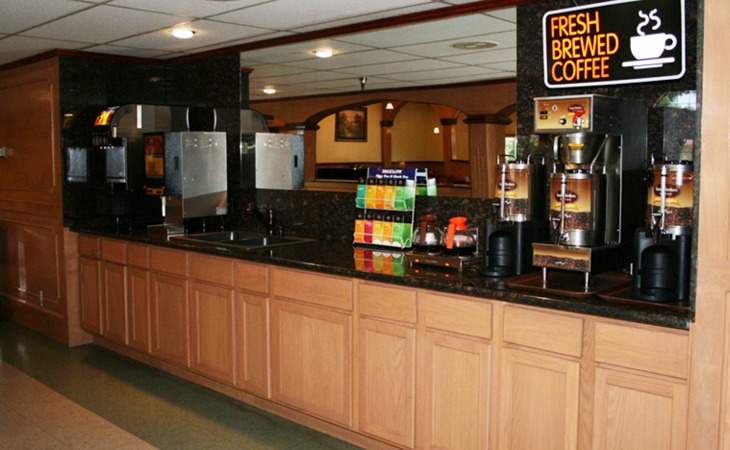 Reviews of Grace Manor | Eugene, OR
---
Tim36
November 25, 2015
I visited this facility
I am in Grace Manor in a studio. They cook three meals a day for us, which are great. They do house cleaning. We have activities like bingo. I will recommend it. The staff is friendly and helpful.
---
Momsbaby1963
March 31, 2015
I am a friend or relative of resident
From the instant that I walked in the door at Grace Manor I felt like walking into a low class nursing home. My mom lived at grace manor for over a year due to family circumstances not within my control. Her room was very shabby. Doors with holes in them, carpet was stained and not completely tacked down, molding was chipped, banged up and beaten just due to wear and tear. All of this was when she first moved in. I felt like the room was not properly prepared for a new resident. Both the home itself and her individual room lingered with a musty smell.
When my children and I joined my mother for Thanksgiving that is the only time I got to witness the owner Daniele presenting himself and his family in a gracious manner introducing himself. When the holidays are over and the showmanship is done you absolutely positivitaly have no contact unless there is a problem or an issue. At times when you approach with a issue you are responded with rude statements, even if the issues are for the benefit of the residence.
I will say that the workers are very concerning for the residence. The cooks are working but with a very low budget. Meals are not something to get excited about. The meals are pretty blan and boring.
The owner Danielle is rarely available and the front office is usually unattended. If you ever get in touch with Brook at the front office she is at the owners mercy. She is not able nor capable of making decisions on her own without Danielle's approval. This prolongs and complicates most requests.
Overall I would NOT recommend Grace Manor if you are at all interested in giving a loved one a quality of life during their final years. My mother has moved on to a dignified quality of living facility. The meals are of high quality with choices and the health care is monitored regularly. The room is extremely clean and monitored for repairs and services. Air conditioning is provided through central air and not a air conditioner in the apartment window. If you are looking for cheap and a get what you pay for situation then Grace Manor Assisted Living is just what you might be looking for.
For myself and my mother I sure wanted a whole lot better. Good luck in your dicisions I do realize with all circumstances there are challenges. Grace Manor us probably is not your best bet. Improvements need to be made in all areas. Ownership, Leadership, cleanliness and professionalism, meals one overall presentation.
Good luck. !!!!
---
sandikat
August 01, 2011
I am a past client of this provider
This is a retirement home and had an optional home health type option built in. My Father-in-law lived there 5 or 6 years ago. The place was pretty run down, but while he was there, a family bought it and started making improvements. At first the owners/family lived on sight, and we saw the incredible commitment to the resident's care. My FIL died there instead of a nursing home. Even though they only had security at night (then), and not a "caregiver", the security and the owners (also caregivers and living on site) checked on him all through the night, and went to the nursing home to prove they would care for him upon his return and visited him in the hospital. During his last day of life, the owners son (a caregiver) stayed with him throughout the day and until his last breath. They don't just work there, their heart is directly tied to each resident. We signed up for a care plan, but he got so much more than we signed up for. They always go above and beyond what was asked for.
The building is old, and some rooms don't have a very good view. The owner has both hired help for remodeling and also done a great deal himself. They no longer live on sight because they needed the extra rooms for more residents. (they have been full to capacity with a waiting list at times). I usually saw the husband with a tool belt on working on the roof, in a room... in addition to giving care and being in the office.
They have extensively remodeled the dining area, and have done the best they can trying to remodel one room at a time. They have done a beautiful job with the entry way to the facility (outside), and also the courtyard, so the rooms facing those places have a beautiful view. The ones facing the side basically see a fence and weeds, but I they are continuously working on it. Because of the care my FIL got, we moved my Mom there when she could no longer afford where she had been. At Grace Manor, I paid way less rent, and could use the savings to pay for way more care, and all for less than basic rent at an assisted living. My Mom never liked it there because of hallucinations due to prescribed medications from her doctor, but while there, I got her off of the drugs, and stabilized her with their help and cooperation. Mom tried many times to refuse her pills (even after they were only vitamins--she no longer trusted pills), but I saw them personally come in (sometimes several times) to give her the pills.
The food isn't canned and frozen from some place that delivers canned and powdered meals. They have a fresh salad bar each and every day at lunch, and I have personally seen the owner at Costco buying fresh salmon and other fresh whole meats. It's not always easy to be creative with meals, so there may be a lot of repeats, but I feel what they serve is so much healthier and fresh and balanced than the others places she'd been in. I could always go to them with any concern, and they would do their best to accommodate me with whatever Mom needed, and they gave me their personal cell phone numbers if I ever couldn't reach them by the facility number. They also provided transportation on certain days to appts as part of the rent (unlike many others). The owner also checked certain areas of concern on Mom regularly, and reported concerns to me without asking (or signing up as a service).
The owners wife would go in and play games with Mom almost every night after she made rounds (this could be a paid service, but we didn't sign up for it, and she just did it).
This place has been in violation of many things with the state way before they bought it, and have never seemed to be able to get out from under that reputation. I don't know what the violations are, but I know I could trust them. I'm guess it has to do with paperwork, because they always put the resident's safety and well being ahead of everything else. But the State was wanting to pull their license for "care" (not as a retirement home). They finally got tired of the fight, and in a moment of weakness turned in their license voluntarily. Then they researched care providers and made plans for residents and family to meet with them and arranged with the providers to not make any increase in care so the residents could stay their without any changes. I panicked when I got the original notice because the state did not explain, then was not available for questions until after the holidays. I was very happy with their care, but because my Mom wasn't, I moved her. I wish I hadn't. I was making progress with her there, but I was afraid that they would no longer be the care givers, but I've stopped to say hi, and they are still there watching over everyone and working on the facility (each resident is a family member to them). I believe she would still be alive if she was still there, but died because of the lack of care where we moved her (see another review).
All of the family knew me by name, and also knew which visitors she had. A friend of Mom's is a retired caregiver, and has seen it all, and has agreed with me, that it isn't the fanciest place, but it has above average care, and they are well cared for.
At the holidays they have a big celebration and invite all family. After everyone is served, they ask the staff to come out, thank them, then ask them to sit down and enjoy the meal with the resident's, and they are served by the owners. I have heard that they are hard on staff, ( I can't personally agree or disagree with that), but I believe they are very strict about who works there because they are so protective. My family and friends that visited her always saw the same thing I did, so I believe the excellent care is consistent.
I would highly recommend checking this place out. The negative things are minor and few, and the important things are very positive.
The entire time my FIL and Mother were there, they never raised their rates, and the other places raised them on a regular basis.
Bottom Line is I would be willing to live there if I had to, but their are many other places I would not be willing to live (even if the building was fancier).
---
---
At Grace Manor, we are dedicated to improving the quality of life for seniors. Our community provides a welcoming and home-like atmosphere where you can feel safe, comfortable, and secure.
We are located in the heart of Eugene, close to bus stops, shopping malls, cultural event centers, walking paths, and swimming pools.
We are committed to a philosophy that promotes laughter, fun, companionship, and caring. We take pride in our community and continue to receive positive feedback from our residents and their families.
Families can laugh, families can play, but most of all, families are people who Care. Grace Manor has tried since the onset of its birth, to do one thing well, Caring. Our success is characterized by the services we provide.
What Makes Us Special
---
Our Philosophy To promote dignity for each elder by appreciating them as unique individuals with a rich background, by supporting their abilities, and by compensating for disabilities so that the elder feels useful and successful. Everyone has a unique
Features of Grace Manor
---
Costs
Minimum rate: $3200/month
Room and housing options
1-bedroom apartments
2-bedroom apartments
Companion Suites We Do Not Offer Companion Suites
General
Minimum Age 65
Pets Small Pets Allowed
Licenses
State Licenses 1991024195
Get Cost Information
Get full access to reviews, cost information, and amenities