Atria Cranford
10 Jackson Drive, Cranford, NJ, 07016
Talk to a Family Advisor: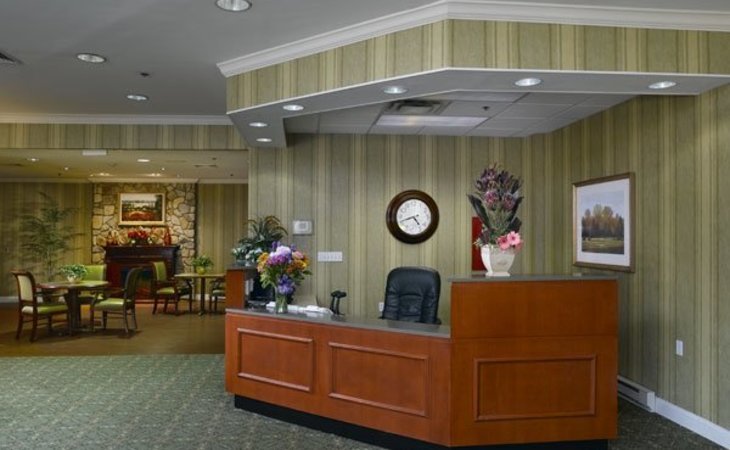 Reviews of Atria Cranford
---
Kathy680377
November 28, 2016
I visited this facility
We really like Atria Cranford and the whole setup and staff. Everybody there seems happy. They had a lot of activities to keep people busy, and they take them out on trips. All of the clients were happy, active, and engaged.
---
Marlene884453
November 24, 2016
I visited this facility
Atria Cranford seemed like a pleasant, well kept, and clean facility. The staff seemed very informative and very friendly. They had various activities. I know they were offering salons, and they also have field trips. They do have doctors that visit on a weekly basis, and they also have doctors on call. They do have like a living room/family room type of thing where they'll sit and watch TV.
---
B.E.328212
October 13, 2016
I am a friend or relative of a current/past resident
My mother had been placed at Atria Cranford. It was wonderful. The staff was good and bad. They were good up until she got a bedsore that they weren't monitoring. The room was very nice though. It was a big enough room. It had a lot of closet space and large windows. It was very nice. Food was excellent. However, I wouldn't recommend them at this point because my mother shouldn't have a bedsore. I would never want anybody to go there. They need to improve on care.
Provider Response
Thanks for taking the time to share your feedback. We appreciate the time your mother spent in our community and I'll share your comments with our community leadership team.
---
Karen718663
September 11, 2016
I visited this facility
I was impressed with Atria, it was immaculate, and the tour was thorough and very informative. It's more assisted living than independent living, and the rooms were small; they were just studio. My father was looking for something like a kitchenette where he can do his own little thing and a living space. It was not what we were looking for. However, everybody was happy, and the residents were very involved.
---
JH588571
August 16, 2016
I visited this facility
The staff at Atria Cranford was very responsive, spoke with us, and walked us through many times. I liked the memory care unit very much because they had a music program, and my mother is very musical. When the nurse came out to evaluate her level of competency, they said they're going to put her on the assisted living side, but it was a converted hotel and much too sprawling for my mother. They had a memory music director who explained the program and how he tries to get them involved in music because it is easy to follow, and that impressed me.
---
Mary's Crew
May 22, 2016
I am a friend or relative of resident
Our mom lived at the Atria for more than three years. The Atria became home to mom as well as my entire family. We were welcomed at any time. We played bingo, attended special events, had snacks, held family gatherings and spent a great deal of quality time with our mom as well as many of the other residents and staff. Our mom started in a spacious two room apartment and then down-sized as she required a smaller room and eventually needed the secure area as she suffered from dementia. She was treated very well and the staff always communicated any concerns that they had. Mom living at Atria was the answer to our prayers as she was getting care in a beautiful facility that welcomed us anytime, day or night. The Atria helped our mom and family through a difficult time in all of our lives.
---
Diana116991350
December 17, 2015
I visited this facility
Atria Cranford was really beautiful looking; very much like a very fine hotel, a very fine community feel. It was very nice -- the presentation that they put into getting their new residents acclimated and the thought they put into it and their kind of an outreach to get the new residents involved. It was all very impressive. My brother also checked, and we were both very pleased with it, and the fact that they have so many activities and so many daily outings. It seemed like a really nice residence, and we were very impressed. They were wonderful and charming, and they gave me a box of scones as I left. They couldn't have been nicer. I didn't get to taste the food myself, but I did get to taste the baked goods, and they were very good. It was just a very nice setup, and all the residents looked very happy, so it left me with a very good impression. I just wished it was close to my home.
---
Anonymous107545550
October 28, 2015
I am a friend or relative of a resident
My mother is in Atria Cranford, and we're very pleased with everything there -- the facility itself, the building, the room, the food, and the care. It's just expensive. She has been there for six months now.
---
Caring109812050
July 15, 2015
I am a friend or relative of a resident
My husband's relative is in Atria Cranford now, and it's very much like living in a hotel. It's really very nice. They have a lot of amenities and a lot of activities for the residents. The staff is very helpful. She is in a studio apartment, but there are different sizes, and it is very comfortable. The food is really very good, and she has no complaints about it. The only complaint she has is there's just too much food. Everyday, there is a schedule of activities that are varied.
---
Caring109923150
July 06, 2015
I visited this facility
We went to the Atria in Cranford. I liked it, but it was just too big for my mother. It was clean. The staff, I didn't get to see as much as I did at the other place because once my mother visited the Atria, it was just too big for her. It would be great for a senior housing, but it was not for her taste with assisted living. The dining area was fine, the kitchen was fine, there were a lot of activities, there was a pool room and a card room, and it was like going on a cruise. It was a beautiful place, and I wouldn't mind living there myself, but for her, it was too big. She is in a walker and has a wheelchair, so it was too much for her.
---
Tom106701250
May 28, 2015
I visited this facility
Atria Cranford was very nice, but it was also expensive. Their dining room was too big and too fancy. My aunt would not be comfortable there. The rooms were nice, and the staff was nice as well, but when you are in your 90's, this would be a little bit too much for you. She needed to be in a smaller community. It was a nice place. If my aunt wanted more interaction with other people and more of the social world, I would say this would be the place for her.
---
Caring106716750
May 23, 2015
I visited this facility
I love Atria Cranford. The staff was very friendly and great. They are very friendly and very funny. They engaged with the clients. The facility is really nice, and I like it a lot, but it was just too far from me.
---
Helen99979650
February 10, 2015
I am a friend or relative of a resident
My mom is in Atria Cranford. It is really nice. The area is also nice, and the place is clean. You can do a trial membership there for a 30 or 60 days and see what it is like. They are very cooperative. They will help you roll over to give you a full time room. I also like their medical staff. My mom is on medication, they print out the medicines very nicely, and it includes what the medicine is, how much it is, and the date and time there are supposed to give it to her. All residents have a key on their wrists so they don't lose them. My mom also has like an emergency pull cord in her room. The rooms are very nice and clean. They have a little field trips where they can go shopping. They have big movie room, and then they have a TV room. They also have like a little bistro there besides the main dining room. For the residents who didn't come down to dinner, they will go looking for them.
---
Caring83314250
April 22, 2014
I am a friend or relative of a resident
Mom is at Atria Cranford. We chose this facility because it met all our criteria. I like the staff, and it's clean. They have many activities in a day. They have a lot of physical activities for both people who can stand and move about and also people who are wheelchair-bound. The activities range from dancing to softball. They play bingo and cards. They have all kinds of social events, and they have a movie theatre. They have buses that will take you to different places. It's quite a nice place. Another good thing is whenever I need somebody at the facility, I always get somebody to talk to. The staff are excellent and amazing. They are very attentive, and they get right back to me.
---
Caring80456250
March 27, 2014
I visited this facility
Atria was very nice. It's clean, neat, and it's well taken care of. The staff seems very nice and very helpful. The rooms were not large, but very nice. There are all different kinds of rooms, so it depends on how much you can afford to pay. The food is very good, and they also have a lot of activities.
---
Caring75641850
February 25, 2014
I am a friend or relative of a resident
My mom is comfortable at Atria. The people who worked there seemed more caring. The rooms are very clean and spacious. She loves the food. They do exercise, games and cooking. They do a bunch of things in different areas of interest. My mom is not a joiner but she likes to socialize.
---
Caring73798750
November 27, 2013
I visited this facility
I pass Atria Cranford almost every day. The facility is very nice and the food was great. Their dining room is beautiful and immaculate clean. The two knock outs that they would have would be, one is that we saw an activity there which we think it was pathetic. The other thing was that when the staff realized that they weren't going to make any money with us that day, they could wait to get rid of us.
Provider Response
Thank you for taking the time to provide feedback of your visit. I am happy that you were pleased with our community overall and apologize that you did not witness a more exciting activity. Our Engage Life director plans over 200 activities per month and I encourage you to review our calendar on the website and come back to join. We always appreciate hearing from visitors so that we can constantly improve the service we provide. Your review is being sent to the appropriate staff to ensure that every visitor to our community feels valued. If you would like to talk further, we welcome you to email us directly at customerservice@atriaseniorliving.com and include the Atria community name in your subject line.
---
Andrew LaTiel
November 26, 2013
I visited this facility
A list of all the amenities and prices. More responsive staff. Should perform annual reviews of resident to family. More dinners rather then hamburgers and sandwiches. Maintenance and housekeeping must be better.
Provider Response
I'm very sorry to hear about your experience with the housekeeping services and the foods being offered. We will be sure to share your review with the appropriate people to ensure that Atria standards are being met and that our residents are receiving the services and delicious meals they deserve. We appreciate your feedback and welcome the opportunity to discuss your experience further. Please contact us at customerservice@atriaseniorliving.com (be sure to include the community name in the subject line.)
---
Caring72708350
November 20, 2013
I am a friend or relative of a resident
Atria Cranford was the one we landed with for my mother-in-law. She moved there about a month and a half ago. The transition was wonderful. This facility is in a local area. The grounds and everything is wonderful. The staff is wonderful. The food is wonderful. The selection is good. My mom-in-law is very happy with it. She complains everyday of too much food! Also their dining area looks like a restaurant. Her room is wonderful. In terms of activities, they have everything. They do full schedule of events every day. They also have trips to main house events. They had somebody from Wall Street speaking one day who went in there and that was kind of interesting. That really interests my mother-in-law because she was a banker. They also have healthcare facilities there. They have therapy and things like that. Everything is self-contained. She goes to exercise class every day. Overall, this place is just wonderful. It is really a good experience.
---
Joseph21
October 25, 2013
I visited this facility
I was a little impressed with Atria. I liked the idea that it was a month-to-month basis and not a long term commitment. However, I just saw so many seniors sitting around. I questioned that and they told me that the active people were out. I didn't like that type of atmosphere. The staff was helpful though. They toured me around and they explained the different areas. They had different types of rooms and I thought they were satisfactory. They had a lot of activities scheduled. They had dining facilities and people could get snacks anytime of the day. It looked like a very good facility and I would recommend them to others.
Provider Response
Thank you for your feedback on our community. I'm very sorry that you were not able to meet our most active residents when you last visited. We plan many engaging events, activities, and adventures that our residents find enriching and exciting. Our residents choose which activities they wish to participate in and they set their own schedules. While we encourage our residents to remain active, we also respect their need for privacy and time to themselves. I hope that you will consider visiting us again soon and perhaps joining us for one of our events. We are happy to send you a calendar any time, and I encourage you to contact us with any questions at customerservice@atriaseniorliving.com and include the Atria community name in your subject line.
---
Donna43
October 09, 2013
I visited this facility
We looked at Atria and we liked it very much. It was very clean and nice. The people were more ambulatory. It was our first choice, however, they do not have a skilled nursing place and it would be better if they had one to accommodate people who needed that kind of care. I would recommend them to others.
---
jsf1218
September 27, 2013
I visited this facility
Atria Crandford would be my second choice. It was a very lovely and very nice facility. I would recommend it. It just seemed to be a genuinely warm and hospitable place. They have a garden there that was especially inviting. Memory care patients have access to go there. They have fine rooms. The administrative staff was extremely cordial. They even gave us a picnic basket to take home and it was good! Overall, everything seemed to be fine there.
---
SusanJMT
May 21, 2013
I am a friend or relative of resident
I visited six other facilities within twelve miles of Cranford, plus another where my Aunt resided closer to Lawrenceville, NJ before settling on Atria, Cranford. The hallways and common areas are more generous than other facilities. The decor is very nice, and the staff is very welcoming to my questions and suggestions; I feel that we partner very well together to keep Mom at her potential. Mom is in the LifeGuidence side which provides a broad level of care for one package-price which she needs now to some extent but will need more-so in the future. I took care of Mom for three years, so I know intimately what she needs and what is provided in Atria. Mom is doing very well -- better than when I was caring for her alone.
---
badmoaz
July 06, 2012
I visited this facility
The staff seemed very nice and thoughtful trying to help each individual senior have the most comfortable stay. In addition the building was extremely nice and clear with a cafeteria providing healthy foods in a timely manner. The individual rooms were also very nice with individual bathrooms, adjustable beds, and a complementary TV. There were also several computers set up throughout the facility for seniors to use. Also there were several entertainment programs involving bingo. My grandmother seemed to be very comfortable there and was offered individual care from the staff and was allowed to stay for a long period of time due to her health insurance. This facility was exactly what my grandmother needed after she had been in a car accident and needed surgery and physical therapy this assisted living facility provided just that. In addition the staff did this will professionalism and effectiveness. I don't think my grandmother could have recovered nearly as fast without this assisted living facility.
---
FunkyPharma
April 28, 2012
I visited this facility
The nursing staff at this facility is above average. Dining hall is above average. Grounds are above average. Facility has 50+ beds. Situated in mixed suburban/commercial zoning.
---
Concernedfriendofatria
January 28, 2012
I am a friend or relative of a resident
Atria is a very beautiful facility with a fireplace, a place for residents to watch movies, a courtyard, and other comfy places for people to congregate. It is also a very large facility, with an assisted living side and an Alzheimer's ward. In the assisted living side, depending on the condition of the resident, can come and go as they please, but that is not the case in the Alzheimer's ward. The staff always was friendly to me and other visitors as it appeared, but that's not what my friend always says. My friend, who will remain anonymous, lives in the Alzheimer's ward, where she is locked in. I know that it is for her own safety, but she doesn't realize that, she thinks she's locked away where no one has to deal with her. She says the staff is unfriendly and understaffed. I've noticed that during the day there are a fair amount of staff, but at night they are incredibly understaffed. For a building as large as it is, there should be just as many people working there at night at there are during the day. The amount of residents/patients doesn't change from day to night, so why should the staff. They only have one nurse working at night and a few other staff members. I do think it is a nice place, but it's not my opinion that counts, it's the person who has to live there.
Provider Response
Thank you for your feedback. We always appreciate hearing from friends and family so that we can constantly improve the service we provide to our residents. Visitors who spend time at our community often provide the best suggestions, and for that we are very grateful. If you would like to talk further, we welcome you to email us directly at customerservice@atriaseniorliving.com and include the Atria community name in your message.
---
crazygood
November 17, 2011
I am a friend or relative of a resident
My father and I had to find an assisted living home for my grandfather this past summer. After weeks of searching around various senior communities we finally came across Atria Cranford. Thankfully my family and grandfather have a good amount of money because this senior living home is not cheap. The best thing about Atria Cranford is the independence my grandfather still has with his new living condition. He is still an active and lively guy however; it was too much work for my father to constantly drive to his apartment in order to help with medication. Atria Cranford is perfect because it offers medication assistance and a very friendly as well as helpful nursing staff. While living there I am able to gain the peace of mind that my grandfather is okay and I know my father is relieved and no longer stressed knowing he is living with others. Other than the friendly staff members, the location is beautiful and thankfully it is close by to my home (the next town over). Location was a main deciding factor when it came to choosing the right home. The couple of times I have eaten there the food was not so good but it was definitely better than the meals my father and I use to cook for my grandfather. Some fun we have had since my grandfather has been living at Atria Cranford is at the beginning of the summer there was a barbeque out on the massive back lawn. It was great because my grandfather likes to socialize. It was the perfect opportunity for all the people living at Atria Cranford to get some fresh air and have some fun. I am thankful that my grandpa is living here and we are able to afford it.
---
VikingsPiggy
June 01, 2011
Visited this facility
Overall the facility seems pleasant and spacious. The residents seem to have a lot of room in the eating and recreation rooms. Other facilities I've visited seem to be over-crowded, but Atria seems to give its residents and its workers enough space to be able to live and work comfortably. It feels home-like rather than like a hospital in the decor and in the lighting. I think the environment contributes to the pleasant, relaxed demeanor of the staff, which is very reassuring for someone considering having a family member live here. Also my impression is that the facilities are clean and well-maintained. The neighborhood the facility is located in is also quiet and residential, which also adds to my positive impression of the facility.
---
judy brown
August 21, 2009
I was an outside caregiver
first of all - it is way not worth the money. when you look at the web site - believe only about 10 per cent - the rest is PR. it is like an a la carte menu - everything is an add-on. The rooms are tiny former motel rooms - they actually use the old motel furniture. there is no "chef", as advertised.
Provider Response
Thank you for your feedback regarding Atria Cranford. Atria is proud of the high standard it sets for its senior living communities, and strives to continually improve the experience of all residents and families. Since your review, Atria Cranford has been renovated and residents are enjoying delicious meals made fresh daily by the Culinary Services team. We encourage you to stop by for a visit.
---
---
Located just down the road from Rahway River Park, Atria Cranford is a welcoming senior community with resort-like amenities and all the comforts of home. Our residents enjoy three full-service dining experiences every day, each offering more than 20 gourmet menu options prepared by our talented culinary team. We also offer a robust calendar of more than 200 social and cultural events each month, including trips to local shopping, restaurants, museums, casinos, sporting events, and New York City. We do the driving so you can simply relax and enjoy. Along with a selection of private studio and one-bedroom apartments, Atria Cranford provides a range of care services to suit your lifestyle. Whether you prefer independent living or need discreet support, our 24-hour staff will be happy to accommodate your requests. We also offer memory care as part of our innovative Life Guidance&reg program. Schedule a visit with us today to see more.
Atria Senior Living is a leading operator of independent living, assisted living, supportive living and memory care communities in more than 180 locations in 28 states and seven Canadian provinces. We are the residence of choice for more than 21,000 seniors, and the workplace of choice for more than 13,500 employees. We create vibrant communities where older adults can thrive and participate, know that their contributions are valued, and enjoy access to opportunities and support that help them keep making a positive difference in our world.
What Makes Us Special
---
Beautiful outdoor spaces, complete with a fountain, courtyard barbecue and koi pond - Located just off the Garden State Parkway with easy access to the New York City metropolitan area. - Green initiatives, including rooftop solar panels. - Weekly Jewish and Christian religious services held on site - Planned outings to museums, theaters, sporting events, casinos and more.
Features of Atria Cranford
---
Costs
Rent Plus Care Fees
Entry Fee
Fee Structure Extra

We Offer A Month To Month Rental
Room and housing options
1-bedroom apartments
Companion Suites

We Offer Companion Suites

Studio Apartments
Dining options
In Room Kitchenette
Dining Room Shared Meals
Features
Beauty Barber Shop
Computer Room
Resident Transportation
Coffee Shop
Party Space
Tv Room
Garden And Patio
Resident Parking
Security Gate
Features Extra

Library, Fitness Room/Gym
Cleaning services
Laundry For Linens
Private Cleaning Services
Housekeeping
Laundry For Clothing
Technology and entertainment
Cable In Rooms
Internet Enabled Rooms
Wifi
Technology Extra

Emergency Call System
Health services
Hospice Care
Medication Management
Physical Therapy
Pharma
Activities
Offsite Activities
Music
Games
Stories
Religious Services
Lectures Discussions
Book Clubs
Fitness Room
Yoga
Gardening
Cooking
Arts And Crafts
Activities Extra

Computer Class
Financial guidance
Va Benefits Consultation
Financing Advice
Guest services
Guest Parking
Guests At Mealtime
Overnight Guests
General
Minimum Age

55

Pets

Small Pets Allowed
Location of Atria Cranford
---
Get Cost Information
Get full access to reviews, cost information, and amenities