How to Choose the Right Medical Alert System
Last Updated: December 9, 2021
As our parents and loved ones age, it's natural to feel a bit of anxiety about their safety. This is especially true if your loved one has chosen to age in place. The thought of them being by themselves and without help if an accident occurs is enough to worry anyone.
Medical alert systems are a great option to ease those worries and mitigate the risks of living independently. Many seniors have medical conditions that could cause emergencies, or have weakened balance that may lead to dangerous falls. In addition to giving you peace of mind that your loved one will be able to get the help that they need in the event of an emergency or accident, some medical alert companies offer additional features that can benefit your loved one as well, such as medication reminders or dispensers, mobile GPS location tracking, and online portals for caregivers and family members.
Deciding to purchase a medical alert system is just the first part of the process. There are numerous alert devices from different companies on the market, all with slightly different offerings and prices. Before you make a decision, it is important to understand how the systems work and what to look out for when selecting a device and provider. We'll fill you in on the details of medical alert systems and how to choose the best one to meet your needs.
What Is a Medical Alert System?
Medical alert systems are personal medical devices that quickly and easily connect users with medical services or their loved ones. They make it much more likely that a senior will get the help they need in the event of an emergency, especially if they live alone. The systems are primarily used for medical emergencies, but can also protect seniors during other crises such as a fire or home invasion.

While traditional medical alert systems were only usable in the home, newer technology has allowed for the development of medical alert systems that can be taken wherever you go, as long as there is a cellular signal. Below, learn more about these two main types of medical alert devices.

In-Home Medical Alert Systems
In-home systems come with a base station and a wearable component like a necklace, bracelet, or belt clip with an emergency button. The base station is placed somewhere in the home where it remains in place. The base station may be plugged into a phone jack or operate on a cellular signal for those without landline service.

The wearable component has a large button on it, and functions as the user's "personal help button." When the button is pressed, a signal is sent through the base station that triggers a call to an emergency monitoring center or contacts of the user's choosing such as family members or a caretaker. The base station has a loudspeaker and microphone designed to reach throughout a user's home. They will communicate with the monitoring center or their preferred contact via the base station. Some devices have a two-way speaker attached in the wearable component as well. In-home devices have a set range of how far away the user can be for the wearable component to reach the base station and have the base station pick up their voice, so they are better for those who spend most of their time in the home.
Mobile Medical Alert Systems
Mobile systems are designed for more active seniors who spend a lot of time outside of the home or traveling. They are portable devices and do not have a set range; they will work anywhere there is a cellular connection. Seniors will still need to wear a device that has a personal help button, but they do not need to be within a certain distance of a base station in order for the device to work.
Medical Alert Monitoring
In addition to offering systems for both in the home and on the go, some medical alert companies offer both monitored and unmonitored devices. The table below offers a brief overview of the difference between the two types of medical alert systems.

| Feature | Monitored | Non-monitored |
| --- | --- | --- |
| 24-hour access to a monitoring center | ✔ | ✕ |
| Available without recurring subscription | ✕ | ✔ |
| Can automatically contact friends and family | ✔ | ✔ |
| Available with in-home and mobile systems | ✔ | ✔ |
| Fall detection may be available | ✔ | ✔ |
| Guaranteed around-the-clock assistance | ✔ | ✕ |
Monitored Systems
Monitored systems connect users to an emergency monitoring center when they push the personal help button. The monitoring centers are staffed by dispatchers who are trained to assess callers' situations and take the appropriate actions. When the user is capable, they can converse with the dispatcher via the base station or wearable speaker on their device. If the dispatcher is unable to communicate with the caller, they may automatically send emergency services to the user's home or contact a caregiver or loved one, depending on the company and the customer's emergency action plan.

Some companies allow users to set preferences for what action they would like the monitoring center to take when they press the help button. For example, users might request that dispatchers call 9-1-1, or that they call a friend or family member. Regardless, monitored medical alert systems offer the promise that someone will be there for your loved one around-the-clock.
Julie's Story
A busy professional in New Hampshire, Julie constantly worried about her aging mother who lives alone in Florida after her husband died several years ago. Since convincing her mother to finally get a monitored home medical alert system after a recent fall, Julie is able to rest peacefully knowing that if her mom experiences a fall or another medical emergency, help is available – no matter the time of day or night.
Non-Monitored Systems
Non-monitored systems function in the same way as monitored systems, except that the device connects with a user's designated contacts when the help button is pressed rather than a monitoring center. When someone purchases an unmonitored device, the company has the user pre-program a set number of contacts. The number of contacts that one is allowed varies between different systems, but it is typically up to five.

The contacts can be anyone from a child or neighbor to 9-1-1. It is completely up to the user who they would like to contact in the event of an emergency. Some systems connect callers to their contacts and allow two-way communication, while others play a prerecorded message for the contacts informing them that the user has pressed the button and may need assistance. The contact can then choose what action to take, such as going over to the caller's house or alerting emergency services to go to the home.
Jeffrey and Megan's Story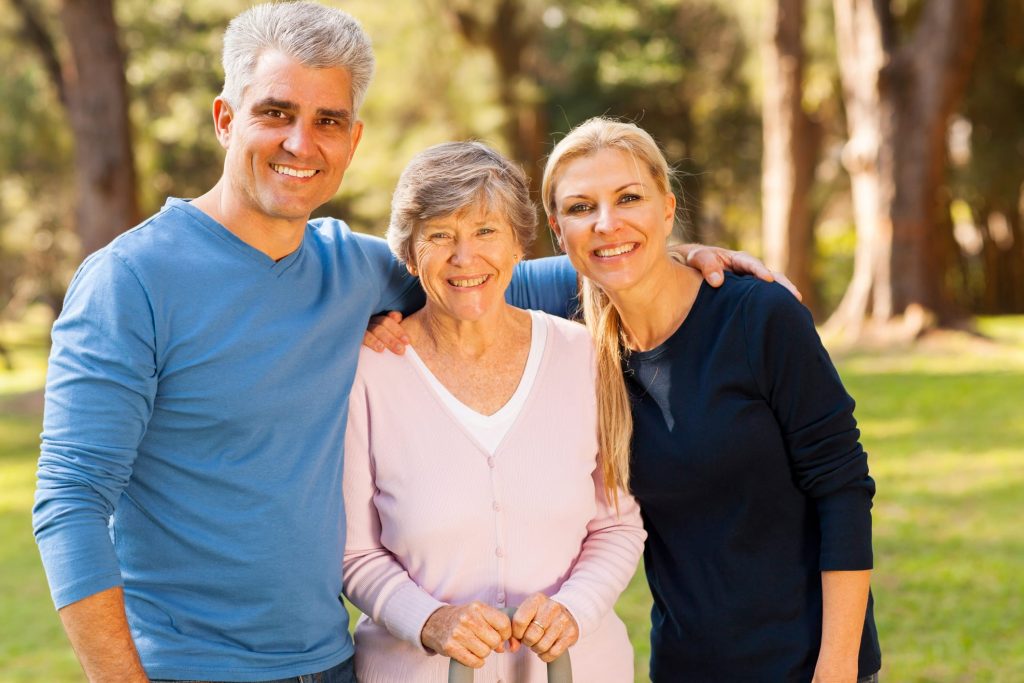 Jeffrey and Megan live about one mile away from Megan's mother, Suzanne, who lives alone. Jeffrey, Megan, and their longtime family friend next door are all notified if Suzanne pushes her button. Recently, Jeffrey was notified that his mother-in-law was experiencing an emergency, he was able to get to her home 5 minutes later. He immediately called 911, and EMS was able to quickly respond and give Suzanne the help she needed.
Who Should Use Medical Alert Systems
If you ever worry about your aging parent or loved one living alone without anyone to help in case of an emergency, medical alert systems can give you peace of mind. They're a great idea for anyone who wants the security of having someone there for their loved one at all times or for those who want to make it as easy as possible for their loved one to get in touch with friends, family, or a caregiver whenever they need help.

Some instances when a medical alert system can be helpful include:
After a fall or incident (such as a stroke)
If a senior lives alone
If no friends or family live close by and come to check on the senior regularly
If a senior is sometimes hard to get in contact with, causing the family distress
If a senior takes medication that causes side effects which may require medical attention
If a senior is prone to falls
If there is any chance that an emergency may happen and no one will be there to help, medical alert systems are often a wise choice.
How to Choose a Medical Alert System
If you are considering purchasing a medical alert system for a loved one, you have plenty of options to choose from. But with so many different devices on the market, it can be hard to determine which one is the best fit for your situation.

As a general rule of thumb, before you make a decision, it is important to consider what is most important to you. Maybe you need a specific feature, or you would like to keep the price as low as possible. Think about your loved one's needs and why you are getting the device, so you can choose a system that meets your priorities.

Below, we further break down the medical alert buying process into simple steps you can follow to help you make the best decision for yourself or your loved one.
1. Find a Quality Medical Alert Company
While there are many trustworthy and reliable medical alert companies in the industry today, not all are created equal. To identify a quality company, you want to consider two main factors.
Is the company transparent?
Companies that provide concrete information about things like fees are better to work with since they don't have anything to hide. Be sure to get clarity about every aspect of the contract, return policy, and pricing. If the details are not available online or if representatives don't offer clear answers to your questions, chances are good that you may be dealing with a shady company.
Is there a risk-free trial?
When choosing a system, always be sure to ask whether the company offers free trials. Most have a risk-free trial period of 14-30 days, during which you can return the system and get a complete refund if you are unhappy with the services. This allows you to try a system to make sure the service and the device are a good fit for your needs.
What is the return policy like?
It's important to choose a company that allows you to return equipment and cancel your service without extra charges. You will almost always pay return shipping, but other than that companies shouldn't charge any fees. If you opt for quarterly, semi-annual, or annual billing, check if you can get a prorated refund for the unused portion of your subscription.
Is the company reputable?
The best way to know if a company delivers on its promises is to hear about other customers' real experiences. Check several websites, such as Google reviews and Thumbtack, for reviews from past customers or those who have dealt with the company. If any reviews mention faulty equipment, ineffective medical alert monitoring, sneaky pricing, or any other negative experience, think twice before choosing the company. There are many reputable and reliable medical alert companies you can work with instead.
2. Learn About Device Styles and Optional Features
Most medical alert companies offer multiple styles of devices. Think about you or your loved one's current needs and whether they would be better filled by an in-home unit, a portable device, or perhaps an advanced smartwatch. You can learn more about the different types of medical alert systems and who can benefit from the different types by reading "How to Find the Right Medical Alert System for You".
Beyond choosing a device type, there are a number of optional features to consider. Some of the most helpful and frequently available include:
Fall Detection: It's important not to fully rely on this technology as it doesn't work 100% of the time, but for seniors at risk of falling, it can be life-saving. If a senior isn't able to press their button, this can automatically detect the fall and call for help.
Caregiver Tracking: Caregiver tracking is a huge bonus for those who care for seniors. It allows you to monitor a number of aspects, depending on the specifics of the system. Some of the most useful features include battery level monitoring, geofencing (getting notifications when seniors leave or enter a predetermined area such as their home), and location tracking.
Medication Reminders: Some systems allow seniors or their caregivers to program medication reminders. The system will sound an alert at the preprogrammed time, reminding seniors to take their medication. More advanced versions of this include an automatic dispensing system which makes the process even easier. Either version of medication reminders can be extremely helpful for seniors living with chronic conditions or who otherwise have a complicated medication schedule.
3. Consider Comfort and Personal Preferences
A medical alert system only works if you actually wear it. Whether you are researching for yourself or you are a caregiver looking for a loved one, it's very important to take comfort and how likely it is the person will truly wear the device into consideration.
Most in-home systems have very similar help buttons/pendants, and you typically can choose to wear it around your neck or on your wrist. However, mobile devices are not all the same. All-in-one systems require you to wear the main unit around your neck, wrist, or belt, or keep it stowed somewhere accessible. Others allow you to keep the base unit in a bag, purse, or on your belt, and you only have to wear a small, lightweight button on your wrist or neck.
To make their medical alert systems more appealing and easier to blend in with one's outfit, some companies are now offering jewelry-style medical alert necklaces and medical alert watches. These devices look like normal, stylish necklaces and watches but still offer full medical alert functionality. These jewelry medical alert pendants and smartwatch styles can be a good solution for seniors who may feel self-conscious about wearing a traditional medical alert system or seniors who have been resistant to regularly wearing a medical alert device in the past.
4. Choose a Subscription Type
Most companies give customers several options for payment periods. Many also offer discounts and extras, such as free shipping, for those who agree to be billed quarterly, semi-annually or annually. The largest discounts are typically for annual subscriptions, so those who are able to pay for a year at a time usually pay the lowest monthly rates.
But, if choosing a quarterly, semi-annual, or annual payment option, be very careful to find out the company's refund policy. Many companies offer a prorated refund if you cancel mid-subscription. For instance, if you decide to cancel after three months, but you paid for six months, you receive a refund for the three months you didn't use. Choosing a company with this type of policy will protect you from losing money down the line.

What to Consider Before Buying a Medical Alert Device
Before purchasing a medical alert system, think about why you're purchasing it and what you would like it to do for your loved one. Some functions to consider include:

Contact emergency services or loved ones. Personal help buttons connect users to an emergency monitoring center or preprogrammed contacts.
Locate your loved one in case of an emergency. Many mobile devices use GPS and other location services to provide the location of the device to EMTs responding to an emergency or on-demand to caregivers.
Detect movements and monitor activity. Some devices come with motion sensing technology and automatically call for help when a fall is detected. Others may call for a check-in if there is a lack of motion to ensure that everything is okay.
Help with medication adherence. If your loved one takes daily medications, look for features like medication reminders and automatic dispensers.
Enable caregiver monitoring. Certain companies have programs that allow caregivers to see the location of a loved one's device or their activity and call history.
Medical Alert Features to Consider
Be sure to check for the following features to see how different options compare and ensure that the device meets your loved one's needs:

Water resistance. Can the wearable device be worn in the shower or get wet in the rain?
Battery life. Does the device need to be charged? How long can the user go between charges?
Backup battery. Is there a backup for the base unit in the event of a power outage?
Range. How far can the user be from the base unit for the device to work properly?
Fall detection. Does the device include motion detection to automatically alert the monitoring center when a fall occurs?
Landline or cellular connection. Does the base station need to be connected to a phone jack, or does it connect via cellular network?
In-home or mobile unit. Does the device work outside of the home?
Mobile app or online portal. Are there added features for smartphone users or for caregivers?
Medical Alert System Costs
Medical alert systems come at varying price points. Companies also have their own pricing systems, but most do not require you to sign up for any type of long-term contract. Rather, you sign up for service for a set amount of time, such as monthly, quarterly, or annually. Oftentimes, you pay a slightly lower amount per month when you sign up for quarterly or annual service, though you may be locked into service for that amount of time.

Typically, you actually lease the system equipment from the company and pay a monthly subscription fee for their monitoring services. In these cases, you do not buy the equipment, which means you have to send the device back to the company when you are done using it and may have to pay a fee if you do not return the equipment to the company. Other companies have you purchase the equipment outright, which means higher startup costs, but you are guaranteed to have new devices and do not have to worry about ever returning it.

Each medical alert device company has its own pricing plans and fees. But no matter which company you are looking into, you should always look out for these things:

Extra Fees: Be sure to ask about extra fees like shipping, activation, and repairs. Some companies try to keep these fees hidden until you order the system, and they can be quite pricey.
Cancellation Policy: Ask if the company charges a cancellation fee or an exorbitant return shipping fee if you decide to end your service. Ideally, you should be able to cancel your service at any time. Many companies even offer prorated refunds for any months for which you prepaid for service.
Contracts: Make sure the company does not lock you into a long-term contract. Even if you sign up for an annual subscription and pay for the year up front, many companies allow you to cancel at any time and still may offer a partial or prorated refund.
Price Locks: Most companies guarantee that your monthly rate will not change over time, but it's a good idea to check and make sure that your initial monthly cost is price locked for future billing cycles.
Discounts: It's always worth checking if the company offers any discounts, especially for veterans.
Insurance: Medical alert devices are not usually covered by insurance. In some states, however, Medicaid will cover a portion or all of the cost of the system as a Personal Emergency Response Services. Check your specific state laws and policy to see if you are eligible for assistance.
Overview of the Top Recommended Medical Alert Systems