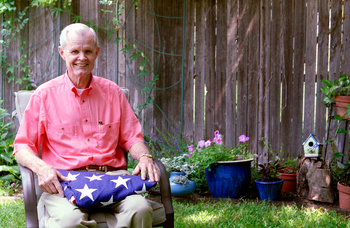 All Rights Reserved
Many older adults will choose assisted living at some point to ensure they get the care they need for the best possible quality of life in their golden years. For seniors who served in the Armed Forces or spouses of former military servicemen and women, there are veterans benefits available to help pay for this care.
To make the most of such benefits, it's best to start by understanding the overall cost of assisted living, how these veterans benefits work, who is eligible and how to apply.
The Cost of Assisted Living
The average cost of assisted living in the U.S. is roughly $45,000, according to Genworth's 2017 Cost of Care Survey. However, this rate can vary widely depending on location and the specific type of care needed. Residents who need constant care from professionals can expect to spend more than someone who needs only sporadic assistance, for example.
Something else to bear in mind is the fact that employee benefits do not pay for assisted living, which can make it all the more frustrating when it comes to devising ways to pay for senior care. While veterans benefits are great to have, it does require a bit of effort to take full advantage of them.
How the Benefits Work
There are three types of benefits for veterans to use: Basic, Household and Aid and Attendance. At the Basic level, all veterans who are at least 65 years old qualify for benefits, no matter their current living situation. The Household benefit may be a better option for those who need only occasional assistance with day-to-day activities. At the Aid and Attendance benefits level, veterans unable to sustain a comfortable quality of life without help will have access to the assistance they need at an assisted living community.
Depending on the specific type of assisted living benefit, it can be provided to a veteran along with regular monthly VA pension benefits. With both Household and Aid and Attendance benefits, the person must qualify for a regular VA pension. Currently, a veteran or a veteran's surviving spouse can choose either Household or Aid and Attendance benefits, but not both at the same time.
Benefits Eligibility
Aid and Attendance benefits are most often available to veterans who are already receiving a pension or to surviving spouses of veterans currently receiving this pension. Some different circumstances that qualify someone for Aid and Attendance benefits include:
The individual either has concentric contraction of the eyes or is blind in both eyes.
Daily living activities cannot be completed without someone's help.
The individual is bedridden.
A mental or physical handicap has resulted in a nursing home stay.
The following are conditions that can qualify a veteran or survivor for Household veterans benefits toward assisted living.
The VA has classified a single permanent disability as fully disabling that leaves the person unable to leave home.
The above condition applies, and the individual has other disabilities that are at least 60 percent disabling.
Besides the above conditions, veterans and their survivors must adequately prove that they're unable to pay for assisted living on their own. The applicant will need to present several statements and documents as evidence that they're unable to afford help their own.
To learn whether you or your loved one are eligible for Aid and Attendance benefits, visit The Senior Veterans Council.
How to Apply
The regional VA office where veterans and their survivors file for VA pension or death pension is where to apply for either Basic, Household and Aid and Attendance veterans benefits. In the event the specific regional office is unknown, a request for a special benefits application can be made at any regional VA office.
When applying, the applicant will need a note from a primary care physician stating that their current mental or physical state qualifies him or her for special benefits. The applicant will also need their VA health system ID number to access all of the necessary medical records. Finally, a home care aide, physical therapist, home care agency or anyone else who currently assists the person applying for benefits will need to draft a report that details how well the applicant can carry out daily activities without assistance.
Resources for Older Veterans
Because it can sometimes be a challenge to apply for veterans benefits for assisted living, it can be helpful to have access to a few resources. Veterans Benefits Administration offices are scattered across the country, and there are veterans centers in each state that can offer assistance as well. There are also accredited attorneys, claims agents and Veterans Service Organizations (VSOs) that can help.
The right benefits can make all the difference when it comes to aging comfortably. Even if a veteran or survivor doesn't need the above benefits currently, getting the ball rolling as soon as possible is a good idea in the interest of clearing any roadblocks or delays in obtaining the benefits you need.