Elmcroft of Lake Jackson
206 Oak Drive South, Lake Jackson, TX, 77566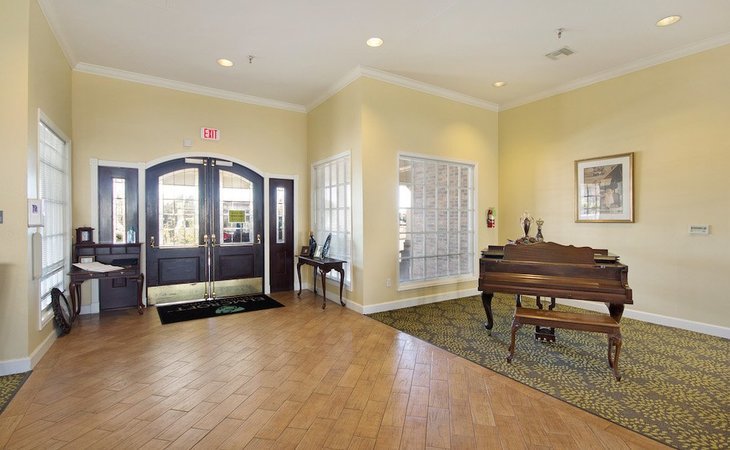 Reviews
of Elmcroft of Lake Jackson
---
Write a Review
August 15, 2017
I visited this facility
Elmcroft of Lake Jackson was really nice and clean. Everybody was nice and great.
October 20, 2016
I visited this facility
My experience at Elmcroft of Lake Jackson was great. I loved it, and I loved the people there. They were great and very kind, caring, and helpful. I thought they were beautiful, calm, and clean, and if I had to choose a place for my dad, that's exactly what I would choose. I got a schedule of activities, and it was on a daily basis. They had something for them to do and try to keep them entertained. I was there at lunch time, and I thought the dining room was nice. The place had no smell, and I could go in there and I sat down, ate with my dad, and had no problem eating the food or was worried about if I'm going to get something. I was very impressed with Elmcroft and the people care. They were so caring, and not one but 2 people came out, talked to me, and showed me around. They explained it to my dad even though he was not really comprehending, and they tried so hard.
October 30, 2015
I visited this facility
Elmcroft was comparable. There were residents out and about and all seemed happy. The staff was all friendly and they seemed like they actually cared about their residents. Everything was clean, nice, neat, and new. They would take a bunch of them to a concert at the Global Junior College to see country singer, about which they were all excited. I like they have a bus service that took the residents to Walmart, pharmacies and doctors' visits, which was a plus. All of the residents that we spoke to seemed very happy and didn't mind being there. The rooms were a little bigger than others and had a little refrigerator. It's spacious, and all the rooms we saw had windows, which is a plus.
October 16, 2014
I am a friend or relative of a resident
My grandmother was in Elmcroft for four months around two years ago. The people working there were fine, I really can't complain. The facility is average. She had a one-bedroom, with a living area, a bathroom, and a refrigerator. The food wasn't on par with my grandmother; she didn't like the food and she just wanted to be at home.
August 31, 2014
I visited this facility
Elmcroft of Lake Jackson is more for people who needs medical care. There were lots of people in wheelchairs and a number of them actually have carers who come everyday to be with them in their apartments. The staff was very friendly and always helpful. I've observed everybody across the board has been very good and helpful. Their accommodations were sort of like a hospital. The rooms were set up like an apartment but not like it are over at the other facility. The bed is visible from the entry way, sort of like a hospital. My husband has gone to give Sunday evening little ministry in the dining room and the residents were eating while he was taking, they have a nice plateful of food and they looked like they're really enjoying it. They did have activity calendar but it was not as full of activities for the people. They did have transportation provided for those who are able to get out.
March 04, 2014
I visited this facility
How do I thank Tracy and her team enough! I visited Elmcroft 2 years ago for my mom, but decided to go with independent living instead. Boy what a mistake I made......we got her there in the end but we should have had her there the whole time. The warm and fuzzy feeling you get from the first time you walk in the door is Great!!!! The love and care they gave my mom was nothing but WONDERFUL!!!!! From the house keepers to the floor staff to the managers I can't say enough good things about them all!!!!!!! So, if you ever have the need for assisted living I highly recommend Elmcroft of Lake Jackson and the whole team there. Don't stop doing what your doing!!!!!
June 06, 2012
I visited this facility
It looked very nice when I toured the facility. They used silver wares and food is good. They have 3 meals a day, but price-wise it wouldn't leave money to do anything. I have planned things for the summer and I wouldn't be able to do these things if I live here. It's a good place but it's just not the place for me at this time anyway.
November 02, 2011
I am a friend or relative of a resident
The staff is great here. They're friendly, helpful and they really get to know the residents and the families. They're very involved with the residents. They also do a good job with memory care. They get regular training for that.Activities are excellent. There are individual activities as well as group activities, and they work hard to draw in families and the community. There's always something going on to draw the community in: ice cream socials, movie night, etc. The food is good, too. The cooking staff is highly trained and responsive to special diets and special requests.
See all reviews (8)
See fewer reviews
Services & Amenities
of Elmcroft of Lake Jackson
---
Costs
Minimum Rate:

$3840/month
About Elmcroft of Lake Jackson
---
Residents of Elmcroft of Lake Jackson are proud of the independence they maintain and enjoy the security of 24-hour personalized assistance. While we offer a helping hand with day-to-day tasks such as dressing, bathing and medication monitoring, they are treated as the accomplished individuals they are. They enjoy the freedom of choosing their own agenda and activities, while feeling secure in knowing that we are always there to provide support should they need it.
Our residents also enjoy a unique dining experience where original culinary creations, along with traditional dishes, provide a variety of meal options, and the social setting makes dining an event. Good friends, good food and excellent service create a truly enjoyable dining experience.
Map
of Elmcroft of Lake Jackson
---
Get Costs