Elmcroft of West Knoxville
8024 Gleason Drive, Knoxville, TN, 37919
Talk to a Family Advisor: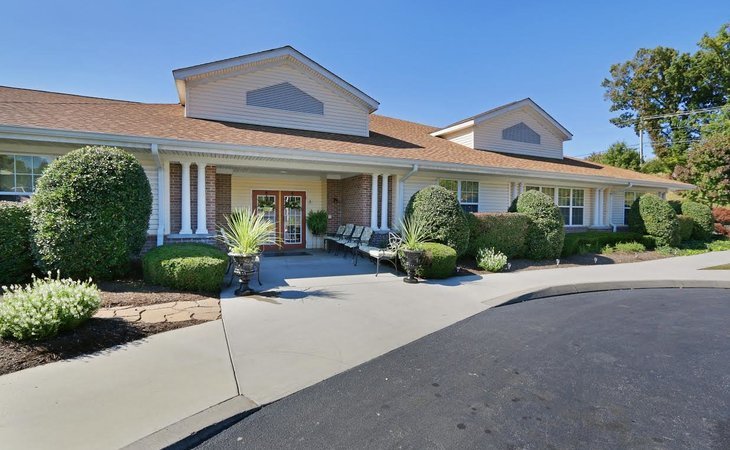 Reviews of Elmcroft of West Knoxville
---
Jane580322
February 11, 2017
I visited this facility
I liked Elmcroft of West Knoxville. It was a really nice, homey facility with nice programs. When I was there, they had a choir visiting upstairs, so they had taken a lot of residents upstairs. They had a veterans' wall, which was really nice. They took them on adventures.
---
Brenda463706
November 19, 2016
I visited this facility
Elmcroft was very good too, and it was also my top choice. It was very nice. They had people doing activities, people sitting outside, and a walkway. It was an older facility, but it was very clean.
---
Virginia744366
October 05, 2016
I visited this facility
Elmcroft had small rooms, and that's the reason why I did not take it. The environment seemed to be alright. The staff was very nice; they take us around and showed us everything.
---
Greg051467
September 09, 2016
I visited this facility
We had a tour at Elmcroft of West Knoxville, and we did not like it as much as the others. It seemed really stuffy. The ceilings are kind of low, and everything looked spread out and isolated. Their pricing is also very expensive.
---
Linda121010650
February 26, 2016
I am a friend or relative of a resident
Elmcroft of West Knoxville is a great facility. It's just expensive, and really a little more than my stepfather could afford. He's been there since the beginning, and they've just continued to increase his room rate every year. We had gotten a waiver the last couple of years, but they said they couldn't continue to give us a waiver. So they increased his room rate, and that's the only thing. I think it's extremely expensive even though they do provide a lot of services, and they have a lot to offer even though he doesn't participate in them. Elmcroft is an excellent facility. I'd recommend it to anyone who's looking for a place for their parents as long as their parents could afford it. The thing that hurt him this year is that the government did not give the social security benefactors a cost of living increase, and it's put a crunch on him if he would able to afford the facility. I think that they're trying to be very helpful, and I would recommend them to someone who's trying to find some place for their relative.
---
A Friend2
October 30, 2015
I visited this facility
Elmcroft of West Knoxville was very impressive and very bright. Everybody is very friendly and very professional; my friend is very happy with it. The dining room is very nice. What impressed us was that everybody that was on staff wore an outfit that you knew that they were on staff; I noticed that very much in the dining room.
---
Khaug
May 13, 2015
I visited this facility
It felt good, but it was older and a little closed in. The people were very nice, very professional, well-trained and full-time employees. The rooms were a little smaller and the ceilings were a little lower, but it was a larger building. It had a library and a movie screening room. They didn't have much exterior gardens, and that was one of the things that we were looking for -- places to go walking out in the garden. We ate lunch at Elmcroft of West Knoxville, and the food was reasonable. It had a pleasant dining room, and the presentation was good.
---
Andrew06
March 26, 2015
I am a friend or relative of resident
My grandfather has lived at Elmcroft of West Knoxville for about a year and a half now, and I just want everyone to know that this place is absolutely the best around. My wife and I toured just about every facility in the area before settling on EC, and we couldn't be happier with the result. Every home you look at will tell you they treat their residents like family, but the staff at Elmcroft really mean it. They have backed up that claim time and time again, and have been so patient, compassionate, and supportive at every juncture-- we couldn't have asked for a better experience. The grounds are very nice; the food, shows, and other amenities are excellent; but at the end of the day what you really want is a staff that cares for your loved one, that will treat them with fairness, respect and love, and that will protect them the same way you would. And that's what you'll get here.
---
kazzuti
March 23, 2015
I am a friend or relative of resident
In early September, 2014, I took my mother to Elmcroft and the staff exceeded my expectations in getting her room ready.
---
Jim100392950
December 30, 2014
I am a friend or relative of a resident
My relative just moved in today at Elmcroft of West Knoxville. She got the largest room, and it was probably one of the nicest sized rooms that you could get anywhere. We went to the Thanksgiving feast, and we actually had dinner there tonight and the food was good. They do have a very full schedule, and there is a big calendar of events. The staff is excellent at all levels. What impressed me most is the friendliness of the staff and the residents.
---
Ga Mened
November 26, 2014
I am a friend or relative of resident
Dear Elmcroft Staff, Thank you SO much for the fantastic Thanksgiving dinner event. Everything was wonderful (food, entertainment, hospitality, etc...) You all went above and beyond to make us feel so welcome and at home. It was so nice to see all the residents families and loved ones. Thanks again for everything!
---
grantluna
November 21, 2014
I am a friend or relative of resident
First class facility and staff.....every staff member is so friendly and helpful.
---
bill Bonham
November 21, 2014
I am a friend or relative of resident
My wife and I attended a Giving Thanks Dinner with our aunt, who is a resident at Elmcroft, and it was wonderful. Everything was well planned, the food was very good, and the evenings entertainment was also very enjoyable. The staff did a great job and mingled throughout the evening to assure everyone had everything they needed.
---
nanacat1
July 30, 2014
I am a friend or relative of resident
The community puts on a GREAT front. We had mother there for a short while. When we came in we thought that everything looked nice and neat. The sales person Rebecca really talked the place up. They showed us the "fine" restaurant style dining room. The food as we found out was not only over cooked but it was cold. Mother complained numerous times about not being able to get a refill on her drink, and often times they brought her the wrong food. The menu is appealing, however, when the food comes out it is nothing like what they advertise. The rooms seem to be nice and big, plenty of room, and clean. However, again, once we got mother in there things were not as they seemed. The room was not neatly cleaned, I came by one day and there was an old plate in the room that had dried food on it, and the sheets had not been cleaned. The laundry service was a joke. The laundry never came back like we sent it out. There would articles of clothing missing and she never would get them back when they said they would be back. Several times we had to ask where her laundry was. The nurses there we ok, but not great. On the weekends, they have a front desk girl that can't answer any questions and there is no activities being conducted. It seems as though when 5 on Friday comes, all of the management team leaves and residents are left to entertain themselves on the weekend, and problems that arise will not be taken care of until Monday at least. We were very displeased with this establishment. It was not at all as presented. I would suggest speaking with some of the residents if you choose to visit here. See what their take on it is.
Provider Response
Thank you for your review and feedback. Our #1 priority at Elmcroft of West Knoxville is to provide the highest level of care and service for our residents. We regret you and your loved one did not experience this level of service.

In order to best serve our residents and their families, we have made some key personnel changes. We have recently recruited a top notch Director of Dining Services that embraces Elmcroft's dining expectations and standards. Furthermore, we have hired a third full-time housekeeper to ensure we can exceed our housekeeping standards.

In addition to these changes, we continue to make our management staff available 7 days a week and strive to respond to all service complaints within 24 hours.

Again thank you for your feedback, it's paramount to helping us better serve our residents and their families.
---
Caring89108650
July 27, 2014
I visited this facility
Elmcroft was very nice and we liked it a lot. We needed an assisted living place, however, and not an independent living. The size of the rooms was very nice; it was very clean, neat, and tidy with very wide windows. They have just about everything you want in terms of activities. The staff was very nice.
---
Caring96140050
July 19, 2014
I am a friend or relative of a resident
My parents have been at Elmcroft for three months now. They made a tour of the facility before moving, and it was very nice. Everybody was very friendly. My dad has Alzheimer's and dementia, so he is in the memory ward, and he is very happy there. My mother is in the respite room because she is recovering. I'm very happy with the facility. The room is clean. They are actually getting ready to do a few renovations, like putting new carpet in. They just moved my mother to a larger room. The rooms have everything you need. At Elmcroft, they have tons of activities. They even go out and deliver mobile meals for other seniors. They play bingo and they have crafts. Their meals look very appetizing. I'm very happy with Elmcroft. They're doing a good job taking care of both of my parents.
---
Caring86325350
June 19, 2014
I visited this facility
I went to Elmcroft of West Knoxville, and the staff was very informative and helpful. It's a very nice place, and I like that they keep everybody very active. The rooms were not as spacious as I thought they were going to be, though.
---
Pauline7
May 20, 2014
I am/was a resident of this facility
I am now living at Elmcroft of West Knoxville, and I found them over the Internet. I chose this facility because they had the room I wanted and they allowed my pet. The facility is good. Their food is mediocre. None of them are really great, but it's all right. The people who work here are very excellent, and they give me good service.
---
happy2521
January 21, 2014
Other
My mother has dementia and came to live with me last year. Things were going great until she became weak and could not get up and down by herself and go to the bathroom aline. After several severe falls I knew I had to find a place for her. With a heavy heart my sister and I came to Elmcroft after seeing the facility and meeting several of the workers we went down to the Heartland Village to meet lot the residents and workers. I felt like God had lead us to Elmcroft. I could feel the love the workers had for the residence there. There are two workers I dearly love Von and Tangy. You could never get better caregivers if you searched the world over. Rebecca, Kristy, Lisa, Dawn, and Pat great people. The nursing staff is the best my mother loves them all.
---
Fran's family
December 15, 2013
I am a friend or relative of resident
Elmcroft was clean, the dining was restaurant atmosphere with quality food, the staff was caring and delightful to meet. Brooke, Rick, Janie and Pat Benn were genuinely caring and interested in our relative who has lived there for 2 years.
---
hall12
December 09, 2013
I visited this facility
My family and I thought we needed assisted living for my grandmother. We saw several communities and Elmcroft really stood out. Their caregivers were kind and patient, the management went above and beyond to help us get everything in order for her move, even the food tasted great. Unfortunately, we had to place her at home. Even after we had to make that decision the staff was sweet and helpful. Thank you to Elmcroft!
---
Lanauze
November 22, 2013
I am a friend or relative of resident
Elmcroft is an excellent facility. My mother is there and I feel totally comfortable with her care. The staff is extremely friendly and caring, and believe it or not, seems to know everyone (family) by name. I love the dining area. It looks like a French Restaurant. I especially enjoy the family nights that they have every other month. It gives family members and friends an opportunity to meet the other residents and enjoy the wonderful food served there. They make you feel as if your family member is the only one there with the attention received. They are never too busy to stop and talk and discuss any concerns.
---
P Shey
November 18, 2013
I am a friend or relative of resident
The staff and Elmcroft is wonderful. They take good care of my father and are always friendly.
---
Jack1026
September 14, 2013
I visited this facility
The only thing that I didn't care for at Elmcroft is that the people with Alzheimer's are situated downstairs. They have to ride up and down the elevators. My wife had trouble walking even before she got Alzheimer's. For that reason, it wasn't very practical for us. However, this facility looks very nice. The ground is very well-landscaped and they have trees there. They also allow pets.
---
NikkE
June 30, 2011
I visited this facility
Elmcroft of West Knoxville is a lovely facility that really does focus on getting the residents up and about. They have so many activities planned on a daily basis that there is always something that will appeal to any resident. They have a great fenced in yard area in the back with lots of picnic tables that are a popular spot when it gets warm outside. The dining room is also really nice and actually makes you feel like you are dining out in a restaurant. Overall this facility is very good.
---
From Elmcroft of West Knoxville
---
Elmcroft of West Knoxville is conveniently located near West Town Mall, just off I-40 and I-75 and minutes from four major hospitals. Knoxville is host to many year-round events ranging from outdoor activities in Market Square to Lady Vol games at Neyland stadium. If you love the beauty and solitude of mountains, the Great Smoky Mountains National Park is a short drive away with stops along the way for fine dining and shopping in Gatlinburg and at the outlet malls in Pigeon Forge and Sevierville.
Accommodations and Services
Elmcroft of West Knoxville is an assisted living and Alzheimer's Care community offering accommodations for those who may require assistance in their daily living activities. It is staffed 24 hours a day with trained healthcare personnel and offers as much or as little care as a resident may want or need. In addition, Elmcroft of West Knoxville has a licensed Health Care Director on call 24 hours a day.
Elmcroft of West Knoxville features a full sprinkler system and each apartment is equipped with an emergency call system that may be used whenever the need arises. In addition, all exterior doors may be locked so that a secure environment can be maintained.
Each apartment includes all meals and basic utilities as part of the monthly fee. Also, residents enjoy daily activities, private dining room for family and guests, library and sitting areas, bistro and billiard activity room, housekeeping services and many other amenities. Other services include a beauty/barber shop for a nominal fee.
The emphasis on activities is a main thrust of the service offerings. Social interaction is a vital part of overall good health and Elmcroft of West Knoxville is committed to offering residents a full range of social, recreational and spiritual activities from which to choose. Scheduled transportation on the community van allows all residents to take advantage of travel activities.
Elmcroft of West Knoxville is truly a great place to live and work and is proud to be a part of the West Knoxville, Tennessee community.
Features of Elmcroft of West Knoxville
---
Costs
Minimum Rate

$2970/month

Minimum Memory Cost

$5010/month
Location of Elmcroft of West Knoxville
---
Get Cost Information
Get full access to reviews, cost information, and amenities