Brookdale Gainesville Southwest
1001 SW 62nd Blvd, Gainesville, FL, 32607
Talk to a Family Advisor: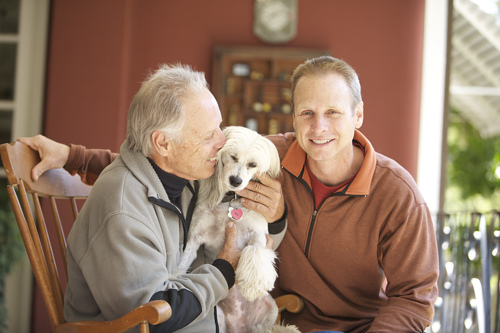 Promotion ends in 8 days!
NOTHING SAYS SUMMER LIKE SAVINGS. Move into a Brookdale community by June 30, and receive a $1,000 rent credit! *Eligible new residents will receive a one-time $1,000 credit to the Basic Service Rate/Monthly Fee following the first 90 days of residency.
Reviews of Brookdale Gainesville Southwest
---
Sandra308475
March 07, 2017
I am a friend or relative of a current/past resident
I've selected Brookdale Gainesville Southwest. We like it. The food and everything is good. The facilities are nice. We've had a couple of times where we had to ask them three or four times to fix a closet door that fell off the hinges. I don't know if it's lack of communication as far as getting my mother-in-law's laundry service taken care of, but other than that, it's a lovely place, and the people are friendly. They have some crafts and visiting people who bring service animals. Yesterday, they had miniature horses come to visit and several musicians sing and play piano and flute. They also have activities with ice cream socials, coffee, donuts, and popcorn. They do have yoga or meditation in the mornings and exercise in their big activity room. The rooms are very nicely sized. The bathrooms are very good. The ceilings are nice and tall, at least 9 ft to 10 ft tall, which gives you more of a spacious feeling.
---
Patricia272448
January 07, 2017
I visited this facility
If my parents had to go into assisted living, I would definitely go with Brookdale Gainesville Southwest. It wasn't great, but it was good. It didn't seem as upbeat, and I could hardly see anybody. They did have nursing services and some events. The price was a little higher, and that was one of our main concerns, too.
---
AudreyYAMSK
May 21, 2016
I visited this facility
Brookdale Gainesville Southwest was small with 60 beds for assisted living, but it's fine and very affordable. We were happy that the services were ala carte so you only pay for the services that you need which really was a plus for us because my mother-in-law doesn't really need extra care. If you need help with medications, you only pay for that, and if you need help for bathing and dressing, you only pay for that. You only pay your rent, which includes food, housekeeping and laundry, and then all of the other assisted services are as needed. My mother-in-law likes the food. It's good for old people, and they keep their menu pretty current. They change it and ask the residents if they want something different.
---
Connie120280850
February 24, 2016
I visited this facility
All of the rooms at Brookdale Gainesville were very small, but everyone was very nice and wonderful. The salesperson that spoke with us constantly checked on us and asked what was going because we were still deciding on help for my mother-in-law. Overall, it was very nice.
---
Caring101213550
December 30, 2015
I am a friend or relative of a resident
My father-in-law is residing at Brookdale Gainesville Southwest. Everyone has been very nice and competent. I like that the rooms are new and very spacious. They also have a lot of activities, like exercise classes, and sometimes they take the residents out for lunch and shopping trips, too. The dining room is clean, and the food is very good. It is a great place overall.
---
Anonymous110671650
October 28, 2015
I visited this facility
Brookdale Gainesville Southwest (formerly Emeritus at Gainesville) was very comfortable, and there were a lot of activities there. There was no shopping close by, but there was a van available to take you to shopping. They had three meals, and the staff was very good. They should just make it affordable for us people that don't have a lot of money.
---
Caring113295150
September 17, 2015
I am a friend or relative of a resident
My father was at Brookdale Gainesville Southwest (Formerly Emeritus at Gainesville) for 30 days; it was horrific, and I had to move him. I don't like anything about it. The staff was not good at all. They basically were neglecting my father, leaving him stuck in the bed. They did not give the meds right. The whole thing was a mess. He had a studio apartment, the food was OK, he didn't complain about it, and they also had chair exercises.
Provider Response
We are sorry to hear Brookdale Gainesville Southwest did not meet your expectations. Please be assured the safety and well-being of our residents is our first priority, and we have shared your feedback with our regional team. We would like to learn more about your experience, and hope you will call us at 877-400-5296.
---
Mary112305850
August 27, 2015
I visited this facility
Brookdale Gainesville Southwest was a very nice place. When we visited the place, their rooms were very nice and comfortable. We would have plenty of room, but again I didn't feel at home there. It was very clean. The staff was courteous. We were not able to eat there, but we looked at the residents who were eating and they all seemed to be very pleasant. It has a nice atmosphere, but their price was exceptionally high.
---
Caring107093750
May 29, 2015
I visited this facility
Very nice people work at Brookdale Gainesville Southwest (Formerly Emeritus at Gainesville). The community seems to be quite tight, and the residents enjoy themselves as well as they can with the situations that they're having. And it is reasonably priced.
---
Caring102981850
February 25, 2015
I am a friend or relative of a resident
We placed my father in Emeritus at Gainesville. The staff is what I'd call acceptable, but I find occasionally I have to micromanage issues myself to makes sure things are done. That is something I don't like. They rely on a lot of medical technicians which sometimes can cause problems with communications with my parents. Sometimes they are untrained. I feel for what I am paying, I'm not getting as much of the services that I expected, but I'm told that is a typical problem for ALFs. The room is big. It is nicely sized, and I feel like the space of the room is not the problem. It is more of the staff that is the issue. My father doesn't like going to the dining room, so he tries to take food to his room as much as he can. He complains that the food is repetitive and kind of boring, but he's getting three meals a day, and he is eating them. My father hasn't been participating in them, but I see when I visit what they do. They have like social hours every day, bingo, and get togethers. They seem to offer a lot of activities, and I'm pleased to see that they at least have it. As for security, I haven't heard of any issue, but it is not difficult to just walk out. It is not a lockdown facility, but I think they lock the doors at night time and you have to ring a buzzer to get back in. But there is no security during the day time from what I see. They need to improve the attention to detail as far as customer satisfaction goes. Even billing has an issue. It is a large company, and sometimes the staff of the local facility doesn't necessary know what the people at the corporate office are doing.
---
Stacey10
November 17, 2014
I visited this facility
The staff was very informative at Emeritus at Gainesville. They showed us both the assisted living and the memory care facility. It feels very homey, and they have a sufficient amount of activities. The facility is very well maintained on the inside, and the rooms were very well kept and maintained. The outside was lacking in several upkeep -- their sidewalks in particular. It could definitely been better maintained. They need to upgrade their outside. They are very convenient to shopping or to a hospital, and it is also in a very good neighborhood.
Provider Response
Thank you for taking the time to visit and share your thoughts. By giving us your feedback, you are helping us to understand what we do well and what we need to focus on improving. Please be assured your feedback will be reviewed and used to help better serve our residents and their families.
---
Caring91354050
August 27, 2014
I visited this facility
Emeritus is good, but it's expensive. It's nicer, too. They showed us the model room. You can bring your own furniture, and there's nice closet space. They have recreation too, and they will provide vans for the residents to go places. The staff is nice and friendly. I talked to the lady in the office. I think they have a live-in manager. They have rocking chairs outside. I saw some of the residents go out and sit down and chat. It's pretty good. It's a home away from home.
---
larita
August 15, 2014
I am a friend or relative of resident
For the most part this is an ok facility. My father is mostly happy here. Most of the employees are friendly and caring. Shortly after he moved in there was a change in management and office personal. They can't seem to get his bill and certification sent to his insurance company on time. Every month it's quite an issue. I have to call or go see the billing department to get it done. The others from nursing to maintenance have been really good, caring people and seem to do their job well. I have mixed feelings about him remaining there. Oh yes and the rent has gone up after a year as well.
---
Riley1
November 27, 2013
I visited this facility
Emeritus was a good place. Their rooms were nice and clean. Their staff was cooperative and good. Even the guests that were there, they seemed to be pretty happy. This would be a good place.
---
not for my relatives
September 25, 2013
I visited this facility
This is where an employee at discharge of my mother pushed her in a sit down walker that collapsed causing her to have to go to the hospital for stitches and brain scans. The staff rushed in to reassure me that falls are never their fault because elderly people fall a lot. The place is pretty grubby. They gave a snack of chocolate brownies at 11:30 A.M. \ even though lunch was at noon. I asked why, and they said they were running late and a snack is required by law. Not enough employees. My mother stayed 4 days and I took her out.
---
Caring68860550
September 25, 2013
I am a friend or relative of a resident
Before my mother passed away, she stayed in Emeritus for a month. Generally, I liked the people. I thought they were nice and fine. I also thought that the atmosphere was nice as far as appearance. They did have many activities there. They had ice cream socials, Las Vegas night where they played a lot of games of chance. My mom wasn't able to take advantage of most of them because she was older and in a wheelchair. She wasn't that active physically and mentally. However, she did seem pretty happy there. She was well taken care of there. The only thing I didn't like was the food. I ate there sometimes and I thought it was substandard. The portions weren't very much and they didn't taste very good to me.
---
Millie2
September 11, 2013
I visited this facility
The staff at Emeritus at Gainesville had been very nice. I saw a one bedroom apartment and it was clean and spacious. I liked that there was an independent living area and memory care area in the building. It seemed a little institutionalized and smelled a little. They wanted to put him in the memory care and I thought my husband was not ready for that although he gets confused a little bit. Besides, that area smelled a little bit more and I did not want to put him there.
---
Caring For Dad1
August 28, 2013
I am a friend or relative of a resident
Emeritus is a very nice facility. It is kind of homey and it doesn't feel like institutionalized. This is one of the reasons why I placed my father there. They do assistance to bathing, to giving medication, etc. Food is okay. They have different things they can choose from each day. Right now my father is doing okay there. However, Emeritus does not have long-term or skilled nursing care, so if my father would need those types of care, then that would be drawback for us. They have a wellness nurse in their facility but they can't do certain things that a regular nurse can.
---
Sheilah1
August 26, 2013
I visited this facility
Emeritus at Gainesville was very nice. The grounds were beautiful. The people were extremely friendly. The staff seemed to be very competent. The rooms were nice. It was very affordable and recommendable.
---
Kristen7
July 30, 2013
I visited this facility
Emeritus seem to be the best one in the Gainesville area if you need assisted living. My mother-in-law is 90 years old, but she didn't need that much. People seem to be a little bit more active there. They have a memory care unit that we did not go in because they didn't think it was going to be a necessity for my mother-in-law. We liked the lady that showed us around. The place is very well-maintained. I have a really good sense of smell, and it didn't smell like urine. I don't know what it's like on a daily basis, but I know that I liked what we saw compare to other places. The dining room was nicer and the food looked good, but we did not eat any. For an assisted living, I thought this was a nice place. I was impressed.
---
LInda62958050
May 25, 2013
I visited this facility
I really liked Emeritus at Gainesville. That's where my mother is going when she gets out of rehab. The people, accommodations, and amenities are very nice. The residents all looked happy, the employees were very pleasant and happy. I didn't see anything negative. I feel confident that my mother is going to get good care.
---
Caring5904
April 30, 2013
I visited this facility
We visited the memory care wing of Emeritus because it was highly recommended by our friends. The place had clean and wide hallways. The facility was really pleasant and well-kept. The rooms were upscale and you could bring your own furniture.
---
caring11231
November 28, 2012
I visited this facility
The staff in Emeritus at Gainesville was really, really nice. When I visited I didn't really go through the rooms but I did notice though when I first walked in the counter was dirty. I did look on floor and the edges in the hallways but I didn't see anything else, it was just the counter that was dirty.
---
tcruise
April 10, 2012
I am a friend or relative of a resident
My grandmother is a current resident of Emeritus. The grounds and exterior are very well maintained. She gets a lot of individual attention. The nice thing is that she has the opportunity to interact with other residents. She looks forward to her weekly card games. She is in a private room, which allows her to retain privacy but still have support if she needs it. She also likes the fact that they have transportation to attend church and go to the mall/grocery store. (Thank goodness she doesn't drive anymore).
---
gom
April 03, 2012
I am a friend or relative of a resident
I researched this property for mother. I choose this property because it is affordable and close to my job. The facility is very clean and staff is friendly and helpful. My biggest concern is that she is well taken care of. They motivate my mother by encouraging her to attend activities at the center. I am very impressed that administrator knows all the residents. They also have a chef on board and the food is very good.
---
abcde
February 14, 2012
I am a friend or relative of resident
Memory care has gone downhill in the last 6 months or so. It was OK for a while, but most of the good staff have left. The place is dirty- We found a roach in a supposedly clean bed. They let problems go until our relative had to be taken to the emergency room-- we have since moved him to a different care facility. They are just not taking care of the people or the environment. Looks like maximizing corporate profit has become the goal.
---
jfeulner
January 06, 2012
I am a friend or relative of a resident
Caring for my Mom been a bitter sweet experience from the very beginning! And I can't say enough about the staff and caregivers for my mom at Emeritus. There support and guidance was amazing! And now after the first week, the care for my mom has been outstanding! My Mom says she is truly enjoying her new Home!
---
jersi
November 23, 2011
I am a friend or relative of resident
High Employee turn around in memory care. Inconsistent care provided. Not enough staff on weekends. Repairs and complaints go unadressed. Some nice people and some not so nice. Not very clean in general. Routine tasks sometimes don't get done. My dad constanlty complains about and does not eat the food. The staff is generally pretty attentive. I think the management focuses on profit maximization. While they exhibit concern face to face, they generally do not repond or follow up with repairs and complaints.
---
BarnaCalif
June 01, 2011
Friend or relative of resident
When I visit my grandfather at Emeritus at Gainesville, I find myself quite impressed, dare I say, even a tad jealous. The first thing I noticed when I went was the rather impressive amount of facilities, from a computer room, a library, a store, even an ice cream parlor, and that is not the full list, just my favorites. Also to top things off, they even allowed pets, so my grandfather was able to bring his Schnauzer along with him. The staff from what I saw, all were quite nice and definitely knew what they were doing, a statement my grandfather also agrees with. Speaking of the staff they also have a wonderfully staffed cafeteria, well actually it it more like a restaurant, which the food was top-notch when I visited, of which the Facility also includes guest suites as well, so when the residents want to have company, they already have that all set and ready to go. All and all, its a great place, like I said, I almost felt a little sad to leave when the visit ended last time, and had a slight desire to already be retired myself to enjoy the laid back life, but alas many years before that. In conclusion the only thing that left me leaving a 4 star rating is that even though the facility was amazing, there could always be improvement (but not much I will admit).
---
From Brookdale Gainesville Southwest
---
We offer a home like setting and cheerful smiles from our professional staff who greet you every day. Our caring staff offers the assistance you need while respecting your independence.
Our peaceful setting, restaurant style dining experience, activities and beautiful setting combine to create a wonderful living environment everyday. Our genuine caring staff, home style meals, daily activities add to our residents' experience. They will tell you they appreciate all the options while living at an Emeritus Senior Living community.
The sense of community is all around you when you become part of the Emeritus family. Through special events, activities, clubs and ongoing cultural enrichment programs, we offer unlimited opportunities for you to get to know other residents and us. Call to set up an appointment for a tour because we delight in showing you our home.
Our Family is Committed to Yours.®
Amenities and Services
Daily assistance with bathing and dressing
Medication management
Dining assistance and special diets
Assistance with reminders and redirection
Escorts and assistance with walking
Emergency response call system
Housekeeping
Laundry and linen service
*Rates subject to change at any time. Level of care not included.
Assisted Living Facility #9394
Features of Brookdale Gainesville Southwest
---
Room and housing options
1-bedroom apartments
Studio Apartments
Location of Brookdale Gainesville Southwest
---
Get Cost Information
Get full access to reviews, cost information, and amenities