The Best Bluetooth Hearing Aids
Last Updated: July 26, 2021
COVID-19 Update: With social distancing and stay-at-home orders, many seniors are struggling with loneliness and isolation. We've developed a list of products that caregivers or seniors can purchase to help older adults stay happy, healthy and connected, whether they are aging in place at home or in an assisted living community.
Bluetooth-capable hearing aids can significantly benefit users, but not all are created equally. We've gathered the three best options to help you or a loved one make the right selection for your needs. Hearing aid technology has advanced considerably over the past two decades, and many hearing aid companies are incorporating technologies used in other types of mobile devices into their newest hearing aids, which gives users greater flexibility for use and a more personalized experience.

While Bluetooth hearing aids may cost a bit more than traditional hearing aids, many users feel that the benefits are worth the cost. Using a Bluetooth device can help you hear audio more clearly on different devices, such as on a phone, on a smart TV, or in the car. Users can also stream audio straight to the hearing aid, similar to how headphones work, allowing them to listen to what they wish without disturbing others around them.
In this article, we give more information about the features that Bluetooth hearing aids offer and provide an overview of some of the best products from top-quality manufacturers.
The Three Best Hearing Aids with Bluetooth Capabilities
Audicus: Best for Affordable Bluetooth Hearing Aids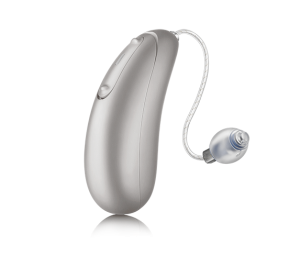 We mentioned that Bluetooth-capable hearing aids tend to run higher than traditional ones, but Audicus specializes in making this technology more approachable for many seniors. It offers a membership where members receive new hearing aids and an audiologist exam every 18 months, allowing them to change the sensitivity of the device as their needs change. It also allows members to take advantage of changes in hearing aid technology without purchasing a new device outright. The monthly pricing for its Bluetooth models starts at just $59 per month per ear, or $899 one time.
Audicus offers a handful of models, two devices of which come standard with Bluetooth compatibility. All are fully digital, with noise suppression technology and directional options. The Audicus Spirit is the top-of-the-line hearing aid, is nearly invisible, and can communicate directly with most smartphones, allowing users to benefit from full integration.

Hear.com: Best Rechargeable Digital Hearing Aids

Hear.com isn't a hearing aid manufacturer, but a tool that helps you pick the best hearing loss solution for you. On its website, you'll find helpful resources on hearing loss, hearing aids, and frequently asked questions. If you're interested in buying a hearing aid online, visit Hear.com and fill out its short questionnaire. A hearing specialist will follow up with you about which devices best suit your needs. Hear.com categorizes the devices it sells into tiers, all of which include Bluetooth compatibility with pricing starting at $139 per month per pair.
While Hear.com offers a large variety of options from many manufacturers, it has also worked with Signia to develop its own proprietary hearing aid model called Horizon. It is feature-rich and affordable at $100 per month or $2,900 one time. Hear.com catered this device to a more active demographic with a sleek design and portable rechargeability. If you don't know where to begin with hearing aids or are wanting to try something new, Hear.com is an excellent way to find what you are looking for.

Lively: Best Customer Experience
Lively carries a bold slogan: "High-Tech. Low Cost. No Compromises." It accomplishes this by maintaining an online business model with remote care that cuts out the middleman and saves customers money. Its Lively Bundle starts at $60 per month per pair, or a one-time payment of $1,850. This low price point doesn't compromise either. Its hearing aids offer a nearly invisible design, high-quality noise-canceling, and Bluetooth compatibility. Additionally, Lively hearing aids include access to a mobile app that allows you to adjust your hearing aid's settings with ease.
Not only does Lively offer rich features at a low price, but it also offers an excellent remote care service that connects you with professional assistance wherever you are. Through its app, you can easily speak with an audiologist using the built-in video chat technology. The audiologists can perform remote hearing tests and make quick adjustments to dial in your hearing aid, all from the comfort of your couch. If you are looking for a simple but quality solution for the right price, Lively is the way to go.

How Much Do Bluetooth Hearing Aids Cost?
The average cost of a hearing aid was $2,284 in 2019, and it seems to be steadily increasing each year as technology and manufacturing costs become more expensive. Depending on which features and quality you want, the price can range anywhere from $1,000 to $6,000 for a pair. Fortunately, modern over-the-counter hearing aids and different payment models can help make these devices more affordable.
Today, many hearing aid providers offer two options: pay once upfront or pay monthly to lease the device and use the company's services. The one-time payment option is simple – pay for the device and you own it. The downside to this is that you are responsible for buying a replacement once the first is no longer fulfilling your needs. The monthly payment option, such as Audicus' membership program, allows for you to get a new hearing aid when you need one without the price changing. These services usually include access to an audiologist, support, and warranty. With hearing aids having an average lifespan of 5 years, it's up to you to consider which option is best for you and your budget.
Bluetooth Hearing Aid Benefits
Bluetooth-enabled hearing aid devices allow wearers to use their hearing aids as headphones for a wide range of devices, from the car to their phone or TV. This means that instead of removing the hearing aid to use headphones or struggling with a phone call, the hearing aids do double-duty and make it easier to use modern technology.
In addition to convenience around the home, many event venues, like concert halls and sporting arenas, are beginning to offer Bluetooth connectivity for hearing aid users, where wearers can log into the site, connect their hearing aid and be able to customize the sound to their preference. For seniors who may have been uncomfortable during their performance events, this perk can open up more options for fun.
Aside from entertainment value, Bluetooth hearing aids better mimic the body's natural healing ability. The devices "talk" to one another, giving users a binaural hearing experience. That is, if you hear a sound on one side, the sound is communicated to the hearing aid in the other ear. You'll be able to hear clearly with both ears and have better sound clarity and pick up speech better.
Types of Bluetooth Hearing Aids
Finding the best Bluetooth-enabled device may be a question of looking at your budget. The lowest-priced device on this list is from Audicus, which requires a monthly subscription of $59/ month, which averages out to $708 per year. By comparison, the Lively Bundle is $1,850 on time.

Finding the right hearing aid also depends on your usage. If you're primarily living alone, one that connects to your devices and Alexa may be more useful, and people who live in a group home, such as assisted living, may wish to have a hearing aid that allows them to customize their experience on shared devices, such as a communal TV.
Another factor to consider is the customizability of the hearing aids. People who have different degrees of hearing loss in each ear may prefer a company that uses an audiologist report to make a custom hearing aid while those with minor hearing loss may not need this feature.
Hearing Aid Brand Reviews