Audicus Hearing Aid Review
COVID-19 Update: With social distancing and stay-at-home orders, many seniors are struggling with loneliness and isolation. We've developed a list of products that caregivers or seniors can purchase to help older adults stay happy, healthy and connected, whether they are aging in place at home or in an assisted living community.
Best for Low-Cost Bluetooth Hearing Aids

Audicus is an online retailer offering some of the most affordable hearing aids available. Its low-cost hearing aids deliver on industry-best features, including Bluetooth connectivity. This brand's devices are manufactured by U.S.-based Unitron, which is owned by major hearing aid company Sonova.

Audicus is able to offer such competitive prices because they 'cut out the middlemen' by selling directly to consumers via their website, Audicus.com. Unlike many direct-to-consumer providers, Audicus pre-programs its hearing aids for each consumer by allowing buyers to upload their audiogram results to the website. Prospective customers can also take Audicus' own free, online hearing test that can also be used for device programming.

Audicus offers one basic hearing aid that retails for less than $1,000 per pair, and several premium devices. Consumers who purchase Audicus' premier Clara hearing aid have the option to add custom upgrades during checkout to make their hearing aids rechargeable or to affordably expand their volume and capacity for sound adjustment. The Wave and Spirit are entirely Bluetooth enabled, and The Wave remains one of the most affordable Bluetooth hearing aids on the market.

| Features | The Dia II  | The Clara  | The Aura  | The Wave | The Spirit |
| --- | --- | --- | --- | --- | --- |
| Fit Type | BTE | RIC | CIC | RIC | RIC |
| Rechargeable | No | Yes (optional upgrade) | No | Yes (optional upgrade) | Yes |
| Battery Size | 312 | 312 | 10 | 312 | Rechargeable lithium-ion |
| Bluetooth Enabled | No | Yes (with added accessories) | No | Yes (direct Bluetooth streaming) | Yes (direct Bluetooth streaming) |
| Directional Microphone | Yes | Yes | No | Yes | Yes |
| Noise Reduction | Yes | Yes | Yes | Yes | Yes |
| Feedback Reduction | Yes | Yes | Yes | Yes | Yes |
| Telecoil | Yes | No | No | No | No |
| Auto Adjusts to Changing Environments | Yes | Yes | Yes | Yes | Yes |
| Physical Volume Button | Yes | Yes | No | Yes | Yes |
| Pricing (single ear/both ears) | $499/$998 | $699/$1,398 | $699/$1,398 | $899/$1,798 | $1,399/$2,798 |
Audicus Hearing Aid Models
The Dia II
Though temporarily discontinued, Audicus has brought back The Dia II and it remains an extremely popular option for its high-quality features at an affordable price. When Audicus reintroduced The Dia II, it even lowered the price further. The Dia II is a discreet, behind-the-ear hearing aid designed for those with mild to moderate hearing loss. This device comes in three colors and provides a maximum 56 decibels of sound as well as eight programmable channels and about 140 hours of battery life. The Dia II currently retails at $499 for a single hearing aid or $998 for a set.
The Clara
The Clara is suitable for people with mild to severe hearing loss. About the size of an almond, this tiny receiver-in-canal device can deliver 47 to 57 decibels of amplification depending on whether consumers select the Standard or Power Receiver on checkout. For an additional $50 per ear, shoppers have the option to select an Enhanced Clarity upgrade to increase their number of programmable channels from eight to twelve, and for an additional $200 per ear, the Clara can be upgraded to be compatible with the Audicus Rechargeable Dock, which removes the need to change the batteries.
The Clara is available in five colors and retails at a base price of $699 for a single hearing aid or $1,398 for a set. Payment plans are available for devices purchased directly through Audicus at as little as $39 per month.
The Aura
The Aura is an extra-discreet hearing aid featuring "a revolutionary micro-design." This CIC device sits comfortably inside the wearers' ear canal, so it's virtually invisible to other people. Despite its small design, The Aura is programmed to focus on speech for easier conversations and its rubber domes- available in a range of sizes- are designed to reduce excess sound. The Aura uses a size 10 battery, which last for up to a week.

Aura hearing aids cost $699 per ear or $1,398 per pair. The monthly subscription price starts at $49 per month.

The Wave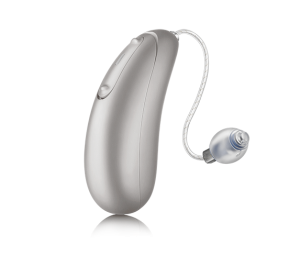 Audicus' newest model, The Wave, offers industry-best tech at an affordable price. The Wave features the most advanced tech that Audicus has ever offered with complete Bluetooth capabilities for streaming directly from your smartphone. The Wave also features an optional rechargeable battery ($300), two directional microphones, ten different volume settings, and more.

The nearly-invisible Wave retails for $899 per ear or $1,798 for a pair, making it one of the most affordable Bluetooth hearing aids on the market.

The Spirit
Audicus' newest model is The Spirit, the most advanced hearing aid the company has ever offered. The Spirit takes the technology of Audicus' Wave hearing aid to the next level with remote care capabilities. Spirit wearers have unlimited access to audiologists for remote care and adjustments via the Audicus mobile app, giving them complete control over their hearing aids' sound, even when on-the-go. This on-demand remote care is included in the base price for The Spirit. This hearing aid is also fully Bluetooth enabled and features a lithium-ion rechargeable battery.

The Spirit is Audicus' most expensive offering at $2,798 per pair. Audicus monthly members may choose the Spirit for a starting price of $89 a month.

Warranties on Audicus Hearing Aids
Audicus offers a full one-year manufacturer's warranty on both of its hearing aids. As long as the device has not been modified or damaged by the wearer, the serial number is not altered and/or repairs have not been made without Audicus' knowledge or consent, any hearing aid(s) with manufacturing defects will be covered under the warranty. Unlimited reprogramming is included in the warranty as well.
The company's classic and Bluetooth remotes are also covered by a 30-day manufacturer's warranty if they prove to be defective. Wearers who believe they have a defective hearing aid or remote should complete Audicus' return form.
Although loss or user damage is not covered by the manufacturer's warranty, Audicus does offer a 10% discount towards the purchase of a new pair of hearing aids. This discount is only valid for six months from the date the customer receives their hearing aids.
In addition to the free one-year manufacturer's warranty, customers can purchase Audicus Protect. This subscription offers two years of protection for hearing aids. It includes unlimited repairs, unlimited cleaning and care, and a one-time loss replacement. This extended warranty will cost $12 per month for one hearing aid and $24 per month for a set of hearing aids. Customers who wish to buy Audicus Protect must do so within 60 days of purchasing their hearing aid(s). The company also offers Audicus Care at $12 per month to cover battery replacements and other tools and supplies with which to maintain your device.
Audicus Hearing Aid Accessories
UV Dry Box
The UV Dry Box helps keep Audicus hearing aids dry and sanitized. When hearing aids are not being worn, they can be placed in the UV dry box to remove built-up moisture. Dry Boxes retail at $65 each.
Bluetooth Remote and Dock
With the Bluetooth remote, users can make their Clara hearing aid(s) Bluetooth compatible. Using the remote, Clara hearing aid wearers can stream sound directly to their hearing aids from a TV, computer, smartphone or other Bluetooth enabled device. The Bluetooth remote can also be used to adjust the volume and settings of an Audicus device. Included with the Bluetooth remote is a Bluetooth dock that charges the remote and also transmits sound directly to Clara hearing aids from other devices.
The Bluetooth dock and remote retail at $349 for both, and the Bluetooth dock alone is $149. However, the remote is required in order to use the dock. The Bluetooth remote is covered by the 30-day manufacturer's warranty.
Classic Remote
The classic remote controls both Audicus Clara and Dia II hearing aids. With the remote, wearers will be able to change programs, adjust the volume on their hearing aid(s) and choose custom programs such as tinnitus masking and telecoil. The classic remote is about the size of a key fob so it's small enough to fit in a pocket or purse. For those who prefer to wear their remote instead, it comes with a belt clip. Audicus synchronizes the remote to hearing aids before shipment. The classic remote retails at $199 and comes with a 30-day manufacturer's warranty.
Learn More About Hearing Aids