In-Home Care in West Virginia
Nicknamed "The Mountain State" for its scenic location in the Appalachians, West Virginia is one of the best retirement states. In addition to the beautiful surroundings, seniors who settle here can look forward to a low cost of living and access to high-performing hospitals, including the West Virginia University Health System and Charleston Area Medical Center. With these advantages, it's no surprise that seniors represent 20.5% of the West Virginia population, compared to just 16.5% of the nation.
Home care services can help West Virginia seniors continue to enjoy living at home. In-home care provides nonclinical assistance with day-to-day living, such as personal care, housekeeping and transportation. This service costs an average of $3,527 per month. Home health care is a clinical service performed by a skilled nurse or other medical professionals, which is $3,575 per month.
This guide explains what you need to know about in-home care and home health care in West Virginia, from its costs and how to pay for it to several free and low-cost resources to help you age in place.
The Cost of In-Home Care in West Virginia
Genworth's 2021 Cost of Care Survey revealed that West Virginia is an affordable place to receive in-home care. Nationally, seniors pay an average of $4,957 per month for this service, while in West Virginia, the cost is only $3,527. Seniors in neighboring states pay much higher prices than their West Virginian counterparts. In Ohio and Pennsylvania, the cost is on par with the national average, while Kentucky and Virginia are nearly as expensive at $4,767 per month.
While in-home care is affordable in West Virginia as a whole, costs vary from one city to another. Seniors in Beckley pay the state's lowest prices at $2,717 per month, while up in Morgantown, costs are nearly as low at $3,051. At $3,670, the monthly fee in Huntington is slightly higher than the state average. Typical in-home care costs are the highest in Charleston ($4,481) and Weirton ($4,576), though these prices are still affordable compared to national figures.
The type of senior care you need may affect your monthly costs. In-home care costs $3,527 per month, and home health care averages just $48 more. Adult day health care provides support during daytime hours for $1,083 per month. Seniors who can't or don't want to age in place may consider residential care options. Care in an assisted living facility costs an average of $4,160 per month, while for the more extensive care provided by nursing facilities, seniors can expect to pay nearly three times more.
Does Medicaid Cover Home Care in West Virginia?
Home care is available through West Virginia Medicaid's Personal Care Services program. Medicaid members who have a medical need for in-home care may receive help with personal care and light housekeeping, as well as health-related tasks. Seniors may be eligible for up to 210 hours of care per month.
Another option for seniors seeking Medicaid-funded home care is the Aged and Disabled Waiver Program. This home- and community-based services waiver provides a variety of supports to help seniors remain in their homes for as long as possible.
Home Care Waiver Programs in West Virginia
Aged and Disabled Waiver Program
Seniors who enroll in the Aged and Disabled Waiver receive an individualized service and support plan and regular assessments to ensure the plan is meeting their needs. Some of the waiver benefits seniors may receive in their care plan include:
Hands-on assistance with personal care and hygiene tasks
Light housekeeping
Meal planning, grocery shopping and meal preparation
Transportation to medical appointments and errands
Personal emergency response systems
This waiver includes a self-directed service option for seniors who prefer to manage their own care. They can receive a monthly budget to spend on waiver services and may hire friends or family members as caregivers.
Seniors may be eligible for Aged and Disabled Waiver services if they:
Live in West Virginia
Earn no more than 300% of the Supplemental Security Income monthly payment (income limit for 2022 is $2,523)
Have deficits in at least five daily functions, such as eating, bathing or walking
Want to live at home, not in a nursing facility
How to Know if You're Eligible for Medicaid in West Virginia
Seniors receiving SSI payments are automatically eligible for West Virginia Medicaid and don't need to submit a separate application. Seniors who qualify for SSI, but aren't receiving payments, are also eligible for Medicaid. The income limit is the federal benefit rate, which in 2022 is $841 per month for an individual and $1,261 for a couple.
2022 Medicaid Income Limits for Seniors in West Virginia
Income Limits*
Asset Limits
*Per year
There are also non-financial eligibility requirements to consider. To receive West Virginia Medicaid, you must:
Live in West Virginia
Be a U.S. citizen (or lawfully present noncitizen)
Need health coverage
How to Apply for Medicaid in West Virginia
To meet the needs of Medicaid applicants, West Virginia offers several different ways to apply for the program. Seniors may choose to:
What Information You Will Need
In West Virginia, every Medicaid applicant must show proof of identity and U.S. citizenship. The state may also ask to verify your income and assets. For a smooth application process, gather the necessary financial documentation before starting. Some examples of documents you might need include:
Pay stubs
Pension statements
Income tax returns
Bank statements
Retirement account statements
Property deeds
Life insurance policies
Vehicle registrations

How to Get Help Applying for Medicaid
Seniors who need help applying for West Virginia Medicaid can take advantage of one of the state's many free information and assistance. Below, you'll find government departments and nonprofit organizations to help you get Medicaid coverage.
Does Medicare Cover In-Home Care in West Virginia?
In general, Medicare does not cover the cost of non-medical home care. That being said, there are situations in which Medicare provides some coverage for medical home care, referred to as "Home Healthcare." There are several eligibility restrictions for coverage, including that individuals must be homebound and have a referral from their doctor specifically for home healthcare services.
Below is an overview of some of the skilled medical professionals whose in-home services are typically covered by Medicare – for more in-depth information, refer to our Guide to Home Healthcare.
Physical Therapists: Physical therapy is used to help patients recover from injuries (broken bones, knee injuries, etc.), treat ongoing conditions such as arthritis, and assist in recovery from surgeries and procedures such as a knee or hip replacement.
Visiting Nurses: Licensed nurses can provide a number of medical services for those who don't need to stay in the hospital, but do need regular medical services such as wound care, changing feeding tubes, etc.
Occupational Therapists: Occupational therapists help seniors regain or maintain the ability to accomplish normal, daily tasks, such as bathing, dressing, eating, and other daily activities.
Speech Therapists: Speech therapists help seniors who are struggling to adequately communicate due to a stroke, dementia, or any other cause regain the ability to functionally communicate using a variety of means. Additionally, speech therapists help to keep seniors independent by modifying diets, teaching special techniques to swallow safely, and retraining associated muscles.
As mentioned above, in-home care is distinctly different from home healthcare. But, there can be some overlap in services between the two types of care. So, while Medicare doesn't cover non-medical in-home care, there are in-home care services that may be covered in special circumstances when they're provided in conjunction with home healthcare (such as an occupational therapist helping with eating or dressing)
Other Financial Assistance Options for In-Home Care in West Virginia
While the above programs help many people finance in-home care, they will not cover all costs for everyone. There are other ways to pay for in-home care, including out-of-pocket arrangements with siblings, annuities, reverse mortgages, private insurance and more. Read Caring.com's Guide to In-Home Care Costs to learn more about these alternative payment options.
Free and Low-Cost Resources for Seniors in West Virginia
Seniors who want to live in their homes for as long as possible can take advantage of West Virginia's many free and low-cost aging supports. There is no shortage of resources available to West Virginia seniors, from information and referral services to emergency food assistance to friendly visiting programs.
COVID-19 Rules for In-Home Care Providers in West Virginia
The Centers for Medicare & Medicaid Services (CMS) COVID-19 vaccine mandate for CMS-certified providers applies to West Virginia home health agencies. It required all CMS-certified home health agency employees to receive either full vaccination or a qualifying exemption by March 15, 2022.
While the CMS mandate doesn't apply to Medicaid-funded home care services, West Virginia home care agencies are allowed to set COVID-19 vaccination rules for employees. However, state law requires they provide both medical and religious exemptions. Seniors can contact home care agencies for details about their policies.
Note: The information in this section is current as of April 2022. For up-to-date information about COVID-19 rules in West Virginia, contact your Area Agency on Aging.
In-Home Care Laws and Regulations in West Virginia
The West Virginia Department of Health and Human Resources oversees home care providers in the state. The regulations in West Virginia are based on federal home agency regulations governing agencies offering Medicaid services.
In-Home Care Laws and Regulations in West Virginia
Scope of Care
Home health agencies can provide both clinical and nonclinical services. Clinical services can include skilled nursing and physical and occupational therapy. Nonclinical support may include personal care services and homemaker support.
Care Plan Requirements
Agencies must provide each participant with a written plan of care that specifies the care and services necessary to meet their needs. It must also include the frequency and duration of visits and the goals of the treatment.
Medication Management Requirements
Home health aides can provide assistance administering medications that are normally self-administered.
Staff Screening Requirements
All home health agencies must conduct a registry check and fingerprint-based criminal background check prior to hiring staff.
Staff Training Requirements
Professionals providing skilled services must be licensed to provide those services. Home health aides must complete at least 75 hours of classroom and practical training prior to employment and at least 12 hours of continuing education each year. Those providing personal care services only need to be trained in the services they are providing.
Medicaid Coverage
The Medicaid Personal Care Program and Aged and Disabled Waiver will cover some or all of the cost of in-home care for those who qualify.
Reporting Abuse
Abuse should be reported to Adult Protective Services by calling 1-800-352-6513.
Frequently Asked Questions
How much does in-home care cost in West Virginia?
In-home care in West Virginia has an average cost of $3,432 per month, according to the Genworth Financial Cost of Care 2019 Survey. These services are also known as homemaker services. Seniors who require clinical support may wish to look at home health care, which includes skilled nursing and also averages $3,432 per month in the state.
Are there financial assistance programs for in-home care in West Virginia?
Are there transportation assistance programs in West Virginia?
West Virginia has a Non-Emergency Medical Transportation program available to Medicaid recipients. This program helps eligible residents attend Medicaid-covered health appointments. Benefits include reimbursement for gas mileage, bus passes and transportation through private providers.
What does it mean to age in place?
Aging in place is a term used to describe a senior's decision to remain in their own home as they grow older. People who choose to age in place may need to make changes to their home and lifestyle to ensure they remain safe and comfortable. These changes may include home modifications, the purchase of assistive technology or receiving support through in-home care services.
Does Medicare pay for in-home care?
Medicare does not pay for nonclinical in-home care, such as assistance with activities of daily living, homemaker services and meal deliveries. However, seniors who require medical services in their home, including intermittent skilled nursing, physical therapy and medical social services, may be covered under Medicare Part A or Medicare Part B.
How to Find an In-Home Care Provider in West Virginia
Whether you are looking for yourself or a loved one, finding a quality home care provider can be a stressful process. When you hire an in-home care aide you're placing a lot of trust in the hands of the person by inviting them into your home, so you'll want to be diligent in your search. At Caring.com, we're here to help – we've created a helpful checklist below that can help guide you through the process of both determining your needs and finding a home care agency that will provide the best care possible.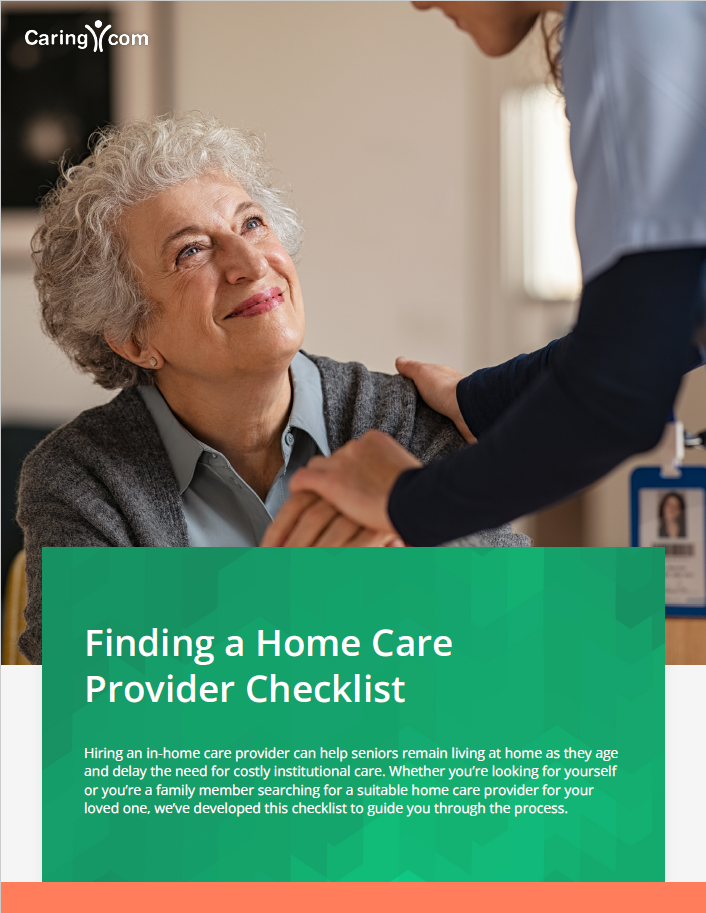 Find Home Care Agencies Near You
To find quality home care providers near you, simply input the zip code or city where you would like to start your search. We have an extensive directory of home care agencies all across the nation that includes in-depth information about each provider and hundreds of thousands of reviews from seniors and their loved ones.
Home Care Services in West Virginia (68)