Brookdale Vernon Hills
| Independent Living
145 N. Milwaukee Avenue, Vernon Hills, IL, 60061
Talk to a Family Advisor: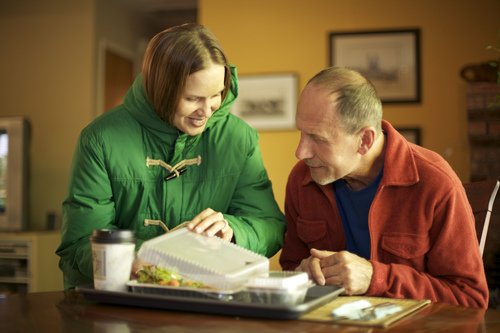 Reviews of Brookdale Vernon Hills | Independent Living
---
Raymund
September 12, 2017
I am/was a resident of this facility
Four years ago, we moved into Brookdale at Vernon Hills because my wife was very sick. She had Parkinson's disease and carcinoma of the pancreas and died almost two and half years ago. When my wife was originally sick, this place was a god send. It was a place that took care of people in her condition as taking care of people like me who were left. It was an all inclusive movement to this place, but it was not cheap. It was close to almost 10,000/month. I have a small apartment with two bedrooms. One bedroom is so small it's hard to call it a bedroom (only one bed fits in it). The other bedroom is a little larger. The apartment has one bathroom, a lot of closets, and a small kitchenette where I can make meals. I don't usually make my meals, I go down and eat in a large dining room. I get two meals a day, primarily lunch and supper. The food is fine, but they have a lot of things that could be improved upon. Sometimes they cook the food so long that it cooks all the nourishment out of it. There are exercises, people come in for entertainment in the evening, and they playmovies. They keep us entertained. The people here are very helpful and they get along well with the residents. There's a good deal of support from the staff as well as the people that live here. So that works out fine. Sometimes we have trouble with the administration, but for the most part they're cognizant for the need for care. I may be paying a little more than other places, but it's pretty good when you compare in comparison.
---
Charles581226
October 13, 2016
I am/was a resident of this facility
My wife and I were at Brookdale Vernon Hills. They're great. They're topnotch. They were very responsive and very friendly. They're just very professional, capable, and competent. however, we didn't realize that there would be so few active seniors, and it was difficult to have any companionship. We were hoping to do things with people. They gave us a half price for awhile, and we jumped into it because it was only for a limited time that they would offer that so we didn't really look at the people. We looked at the premises, which were wonderful, but then when finally saw there were no active seniors, it just didn't fit us. But to be fair to them, they're first class. I wouldn't fault them for who is there.
---
Kenneth23
March 28, 2016
I visited this facility
We were very impressed with Brookdale Vernon Hills; we are going to move in at the end of the month. The apartments were very spacious and opened up to the "rain forest," an atrium with a swimming pool, therapy pool, lots of plants, and a waterfall. It's very pleasant. They have parties every Friday afternoon. Everybody goes down there for the entertainment. We enjoyed our visit. Everybody bent over backward to give us what we needed, so we decided this is where we want to stay.
---
Caring Visitor5
December 31, 2015
I visited this facility
I visited Brookdale Vernon Hills for my husband. It was a beautiful place, but it was very expensive. The rooms were really nice. It was a superb place. If I could afford it, I would go there myself. I saw the dining room and it looked like a fine restaurant. Everybody looked like they were happy and they were all very active and they were going on bus trips. Everybody we saw looked like they were having a good time of it. Everybody was superb, but it has to be. Everything was excellent. It was like going to a resort hotel. It was that nice, but it was super expensive.
---
Christine116983350
November 30, 2015
I visited this facility
The staff at Brookdale Vernon Hills was extraordinary. My father stayed there for a few weeks for post rehab and strengthening. They were accommodating and gracious. The food was very good. They have stunning indoor garden. It's a whole huge room, like a rainforest area. It's so pleasant. My father's room was pleasant as well. It was small, but it's nicely furnished, handicap accessible, and seemed very welcoming for anyone who would come in. It had a little kitchenette, which was nice.
---
Bright ideas
September 06, 2015
I visited this facility
Staff is wonderful, upper management needs some training in respect.
---
Caring104869150
April 30, 2015
I visited this facility
It was very attractive and well-appointed. When you walk in, it's very inviting, and the people were friendly. I had a very nice tour. The person who took me around was very informative. The rooms were very well-appointed and very nice. They just put $2M dollars into it to update, paint, and things like that. It was very fresh looking, and it has all the amenities that most of the other places have as far as a game room and a lot of things available for the residents as far as getting together to play chess or exercise class or anything like that. They have a really pretty dining room, and right in the middle of the building, there was an atrium that has a really pretty pool with a little waterfall; it was very nice to walk through there. It was very serene.
---
Eddy1
April 07, 2015
I am/was a resident of this facility
Brookdale Vernon Hills is good. I like it here. The staff has been pretty good to me. We have lots of activities like playing bridge or watching movies. I have a one-bedroom apartment.
---
Caring102828950
December 10, 2014
I visited this facility
I visited my sister-in-law when she was in The Park in Vernon Hills, and I thought that was very good. She liked it, and she was able to transition from independent living to assisted living.  Unfortunately, she has passed away now, but I thought it was very good while she was there.
---
Caring11222014_02
November 30, 2014
I visited this facility
The Park in Vernon Hills was very nice too. I was there at least a year ago. It's a lovely place. The thing that attracted me was the indoor rain forest; it was really beautiful. It has an indoor pool that you can use too. When I was there, it was 3 below 0, and there were people swimming so that was really the main thing that I was interested in. The person who took me around was very nice. She's been in touch two or three times, but at that time my husband was in a nursing home, and I was just planning ahead to what my future might hold. I saw the apartments; it was very nice. A very nice lady was hospitable to let us in. You bring your own furniture as far as I understand. There's plenty to do; you can choose to do what you want or nothing -- it's entirely up to you. They have a nice exercise program, happy hour on Fridays, transportation, and trips to entertainment and stores. They also have a lovely atrium area.
---
JS5
September 29, 2014
I visited this facility
The facility was very active and alive during my two visits. The employees were friendly and helpful. The hallways seemed dark and maneuverability around the elevators was narrow (especially for a walker).
---
Barbim42
September 29, 2013
I visited this facility
The Park had one apartment that matched what we wanted. However, it was dark, dreary and dingy. We came in at the time that people were going in to eat and it was like sharks at a feeding frenzy. They were tripping over each other trying to get in the dining room first. The staff was very good and their amenities were great. If the bus was busy and you needed some place to go, there was a chauffer car that would take you. They had activities but I wasn't impressed with the environment of the entire community.
---
Melissa6
August 25, 2013
I visited this facility
The Park at Vernon Hills was very nice. They had a rain forest at one area with all the trees in the middle. It was in the main lobby; it was surrounded by the room and it was lovely. They had plenty of space for parties and they had happy hours as well as weddings. Their food was very good. They had activities like arts, entertainment and exercise. They also had shopping trips. The only trouble that I had with them was that their rooms were very small.
---
Bertine
October 29, 2012
I am a friend or relative of a resident
I just placed my daughter in The Park at Vernon Hills, so right now I'm still assessing things. It's closer to my home, I can be there in 15 minutes or so. It offers everything and anything I could have wished for. I actually have her in the independent living program there. They offer a lot of social activities, taking them out into the community regularly, they go out to local restaurants with live theater performance. It's been absolutely wonderful. It's close to beautiful rainforest. They have swimming pools, saunas, they do bingos, and they got every kind of club. She's in the walking club. It's a big property, so there are plenty of places for her to walk around safely. They have many options more than what she really needs. My daughter's problems were too many brain injury with short-term memory problems. But she's functional enough to have an appreciation for a small studio apartment she has and the activities. The food is like going to the Hyatt Hotel. She has two meals a day, they do Sunday brunch. Nothing is depressing about the place and nothing that gives you an opinion of old. It's a very ideal situation.
---
rueffingserious
June 27, 2012
I am a friend or relative of a resident
The place is completely beautiful. It almost feels like a resort while being there, especially the amenities. They have beautiful community rooms and crafts room. But my personal favorite, and my grandfather's too, is their indoor pool just because it has a waterfall. The staff there is so great as well. They are all very kind and always willing to help out. They all emanate this positive vibe out of them, it makes their guests and everyone living there feel relaxed and safe. They provide so many different activities that it's almost impossible to spend a day being bored. Their activities range from book clubs to fitness to even guest speakers. They also provide great assistance/services with barbers, errands, deliveries, meals, transportation, house keeping, wellness programs, respite care, and so forth. Their amenities include dining rooms, resident parking, common areas, spas, visiting areas, smoke detectors and so many other things. It's a little bit expensive, but it's worth every penny.
---
valpal
September 30, 2011
I visited this facility
My Grandfather lives in one of the prettiest assisted living facilities I have ever seen. He is staying at The Park in Lincolnshire and From the out side the place looks like your average facility. When you walk in, you are transformed. The setting inside looks like a rain forest, with a real atrium that is just amazing. Every apartment has a view of the plants, and in the middle of the atrium is a pool and a waterfall. Aside from looks, the staff seems to really care. They are always saying hi to people and all seem really patient. There are also a ton of activities for the seniors to do, anything from bingo to seeing live music. I visit my grandfather once a week, and I always take my two young children (ages 4&5). They love it there. They walk through the atrium (or they like to call it the jungle), they usually swim, and they love saying hi to everyone who lives there. Overall, I would say this is just a lovely place to live, and my grandfather can never stop bragging about how he is the one that lives there.
---
From Brookdale Vernon Hills
---
Brookdale Vernon Hills provides a full range of choices for today's seniors. Choosing a senior living community represents a lifestyle choice and we understand that our residents are choosing much more than a comfortable living environment to call home. Our Brookdale community delivers Inspired Independent Living, with the promise of Exceptional Experiences Everyday. In choosing this community, our residents have made a conscious lifestyle decision designed to deliver enhanced opportunities for pursuing health and life fulfillment through the exceptional services, amenities and opportunities we offer. And, our residents can rest assured that as their needs change we provide a variety of ancillary services and a Personalized Assisted Living environment that encourages our residents to continue to live as they please while respecting individual preferences.
Our Optimum Life&reg and Celebrations programs provide an all-encompassing way of life that touches the lives of our residents, their families and associates alike. Optimum Life&reg is a journey of self-discovery including services, features and benefits that allow each resident to pursue their peak level of health, wholeness and fulfillment while balancing six key dimensions of personal wellness: emotional, intellectual, physical, social, spiritual and purposeful. As part of Optimum Life&reg we encourage our residents to celebrate life each day. Inspired dining and vibrant lifestyle activities come together in our Celebrations program filling the monthly calendar with themed experiences, special events and group activities that highlight different cultures and cuisines in a common venue of camaraderie.
Features of Brookdale Vernon Hills
---
Room and housing options
1-bedroom apartments
2-bedroom apartments
Studio Apartments
Location of Brookdale Vernon Hills
---
Get Cost Information
Get full access to reviews, cost information, and amenities