Carlisle Palm Beach
450 Ocean Ave., Lantana, FL, 33462
Talk to a Family Advisor: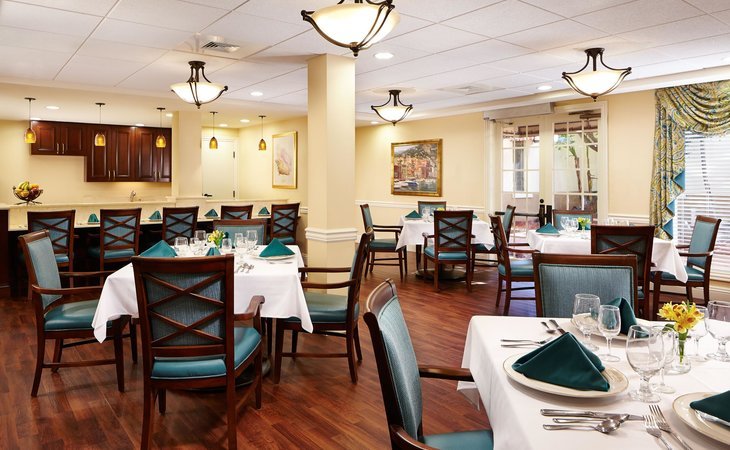 Reviews of Carlisle Palm Beach
---
nbach
December 19, 2016
I am a friend or relative of a current/past resident
My mom, is so happy at the Carlisle. The Carlisle is a warm, welcoming place, and she feels very fortunate to be there. We are so grateful to all the managers, plus the folks at the front desk, the staff in the dining room (Rick and Chef David), the people who help her at Living Life at Home, and her favorite pianist, Joe, who makes Happy Hour so happy.
---
Dlep
December 09, 2016
I visited this facility
I visited looking for my brother. The facility was beyond gorgeous in all of the common areas. I was so surprised when we saw the apartment that it was outdated. Everyone we met was friendly and the young lady who showed us around was beyond knowledgeable and kind. I could look past the outdated apartment since everything else was so nice. However, my biggest fear was that I would have to park 7 miles away as there was absolutely no parking and this really bothered me. It is a shame with such a gorgeous community and the prices they charge that they do not offer valet and concierge type living. I will still give 5 stars because everything else shined during my visit. Parking however is a 0.
---
Merri511152
December 03, 2016
I am a friend or relative of a current/past resident
My aunt was at The Carlisle Palm Beach. It was very nice with compassionate care, and they had memory care, which was what I needed. It was a clean environment.
---
Fred134410
November 09, 2016
I visited this facility
The Carlisle was ornate and very clean, and the representatives were very friendly. They also run a waiting list going out 60 plus days. The assisted living dining room was segregated from the independent living dining room. The initial entry fee at $5000 was pricey. This was one of the nicest places in Florida.
Provider Response
Thank you for taking time to share your feedback - we were so glad to hear how much you enjoyed your experience at the Carlisle! If you have any additional input or feedback as to how we could deliver a five-star experience, please do not hesitate to reach out to our Executive Director, Chris, at our community phone line. Thank you again!
---
sj22
June 29, 2016
I am a friend or relative of resident
The Carlisle runs a very professional operation and never for a moment did I feel that my loved one was in anything other than a safe and comforting environment. The memory care provided a great sense of security. The staff was beyond professional.
---
hfine
May 24, 2016
I am/was a resident of this facility
My 7 year stay at the Carlisle has been a happy and wonderful experience. I have had the pleasure of interacting with the entire staff and found everyone to be helpful and caring. The entire staff tries to make your stay meaningful and memorable.
---
caregiver_1059053
May 10, 2016
I am a friend or relative of resident
My mom lived in the independent living facility of the Carlisle (and loved it) until her dementia became more progressed and she needed more care. I looked into other nearby facilities, but decided that Legacy Court, the memory care part of the Carlisle would be the best and easiest transition for her. Donna, Karen, Taylor, and Tricia the director of Legacy court were extremely helpful and supportive during this transition. My mom has been at Legacy Court for over a year now, and it was the best decision that my brother and I made. The entire staff there, from the front desk, housekeeper, activities personnel, caregivers, nurses and even servers are the most caring people I have ever seen. They treat every resident with personalized care and respect. They also know each and every resident so well, their likes dislikes, etc...it just amazes me each time I visit. What ever training they they do there is incredible! They have a variety of activities every day....something for everyone! Some of the employees that I just love, and are great with my mom are Jennifer , Marjorie, Chantel, Melissa, Marie, Rhonda, Evet, Susan at the hair salon, Cheryl from PT, and Mildred the server. I am sure I am forgetting several names!! They are like one big family there, and when I visit I feel part of that family. If I ever have a question or concern Tricia the director or Chris the manager of the Carlisle are quick to respond which is very important to me. Living in a different state, it is a blessing that I can sleep at night knowing my mom is as safe and happy as she can be at this stage of her life. Thank you, to everyone at Legacy Court for making that possible!
---
Happyinparadise
November 12, 2015
I am a friend or relative of resident
We toured almost every community within 20 minutes of Lake Worth. The Carlisle was far superior from their apartments, amenities, services and staff. We had the pleasure of meeting Jillian, Donna and Taylor through the the tour to move-in process and they all were so warm, knowledgeable and always responded to our questions. Since our mom has moved in the staff has gone above and beyond, making every day for her the best day. Everyone from Angela to Carmen to Corrine to Bonnie to the lovely Johnita we are so grateful to have moved her here.
---
Doris40
November 10, 2015
I visited this facility
The Carlisle Palm Beach was a nice place. It was very elegant, but the square footage was small. The facility was removed away from shopping areas, so you have to drive quite a distance to get anywhere. However, it was an elegant place, and it was very nice. They have assisted living and independent living, too. What I didn't like was that the independent people had their own separate dining area, and the assisted living dining area was definitely less elegant. One was better than the other and didn't have the same atmosphere.
---
Caring110237350
July 21, 2015
I visited this facility
The Carlisle looked a little shabby. I felt like they weren't putting enough money back into it, but they were charging quite a bit because of the location.
Provider Response
Thank you for your comments. We are excited about some of the big improvements that are planned for this year and already underway. I would love to talk to you in more detail about these upcoming renovations as well as hear any additional feedback you have. Please feel free to call me at (561) 533-9440, I look forward to speaking with you. Justin Brown, Executive Director
---
ZELDA SCHLEMERHORN
May 24, 2015
I am/was a resident of this facility
I HAVE LIVED HERE FOR 2 YEARS...THE STAFF ARE PRETTY FRIENDLY & HELPFUL..tHE FOOD FOR A GROUP FACILITY IS SATISFACTORY.. PEOPLE WHO COMPLAIN ABOUT THE FOOD EXPECT A GOURMET RESTAURANT FOO FOR FAST FOOD PRICES.. FACILITY IS CLEAN & EXCEPT FOR +++THE EAST LOBBY ELEVATOR+++ WHICH IS STAINED, DIRTY, UNPOLISHED FOR THE WHOLE TIME I HAVE BEEN HERE WITH PROMISES THAT IT IS ON "THE LIST" tHE CLEANING STAFF ARE CONSTANTLY C.LEANING EVERYTHING.THE DIFFICULT PART HAS BEEN THE RESIDENTS...LOTS OF CLIQUES, A FAIR AMOUNT OF COMPLAINERS.mY APARTMENT IS GREAT, i'VE A NICE VIEW OF THE OCEAN, AND cARLILE SERVICE CLEANS IT ONCE A WEEK. KAREN IS A GEM, HEAD OF ACTIVITIES, AND A BIG HELP ALWAYS HAS A SMILE, AND WITH HER NEW HAIRDO LOOKS VERY YOUNG. :) i HOPE TO BE HERE IN GOOD HEALTH FOR A FEW MORE YEARS..(I'M ONLY 90)
---
Mary Ann Blackwell
May 15, 2015
I am a friend or relative of a resident
Excellent, staff outstanding. Mom's last 2 years were the best they could be.
---
Sandra105655850
May 01, 2015
I visited this facility
Carlisle Palm Beach was a very nice place. It was a little too big. I think he would have gotten lost there, but it was a beautiful facility. It seemed like there were a lot of activities and a lot of things to do. There was nothing negative. It is a very good place, and I would not hesitate to send anyone there.
---
Abe Freed
April 17, 2015
I am/was a resident of this facility
I have lived at the Carlisle over four years and compared to other places, it's the best. The staff from Justin to Jillian and Donna – from Rick and Mike in the dining room who always greet you and make you feel most welcome – to chef David who makes the food appetizing and taste good. The dining staff are well trained. To Karen and Ruthame who keep you busy that make living at the Carlisle so enjoyable. I love it.
---
Gary48
April 03, 2015
I visited this facility
I visited Carlisle Palm Beach. It was a very nice facility, but it seemed very expensive to me. The staff was very helpful. The building was beautiful. They have a very nice facility, but I didn't go into the rooms, and I did not eat there. The main reason I didn't get into details was because they didn't offer skilled nursing, and I wanted a place that offers skilled nursing. Plus, Carlisle Palm Beach was very expensive. However, I would recommend them because it was a beautiful facility, it is very near the beach, and it is very, very nice.
---
Devastated in So FL
March 14, 2015
I am a friend or relative of resident
Please read this before you decide to place your loved ones in memory care at The Carlisle. I wish I had known beforehand the devastation that this would have on our 85 year old dad, a 20 year US Air Force test and fighter pilot and Korean War veteran. Dad has advanced dementia/Alzheimer's disease and sometimes becomes agitated and combative. After our mother passed away in May 2014, I moved Dad down to South Florida to live in The Carlisle near me so I could visit him almost every day. We also hired 24/7 private aides to care for him at that facility. Perhaps being too new to memory care, The Carlisle has some untrained aides and nurses as it relates to defusing agitation/aggression in dementia patients. There are also some that are very good and are experienced and caring. At the end of January of 2015, unfortunately, The Carlisle felt they should call 911 as Dad became combative and the police report showed they were called about a "mentally ill person" and Baker-Acted him. I wish The Carlisle had just asked me to come and pick him up and never bring him back and I would have complied without hesitation. We were in the process of trying to get his meds right as his episodes had been increasing over the past months. A nightmare ensued and 6 weeks later he is still in rehab trying to learn how to walk again. Please find out if any ALF that you are considering will handle these situations where your loved one and family might be put in the same devastating and life altering situation that our family is now in.
---
Guest3
March 10, 2015
I visited this facility
While looking for my father I toured this communities memory care. I loved the whole community- beautiful grounds, spacious apartments and excellent staff. Unfortunately it was too far of a drive for me.
---
Caring95535450
December 09, 2014
I visited this facility
The Carlisle Palm Beach was a disgrace. It was rundown, and we had a very bad tour guide. The rooms were very unappetizing.
---
Elise2
December 09, 2014
I am a friend or relative of a resident
The Carlisle Palm Beach an independent and assisted living facility. It is upbeat, and the experience was nice. They treat my aunt wonderfully.
When she had a fall, they both stood up, I would go down and get food, and they would serve us. They were wonderful to her, and she loves it; it was a great experience. It was a little bit expensive, and the independent care are now smaller. The part is not good. She had a one bedroom apartment with a washer and a dryer, and the kitchen was very nice.
It's very small, and that was fine to her. She is very happy, the people were friendly, and the food was great. There are lots of great amenities, and I could see that they're probably going to redo the independent living. It looks ready to be revamped and modernized; the carpets started to look like gray.
---
Kelly12
February 28, 2014
I visited this facility
Carlisle Palm Beach was a beautiful facility; however, it was just extremely high-end. Nevertheless, it would be a very nice place for seniors and the people who work there are very helpful.
---
VisitingAngel
August 29, 2013
I visited this facility
I visited Carlisle Palm Beach for my friends. They have very professional staff. Their apartments are very nice and well kept. However, at the time of my visit, I really didn't see any activities. There were a few residents sitting in the lobby, but they were in their wheelchairs and not doing anything. Also parking in Carlisle was terrible. It was horrendous trying to find a place to park there.
---
Goldstein
July 11, 2013
I visited this facility
I toured the community for my parents. My folks are ready to move into the community. It was the first they looked at but the service was outstanding they felt they did not need to keep looking
---
Legal Wej
August 19, 2012
I visited this facility
This is a very beautiful place but also very expensive. It fronts a beautiful hotel. There were chandeliers and everything, so you can just imagine what this place doesn't have. There's even a unit where it's still under construction. The staff was nice and friendly. There were different accommodations to choose from and they're all gorgeous. Like other facilities, they offer all kinds of recreation to their residents.
---
JMFriedman
July 22, 2011
I am a friend or relative of resident
This facility has a great location, but they advertise it as Palm Beach. It's in Palm Beach County, but it's really in Lantana. Lantana has more of a laid-back feel, and isn't as ritzy as Palm Beach - it's about 20 minutes away from the real Palm Beach.
It's across the street from the ocean. I don't think it has an ocean view, but it's very close to the ocean.
They have a lot of walking trails, and it's landscaped very nicely.
When you pull up, it has a very impressive look. It looks like you're going to a fancy hotel or country club. It has very nice Mediterranean architecture, and the lobbies are very nice. Once you get into the residents' areas, however, it's a step down from how it looks on the outside - inside it's sort of like your standard assisted living facility.
The common areas are nice - they have some TV rooms and other common rooms.
The food looks good. I haven't eaten it, but I know that they invite families for Thanksgiving and other holidays and that the food then is very good. They kick up the food a notch for holidays. In general, the food is good, but nothing extraordinary.
Compared to the common areas and the lobbies, the rooms are a step down. They're adequate, but a little small. They have a kitchenette and a sitting area, plus a small balcony. They also have more of an apartment style living for independent living.
The resident that I know mentioned that her main concern is that the staff isn't always very attentive. She needs help getting down to the dining room, and they'll help her in the morning, but they're not always as attentive about helping her get down to the dining room in the evening. The staff member I met when I was there seemed friendly, competent, knowledgeable, and pleasant.
---
---
Senior assisted living at Carlisle Palm Beach offers residents the best of both worlds. All benefits of our senior living community are combined with a full spectrum of senior care services to create a premier senior assisted living community. Residents enjoy beautiful surroundings, on-site amenities and social programs alongside continual on-call medical care.
At Carlisle Palm Beach, we adhere to state-of-the-art standards of senior assisted living while providing a special touch. Our residents receive personal and comprehensive care and are consistently treated with the dignity and respect they deserve. Whether our residents need help with day-to-day activities, getting to appointments, or medication management, our caregivers kindly and competently meet those needs.
Our assisted living community in Lantana has been purposefully designed to provide you or your loved one with a nurturing, comfortable, home-like environment that is attractive and easy to navigate. We foster community and family by hosting many activities and events each month. Residents are encouraged to participate in as many pursuits and outings as they like, appropriate to their ability. No matter what, everyone is treated as an individual person with unique needs.
At Carlisle Palm Beach, our residents live life to its fullest as they age in place.
Assisted Living Amenities
Personalized Care Plans
24-hour Staffing
Emergency Response System
Medication Management
Scheduled transportation to local shopping and medical appointments
Award winning Wellness Everyday™ programs, provided 7 days a week
Dining for Wellness™ - educational and wellness program
Brain Health University™
Beauty and Barber Shop
Housekeeping and maintenance service
All utilities and basic cable included
Individually controlled heat and central air
Fresh, seasonal cuisine prepared by the dining service team
Our memory care community in Lantana has been purposefully designed to provide your loved one with a nurturing, comfortable, home-like environment that is attractive and easy to navigate. Residents are encouraged to participate in as many pursuits and as they like, appropriate to their ability. No matter what, everyone is treated as an individual person with unique needs.
What Makes Us Special
---
Across the street from the Atlantic Ocean on the corner of A1A. Lantana Nature Preserve surrounds our community with beautiful walking trails. Full Service Breakfast Buffet. Transportation to Physician Appointments covers the entire Palm Beach County a
Features of Carlisle Palm Beach
---
Costs
Minimum rate:

$4900/month

Minimum Memory Cost

$4950/month

Entry Fee
Room and housing options
1-bedroom apartments
2-bedroom apartments
Studio Apartments
Dining options
In Room Kitchenette
In Room Kitchens
Dining Room Shared Meals
Room Service For Meals
Features
Beauty Barber Shop
Computer Room
Resident Transportation
Party Space
Tv Room
Garden And Patio
Resident Parking
Pool
Spa
Cleaning services
Laundry For Linens
Private Cleaning Services
Housekeeping
Laundry For Clothing
Technology and entertainment
Health services
Hospice Care
Medication Management
Physical Therapy
Nurse On Staff

Onsite 24/7
Activities
Offsite Activities
Music
Stories
Religious Services
Lectures Discussions
Book Clubs
Wii Sports
Tai Chi
Fitness Room
Yoga
Arts And Crafts
Financial guidance
Home Sale Assistance
Va Benefits Consultation
Financing Advice
Guest services
Guests At Mealtime
Overnight Guests
General
Minimum Age

62

Pets

Small Pets Allowed
Nurses
Nurses Extra

We Have 24 Hour Nurses.
Location of Carlisle Palm Beach
---
Get Cost Information
Get full access to reviews, cost information, and amenities