Sunrise of Gurnee
500 North Hunt Club Road, Gurnee, IL, 60031
Talk to a Family Advisor: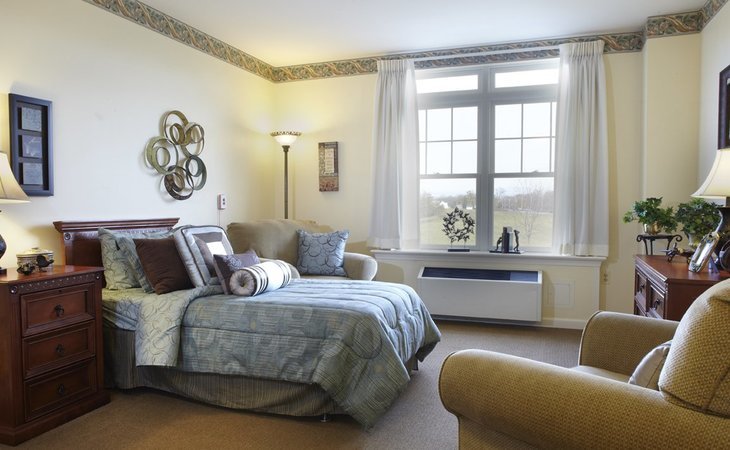 Reviews of Sunrise of Gurnee
---
Deb814161
April 12, 2017
I visited this facility
Sunrise was brand new, very nice, and had dining in the back. It had a beautiful dining area, beauty parlor, sitting room, and a nice sunroom.
---
Biscotti1
April 14, 2016
I am a friend or relative of resident
Thanks for the great care you have given my grandmother who just arrived at your beautiful facility! She has been able to fit right in since she has now come in wheelchair bound. The nurses couldn't be nicer and more accommodating helping her to feel right at home. The service that she has been given has been second to none. My grandmother is in great hands where we have the opportunity to see her even more!! Highly recommend this place for your loved ones.
---
family20
April 11, 2016
I am a friend or relative of resident
My grandmother has been there less than 24 hours and came in wheelchair bound but they decided to have her stand to get her ready for bed...REALLY I am not a certified nurse but I haved changed her enough to know to put her in the bed and change her into her night clothes there. I can't believe for the price they are charging for this poor care of service. They have no idea what is going on with their activities so I took her to a scheduled activity and after 15 minute of nothing going on I asked about the activity and no one knew what was going on. DO not send your loves ones here
Provider Response
Thank you for sharing your review. Please know that we take all concerns, such as those cited about care and activities below, seriously, and would like to learn more about your experience. If you could please email us at Information@SunriseSeniorLiving.com with further details, we will be following up. Thank you, Sunrise Team
---
JenJenn
November 20, 2015
I am a friend or relative of resident
Beautiful facility. Which is the only positive thing I can say. Director is horrible. She does not address concerns. My mother did not receive the care that she was paying for. She is incontinent and when I moved her out I found cases of supplies that had. It been used which is an indication that she was not being cared for properly. There were mouse droppings everythwere in her room and her equipment (for breathing and showering were crusty from body fluids). Don't be fooled by the exterior. Don't place your loved one (or even someone you don't care about) there. They will come out changed forever.
Provider Response
We're sorry to hear that you did not have a positive experience. We care deeply about the safety and well-being of our residents and staff. Please contact us at information (at) sunriseseniorliving (dot) com so that we can learn more. Thank you, Sunrise Team
---
Barbara113421550
September 30, 2015
I visited this facility
Sunrise of Gurnee was really nice, and I did like it. It was clean and pleasant. They had a group activity going on when I went in there, and they had entertainment. Their dining room was set up like a restaurant, and the food was appealing. The rooms had a nice variety -- a studio, one-bedroom or two-bedroom -- which would give my in-laws adequate space. It doesn't have a stove, which is fine because I would prefer they not be cooking since they're a little absentminded. It was well lit. They had skylights throughout upstairs in the hallways, and there was a fine daylight coming in. It was a perfect community for them. It was just a little pricy. The outside facilities were very nice. It wasn't like a nursing home nor a prison. They could go outside and leave if they have the capacity to do that. They had a lot of activities, which were both appropriate and enticing for people of varying age like trips, etc. It was a beautiful place.
---
Beth41
September 30, 2015
I am a friend or relative of a resident
We place my loved one at Sunrise Senior Care Memory Center (Sunrise of Gurnee). Everything is beautiful. The people are extremely caring, patient and very professional. We do not worry about her care at all because we know she is having the very best. The facility itself is absolutely gorgeous. It looks like a luxury hotel. There are tons of stuff for her to be involved in like games, activities and visits out somewhere. It is really top drawer. We cannot ask for anything better, and it is so close. It is 20 minutes from our house so we see her 2 to 3 times a week. I myself will go there when the time comes. We are just so impressed by their excellent facility and care. It is expensive, but it is worth every penny.
---
Carol111498850
August 05, 2015
I visited this facility
They were lovely at Sunrise of Gurnee. They seemed to be offering the same level of care as the other facility I went to except they were quite a bit more expensive, plus if my aunt was there and she ran out of money, she would have to be discharged. The rooms and apartments were larger than most.
---
Caring105273050
April 17, 2015
I visited this facility
Sunrise of Gurnee was very good. They were very friendly and caring. The environment was very nice.
---
Caring0384
October 16, 2014
I visited this facility
Sunrise of Gurnee is very nice, clean, and it's the place I want to go. I would like to go there for a vacation because the staff was wonderful -- very friendly -- and the atmosphere is very upbeat. I can't smell anything, and the rooms were incredible; we were really impressed by it. It looked better than some of the hotels I've been. There is a kitchenette that was separate from the rooms, two separate rooms, that each had their own little walk-in closet, and a bed that was unbelievably more comfortable than what I'm sleeping on now. The window we looked out had a view of a little pond, but it's like almost a backdrop to a forest reserve. They have a little garden for them to fill, and they had actually tomatoes growing. The dining was like going into a restaurant. There's a porch when you first walked in and a secondary porch that allows for a lot of use, but its climate controlled; it's a tree post deck. When you walk in, there is a grand piano, and they have a mini bar with coffee, juice, and cookies which they have access to all the time. There's a lot of activities; they take them out on outings, they take up to the Chicago Botanical Gardens, shopping if they want to go, and there is a jukebox. What we like also is that the security is very good, and in case of fire they have fire doors and a slide if they evacuate that pulls off.
---
Clara5
June 30, 2014
I visited this facility
Sunrise of Gurnee was very nice. It was the first one we went to. What I like best about it is their setting. It was very good. The lobby was very nice with a very open feeling. It seemed to have very nice facilities. The rooms were very nice. The staff seemed to be very accommodating. They have various activities.
---
Caring72870850
March 28, 2014
I visited this facility
Sunrise of Gurnee was a very nice place, but there was something that wasn't there, though I don't know what it was. The rooms looked OK but mostly smaller. The staff was OK, just so-so. Some people who I know very well had been there, and some of them had died, but they always liked it.
---
Caring76991050
March 26, 2014
I visited this facility
Sunrise of Gurnee is a beautiful facility. The only thing was, it's a very high-end place and we could not afford that facility. They offer quite a few choices with their food. The rooms were beautiful.
---
nevergohere
February 27, 2014
I visited this facility
First Impressions Are Usually The Most Important.... Do NOT go to the Gurnee IL. facility unless you want to have the same first impression I had. As soon as I walked up to the counter, the person at the information desk was extremely rude, had a nasty attitude, a horrible demeanor, and was NOT helpful in my pursuits at the facility. I will NEVER go here again ! If I could give the facility zero stars I would ! Do NOT Bring Your Loved Ones Here Unless You Want Them To Be Taken Care Of By People Like This !
---
baratgfc
May 19, 2012
I visited this facility
The experience was very positive. The facilities were clean and well-maintained. Everyone we met with was friendly and courteous and knowledgable. They were very understanding of the issues associated with placing my friend's mother in this facility. The units appeared to be very comfortable and well furnished. The "commons" area was easily accessible and had a homey feel to it.
---
Social Wk Care Mngr
December 19, 2011
I visited this facility
There are many Sunrises to choose from in the Chicago region, this is probably the furthest north location, accessible even from southern Wisconsin. It is in a safe area that is primarily a business district. There is a small area of designated outdoor space, but also a large "screen porch" or sunroom area on the front of the building that residents enjoy. The common areas are warmly decorated in typical Sunrise style; there are tasteful home-like furnishings and a soothing mix of color and texture. Like all Sunrise communities, there is plenty of common area space both on the main level and on each care floor for residents and visitors to enjoy. This facility is typically very neat, clean, and well maintained. The apartments are available in different sizes and configurations at different price points. Most are single occupancy though some couples will occasionally reside at Sunrise in larger units. Large windows provide plentiful light and there is an above average amount of storage space. The staff at this particular Sunrise is historically very responsive, kind, and engaged with the residents. Staff turnover is average to below average for this type of setting. The food is average to above average with most meals well liked by most residents.
---
---
Located close to Gurnee Mills Shopping and I-294, Sunrise of Gurnee is close to many area amenities, with beautiful woods and pond view. We pride ourselves in our family atmosphere and close-knit group of residents and staff.
Step into a Sunrise Assisted Living community and you can?t help but feel at home. We stop at nothing to make your experience warm and inviting, from our homelike exterior architecture, to our comfortable community areas and choice of suites to our exceptional outdoor gardens and landscaping.
Look around and you?ll notice fresh flowers throughout the residence, and you may even spot our dog or our cat. And of course, there are always the friendly smiling faces of our staff to ensure that each day spent here is a welcome one.
Features of Sunrise of Gurnee
---
Health services
Nurse On Staff

Available During Business Hours
Location of Sunrise of Gurnee
---
Get Cost Information
Get full access to reviews, cost information, and amenities