Morningside of Evans
353 North Belair Road, Evans, GA, 30809
Talk to a Family Advisor: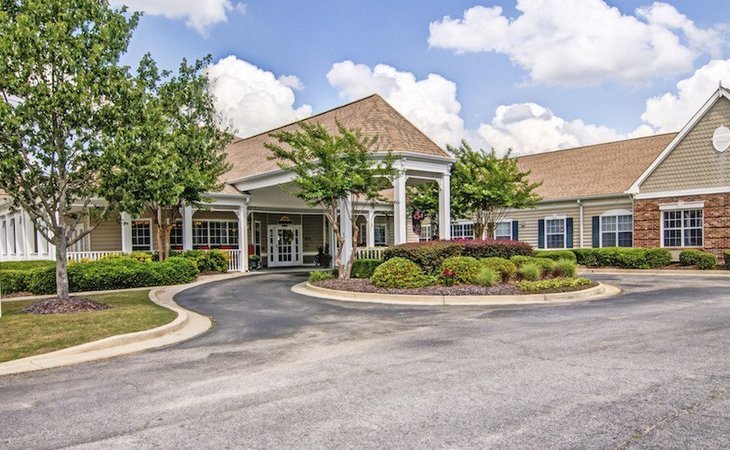 Reviews of Morningside of Evans
---
Judy416835
October 22, 2016
I am a friend or relative of a current/past resident
Morningside of Evans was very good, welcoming, and clean. He is there now. Their staff and services are very good, and they're accommodating. The rooms are fine, and the food is fine; everything's fine. I would recommend them. They have Bingo, music, inspirational things, and card games. Every morning and afternoon there's something happening.
---
mikey85
August 15, 2016
I visited this facility
I am an elderly man considering moving to a retirement home that will provide assistance if needed.. My father lived in a similar type facility and loved it. I had lunch with the Executive Director and the Nurse who were very friendly and I enjoyed both the meeting and the food that was excellent..
Some items of special interest to me follow:
Every apartment has a small kitchenette with a refrigerator & microwave but no stove. They provide transportation 2 days a week for medical & 2 days for shopping. Although laundry is provided, there is a separate laundry area that residents can use if they so desire., If my doctor concurs, I can handle my medications since the apartment has a locked door. The facility, location, staff, and food are all great and I consider the costs to be reasonable. I highly recommend it.
---
Alice650558
June 10, 2016
I visited this facility
Morningside was the first place we visited and seemed nice. However, it seemed that everything had an extra charge, and we didn't care for that. The staff was very nice, but we didn't get a sense of warmth. The facility has lots of different and pleasant areas to sit and visit with friends or family.
---
mspcgenius
December 22, 2014
I am a friend or relative of resident
Common areas, rooms, and housekeeping service are well maintained. Assisted living services and medication administration are good. Food is sub-par. Contrary to previous posting, there is no doctor on staff. LPN does good job and med techs seem to enjoy their work. There continues to be a large volume of staff exiting which is a cause for concern. Makes for a difficult living condition when elderly folks are asked to adjust to new staff
Provider Response
Thank you for the kind words concerning our community. We strive each day to be the best at what we do. Morningside of Evans is committed to excellent service and a quality dining experience for all residents. The community contracts with Sysco, a well respected national distributor. Quality assurance measures have been put in place to track resident/family satisfaction. We have a Food Services Director that makes daily visits to all residents at their dining tables to solicit feedback on the satisfaction of the meal being served. Those notes are logged on a daily basis. In addition, monthly meetings are held with residents and the Food Services Director to solicit feedback on dietary strengths and weaknesses. I invite you to attend a meeting or meet with me in person to discuss your concerns so that we can be sure to address them.

As with all communities, staff turnover is inevitable and we are always sad to lose a team member. We greatly value our team members and do the best we can to provide excellent training and a great work environment.

Please know that my door is always open for comments and concerns, and I would like to personally invite you to visit with me at your earliest convenience. Thank you for trusting us with your loved one and we hope that you will take us up on our offer.

Lauren Spivey, Executive Director Morningside of Evans
---
RelativeOne
October 19, 2013
I am a friend or relative of resident
My Mom has been at Morningside for about 2 years now. When it became necessary to face that we couldn't care for her, she [and we] were concerned about her loosing her independence and wanted to make sure that she would be cared for with diligence, respect and not be lonely. When we found Morningside. We toured the facility which is very nice and homelike and well maintained. We met and talked with the staff, met some of the residents, and were impressed and relieved. So Mom and we made the decision and she moved in.
Not only has the staff helped Mom make the transition from independent living to assisted care, Mom has made friends with many of the residents and staff. She still misses home and independence, but she has made the transition completely.
My wife and I are pleased because we have experienced their continuing care and concern for Mom. We are kept informed of her status and we know that her health and well being are monitored. They monitor and distribute her medications with diligence. The meals are nutritious and tasty, [We have eaten there several times.] and they check on Mom to make sure she doesn't miss any meals. If she is having mobility issues at meal time, they will bring her food to her. They also provide laundry service and assistance [if needed] for bathing. One special note that helped us feel better is that each resident wears a life alert monitor that they can use if they need assistance or are in distress.
They provide daily/weekly activities [interpersonal, health, religious, entertainment] that keep her active and socially interactive. They have special entertainment from groups and individuals that come in regularly. On Holidays/special days, they have well planned events and meals for guests such as Thanksgiving, Christmas, and etc.
My wife and I feel good knowing that Mom is well cared for both physically, mentally and socially.
---
Morningside Review
October 04, 2013
I am a friend or relative of resident
Morningside of Evans has been a great place for Mom to live for the past two years. It's safe and secure with 24/7 help if she needs it.
All her medications are given on time, and she gets help with bathing and dressing. There's even a beauty salon down the hall. Cleaning and laundry services are also provided. There are reminders before each meal so she can get to the dining room in time. The menu is varied and the food choices are good.
There's plenty of opportunity to mingle with other residents and to enjoy activities, entertainment, or to just take a nap.
The staff is very caring and patient and makes living there fun. Seasons and holidays are celebrated and activity calendars and newsletters let residents know what's ahead.
We like that all living areas are on one floor and are easy for Mom's walker and wheelchair to maneuver. Residents can easily travel from living room to dining room to the big front "wrap around" porch to enjoy each other's company and conversation.
Mom says the caregivers are all wonderful to her and any issues that have occurred have been addressed promptly and to our satisfaction.
We couldn't ask for more.
The Family of Mrs. Nichols
---
jcannon
September 30, 2013
I am a friend or relative of resident
Over the past 15 months, Morningside of Evans is the 2nd assisted living facility in which my mother has resided. When my sister and I moved mother to Morningside, it didn't take long to notice the significant improvement in living conditions. While no place will ever be like home, my sister and I looked for a facility that would provide, to my mother, a comfortable atmosphere. This facility provides a clean smell and cheerful appearance, safety for the residents, 3 good meals a day, and numerous activities for residents to participate in. Staff administers all mother's medications in a safe and consistent manner. Residents are nice and seem content, for I talk with several on most every visit. As in any business, not every staff member is perfect, but most are very good at what they do. There is one assisted living facility close by that has many of Morningside's good qualities, but is much more expensive. As long as my mother can maintain her level of health well enough to reside at Morningside, my family is very satisfied with the care this facility provides and would highly recommend it to anyone.
---
Ryan Owens
September 13, 2012
I am a friend or relative of a resident
The facilities were acceptable and comparable to almost every other assisted living home that I've visited. The reason that I wasn't able to give five stars was the menial staff individuals. Almost every one, to a tee, were either unpleasant or downright rude. With this being said, the nurses and doctors seemed to be respectful and pleasant, although our experiences with them were much less numerous.
---
jmsaffro
July 05, 2012
I visited this facility
The staff were very friendly, the grounds were well maintained and the facilities were all very clean and accessible. They served three meals a day, and I ate two meals at the site. The food was decent. The individual living spaces were spacious and had nice carpets, etc. I had one family member stay there for a short period (about six months) and she liked it. There are constant activities and different things for the old folks to do. For instance, they would play poker, board games, watch television and even listen to a pianist. Some of the guests were upset about their circumstances, but I'm pretty sure that it didn't have anything to do with the facility per se, and everything to do with their family situation. The workers all appeared to be happy and most of the "guests" seemed happy to be able to talk to different people and interact with others.
---
From Morningside of Evans
---
Morningside of Evans offers compassionate senior care in Evans , GA. We strive to create a home-like atmosphere where you and your loved ones can feel secure. Our warm, well-trained staff works closely with our residents to provide the utmost care and comfort. As part of the Five Star corporation, you can be sure that everyone at Morningside of Evans shares the Five Star Values, and is committed to a high level of caring in all that they do. Please schedule a visit to see why we are the first choice in senior care in Evans, GA.
Features of Morningside of Evans
---
Costs
Minimum rate: $3400/month
Diet
Diabetic
Low Fat
Low Salt
Renal
Vegetarian
Location of Morningside of Evans
---
Get Cost Information
Get full access to reviews, cost information, and amenities