Woodhaven Care Center
510 West 7th Street, Ellinwood, KS, 67526
Talk to a Family Advisor: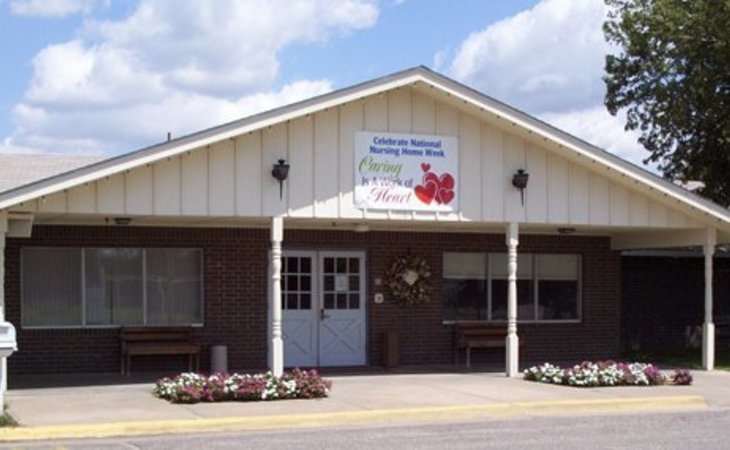 Reviews of Woodhaven Care Center
---
Son of A Res
February 27, 2014
I am a friend or relative of resident
They always answer the call lights. Sometimes a little late but usually in a timely manner. They always call with changes to the residents dr. orders or med changes. They had a really nice lady that worked in the activity department and was the assistant to the activity director. this lady (lets call her Pam, just for giggles). Now Pam would come into my moms room and spend sometimes 10 minutes coaxing her out of bed so she would get up and participate in what ever they ere doing that day. She would even help her up and into her wheelchair and help her to the game room. No matter how much my mom did not want to play, Pam would usually always get her up and wheel her down to the activity room, I loved that about her. Mom was almost always participating in her activities. Then about a year in Pam was missing and wasn't coming into get mom up to play, I found out that due to cutbacks, Pam's job as assistant activity director was scrapped. Now sense Pam left, there is no one there that is willing to spend time getting the residences out of their beds to play. Oh sure they still have activities and they go around to the rooms to announce that they are having activities but now they don't take that heart felt five minutes that it sometimes takes to get some of them to want to be involved. Since Pam left, my mom has not been involved in the activities and has gotten socially bored, almost to a clinical state of boredom. Pam was a godsend to the residences there. Since she left the spark in moms eyes just went out. She doesn't have anyone that will take the time to help coax her out of her room to do the activities. Now they just peek their heads into the door and tell them that there is Bingo in the dining room without taking a few loving minutes to coax them out of bed to play like Pam would do. The management is very cautious and implement ways to keep the residences from falling. That's a good thing to an extent but not to the extent that it takes their legs away all together by leaving them in their wheel chairs constantly, for their convenience , These people need exercise in the form of walking which they don't get when they are strapped into a wheel chair during their entire waking hours. The staff do a very good job notifying the family when there is a fall or problems with other residences of if they have bed soars or cuts and scrapes. but when my mother was sick, I rarely hear about it. And when I go in and find her sick it is always a bug going around for an excuse. Once her "BUG" lasted over a week and when I finally had to get them to take her to the hospital, she had a bad case of pneumonia. She was in the hospital for two weeks with that "BUG" and on some very strong antibiotics. Mom lived with us at my home for 7 months before she entered the nursing home. After her bath every other night we would hand her a loaded toothbrush and she would use it. From the first day she entered the nursing home her oral health was nil. I bought manual brushes and an electric toothbrush which after two years are still like brand new. Now because of the lack of doctor ordered oral care, she needs all her top teeth pulled and replaced with dentures. The only time I ever seen anyone of the nurses help her brush is when we had a dentist appointment at which time he told her he needed to be put under anesthetic and have all her teeth pulled. My mom has had problems with rotor cuffs in both shoulders and had one of them operated on and the other is so bad that they wont touch it now. The drs. stress that they pick her up with a belly belt and two people. They did do that for a week or so but then resorted back to lifting her up off the bed to her chair by grabbing under her arms which puts a lot of stress on her shoulders and makes them hurt. I have mentioned the belt many times to no avail. They still pick her up by her arms. They keep water in the rooms pretty much all the time, But my mom can not reach her water bottle. They keep it on a table that is 4 ft from her bed and well over her head. so if she is thirsty she has to call a nurse to hand her a cup of water. She has been diagnosed with dehydration several times while she has been there and she has had several UTI's as a result of the dehydration. They decided to move my mom to another room one day. I checked out the room and found that is had not been cleaned before they put her in there. Under the bed was a spilled cup of ice cream or chocolate milk that was dried and the cup was stuck to the dried liquid so it tore into when I tried to pick it up. I asked several times for someone to clean her room. A month later it didn't get done, so I got a pan of water and a towel and cleaned the floor myself. I also cleaned her wheelchair while I was at it because there was dried vomit all over it and it really started to get on my nerves. The next day they had the cleaning staff clean the entire room. They are suppose to offer her a drink of water of sports drink that I brought into her every time some one enters the room. I have never seen any one offer her a drink, not once. I offered her a drink yesterday and she drank half a bottle of grape sports drink. And they cant figure out why her blood values are always high and she is dehydrated all the time and has sooo many UTI's. she is so depressed now because of the pain in her right hip. I took her to a pain management dr, and he told me that there was a note in the nurses report that said she was fine with no pain issues. The day before I took her to the pain management, she was sitting in her recliner and crying. Saying her butt hurts. The aid that was in the room at the time told me that this has been going on for a while. And there is a note in the nursing report that she is fine with no pain? go figure. This is suppose to be a 5 star care center. Id hate to see what a 3 star care center is like! I am by myself. I have no brother of sisters that are around to help with her care so I am thankful for the help that they do provide. I just wish that they would communicate between themselves better and pay better attention to her pain and needs. But I guess that's all you get for $3,200.00 a month.
---
From Woodhaven Care Center
---
Woodhaven Care Center offers compassionate senior care in Ellinwood, KS. We strive to create a home-like atmosphere where you and your loved ones can feel secure. Our warm, well-trained staff works closely with our residents to provide the utmost care and comfort. As part of the Five Star corporation, you can be sure that everyone at Woodhaven Care Center shares the Five Star Values, and is committed to a high level of caring in all that they do. Please schedule a visit to see why we are the first choice in senior care in Ellinwood, KS.
Features of Woodhaven Care Center
---
Medicare (ratings last updated: 06/16/17)
Health:
Overall:
Quality:
Staff:
Medicare Provider Number: 175354
Ownership Type:

For Profit Corporation

Date Certified:

05/01/2017
Location of Woodhaven Care Center
---
Request Info
Get full access to reviews, cost information, and amenities