Albany County Nursing Home
Talk to a Family Advisor: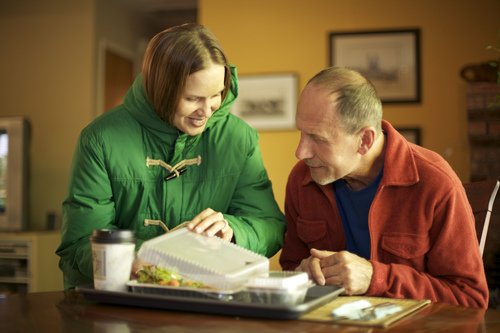 Top nearby Nursing Homes
Reviews of Albany County Nursing Home
---
Broken Hearted 1022
December 06, 2016
I am/was a resident of this facility
Unfortunately due to Hospice regulations if a facility/Nursing Home accepts a patient the family is obligated to comply regardless. Therefore, we had no choice but to have our mother placed at the Albany County Nursing Home. The administrator assured us that our mother would be in good hands due to our concerns with Albany County Nursing Homes reputation. (Which was one of the worst Nursing Homes in the Capital District) Due to the fact that our mother was at the end of stage of Lung Cancer, we would not be able to find another facility to take her and the move would be to much for her. The first day we arrived and we got to her room the smell was horrific to the point I had to open the window and buy a fan. We had to bring in our own TV, they didn't feel comfortable bathing her on the 2nd floor where she was placed, so we had to bath our mother for them. They never took out her dentures, which caused her to get a severe case of Thrush. I notified the nurses that she needed to be evaluated by a Physician due to the severity. They stated that they would contact the doctor on call. After day 4 and they still had not had her evaluated by a Physician I contacted Hospice and relayed the ongoing issue, I also stated that I as well have an autoimmune disorder and have the medication Nystatin and if she is not given the medication by the time I arrive I would administer it to her myself! Which they stated I could not due, but I would have to help my mother from suffering any further. When me and my sister arrived Hospice was already there and stated they gave her the medication, which once again was a lie because it was sitting on the counter. Therefore, me and my sister had to administer the medication to our mother. After administrating the medication my sister and I had to remove our mother's dentures to be cleaned and that way she would be in less pain. It took us a half hour to remove her dentures due to the severe swelling to her gums. After finally removing our mother's dentures we noticed that they were covered in fungus from the severe case of Thrush. This is just one example of the multiple issues we accrued with the Albany County Nursing Home leaving us helpless and they don't allow visitors after I believe 8pm, so we could not visit her as we wished to make sure she was taken care of properly! I want Albany County Nursing Home to understand the stress they caused on us, the pain and suffering my mother had to go through during the last days of her life and I will forever have nightmares about the horrible thing's that happened to my mother which was out of our control. I pray for each and every patient that is in that nursing home and the family that maybe having the same issues. My mother has passed now, but I still cannot feel as if there was something more I could have done to help her! Nothing I said or did made a difference at the Albany County Nursing Home, our mother was still not taken care of properly! That is something I will have to live with for the rest of my life!!!!!!!!!!!
---
Mrs. Balian
July 24, 2013
I visited this facility
I went to Albany County Nursing Home because I looked for a place for my husband. It looked pretty clean even if it was very old. The room they showed was kind of dim and my husband needed daylight because one of his eye was blind. I also could not afford the price.
---
epdmd0530
November 07, 2012
I am a friend or relative of a resident
My grandmother became a resident of this nursing home after suffering a massive stroke and developing vascular dementia - this was one of the only places that had a space available for her on short notice that would allow her to remain within a few miles of her family members. While my grandmother received some much needed rehabilitative help, the nursing home was quite lacking in many areas. The most obvious problem was that this nursing home was very understaffed and many of the staff members that were employed seemed like they couldn't be bothered to do their jobs nor have some compassion for the residents. Though my grandmother had occasional incontinence, she was often able to express that she needed to use the bathroom, but because she had problems with her balance, she needed assistance in getting to the bathroom. Most aides would ignore her telling them that she needed to go to the bathroom or tell her she had to wait a few minutes, which would easily turn into 45 minutes or longer. When I was there I would usually assist her myself so that she wouldn't have to wait; however, it bothered me that the most of the aides seem to care less if she ended up going to the bathroom in her pants. During meal times, many of the residents are left to fend for themselves; some are fed by staff members, but others that seem to need help with feeding are left to feed themselves. My grandmother sometimes struggled with feeding herself as she had severe vision loss and occasional coordination problems, making it difficult for her to see and scoop up her food with her utensils. There were also many times that my grandmother would try to talk friendly to some of the aides and they would act like they didn't hear her - RIGHT IN FRONT OF ME. While I have no doubts that residents of this nursing home are often ignored in their attempts to communicate with the aides and nurses, I couldn't believe that they would ignore her right in front of me and other family members. Quite a few aides also spent plenty of time texting on their phones and conversing with one another, but couldn't be bothered to do their jobs. Many of my grandmother's personal belongings and clothes would go missing for weeks on end, sometimes to never be found again, even though all personal items are labeled with the resident's name and room number. The facilities are also in need of many repairs and better sanitation practices - a few times the elevators to my grandmother's floor were not working properly and the hand-held alert buzzer by my grandmother's bed was not working at all. At one point my mother had to argue with a staff member about the problem, and took a couple of weeks before it was fixed. We had to constantly worry that it wouldn't be working if my grandmother needed help in the middle of the night when we couldn't be there to help her ourselves. The bathrooms (both visitor and resident bathrooms) were not as sanitary as they should be for a health-care facility. I also saw aides not using gloves when changing my grandmother's roommate's diaper and not even washing their hands before trying to then move on to my grandmother. On several occasions, my grandmother's medication routine was not followed properly - because of her swallowing problems, she was to only have crushed-up medications, no whole pills. However, myself and other family members witnessed nurses trying to give her whole pills at medication time - we had to constantly remind them that all of her meds were to be crushed because whole pills posed a choking hazard to my grandmother. The crushed pill order was written in her care plan, yet most of the nurses seemed to ignore it. My grandmother also had several injuries during her time there, due to aides not following her care plan or checking up on her as much as they should have. At one point an aide had let her stand up by the sink in her bedroom on her own and walked away to get some things for her (even though she had major stability and balance problems and always needed a walker or even a wheelchair) and she ended up losing her balance and falling backwards, causing her to cut her head open. The injury was so bad that she needed to go to the emergency room! The entire time my grandmother was at this nursing home (a little less than a year) she had a family member there with her almost every single day - we were too worried to leave her there all day and night without one of us checking up on her, and her anxiety level was very high on most days. We actively looked for other places to transfer her, but most had no available beds, or did not have a unit for people with Alzheimer's, or were located so far away that we would not be able to visit as often as we wanted to. She ended up passing away while there before we were able to get her some place better, and my family and I still deal with feelings of sadness and guilt for her having to spend the last months of her life there. She did not receive the quality of care she deserved, and the place is simply not equipped to give the quality of care that the residents need. It is too understaffed and most of the aides and nurses that do work there SHOULD NOT be working in a nursing home facility or any other facility for that matter. These residents are dependent on them for 24 hour care and too many of them are being neglected. There also seems to be a lack of supervision - why isn't anyone keeping an eye out for aides who are playing around with their cell phones instead of watching the residents? While I realize that these aides shouldn't need to be babysat, there should be someone noticing their irresponsible behavior other than visitors! There were a few very good aides and nurses that I have the utmost respect for, but the few good employees of this facility are not enough for me to recommend this awful place.
---
upsetgrandchild
September 27, 2012
I am a friend or relative of a resident
Unfortunatly, my grandmother had no other choice to go to this nursing home as there were no beds or rooms available at any other facilities in the area. I honestly would say this place would not rate at the top of the list for nursing homes. The building itself appeared to be old and not maintained to well (interior and exterior). It did not appear very welcoming. The floor that my grandmother was in had a terrible stench of urine. It did not smell as if it wasvery clean there. most of the staff there was slow to come when we rang the nurse button for assistance with changing my grandmothers oxygen tank and other various things. The nurses there did not seem to keep a good record with notes about meds and what times they were given. Some of the nurses would get impatient and loud with some of the residents. Also, the staff there was not very sympathetic at all (my grandmother was there for comfortcare, which is also known as hospice) They were not sympathetic at all about family emotions and what the family was going through. I will say one positive thing, there was one nurse on staff there at night who was just amazing and really listened to us and who really did appear to be there because she loved what she did.
---
About Albany County Nursing Home
---
Albany County Nursing Home is a nursing home in Albany, NY that provides patients with skilled nursing care as well as private or shared accommodations. Contact Albany County Nursing Home for more details on housing, services, and rates.
Features of Albany County Nursing Home
---
Medicare (ratings last updated: 06/16/17)
Health:
Overall:
Quality:
Staff:
Medicare Provider Number: 335425
Ownership Type:

Government County

Date Certified:

05/01/2017
Location of Albany County Nursing Home
---
Request Info
Get full access to reviews, cost information, and amenities