Caregiver: Emily C.
A Caring Champion 2014 Nominee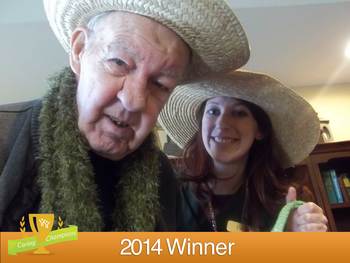 All Rights Reserved
Employer: Aspen House
Location: Loveland, CO
Like this story? Cast your vote(s) using the social media buttons on the left side of this page – click "like," tweet this page, give it a +1, or pin it! All of these actions will help us determine the cash bonus winners.
Inspiration for This Nomination:
Emily is so skilled and so comfortable in the work she does that her co-workers often comment on how she makes the job look easy. She is cognizant of the dignity of the residents she serves.
Emily will often sit with the residents and find activities for them that keep them engaged in a meaningful way. She will ask someone to please help her sort out a mess of PVC parts and then will engage them in a conversation about what the parts are used for. She knows one man who was a retired educator/librarian and loves books. She brought in her e-reader and demonstrated it for him. He wasn't able to read/comprehend the words he was seeing, but he was in awe of the "book" and kept busy with it for over an hour.
Caregiver's Best Skills and Attributes:
Emily's most important, valuable attribute is that she truly values and lives the philosophy of person-centered care. One man insisted on catsup for his salad (not too appealing to anyone else) so Emily gave him the catsup and he was completely satisfied. Usually the residents don't remember the care partners and have no recognition of who helps them, but one man lights up when he sees her. She knows that he is often chilly (although he doesn't articulate that) so she drapes a small blanket over his shoulders. It not only serves to keep him warm but also comforts him while he takes a walk with her.
Feedback About This Caregiver:
"We are blessed to have had Emily in our dad's life", "she is so patient and understanding", "Emily is never rushed and never rushes anyone", "it is obvious she loves her job", "she provide outstanding care for the whole person", "my whole family loves her for the wonderful, loving, competent care she provides", "she has a way of meeting each resident in his or her unique reality", "calming presence", "excellent care."
What Others Have Learned From This Caregiver:
Because she typically works in an area of the building where families enter, Emily has gotten to know many of them. She greets them, refers to them by name and offers some bit of information about the person they are coming to visit. She recognized the value in developing relationships with family members and she wanted to share that information with her co-workers so she developed and taught a training class to her co-workers on "Family Interactions." She has developed additional training classes which she regularly presents to her co-workers.
More About This Caregiver:
Emily is a Certified Nursing Assistant and is a Qualified Medication Administration Person. She is conscientious about the technical aspects of her job and she is conscientious about the person-centered care she offers. She pays close attention to detail and to the individual needs of each and every resident. She has worked as a CNA for over 5 years and is certified in Dementia Care by the Alzheimer's Association.
Emily has taught dementia training classes for the Alzheimer's Association in the community. She researches every aspect about dementia and how to offer effective care services—then she creates a training class out of what she has learned so she can educate her co-workers. Emily has recently started an internet blog where she offers tips and helpful suggestions for care partners who are involved in caring for individual with dementia. Additionally, she has a Facebook page dedicated to dementia care for the same purpose.
#
Like this story? Cast your vote(s) using the social media buttons on the left side of this page – click "like," tweet this page, give it a +1, or pin it! All of these actions will help us determine the cash bonus winners.
Read More Stories
|
Find Memory Care
| Hire This Company:
Aspen House
---
over 8 years,
When it comes to caregiving, Emily really shines. She is able to give light to the dark situation of having a loved one with dementia through her care and compassion. She's always able to make my dad laugh and enjoys spending time with him. She makes each individual resident feel loved.
---
over 8 years,
If you ever need anyone to take care of your loved one who has dementia, you need to find Emily. She makes it her job to know everything about the people she takes care of and then looks for ways to help them. She spends her off time researching and learning about dementia so she can give the best possible care. If you watch her at work, you will wonder how it is she never gets stressed out. She just does such a good job of understanding what is what with dementia and the resident and will try anything (no matter how unusual it might be) to help keep a resident from becoming anxious.
---
over 8 years,
Emily is one of the best care-givers I have ever known. She gets to know the person so she can provide individualized care, always has a "can do" attitude, and is a great coworker. She seeks out opportunities to improve the quality of life for those in her care.
---
over 8 years,
Emily is a caregiver who truly thinks outside the box. She is always thinking of ways to improve the lives our residents that could be extended to help all folks with cognitive disabilities. She truly is a leader in the field of dementia care.
---
over 8 years,
Emily is truly passionate about those struggling with Alzheimer and dementia and the families who slowly watch them slip away. She cares about their dignity during this frightening time of their lives and she finds ways to engage and empower them in their daily lives. She takes the time to understand their past professions and roles in life so that she can find any way possible to engage them more fully within their own unique experience of this journey. She wakes up thinking about her residents and walks through her day as a Caring Champion to the residents and families within her line of sight and care. Im so very proud of this gifted compassionate young woman.
---
over 8 years,
It is clear that Emily's calling is dementia care. She really gets it. It's obvious it's her passion.
---
over 8 years,
Emily is a wonderful care partner. She is an expert in dementia care and person centered care. She has provided training on both areas to her fellow coworkers as well as to members in the community (free of charge). Currently, she is creating classes for families and friends of persons with dementia, and will be offering these to the community at large (free of charge). Emily takes steps to ensure that all of the residents of her community are well cared for, and that a person-centered care approach is being followed by all. If anyone was a Caring Champion, it's Emily.
---
over 8 years,
Emily is the best--she is so compassionate and caring