Keystone Place at Legacy Ridge
11180 Irving Drive, Westminster, CO, 80031
Talk to a Family Advisor: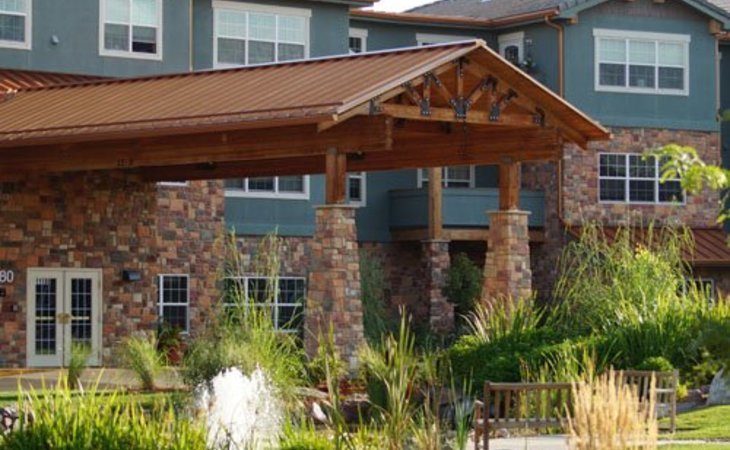 Reviews of Keystone Place at Legacy Ridge
---
Sandystuckert
January 26, 2017
I am a friend or relative of a current/past resident
Our mother was at Keystone for 4 years in Assisted Living before her health declined and she had to be moved to Skilled Nursing. Keystone is wonderful, the grounds and interior are kept immaculate. The care mom received was incredible, kind, attentive, personable staff. Everyone was great at keeping her needs met along with getting to know her so well that they could anticipate her needs. The staff was very good at contacting us if issues arose or if her medical condition took a turn. Mom LOVED her home at Keystone and we were all heartbroken when we had to move her. We, as the family could not be there every second of the day and it was a huge comfort knowing she was is such wonderful, caring hands. Highly recommend Keystone at Legacy Ridge.
Provider Response
Thank you for this very kind review! We appreciate that you took the time to share your experience here at Keystone Place at Legacy Ridge!
---
Kelli S
January 05, 2017
I am a friend or relative of a current/past resident
My mother in law has been a resident at Keystone Place at Legacy Ridge for a year now. My husband and I can't say enough positive things about our entire experience at Keystone Place. The staff is wonderful! They've been attentive, loving and kind to Mom. And very supportive and responsive to her needs. You can rest assured your loved one will be in good hands at Keystone Place!
Provider Response
Thank you for this very kind review! We appreciate that you took the time to share your experience here at Keystone Place at Legacy Ridge!
---
Sterling45
November 23, 2016
I am a friend or relative of a current/past resident
Our parents have been at Keystone Legacy Ridge for about 6 years. The first 4 years were in Independent living, which they really enjoyed. Then their health declined and moved to Assisted living and later one moved to Memory Care. We are constantly impressed with the entire staff, from the concierges, the nurses, maintenance, care helpers and administration. They are attentive, concerned and well trained. All consistently respond when our parents have an issue or need. We truly feel fortunate that we found this facility for our parents.
Provider Response
Thank you for this very kind review! We appreciate that you took the time to share your experience here at Keystone Place at Legacy Ridge!
---
Nancy883520
November 09, 2016
I am a friend or relative of a current/past resident
My folks were at Keystone Place, and they were very happy there. The rooms were very nice, clean, and organized. The food was very good, as well as the care. The staff was very friendly and very helpful. Every day, they have lots of activities, they have a woodworking shop, a pool, and a library.
Provider Response
Thank you for this very kind review! We appreciate that you took the time to share your experience here at Keystone Place at Legacy Ridge!
---
must read this
October 25, 2016
I am a friend or relative of a current/past resident
Parents stayed here for 3 months. Food is terrible and a lot of the staff there are in a hurry and non caring to elderly. The elderly there are all sad and not happy. Rooms are big but hard to get care when button is pushed. They have denied service. They Make family take them to hospital versus call an abulance. So they lay there pain. Do not let the nice exterior and visitor rating fool you. Look at the resident ratings. God bless and good luck with your search.
Provider Response
Thank you for your review. We are sorry to hear that you are unhappy with the food, care and service provided here at Keystone Place. Resident satisfaction levels are very high at our community and we take pride in keeping it that way. We take these types of concerns seriously and would appreciate the opportunity to learn more from you about the details of the issues you have identified. If you are comfortable doing so, please let us know when we could sit down with you to further discuss these concerns. We are always interested in having a cooperative, teamwork relationship with our families and residents, and are open to any insight you can provide. Thank you again for your review.
---
Visitor887208
September 30, 2016
I visited this facility
I did not like Keystone Place at Legacy Ridge because of the price. Other than that, everything was really nice. Everyone was very professional, but the place was just cost-prohibitive. Everything was clean and appropriative. Everyone was knowledgeable and pleasant.
Provider Response
Thank you for such high praise – we appreciate your comments! Working with Caring.com should be very beneficial for you in finding your "just right" community.
---
Patty Gallagher
September 23, 2016
I am a friend or relative of a current/past resident
My brother has been a resident of Keystone for more than four years. It is the nicest facility we toured with him, and I was happy that he was able to live there. What really sets Keystone apart is the quality of care he has received, and the quality of life he has been able to maintain. Residents go on many fun outings. The staff has been responsive, attentive and kind, even as his needs have increased, and we really feel like they treat him, and us, like we are family. They help him with his meds; they arrange for him to see doctors and other providers; they look after his needs, but, more than that, they try to make sure he is happy. We are very happy that he chose to live at Keystone, and we would not hesitate to recommend Keystone to others.
Provider Response
Thank you for your positive review and for recommending our community to other. We very much enjoy caring for your brother and are very happy that he chose to be part of the Keystone Place Family. Thank You!
---
John243085
September 09, 2016
I am/was a resident of this facility
Keystone Place at Legacy Ridge is a new facility, and I have met some great friends here, but the heating and air-conditioning system is horrible, and I can't stand it. The rooms are bigger than what you would usually expect. The one I'm in now is 300 square feet, and it's a one-bedroom unit. It's the biggest room I have found, and it's a decent size. I moved in, but it has other problems.
Provider Response
Thank you for your review. We are happy to hear you are enjoying your stay with us. We are sorry to hear that you are unhappy with our heating and cooling system – thank you for bringing your concern to our attention. In the spring and fall with the changing temperatures, managing our heating and air conditioning system can be a bit of a challenge. We do appreciate the opportunity to correct problems like this. If you are comfortable doing so, we would love to visit with you further so we can work together towards a resolution. We look forward to having an opportunity to address this for you. Thank you again for your review and input.
---
Caring112790450
August 31, 2015
I visited this facility
The staff at Keystone Place at Legacy Ridge was very friendly. It's a very clean place, and everyone seemed happy. The room that I looked at was very clean and modern. It was also well equipped, and I really like it. Their dining room looked very cheerful and clean. When I looking at the rooms, I saw them doing some exercise class, and the residents seemed very happy.
---
Kate22
June 16, 2015
I visited this facility
Keystone Place was a larger community. However, the hallways were more like a motel. The room that I visited was on the corner, and it had a separate bedroom and a deck. It was absolutely beautiful. The people were very nice. They interacted with the residents. They had an activity room and a list of activities. It was another beautiful community. The girl I talked to was so understanding, and she had really good ideas.
---
lmullen
June 09, 2015
I am a friend or relative of resident
My mother and I were lucky enough to be part of the Keystone family for 4 ½ years. It probably sounds a little funny to call an independent living/assisted living community a family but that is exactly what it is. My mother moved to Keystone on February 28, 2011. She lived in independent living for 3 years and then transferred to assisted living on March 1, 2014. The Independent Living building is beautiful and the apartments are spacious. There is a lovely dining room with very attentive wait staff. The concierge desk is staffed 24 hours with friendly, helpful staff and maintenance requests are handled quickly and efficiently. When my mother was diagnosed with Alzheimer's Disease I approached Kent, Executive Director, with questions about what my mother's life might be like if she needed to transition to Assisted Living. He assured me that all of her needs would be met in Assisted Living and that he believed they would be able to care for her there to the end of her life. Kent is an amazing administrator and he has assembled an incredible team of professionals to care for residents in both Independent and Assisted Living. Beginning with the Community Relations team of Cathy & Gail, and the Director of Operations, Melissa, residents and families are cared for every step of the way Transitioning from Independent Living to Assisted Living was difficult for my Mom. However, the staff of the Assisted Living building did absolutely everything they could to help her. Shannon, Director of Wellness, is extremely knowledgeable, kind and completely focused on residents' comfort and safety. She has also gathered an amazing team of health care professionals and resident assistants to keep residents healthy and happy. Medications were administered professionally and on time. When Mom was feeling sad or lonely there was always someone on staff who would take the time to sit and chat and make sure that she felt better. As her abilities declined, staff was always available to step up and make sure she had what she needed. Daisy and her Activities team ensure activities are varied and geared toward resident's wants or needs. There are 2 lovely buses to take residents out to doctor appointments, activities and restaurants. All holidays are marked with special celebrations and families are always welcome. Housekeeping and maintenance are professionally handled by Steve and his staff. The grounds and the buildings are well maintained and lovely. The courtyard is a beautiful place to stroll, meet with a friend or watch the ducks in the pond. The Concierge staff (led by Melissa ) are just incredible and the love that they have for each resident is evident with each interaction. My mother passed away in May 2015. The end of her life came in the comfortable surroundings of her lovely apartment. She was cared for by a combination of Agape Hospice and the wonderful staff of Keystone Place. My family and I were free to focus on the most important thing—caring for our mother in her final days. I can't even count the number of Keystone staff who came in (even on their days off) to comfort Mom and do everything possible to ease our pain and help her. I truly felt that each and every one of them was a member of my family. I cannot imagine a better place for any of us to have been in. If you are looking for a loving, caring place for your loved one, you have definitely found it if you choose Keystone Place.
---
David107099850
May 15, 2015
I visited this facility
Keystone Place at Legacy Ridge was the best of the three we visited.  They're both an independent and assisted living center.  I have eaten there quite a few times.  They had great food, great staff, and activities.  I had a very secure feeling there.  They had a big stone wall all the way around the place.  There was one entrance in, and their doors stayed pretty locked except where the main entrance was.  This was a pretty new facility, and it was very well maintained.
---
OieSan
May 14, 2015
I visited this facility
It was wonderful to visit Keystone. The atmosphere was very inviting and Gayle gave such a thorough tour of all that existed behind the entry doors. Everything was beautiful, quiet and many warm welcoming residents. They even offered for us to visit their apartments. It was a wonderful treat. Such a comfortable place to live. I was especially delighted with all the enmities that are available and the reasonable costs for such care in the Independent Living section. It showed me that a wonderful place such as this can and will open their doors and allow me to reside with all the care and attention I could possibly ask for. The out side grounds are a delight to walk around and it would be a relasing to meander around the flowers and bushes and then just sit on a bench and remember how lucky and grateful I really am.
---
Mary Lou4
April 30, 2015
I am/was a resident of this facility
You (Keystone Place at Legacy Ridge Management) have delivered on every promise you have made since the day I moved in. (Good food, beautiful campus, fun activities, clean the apartment well, resolve complaints quickly to name a few).
---
Caring105297050
April 17, 2015
I visited this facility
Keystone Place is where we will go if they had a space. My first impression was how big it was. It is a huge place, but it is too expensive. It is way too much money. They were going to setup a meal, but we never got the chance. But for the service that you get, it isn't all that expensive. It is a little over the top, but as time goes on with us, it's going to get expensive anyway, so it really doesn't matter. They have some two bedrooms, but most of them are one-bedrooms which are adequate.
---
gmacaregiver
September 29, 2014
I am a friend or relative of resident
I spent years trying to keep my grandmother in an independent living situation, but after three moves in less than two years and a very frightening experience with caregivers in her home, I knew it was time to look at a facility. After visiting with four different facilities I chose Keystone for a variety of reasons, chief among which was the honesty of their marketing and care teams. They were direct in telling me what care they thought would be best for my grandmother, even though they knew it was not what I wanted to hear. While other communities where eager to say "yes, we can", the staff at Keystone were careful to explain their limits while helping me to understand what life would be like there for my grandmother. They were incredibly helpful during and after the move. It has only been about two months, but my grandmother is happier now than she has been in over a year. She loves her apartment, looks forward to meals, and has made new friends. The care team at Keystone shows genuine concern and affection for her and for our family. Not only am I certain she is safe and protected, I also know she has the quality of life that was of most importance to her. It has brought tremendous peace of mind. I would strongly recommend Keystone to others looking for a place where a loved one will feel they are at home.
---
The Cox Family
September 12, 2014
I am a friend or relative of a resident
To and about the staff of Keystone Place: Time and space do not permit adequate description of the professional expertise demonstrated by all levels of those representing Keystone Place at Legacy Ridge. However, I want to acknowledge the deep sense of genuine care exhibited not only to our loved one for whom they provide competent care but also to the rest of our family members who are admittedly new to this extremely challenging experience. Compassionate assistance has been offered and provided throughout this transition to a new way of life for all of us. Any family seeking competent and compassionate assistance in similar circumstances will not be disappointed if they choose Keystone Place at Legacy Ridge for this purpose.
---
Caring87870250
June 27, 2014
I am/was a resident of this facility
Keystone Place was my first experience with senior living, and I was very pleased. I had a 2-bedroom apartment; my partner had a 1-bedroom. We had washers and dryers in the apartment, which we like. The main thing that my partner was dissatisfied with was the people who run the place. I was satisfied; he wasn't. He felt like they were not paying enough attention to the residents. I thought the food there was good. I think I gained 5 lbs. the first week I moved in. They serve the food at certain hours. They have waiters and waitresses who take your order and go to the kitchen, get it, and bring it to you. They also had library there, and I've helped handle the books. The one advantage there was, on the same campus, they had a building that was for independent living and a section for assisted living. So it was kind of a place you could stay for the rest of your life if you wanted to. I was happy there.
---
Caring85504050
May 30, 2014
I am a friend or relative of a resident
I am very familiar with Keystone Place at Legacy Ridge because my mother was there for three years. She has died now, but she was content when she was there. I took my friend to look over the place. They have very good food. They have very caring caregivers who will bend over backwards to try to figure out a way to help your loved one to cope or to be able to thrive. I think they are very caring and they have very good work ethics. They have an activity director who is very competent and very creative with the things that people do that are at their level.
---
Caring72834850
May 11, 2014
I visited this facility
Keystone Place at Legacy Ridge was really nice. People were paying attention to the people who were there. The staff came right out and gave us a tour and explained to us how things worked. It was really nice that they took the time and gave us the information. They showed us one of the apartments one of the patients lived in. It was nice, clean, and roomy. There was no strange odor coming from any of the apartments. The cleanliness really stood out to me. It was well-kept and well-organized. They had bingo going on there. They had a group going out on a bus for lunch at a steak place. They also had a table in another area playing bridge. So they had all kinds of things going on.
---
Richard78068750
March 21, 2014
I visited this facility
We liked Keystone very much. The main problem there honestly, they just had no availability. You go on a waitlist and it could be 6 months before they've had anything. It is the closest to where my wife and I live, and we're kind of leaning towards it. It's very nice and newer. It's almost walking distance from our house. The staff was very kind. The person at the reception desk was extremely friendly. The woman who took us on a tour was extremely helpful. They had a theater room, arts and crafts, and they provided transportation. As I remember, their transportation for residents was more limited in terms of how far they would take people. The place was very nice, very clean, very modern, and very bright.
---
Barbara80504850
March 20, 2014
I visited this facility
Keystone Place had an indoor warm water swimming pool. The place was beautifully laid out. There's not a single thing I would have complained about this place. Everything about it was just top notch. They have a 5-star dining facility. I love the rooms, the colors, and I love the way it was laid out. They have bingo, they play cards, board games, and they have movie nights. Everything I saw was fine. I loved everything about it. I've asked two different people in two different areas of the building how they like living there and they love it. I have nothing bad to say about the place except the price. I wanted to go there really bad because that would have fit me perfectly. But they wanted $3,300 a month.
---
Nancy64772650
January 23, 2014
I visited this facility
I found Keystone Place at Legacy Ridge when I was searching on the internet. It was a continuing care facility. It was definitely a beautiful place with very nice apartments. It's only about 10 years old. They got nice people and they also offer different kinds of activities. It's just a little too high end for my parents who are farm folks, but it was a great place. I would definitely recommend the place although it's a bit more pricy.
---
Caring74002550
December 30, 2013
I visited this facility
Keystone Place looked clean except in the memory care unit where the carpets were in a bad shape. They did say that they were getting ready to replace it. The apartment unit I saw in the ALF was very nice and the layout was good for people who are confined to a wheelchair. I also like the way they have their meals there because you can eat any time. You don't have to come and eat at a certain time. For me, those two things were very impressive. The staff who assisted us was good and very professional. From what I could see, it seemed to be very good facility, but as far as recommending it, I don't think I could really do that until I have more personalized experience with it.
---
Tim12
November 27, 2013
I visited this facility
We visited Keystone. The facility is very well kept. The ratio between staff to patient was very low so they paid a lot of attention to the residents. They had a lot of onsite facilities. They had a registered staff 24 hours a day. They have doctors that were available. It was close to the hospital if need be. The menu was very well done and they had a lot of good menu choices. They also have a lot of ala carte choices. It was something that you could not go wrong with. It's a very nice facility. I would highly recommend it.
---
Beverly23
November 21, 2013
I visited this facility
I love Keystone Place. It was very fancy and it had a swimming pool. The staff was good. We had been to their open house which they had a buffet and it was great. It would be my first choice if I could afford it.
---
Nancy65198150
July 31, 2013
I visited this facility
I checked on Google and found Keystone. It was really wonderful and they took me on a tour of the apartments. The staff was very pleasant and very helpful. The apartments were wonderful and the food was great. It's served restaurant style, they had a menu and it was absolutely delicious. It has a swimming pool, a library, a pub and all kinds of amenities. The assisted living apartments don't have any stoves and I love cooking. It's probably a good thing for some people but I do a lot of that and I'm writing a cookbook right now.
---
Gloria8
June 13, 2013
I am a friend or relative of a resident
I chose Keystone Place at Legacy Ridge because of the caregivers. The entire staff are so friendly and so cheerful and that made a huge difference for my mom. The rooms are very large and just right for the price. I think they need to improve the quality of their food and its selection.
---
Rachel7
November 16, 2012
I visited this facility
We are very impressed with the way they do things at Keystone Place at Legacy Ridge. The staff was so nice and helpful. I really like the arrangements of the rooms and the way they handle their meals and other things. They also have a kitchen where I can cook something when I want to.
---
Linda22
November 02, 2012
I am a friend or relative of a resident
After visiting many facilities, I knew Keystone was the place I wanted Mom to live. On my first visit all of my nearly 50 questions were answered clearly. The climate is friendly,cheerful and calm throughout the building. Everyone (caregivers,and staff) greet each person by first name. Each person knows Mom's care needs and provide great care. Her caregivers respond quickly (fewer than 5 min.) but never seem rushed or impatient. They sincerely care. The food is very good. The staff does everything possible to make sure each resident has exactly what they want to eat. The Physical Therapy program is unique because therapy is provided by a therapist whose office is at Keystone. She not only provides specific therapy, but also sees Mom around the faciliity to offer encouragement. It makes the therapy much more focused. There are many varied activities, spaced throughout the day and week. Mom's caregivers always remind her about what is happening. Mom's room is like no other Assisted Living room I saw any place. It is a spacious one bedroom unit, with great windows and a large deck. It is clean and bright. Her furniture from home fit beautifully. Our family members are regular visitors and we are always welcomed. Keystone at Legacy Ridge is a great fit for Mom and our family.
---
Otnehs
June 27, 2012
I am a friend or relative of a resident
The front desk is always nice and helpful, however sometimes they do not have any staff person there which could be concerning safety wise. The food at the dining area in my opinion has always been excellent. The two different living areas that her grandparents have lived in were good condition and offered plenty of space for two people to live in. They offer free coffee in a deluxe coffee maker at the front lobby where they have a meet and greet area which is nicely decorated and well kept. The only concerns I had with the place was that it seems a bit understaffed at times, and sometimes while dining there the service is not the best.
---
A Geriatric Physical Therapist
June 21, 2011
Other
This facility is very new and up to date""but also feels homey rather than clinical, with warm touches around. The location is central""right off Federal and 112trh, which is a main road with easy access, and there is ample parking for visitors. The rooms are bigger than in most other assisted living facilities, with a lot of windows. There are independent living apartments here as well as assisted living""again with really big room, patios, and almost full kitchens, as opposed to the usual kitchens that have a dormlike look and feel. All of the residents I've talked with say the food is just great, with a lot of healthy choices available daily. Because the place is so new, however, the quality of care is still to be determined. The staff is on top of safety""watching who goes in and out. But here, as opposed to other places, it seems more difficult to track down nurses and other medical professionals who have specific information about residents' conditions. The scheduled activities are very good""tai chi and all kinds of exercise classes, along with shopping outings, a book club, church gatherings and speakers on all sorts of topics. There is also a putting green built right in to the front of the facility, which is novel and an attraction for many residents. There are exercise classes and an instructor who can supervise residents, as well as updated equipment that everyone there can use. They also have a little pool. Another plus is that there is a good memory facility. It is a very roomy locked unit with nurses there constantly""and residents are encouraged to do many stimulating activities, plenty of interaction. Keystone Place may be best suited for those who are fairly mobile and independent. The cost of care and housing is fairly pricey compared with other facilities in the area.
---
From Keystone Place at Legacy Ridge
---
Keystone Place at Legacy Ridge is a retirement community located in Westminster, Colo., just north of the Mile High City. The community's focus is on helping seniors at all stages of their lives enjoy healthy, active lifestyles, whether they're looking for independent living options or need assisted living or memory care. The Keystone Westminster community is part of the Keystone Company, which has been operating more than 40 senior living communities across the country for the past 15 years. According to the Keystone Company website, the organization prides itself on delivering "excellent care and value to you and your loved ones for many years to come."
Facilities and Amenities
The Keystone Westminster community is home to 160 apartments that include both independent and assisted living facilities. In addition, the community includes a facility specifically for people who have been diagnosed with Alzheimer's disease and other types of dementia.
The community includes a heated swimming pool, an indoor/outdoor dining area and striking views of the Rocky Mountains. Cultural, recreational and educational amenities include a library, a fitness center, activity rooms, a putting green and meals that are made to order. An on-site beauty parlor, barber, theaters, fitness center, billiards room and pub are also available.
Healthcare
Keystone Westminster offers nursing and medical support to residents who require assistance with everything from day-to-day activities to more complex health conditions related to dementia. Residents and their families can request help from highly trained nurses to get dressed, bathe, monitor medication and move from one activity to the next. The community takes particular pride in providing care to residents suffering from Alzheimer's disease and other types of dementia.
For those who require more specialized health care, Keystone Westminster is located less than 30 minutes from Denver, where residents can connect with physicians at some of the nation's top-rated hospitals, according to U.S. News & World Report. These include the University of Colorado Hospital, which is nationally ranked in 11 specialty areas; Porter Adventist Hospital, Sky Ridge Medical Center and Denver Health Medical Center .
Health Programs
Keystone Westminster encourages its residents to live active, healthy lifestyles. The community is home to an extensive walking path, fitness center and organized exercise activities on a regular basis. In addition, residents living in the community's independent and assisted living areas have access to on-site, highly trained nurses for at least 12 hours a day. Residents in the specialized Alzheimer's care facility have round-the-clock care from nurses with extensive experience caring for memory loss patients. All residents benefit from trained medication and care staff 24 hours a day.
Activities and Events
Keystone Westminster offers an array of daily activities for residents with varying ability and energy levels. From blackjack to Wii bowling to yoga to balance and breathing seminars, residents can always find something engaging to do. In addition, many residents and their visitors can take advantage of Denver's all the dining, shopping, arts, sports and entertainment.
Features of Keystone Place at Legacy Ridge
---
Costs
Minimum Rate

$4700/month

Minimum Memory Cost

$6500/month

Rent Plus Care Fees
Fee Structure Extra

We Have 4 Levels Of Care At Various Pricing
Room and housing options
1-bedroom apartments
2-bedroom apartments
Companion Suites

We Offer Companion Suites
Location of Keystone Place at Legacy Ridge
---
Get Cost Information
Get full access to reviews, cost information, and amenities