Brookdale West Melbourne
7300 Greenboro Drive, West Melbourne, FL, 32904
Talk to a Family Advisor: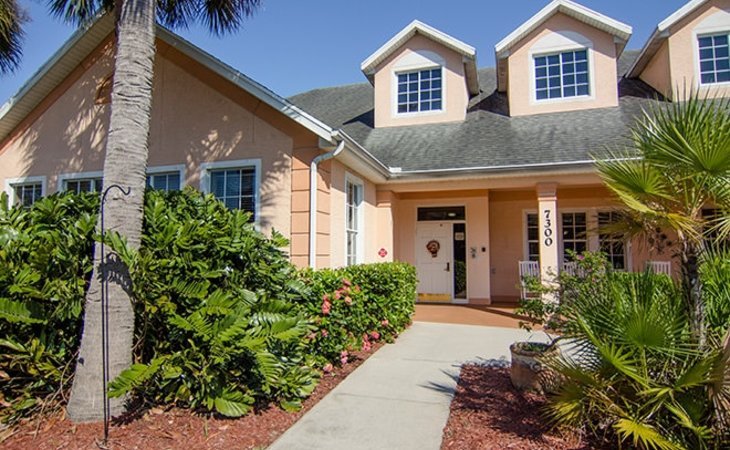 Promotion ends in 5 days!
NOTHING SAYS SUMMER LIKE SAVINGS. Move into a Brookdale community by June 30, and receive a $1,000 rent credit! *Eligible new residents will receive a one-time $1,000 credit to the Basic Service Rate/Monthly Fee following the first 90 days of residency.
Reviews of Brookdale West Melbourne
---
Jill438335
February 07, 2017
I am a friend or relative of a current/past resident
My dad has been in Brookdale West Melbourne. The part I liked was that they were individual apartments, and they had a bedroom area, a living room area, and a small kitchenette without a stove. It was just a sink, a couple of cabinets, a microwave, and a mini-fridge. They served three meals a day, but my father hated the food. I didn't think there was enough staff for all the people who were residing there, and it was very difficult to try to get in and out of the building. Sometimes we waited for about 20 minutes just to get inside, and sometimes we waited that long to get out of the building. It is a closed, locked facility, and that part I did like. My father is a heavy smoker, and he had lots of issues smoking; that is why he is no longer residing there. I was very pleased with the place itself. The people who work there were very friendly and very helpful. I just felt that there wasn't enough staff, and that was my biggest complaint.
---
JW4
November 29, 2015
I am a friend or relative of a resident
They're very accommodating, very knowledgeable, and helpful to me, so I can rest assured that my parents will be taken care of well. They've only been at Brookdale West Melbourne since October 6, and I've been down three times already because I am in New Jersey. Every time I've been there, they're clean and well-fed, look great, and in better health than when I brought them there due to their physical therapy. It is more than I expected, and I'm very pleased. They're fabulous. They make it more like a home, and the staff feel like they're part of the home, not employees, like they're one big happy family. They have a nice dining area, several common areas, screened-in rooms, a very nice center with in a horseshoe shape, and it's beautifully landscaped. Their apartment is just two rooms with a small TV area and a kitchenette with brand-new cabinets and appliances. They have a bedroom and, within the bedroom, a large bathroom that is wheelchair accessible, and a great shower with a drain all on one level so that my dad has no problem getting in and out. It's perfect. Their apartment is located in the best spot in the whole building, so I'm very happy.
---
Caring Daughter37
November 05, 2015
I visited this facility
Brookdale West Melbourne was very clean. I enjoyed the amenities that they had. My mother-in-law would not be one for activities, but the living quarters were very nice. The staff's attitude seemed very good. The room was very small, like an efficiency in a hotel room, but that would have just been perfect for her. Food looked nice, but we didn't taste anything.
---
Caring101718450
May 25, 2015
I am a friend or relative of a resident
My mother is in Brookdale West Melbourne (Formerly Sterling House of West Melbourne I).  The staff is good. It's hard for them to take care of her, but it's going well. It's nice looking outside, and it's clean. There are a lot of activities, but she really isn't taking part in them because she can't see well. There's a salon there, and I pay to get her hair done every week. They had a luau a couple of weeks ago, and she went to that. A couple of months ago, there was wine and cheese, and they listen to music. They try to have a homey atmosphere. She likes the dining room, and the people help her to go down there.
---
Ken40
March 31, 2015
I am a friend or relative of a resident
Mom's at Brookdale West Melbourne and I stayed with her for about a week there. She was very surprised and they fed us well with 3 good meals a day. I thought that the meals were a little too close together but generally, they had very good food and she is pleased.   The staff is helpful and they do have a nurse on duty at all times. They also have an intercom in the apartment and if you do not show up for a meal, they will contact you. It is loud enough that you can hear it from anywhere in the apartment and you can talk to them without actually hitting a switch. The safety is very good. They had no stairs. It is sort of like a big oval or a rectangle. You can walk around the entire interior. It is very nicely lit and there are no unpleasant odors. They also have wonderful artworks. It is like a museum.   They have activities like bingo, music and movies. They also have a bowling set up with plastic pins and the residents take turns to play. I thought they had sufficient activities in several living areas. They also have a courtyard that you can walk through.
---
Henry17
December 26, 2014
I am a friend or relative of a resident
Sterling House is OK but I think a little overpriced. I think they need more staff. It has been good from an activities perspective, but I think they're a bit understaffed for what they're charging. Right now its temporary; we have another month or so in there then I'll get mom out of there. The place is clean. It is a fairly small room for the price although it comes with three meals. To me it's not a bad place, just a little high for what you get out of it. They have a really good staff, and I see good interactions while I'm there. They should be able to afford more staff and support.
---
Caring76345250
December 10, 2014
I am a friend or relative of a resident
I was a little disappointed with Sterling House of West Melbourne I because the reason I chose them over some other ones was because my mother likes to exercise, and they told me that I needed to get a note from the doctor so she can go use the therapy room and use the new step through a little bicycle. So I had to go back and forth to the doctor to get all the paper sorted out and bring them down there. My mother was there from Saturday to Saturday and she was supposed to stay until Sunday, but I came and took her out sooner. They never gave her any physical therapy. I am waiting for a call back from them because they told me that because I took my mom out a day sooner, I will not be compensated the extra $150 for the last night. Now, if I just pulled her out, and there was no issue, I would understand that, but I had several issues with them, and they said they were going to address it, and now I haven't heard from them again. I am going to give them another week because it was Thanksgiving, and I am going to see if they will at least reimburse me the $150 for the last night stay. Their rooms were nice because when you walk in, they had a little sitting area with a kitchenette, and then they have the bedroom in the back, and they have a nice walk-in bathroom. They didn't clean my mother's room at all. She had a little garbage can in the kitchen, which I gave her, and no one came to take the garbage for a week. I gave her some fruits and cookies, so she was throwing it in the garbage, plus the orange peels were sitting in there all week. The staff seemed pleasant. But my mother had asked that she has a shower every other day, and they only gave her a shower twice. When I questioned it, they said that when they went in the room to give her a shower, she said that she didn't want one, and I find that very hard to believe because my mother showers everyday, and when I told them that, they said that they don't give showers everyday. She had asked for her exercise, and then they put her in the room where it was a group exercise where they raised their legs, sat on chairs, and did a couple of little exercises. She told them that it was not what she wanted and that she wanted the bicycle, and they said they couldn't put her on there. The food wasn't the best to be honest, because I tasted one of the meals. The only problem I have with her food was that she is Greek orthodox and she doesn't eat meat on Wednesdays and Fridays, and they made a note of it, but gave her meat on Wednesday and Friday. The people seemed very nice, and I could see that they were renovating the place because they needed to update everything since it was old. My concern was that she didn't get the service that I was promised.
Provider Response
We appreciate you taking the time to share your concerns and hope you will call us at 877-400-5296 or email us at familyconnection@brookdale.com to discuss them in greater detail.
---
Idalia1
August 28, 2014
I visited this facility
Sterling House was very nice. I like it. The staff's work ethics was very nice. As a matter of fact, they invited us for lunch. The place was very neat. It was a very nice area. It had a beautiful garden. The staff seemed to be very good. They had a very beautiful dining room. They had small rooms on their own. It's not like a room in a nursing home or in a hospital. It was like an apartment there. With regards to activities there, I saw them playing bingo and they had somebody playing the guitar. Overall, this place looked good.
---
Greg7
December 24, 2013
I am a friend or relative of a resident
My mom is in Sterling House for a month now. At first, she was probably not happy there, but it goes with anybody going into assisted living. However, I think she is overall happy now. The people there are higher functioning than the one where my mother was. Regarding food, I haven't tried eating there but she says it's good. The living environment is really good, but for us, it is more about the staff. They may not be the most glitzy and posh, but the staff is very good. I like them. As far as the facility though, it could maybe use a bit of an update or a facelift. It is a nice facility and it is not bad, but it just needs freshening up a little bit.
---
Diane37
September 30, 2013
I visited this facility
The staff at Sterling House are very nice. The rooms were nice, very attractive, and they were in a very nice location. The only problem I saw was that there was a lot of walking required and I don't walk very well, so to get from building to building either I had to walk or use an electric wheelchair, which is not practical in Florida where we have really chilly days.
---
caring7957
September 27, 2013
I visited this facility
We went to Sterling House of West Melbourne. The place is clean. They have a room that could be shared with one person that is perhaps $200 less than the regular price which is close to $1500 a month. They provided three meals a day and I think most of the people who live there can go to the table rather than eat in their rooms. The dining room is adequate for about 15 people. At the time when we went there, a card game was going on and I was given a calendar wherein some of the activities were listed on it. The staff seemed friendly, but the rate was somewhat above my means.
---
Caring06181
June 26, 2013
I visited this facility
We liked Sterling House of West Melbourne. We tasted the food and it was good. It was like home cooking. The people were friendly. They keep their residents busy with their activities. The place looks clean. The dining room was cheery. I think there were flowers on the table when we visited there. The rooms were kind of an average size. I like the location of the place and it was easy to get around.
---
Maryanne3
May 12, 2013
I visited this facility
We visited different places for my mother and Sterling House is on top of our list. It was very comfortable, the staff seemed very attentive to people, the food was excellent, and the rooms were clean. They had their own pharmacy and in-house therapy for people that needed it. I liked it very much.
---
Caring2590
December 29, 2012
I am a past client of this provider
We liked Sterling House because it was closer to home and I think they might have been a little less expensive than others. The people were nice. We spent one whole afternoon with them and they were very helpful. My daughters found the nurses on duty really great. My husband's room had a refrigerator and microwave. But the rooms are unfurnished, so you have to bring your own furniture. They have two pianos, a nice patio, and big fireplace although the dining room is small. If you want physical therapy, that is another cost. They have two buildings there. The one that my husband was in is if you have mild senility, while the other building is for the more advanced like Alzheimer's and dementia. But my husband had a heart attack on his third day there. He was in the hospital for about three days. He had a Do Not Resuscitate and he went into hospice.
---
Pavan
July 24, 2012
I am a friend or relative of a resident
As it was first time, when I was going for a long business trip, therefore i was scared to availing such kind of services for my granny as there was no-one to look after her. But when I was returned, all time my granny talk about the staff, about there caring nature, dedication to their duty, cleanliness, courtesy of staff, My grandmother was is so happy there. All of the staff is great! They have hair dressers come in to do my grandmothers hair, she gets to takes trips. Best of all, the food is great and that is very important to her. As per my instruction, they giving her medicine in timely, and also inform me about her health time to time.If you are considering a facility to place a loved one I strongly urge you visit Sterling House for a tour. Thanks to Sterling Staff!
---
Stacey S
May 31, 2012
I am a friend or relative of a resident
My grandmother is so happy here. When we decided that this would be the best place for her we thought that it was going to be very hard for her. All of the staff is great! They have hair dressers come in to do my grandmothers hair, she gets to takes trips. Best of all, the food is great and that is very important to her. The facility is really clean and the grounds outside are kept up very well. The courtyard is really nice, my grandmother loves going out there with a book. It is very peaceful. We could not ask for a better place. We toured other places in the area and this one was by far the best. I wish we knew about this place for my other grandmother, she would have loved it. If you are considering a facility to place a loved one I strongly urge you visit Sterling House for a tour. It is conveniently located in Melbourne
---
mmartin030
March 10, 2012
I am a friend or relative of a resident
Our granny was a wonderful lady and very self sufficient for longer than normal but we found her one day on the floor of the bathroom because she had fallen and she had been there all night and couldn't get up to get help. We decided to put her at Sterling House where they would be able to keep an eye on her and make sure she is safe. We were very reluctant to do this but the staff there made the transition quite wonderful!! It was so different than what we expected for her. She had trips to places that was exciting for her, as well as a lady that came in each week to do the ladies hair. She was very upset with us at first for evening asking her to go there, but she was happy she did, because she made friends, and knew she wouldn't have to spend another night on the floor hoping someone found her. With it being less than a mile from where we live, we could stop in and visit every day!
---
bebe03
May 10, 2010
Treated my dad like a king but!!!
The food quality could use improvement. Just wanted to pass this along for the benefit of others. "Too many beans," said my dad. "You wouldn't eat it," just another quote from my dad. For $3,000.00/month the food should've been much better! Good luck!!! Also, the physician at his new facility eradicated his rash immediately; why didn't this happen at Sterling???
---
From Brookdale West Melbourne
---
Brookdale West Melbourne provides assisted living residents with lifestyles, housing, and services in comfortable surroundings combined with exceptional amenities, programs, and care. Through Brookdale's signature Personalized Assisted Living, we customize our care offerings for the individual. This allows each resident at our community the freedom and opportunity to make choices that will ease their lifestyle transitions. Residents enjoy life with the support they need, coupled with the appropriate accommodations as their needs change.
We promise Respect for Individual Preferences by offering personalized care needs and providing an atmosphere that encourages each assisted living resident to live in health and longevity. We also offer special housing and care options for those who require assistance with the activities of daily living such as dressing, bathing and assistance with medication. We offer graduated levels of care based upon the individual need of residents, as determined by our continual assessment process. We are dedicated to enriching the lives of residents every day with signature services for those who value their freedom and independence, but desire or need services providing them with the highest level of quality, care, and value.
What Makes Us Special
---
All on one floor so it is easy to navigate. Many activities that you have to choose from. Beautiful interior garden area.
Features of Brookdale West Melbourne
---
Costs
Rent Plus Care Fees
Entry Fee
Fee Structure Extra

We Offer A Month To Month Rental
Room and housing options
1-bedroom apartments
Companion Suites

We Do Not Offer Companion Suites

Studio Apartments
Dining options
In Room Kitchenette
Dining Room Shared Meals
Room Service For Meals
Features
Beauty Barber Shop
Resident Transportation
Party Space
Tv Room
Garden And Patio
Resident Parking
Spa
Features Extra

Library, Fitness Room/Gym
Cleaning services
Laundry For Linens
Housekeeping
Laundry For Clothing
Technology and entertainment
Cable In Rooms
Internet Enabled Rooms
Wifi
Technology Extra

Emergency Call System
Health services
Medication Management
Physical Therapy
Nurse On Staff

Available During Business Hours; Some Availability Outside Of Business Hours

Pharma
Activities
Offsite Activities
Music
Games
Stories
Religious Services
Lectures Discussions
Book Clubs
Tai Chi
Fitness Room
Gardening
Arts And Crafts
Financial guidance
Va Benefits Consultation
Financing Advice
Financial Aid
Guest services
Guest Parking
Guests At Mealtime
Overnight Guests
General
Respite Care
Minimum Age

62

Pets

Small Pets Allowed
Location of Brookdale West Melbourne
---
Get Cost Information
Get full access to reviews, cost information, and amenities