Brookdale Richland
1629 George Washington Way, Richland, WA, 99354
Talk to a Family Advisor: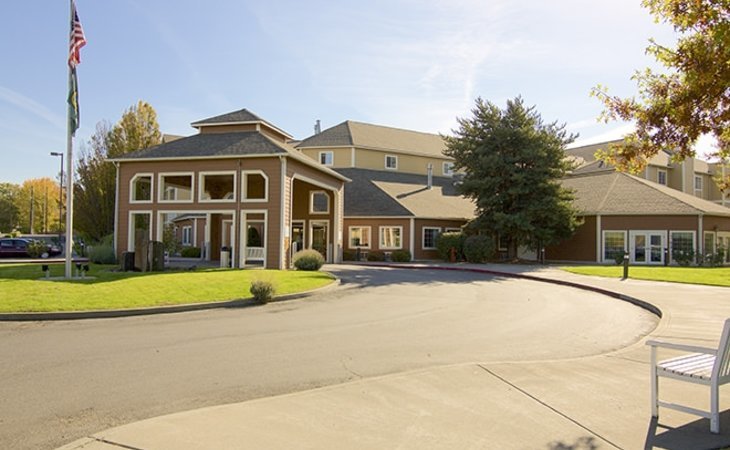 Reviews of Brookdale Richland
---
Mike115586850
November 30, 2015
I visited this facility
Brookdale was not well-kept nor that accessible for more handicapped senior citizens. It was kind of old, and you can see the wear and tear in it. The staff was nice, but the place didn't have that homey feeling.
---
Bob113612150
October 28, 2015
I visited this facility
Brookdale was okay. It was a bigger place and harder for my mom to get around. The rooms are fine, but the food wasn't good. They have the normal Bingo and all that stuff, and she'd play once in awhile. I would not recommend Brookdale.
---
Adelle1
June 22, 2015
I visited this facility
The lady-in-charge at Brookdale Richland (Wynwood of Columbia Edgewater) was very friendly and did a very thorough job. She gave me lots of ideas of what the possibilities were. When my dad recently fell and had to be taken to the hospital and I was trying to find out how soon we could get him in there, she always called back. She sent a nurse out to his house to assess if he could come. She went above and beyond and even called my dad's house to check on how things were going. It was a beautiful place, too. I've had a friend who was there. It's right near me; it would be very convenient.
---
Caring102609150
March 27, 2015
I am a friend or relative of a resident
My mom is in Wynwood of Columbia Edgewater. She likes the food there; she says it is awesome. They prep it very nicely and make the place very pretty. The meals are generally on time. Everybody is very nice. She shares an apartment with somebody else, but they have separate rooms and separate bathrooms. It is an apartment building that they turned into a senior community, and they have not changed out a lot of the bathrooms to where they just shower so that elderly can get in. They have a shower for those clients that they have to take in, and the CNAs have to shower them. Most of the rooms have bathtubs in them, but one of the ladies that is assigned to get people in there tells me if there is a complication, they will remove the bath tub if they have to. They have art classes in the community. I do know that they have comedy that comes in, they have music sessions, and they have people come in to play the piano with sing-a-long. They have the art room, the theater room, a smaller room with computers in it, and internet access. They have 2 different dining rooms: one for those that need help eating and then they have the main dining room that is very nice. The waiters come out and ask what you want. They have a small menu where they can pick and choose what they want to eat. However, the call buttons, switches and the lighting in the rooms are kind of on the poor side. It is close to shopping. There is boutique, a hair-cutting place, and malls. It has access to everything if they are mobile people. The place is clean, and I think the place is great. My mother lost her husband last year and went through a very angry period. This community has to put up with her screaming and yelling. It is really bad. My mother is a handful, and they have done very well to deal with her issues. They are awesome in the part that I can't go get my mother at the point in time she is with a lady that is older than her because she fell and cannot walk, Broodale made the effort to go a 2 hour drive to go get her and bring her back down. They totally go out of their way. Most people that I see in there are happy.
---
Roger22
December 26, 2014
I visited this facility
It was sometime ago, but I was pleasantly impressed with Wynwood of Columbia Edgewater. My mother was in there. I was satisfied with it.
---
Caring23631
December 23, 2014
I visited this facility
Wynwood was very good. The people were very nice. In fact that was our second place where we were going to go, and then at the very last minute it didn't seem like it was a good fit for dad because of his care needs. They were very good; they came over and assessed him. I actually went inside other places twice to see how everything was, but at the very last minute we were going there, and there was an issue about how far their service goes and what dad needed. The dining and the room were very good. They actually had two dining rooms; I was more interested in the second one because it's a smaller area, and dad really wasn't up to eating in front of other people and doing a lot socializing. They have a second dining area for people that needed additional assistance. What I really didn't care about it which would be physically fine for other people is that it was more a senior community and dad is more alone and aloof. He would be uncomfortable going up and down the elevators. The rooms were nice; they had little balconies. There were a couple of different options of floor plans; it's perfectly adequate. I thought they could have had a little bit better bathroom; they just had a tub.
---
Caring87561450
June 30, 2014
I visited this facility
I visited Wynwood because this facility is near to me. They have a great staff. They have activities for their residents. If you want to go walking to go to dinner, there are restaurants. I think the location is good, and they are trying to keep the rooms upgraded. They allow you to make your room feel like your home.
---
Caring74563150
November 22, 2013
I am a friend or relative of a resident
Mom had stayed in Wynwood. It's like a big rectangle that was very hard for her to walk around. They did not care for her well. They did not get dress in time to do things. They did not get her to meals on time. My brother and sister in law were setting their alarm clock and call her for every meal and if she was not down there, they would call and the people at her table would go to the front desk to tell them to get my mom down for meal. When they would finally get her down, everybody was done and she didn't get the socialization. We were not happy for that. I was there all the time, getting involved in all the activities, bring flowers and cookies for everybody. They only had one activity person who does all the activities and drove the bus. They were shorthanded. We were paying a lot and not getting the care that she needed. Then they lied to us and promised us an apartment on the first floor, but they gave it to somebody else. I would find pills on the floor, on her chair and sometimes in the cupboard where they went to get a cup and left the pill in the cupboard and that was not good at all. However, I loved their activities and the activity director was wonderful. They went out to lunch once a week, which was one of my mom's favorite activity. The brought in the college bands. They had picnic inside the facility and outside.
---
Missingmygrandma
May 18, 2012
I am a friend or relative of a resident
My grandmother lived at the Wynwood assisted living center for years before she died last year. It was always a nice and peaceful living center. The staff was always kind. As a guest they always greeted my family and I with a smile. On top of this they knew me and my family by name. There were always events and other things for the residents to do. One of the things that I liked the most was that if there were too many people who came to visit, they had rooms on the floor that were set up for a larger group of people to visit at. My family took a lot of the family photos there, including our 5 generation photo. The experience for my family was so great that my Aunt and Uncle are looking at moving in when they cannot continue to do everything on their own.The only complaint that I had was that on occasion it would take the staff a little longer to respond than needed. This was more than likely because they were busy because it wasn't a regular thing.
---
Molae06
October 04, 2011
I am a friend or relative of a resident
My grandmother stayed at this facility for 8 months before she was moved to a new facility. In the beginning I was rather pleased with the facility and it seemed luxurious and private enough for my grandmother. The unit she stayed in consisted of a one bedroom, one bathroom, and rather small living room and kitchenette. The unit was plenty large enough for an elderly woman without many items. This assisted living facility gave the residents a lot of privacy and the ones who still could drive were allowed to leave freely. My main problem with this facility was the fact that they did not catch on to my grandmothers signs of dementia quick enough. It took for her to leave the facility, get lost, and almost get hit by a car for them to finally say anything. When they did finally acknowledge the problem, they gave my grandparents a mere 15 days to find a new facility. I believe that the staff should have told us about the signs of dementia my grandmother was showing as soon as they noticed. Instead they waited until there was a close call to an incident and served her with a rather harsh notice to vacate. I understand that she had become a liability at that point, but I do believe that the situation was not handled well at all. Besides that, I loved the facility during her stay, and each staff member was very polite and friendly.
---
---
Brookdale Richland provides assisted living residents with lifestyles, housing, and services in comfortable surroundings combined with exceptional amenities, programs, and care. Through Brookdale's signature Personalized Assisted Living, we customize our care offerings for the individual. This allows each resident at our community the freedom and opportunity to make choices that will ease their lifestyle transitions. Residents enjoy life with the support they need, coupled with the appropriate accommodations as their needs change.
We promise Respect for Individual Preferences by offering personalized care needs and providing an atmosphere that encourages each assisted living resident to live in health and longevity. We also offer special housing and care options for those who require assistance with the activities of daily living such as dressing, bathing and assistance with medication. We offer graduated levels of care based upon the individual need of residents, as determined by our continual assessment process. We are dedicated to enriching the lives of residents every day with signature services for those who value their freedom and independence, but desire or need services providing them with the highest level of quality, care, and value.
Features of Brookdale Richland
---
Room and housing options
1-bedroom apartments
2-bedroom apartments
Studio Apartments
Location of Brookdale Richland
---
Get Cost Information
Get full access to reviews, cost information, and amenities