The Best Stairlifts of 2023
Date Updated: October 12th, 2023
What You Should Know About Stairlifts
According to the CDC, 13.7% of Americans suffer from a mobility-based disability.
Stairlifts offer a way for those with mobility issues to safely access every floor in their home.
Most standard stairways can be equipped with a stairlift.
The cost of a stairlift can be in the thousands, as well as additional charges for installation.
There are many medical waivers, insurance programs, and loans that can be used to help with the cost of a stairlift.
As the golden years approach, it often becomes increasingly difficult for us or the people we care about to navigate staircases safely and independently. Purchasing a stairlift is a great solution for people who have prosthetic joints, significantly reduced mobility, or a disability that makes accessing a multi-level home difficult. However, buying a stairlift can be a challenging process.
Finding the right stairlift requires research and comparison shopping, followed by a significant investment. After a purchase, customers must often wait for their stairlift customizations and work with contractors to install it correctly. However, the overall benefits make it worth the effort. You or your loved one can now remain at home, without the hassle and danger of moving up and down the stairs unaided.
In this guide, we have compiled a list of the best stairlift manufacturers for 2023, along with steps to help you navigate the purchase process. The companies listed here stand by their engineering and design by offering strong warranties and industry-leading customer service. Unlike big-box or generic stairlift brands, all of the manufacturers on our list sell their products either directly to consumers or through a brand-certified network of dealers and installation teams tasked with upholding the manufacturer's standards of quality.
Contributing Expert
Christina Drumm Boyd, BHS, CSA, GCM
Christina is a Certified Senior Advisor (CSA) and Geriatric Care Manager (GCM) who is passionate about seniors and their families. For decades, Christina has worked at all levels of the senior health care industry, serving as director of admissions and marketing for assisted living, nursing homes, memory care, and independent living communities. She also served as a support group facilitator for the Alzheimer's Association. Her educational training is in Human Services Counseling.

Before taking her elder care services nationwide through Virtual Consultations, Christina Drumm-Boyd founded Care Connect of Hampton Roads (CCHR) in Virginia in 2006. More than a decade later, CCHR continues to grow in size and popularity as it provides comprehensive guidance and access to quality elder care services.

The Best Stairlift Companies
In this guide we have completed reviews for seven of the best stairlift companies. Each review covers all available models and their features, as well as the best overall qualities of each company.
*For all stairlift companies, installation fees and the costs of customization cannot always be accurately assessed without a lengthy consultation, so these prices should be taken merely as a starting point. Seniors should note that the range of curved rail prices from Handicare is particularly difficult to pin down without a consultation.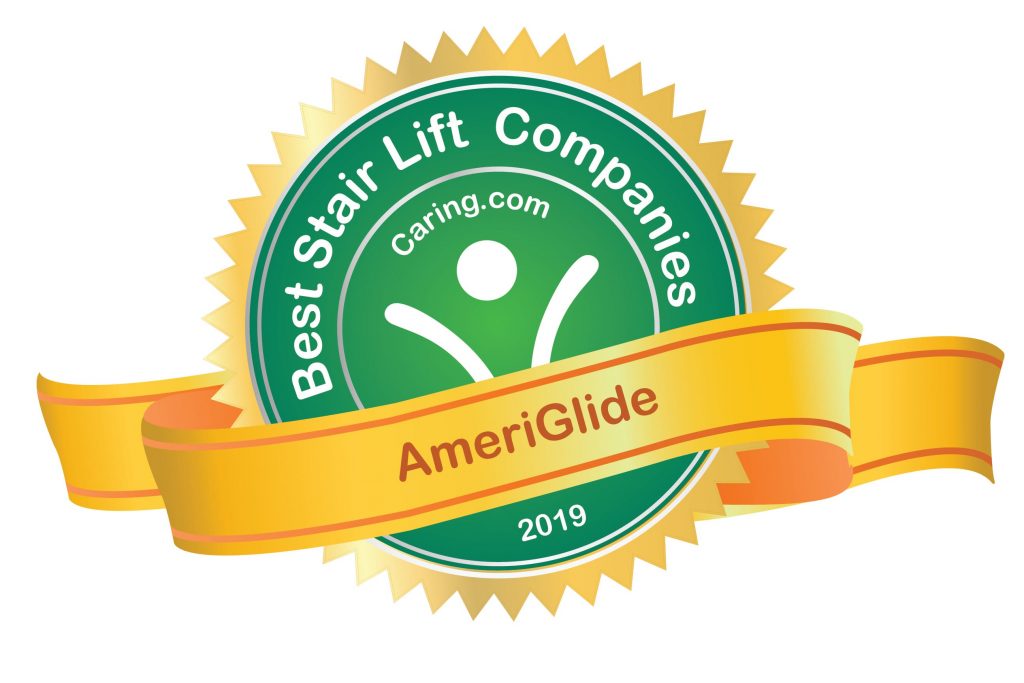 Best for Competitive Pricing
AmeriGlide Stairlifts is an American manufacturer and second-hand dealer offering one of the largest selections of stairlifts in the country, which means they have options to fit any budget. Its stairlifts are available for sale directly from the company in new, certified pre-owned, or factory reconditioned varieties and price ranges, and may be used in either in-home or commercial settings.

AmeriGlide guarantees the best possible price for its products. It will match the prices of other retailers if they are lower as well as give customers an additional 10% off. They may also be the only stairlift manufacturer that allows buyers to install their own lifts or hire their choice of installation specialist. Buyers who have carpentry or machine installation experience can save up to $1,025 by opting to install their own AmeriGlide stairlift.

Economy option built for easy installation
Ultra-narrow design for small spaces
Can be used for indoor or outdoor curving stairs
Fits multi-tiered and more complicated stairs
Upgraded seat with Ergo option and color choices
Outdoor capabilities and numerous upgrades
Innovative technology such as Wi-Fi connection and intercom
-5 years for drive train, gear rack, pinion gear
-2 years for components
-30 days for batteries
-5 years for drive train, gear rack, pinion gear
-3 years for components
-1 year for batteries
-5 years for drive train, gear rack, pinion gear
-3 years for components
-1 year for batteries
-5 years for drive train, gear rack, pinion gear
-2 years for components
-30 days for batteries
-5 years for drive train, gear rack, pinion gear
-2 years for components
-30 days for batteries
-5 years for drive train, gear rack, pinion gear
-1 year for components
-30 days for batteries
-1 year for material, workmanship
-1 year for components
-1 year for batteries
-5 years for drive train, gear rack, pinion gear
-2 years for components
-30 days for batteries
Note: None of the prices include shipping, which is likely to be 200+. All prices include a + because they are merely the starting costs- upgrading any features will increase the cost.
*Increasing the track to 16 feet or longer reduces weight capacity to 250 pounds.
AmeriGlide Stairlift Models
AmeriGlide accommodates a greater range of budgets than many other stairlift companies by offering a versatile range of straight and curved models, including models for indoor and outdoor use. Features common to all AmeriGlide stairlifts include infrared remote controls, call buttons for bringing the chair to your floor, joystick controls on either armrest, swivel seats, and a stair-mounting rail design for easy installation.
Below you will find ample information on eight stairlift models that are available from Ameriglide's own website. Ameriglide does also offer a stairlift made by the company Harmar and a stairlift made for transporting cargo. We have provided details on the Harmar model under its company's own profile rather than below, and we have not covered the cargo model since it is not designed to transport people. Seniors should note that online you may see mention of older Ameriglide models that are now only available used or for rental. Ameriglide frequently updates its product line and retires older models as it makes improvements.
The Rubex AC stairlift runs on electricity and is a very basic indoor model that many homeowners can install without professional help. If selecting no upgrades, you can pay as little as $2,545 (not including shipping and potential tax). If opting to include all (or most) available upgrades plus installation and its associated costs, the total cost could exceed $5,000.
The standard length of a Rubex AC track is 15', but at an extra cost it can be shortened or lengthened (up to 25'). Seniors should note that customizing the track length may reduce the weight capacity of the seat. Its seat comes standard at 17.5" wide without armrests, but you can upgrade by adding armrests or opting for a bigger 19" or 21" seat. The armrest upgrade is only possible on the 19" seat.
Features of the Rubex AC include:
Uses home power instead of a battery
Weight capacity up to 350 pounds (250 if track is 16' or more)
Light almond colored upholstery
Two seat upgrade options (about $350 for either)
Several length upgrade options ($154-$683)
Option of adding a key-lockable base and lockable remote control ($450)
Option to add grocery basket ($442)
Ameriglide's Rave 2 model offers one of the smallest profiles in the industry with a 22.5" footprint when in use and 11" when folded away. Unlike the Rubex AC, this model operates via home power and a backup battery. This model is ideal for narrow staircases, such as those commonly found in basements or older homes, and is also a great option for people with a lot of foot traffic along their staircase.
The Rave 2's starting price is $2,425, and it has several different upgrade options. If selecting the standard length plus all other available upgrades and installation services, the prices could rise to $5,000+. Adding track length will cost between roughly $105-$137 per foot, depending on exactly how many feet you're adding, and selecting the maximum 70' will result in an additional $5,790+ to other costs. Requesting a track that's less than the standard 15' is an additional $55 if cut at the factory and $145 if cut on-site.
Features of the Rave 2 include:
Best option for longer stairs (up to 70 feet)
Ultra-compact with a 22.5-inch footprint in use and 11 inches when stowed
More upgrade options than the original "Rave" model (no longer offered)
Taupe vinyl seat has a minimum width of 19.5" wide
Seat swivels at top of stairs only
Sensors for detecting obstructions that will automatically stop movement
Key-lockable upgrade option ($154.55)
Optional bracket length upgrade ($99)
Optional folding rail (+$1,590) to save extra space when not in use
Track runs 6 inches over your top landing for safer dismount
This model is visually similar to the Rave 2, but it's considered a more durable ("heavy duty") option, and it is designed for curved stairs. While primarily for indoor use, it can be upgraded for outdoor use during checkout. This high-end model can perfectly accommodate a stairwell that has 90 degree or 180 degree turns, and its also a great option for spiral staircases.

While its list price starts at $11,495, this model's true cost will be $14,490+ for all customers. The reason for this is that, unlike many other Ameriglide models, this model cannot be installed by the buyer. This model's installation cost is included in the shipping cost, adding a total of $2,995 to the standard list price. You won't see the itemized shipping/installation cost until you add the Rave Curved HD to your online shipping cart. During checkout, you will see that different types of turns in stairs will require additional fees, some of which may add thousands of dollars to the total cost.
Features of the Rave Curved HD include:
Multiple color choices for seat and rails
Endless customization to fit the turns in your stairs
Optional outdoor use upgrade for $5,917
Professional installation services (canceled lift orders will incur a $2,500 service fee)
Option of adding a lock for safety ($300.50) or drop nose design for saving space ($342)
350 pound weight capacity
Impressive maximum track length of 164' (extra costs apply)
In homes where staircases present a design challenge due to twists, turns, and multiple levels, AmeriGlide's Platinum Curved model can be adapted to nearly any configuration. The Platinum Curved stairlift is stocked with AmeriGlide's premium features, including ERGO seats and an option to upgrade the seat folding and swiveling functions to an automatic version.

Unlike Ameriglide's straight track models, the Platinum Curved stairlift is not self-installable due to the high complexity of its curved rail system. As a result, the purchase cost will be a minimum of $12,609 with the added cost of installation and shipping (charged as a combined fee). Costs can exceed this starting price if you add upgrades or length.
Features of the AmeriGlide Platinum Curved include:
Custom-designed to fit nearly any staircase (multi-level, spiral, etc.)
Automatic fold-away and swivel seat upgrade options
Twin rail leveling system and max track length of 19 feet
Ergonomic seat with retractable seat belt and an offset footplate option
Digital diagnostic display embedded in armrest
Pressure-sensitive carriage and footrest
Wireless call stations included in price
Footprint of 25.6 inches when in use and 14.3 inches when stowed
Seat and rails come in multiple colors and has two ERGO seat options
Options to add landing stop points and extra battery-charging points
The Horizon Plus is AmeriGlide's most comfortable straight-lift option, available with either an ERGO Standard or ERGO Plus seat. Its low starting cost makes it surprisingly budget-friendly. Aside from its chair options, this model does not have a large number of available upgrades, but its standard features are advanced, including a digital diagnostic display and ergonomic design elements.
Features of the AmeriGlide Horizon Plus include:
Installable on steeper staircases with up to a 62-degree incline
Two ergonomic seat options and ergonomic joystick installed where hands lay naturally
ERGO plus seat option provides greater comfort at 22 inches wide
Dual footrest-raising levers are manual and linked
Manual swivel seat (the same stairlift with power swivel is sold separately on the AmeriGlide website)
Retractable reel seat belt and key locking for safety
Seats come in beige, red, grey or blue
Digital diagnostic display in easy-to-read armrest position
AmeriGlide's Horizon Plus Outdoor model is great for patios, lakeside docks, and other outdoor spaces. This model is a lot like the indoor Horizon but it has added weather protection and comes with a protective covering. Despite its additional protective features, this model's starting cost is just $2,850. While it is self-installable, customers who need help with installation should calculate between $599-$749+ extra for their total costs. You can see detailed information on installation fees when you add the model to your online cart.
Features of the Horizon Plus Outdoor include:
Most affordable outdoor option from AmeriGlide
Well-protected electrical and mechanical components
Comes with an all-weather cover
Maximum track length of 55.25 feet
Digital diagnostics display embedded in armrest
Multiple seat upgrade options ($50-$75+)
Comes with all standard features of the Horizon Plus indoor model
AmeriGlide's Outdoor Deluxe is the company's heavy-duty straight stairlift model for outdoor use. It features a higher-capacity carriage that can lift up to 350 pounds as well as an option for a larger seat up to 21 inches wide. This model comes with three all-weather covers to protect all mechanical and upholstered components. With a starting cost of $3,895, not including shipping and installation, this model is more expensive than some other outdoor models. Depending on the upgrades and the kind of installation you select, your total costs could exceed $7,000. However, this model is listed as self-installable, giving you an opportunity to save some money.
It should be noted that for stairs of 16 feet or longer, the carrying capacity of the Deluxe is reduced to 250 pounds. The Outdoor Deluxe runs only on electricity (AC), has no digital diagnostics display, and must be upgraded for armrests to fold away when stowed (this feature not available with the extra-wide seat).
Features of the AmeriGlide Outdoor Deluxe include:
Option to add a grocery basket for $442
Price includes three all-weather covers for seat, chassis, and track header
Maximum track length of 25 feet
Extruded aluminum rail
Seat width of 19 to 21 inches
Seat depth of 14 inches
Footprint of 24.25 inches when in use and 14 inches when stowed
Key locking option available for call/send remote and base for up to $450
The UP Stairlift features AmeriGlide's most innovative technology. Not only can it fit both straight and curved staircases, even those with the most complex designs, it is also Wi-Fi enabled and fitted with an intercom button so users can always reach out for help. Featuring automatic swiveling and lifting footrests, AmeriGlide has ensured that users can also safely exit this lift after use. This stairlift is one of the few that can be easily relocated from one home to another, as it is readily adjustable and can be combined with new elements.
With a starting cost of $8,995, this lift is a bit on the pricier side, although this cost reflects its higher-end technology. However, it also requires expert installation which is combined with shipping costs for a total additional fee of $1,995. Depending on the complexity of your staircase, further costs may be added for top and bottom landing options as well as extra railing.
Features of the AmeriGlide UP Stairlift include:
Available in sand and cognac (cognac is an additional $995)
Numerous top landing and bottom landing options
Fits curved and straight staircases, and on curved staircases can be installed on the inside or outside
Recycled aluminum railing with no use of heavy chemicals
Left hand controls available for $545.36
Wi-Fi connectivity and intercom button
Automatic chair swiveling and footrest lifting
24.6" footprint when in use and 15.75" when folded and parked
Standard track length of 18'
AmeriGlide Stairlift Safety Features
All AmeriGlide models are built with safety in mind. Various features ensure the chair, railing, and power are all working optimally and as intended and additional safeguards are in place to promote child safety.
-Lap belt 
-Swivel seats and automatic locking when in motion
-Non-slip footrest with safety sensors to detect obstructions
-Some models feature diagnostic display for troubleshooting
If stairlift loses cable tension, mechanical safeguards enable safe dismount
-Most models use home and battery power, enabling stairlifts to operate during an outage
-Battery operation adds layer of protection from electrocution and power surges
-Models with batteries have limit switches to ensure parked chair is in contact with the battery charging station
-Key-lockable base and lockable remote control included with many models
AmeriGlide Stairlift Pros and Cons
Pros:
Most straight stairlift and outdoor stairlift models are self-installable
Curved stairlifts fit even the most complex staircases
Transparent pricing that includes prices for every model, option, and upgrade
Optional payment plans, occasional sales, and used, refurbished, and rental stairlifts available
Cons:
If you want several upgrades, it may result in a total that's thousands more than the listed starting costs
Shipping and installation fees are not included in the list price of most models
FYI:

Whether you purchase your AmeriGlide stairlift through an off-brand dealer or directly through the manufacturer, when you make a warranty claim, you can be charged for things like labor and travel — things that aren't covered by AmeriGlide's warranty. It's better to understand these kinds of charges when you make your claim than to be caught unawares after the work is done.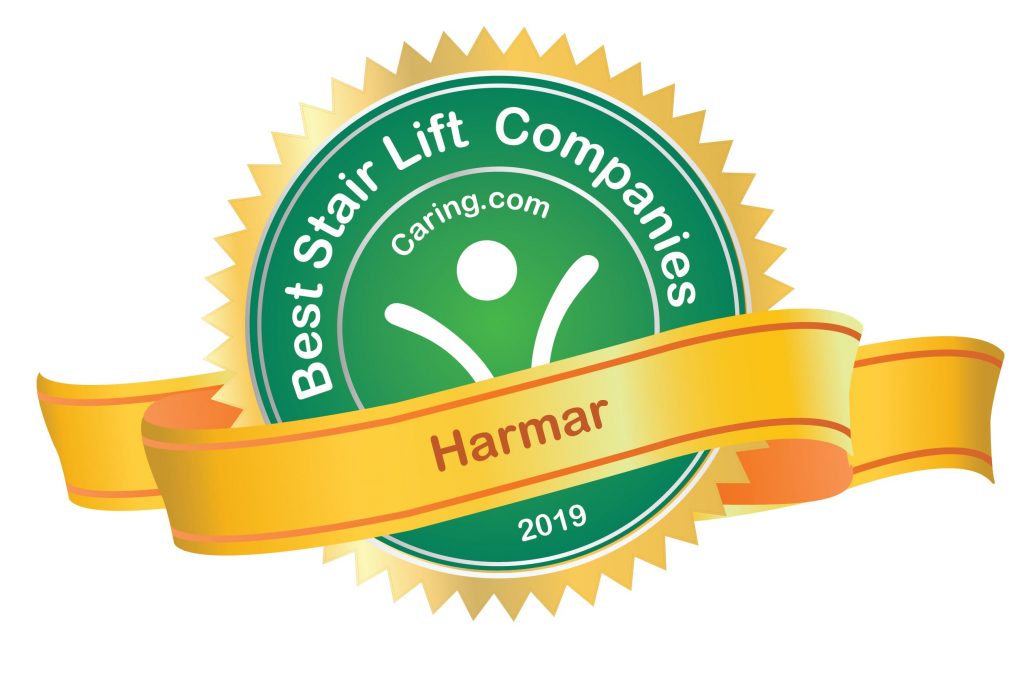 Best for Larger People
Harmar Stairlifts is an American manufacturer and one of the most trusted stairlift brands in the world. Its stairlifts are all designed and assembled within the United States and the thousands of dealers throughout North America that sell its products also offer assessments, installation, and routine maintenance services to their customers. Harmar specializes in fast delivery, supportive customer care, and perhaps most importantly, top-quality engineering.
Where Harmar truly shines is in the long-term convenience and efficiency of its mechanical engineering. No other manufacturer of quality stairlifts can beat the 600-pound weight capacity of Harmar's Pinnacle HD stairlift, and every Harmar machine comes with a highly capable motor and a battery that is double the size of nearly all other stairlifts.
The Pinnacle Premium SL600
The Pinnacle Heavy Duty SL600HD
The Summit Indoor SL350AC
The Summit Outdoor SL350OD
Smooth, stable ride and most compact design
Space-saving profile of only 10.5 inches
Highest weight capacity stairlift on the market
Affordable option comes pre-installed on a rail segment
Functions in temperatures as low as 0 degrees
Can adapt to challenging stairwell configurations indoors or outdoors
Vinyl or marine-grade vinyl
-10 year for gear rack
-2 year for parts
-1 year for battery
-Limited lifetime warranty
-1 year for battery
-10 year for gear rack
-3 year for parts
-1 year for battery
- lifetime for drive system and structure
-2 year for parts
-1 year for battery
Note: Harmar does not list prices on its own website. The prices listed above were gathered from various third-party dealer websites in April 2022. Your costs may vary.
*Weight limit decreases to 250 pounds for longer track lengths between 15'10" and 25'.

Harmar Stairlift Models
Harmar's stairlifts each come with a drivetrain that best suits the device's specific application, whether indoor, outdoor, curved, or heavy duty. All come with a comprehensive suite of safety features, though seatbelts that retract and key locking are upgrade options on most models.

Additionally, Harmar stairlifts are capable of speeds of 20 feet per minute (other than the Pinnacle heavy-duty model), which is slightly faster than average, and have high-capacity batteries that provide up to 60 trips in power outages. Below, you can read more details about each of the 6 Harmar stairlifts covered in the above table.
The Pinnacle SL300 is Harmar's standard straight stairlift. It is one of the most compact standard models on the market, with an 11-inch profile when folded away. The Pinnacle's oversized worm gear is a patented technology that offers a higher level of stability than many other stairlifts.
Features of the Pinnacle SL300 include:
Seat depth of 16 inches
A smoother ride thanks to the patented helical worm gear drive system
Grease-free maintenance
Overspeed brake, audible alerts, swivel seat with interlock, and obstruction sensor
Extended track length up to 36 feet with 15.5 feet considered standard
Options for key locking, automatic folding rail, manual lowering tool, and retractable seat belt
Suitable for inclines up to 45 degrees
The Pinnacle Premium SL600 is Harmar's best option for exceptionally long stairs, and it offers the smallest stowed footprint in the industry at just 10.5 inches. This model also comes equipped with a retractable seat belt and a 350-pound carrying capacity.
Features of the Pinnacle SL600 include:
Seat depth of 16 inches
10.5-inch stowed footprint that is the smallest in the industry
Patented helical worm gear drive system for smoother rides
Reinforced nylon polymer gear rack to reduce long-term maintenance
Track lengths of up to 70 feet with 15.5 feet considered standard
Diagnostic indicator lights
Appropriate for inclines up to 45 degrees
Key locking and folding rail options
Operable during power outages with batteries lasting up to 60 trips
Harmar's Heavy Duty model is the highest-capacity stairlift available. Most HD stairlifts can carry from 350 to 400 pounds, but with the benefit of Harmar's patented drivetrain, the Pinnacle HD is the best option for larger people. It also features a generously padded and more ergonomic seat than Harmar's other models.

Features of the Pinnacle SL600HD include:
Seat size of 18.5 inches by 14 inches
High-comfort seats for larger individuals
Patented helical worm gear drive system for smoother rides
Reinforced nylon polymer gear rack reduces long-term maintenance
An 85-degree seat swivel for safer dismount
Track lengths of up to 40 feet with 15.5 feet considered standard
Appropriate for inclines of up to 48 degrees
Options to add key locking and manual lowering tool
The Summit Indoor SL350AC is Harmar's economy stairlift option. It comes pre-attached to a short length of rail and operates directly through household electricity rather than utilizing a 24-volt battery. It features a fully adjustable backrest and footrest and operates on a somewhat dated cable drive system rather than a worm gear drive. It is important to note that there is no warranty available for this stairlift model.
Features of Harmar's Summit Indoor SL350AC include:
Seat size of 17.5 inches by 14 inches
Seatback is adjustable to three positions
Footrests adjustable to two different heights
Cable drive system mounts to stairs on either side of staircase
Obstruction detection, swivel seat, and constant pressure control for safety
Foldable seat and footrest
Optional key locking and grocery basket
AC powered and runs off electricity
Track length up to 25 feet with 15.75 feet considered standard
Suitable for inclines up to 45 degrees
Harmar's straight-track outdoor model can operate in temperatures as low as zero degrees. The Summit Outdoor stairlift is made with materials specially adapted to be weather-resistant in a range of extreme temperatures and features all of Harmar's standard safety features.

Features of Harmar's Summit Indoor SL350OD include:
Seat size of 17.5 inches by 14 inches
Extruded aluminum track
Marine-grade vinyl seating
Constant pressure controls, obstruction sensors, swivel seat safety features
Cable drive system
Protective all-weather covers for header, internal chassis, and chair included
Suitable for inclines up to 45 degrees
Key locking option available
The Helix is Harmar's most feature-rich option and a single-lift solution for curving or multi-tiered stairs. The Helix comes in both indoor and outdoor configurations and can stand up to long years of harsh weather by offering one of the industry's only all-steel rail systems. This model also handles curves more smoothly than many other curved stairlifts because Harmar uses specialized rail bending during its fabrication process.
Features of Harmar's Helix stairlift include:
Premium upholstery and ergonomic seat design
Track lengths of up to 164 feet with 16, 18, and 24 feet considered standard
Steel rack and pinion drive system
Seat size of 19 inches by 15 inches
Steel (rather than aluminum) rails
Obstruction sensors, seat swivel interlock, and overspeed brake safety features
Optional emergency stop, key switch, additional call/send and charging station
Outdoor package comes with weather-resistant features
Harmar Stairlifts Safety Features
Harmar utilizes many safety features for its stairlifts, helping to prevent injuries among its users. Prospective buyers can learn more about each model's safety features on the Harmar website, where more information is provided. Generally speaking, users can expect the following safety features with a Harmar stairlift:
-Swivel seats lock in place until switch is engaged to provide a stable dismount
-Obstruction sensors on footrest and chassis
-Centrifugal overspeed brake engages if moving too slowly or quickly 
-For cable drive units, the lift automatically stops if the cable goes slack
-All Pinnacle stairlifts can provide up to 60 trips without electricity in the event of a power outage
-Optional key locking or key switch
Harmar Stairlifts Pros and Cons
Pros:
Has some of the most compact stairlifts on the market and can fit in the narrowest staircases
Its heavy-duty Pinnacle stairlift accommodates 600 lbs, the highest weight capacity in the industry
All Pinnacle models have batteries that can power lifts up to 60 cycles in the case of a power outage
Many models require no grease or lubrication, preventing messy maintenance
Cons:
Prices are not listed on the Harmar website, but available via customer service representatives or authorized dealers
Purchases cannot be made through the Harmar website, but an online store locator tool provides multiple dealer locations
FYI

Many stairlift dealers and manufacturers — including Harmar — require that buyers who wish to maintain their warranty coverage must have their stairlifts serviced by an authorized technician at least once per year. Failure to do so can result in your warranty becoming void. Set reminders for yourself to have your stairlift serviced each year to get the most mileage out of your warranty.

Best Overall Quality
Bruno Independent Living Aids is a family-owned and veteran-founded American stairlift manufacturer that has been in business for over 35 years. Bruno sells stairlifts in markets all over the world and is a key brand for the largest residential stairlift dealer in North America, 101 Mobility.
The overall quality of Bruno's product line comes from a mix of practical features, innovative design and high standards in manufacturing. Even Bruno's entry-level stairlift, the Elan, offers a complete feature profile to fit almost any user's needs. All models utilize Bruno's unique vertical rail system that adds stability using less space than any other stairlift rail. What's more, Bruno's manufacturing systems are ISO 9001 certified, proving that the company's high standards of workmanship are consistently applied to the production process.
The Elite Outdoor CRE 2010E
The Elite Curve Outdoor CRE 2110E
Unique rail design offers an unobtrusive profile for tighter spaces
Best option for larger people
Tested in extreme weather
Custom curved rail extendable for longer stairs
Vinyl or burgundy leather
Vinyl or burgundy leather
Vinyl or burgundy leather
-Limited lifetime for motor, gearbox, rail
-2 years for all components
-30 days of labor coverage for defects
-Limited lifetime for motor, gearbox, rail
-2 years for all components
-30 days of labor coverage for defects
-5 years for major components
-2 years on all components
-30 days of labor coverage for defects
-5 years for major components
-2 years on all components
-30 days of labor coverage for defects
-5 years for major components
-2 years on all components
-30 days of labor coverage for defects
*Note: Bruno lists some but not all of its stairlift costs online. The estimated costs in the table above were obtained from both Bruno's website and a variety of dealer websites in April 2022.
Bruno Stairlift Models
Bruno's stairlifts come in any configuration a person could need, including curved-rail outdoor models. The standard features available on all Bruno stairlifts are equally as comprehensive, including audible diagnostic readouts for people with diminished eyesight and a suite of practical safety features.

Standard features of Bruno's stairlifts include:

Onboard audio/visual diagnostics for easy status updates
Continuous-charge strips that charge batteries wherever chair is parked
Manual swivel seats with automatic option for easy boarding/unboarding
Manual fold-away storage with automatic footrest folding option
Obstruction sensors
Battery power for continued use in an outage
Call/send remote controls
Note that at some dealerships or online stores, Bruno models will be advertised under their more technical-sounding model numbers instead of by their names. Below, we have included such alternate names in parentheses for your convenience.

Bruno's most popular stairlift, the Elan (SRE 3050), comes with a comprehensive set of standard features and a few practical upgrade options. The Elan is specially designed to glide close to the wall of your stairs and fold away into a tight parked profile, leaving lots of room for foot traffic. Conveniently, many dealers keep this model in stock and can install it in less than three hours.
Features of the Elan stairlift include:
Smooth, quiet operation
Option to add powered swivel seat and power folding footrest
Power or manual folding rail upgrades available
Low-profile rail design and folding chair leaves ample stair space
Seat is 15.75 inches wide with 20.25 inches between armrests
Onboard audio diagnostic readouts
Batteries can operate for over 10 round trips during power outages
Vertical rail construction hides all mechanical components
The Elite stairlift (SRE 2010) provides a more premium look and a softer seat than Bruno's standard model, the Elan. This stairlift can safely handle up to 400 pounds and comes with onboard diagnostics, intended to inform people of servicing needs.
Features of the Elite stairlift include:

More premium look
Generously padded, ergonomic seats with multiple height adjustments
Designed to leave maximum free space on stairs
17.5-inch seat is upgradable to 21.5-inch seat
Optional larger footrest sized 12 inches long by 11 inches wide
Onboard audio and visual diagnostics for easy updates
Option to add powered swivel seat and/or footrest
Power or manual folding rail upgrades available
Available in four different colors
The Elite Curve (CRE 2110)is Bruno's signature stairlift and is the most adjustable option for larger people. It comes with all functions available on the Elite straight-track model, but with the added benefit of being custom-built for buyers so that it can fit into any stairway configuration. The Elite Curve also comes in a few upholstery and color upgrade options.

Features of the Elite Curve stairlift include:

Attractively styled and upholstered seat provides thicker padding
Tall vertical rail for added stability
Adjustable footrest, seat height, and armrest width
Option for a larger, 21.5-inch wide seat
Larger 12 inch long and 11 inch wide footrest option
Onboard audio and visual diagnostics for easy status readouts
Parking and charge points added for middle landings
Option to extend rails along the wall over top and bottom landings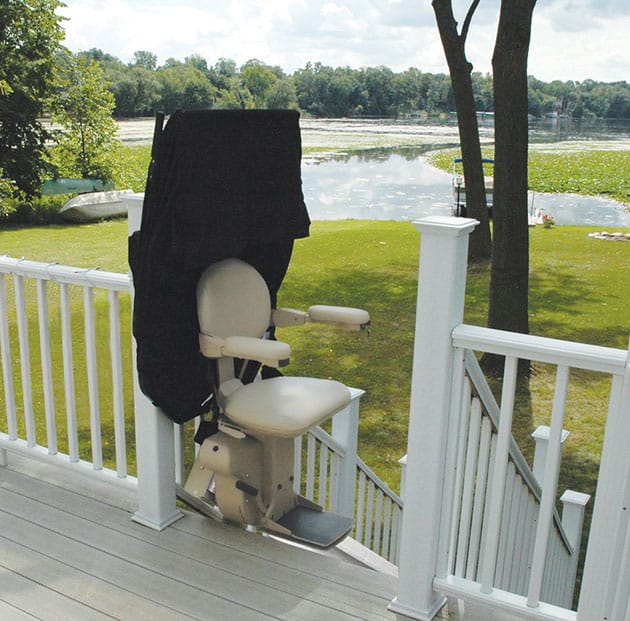 Capable of carrying up to 400 pounds, the Elite Outdoor (SRE-2010E) comes with most of Bruno's standard options for the Elite indoor straight-track model. The Elite Outdoor also features a waterproof cover that secures to the seat to ride along with your stairlift for easy accessibility.
Features of the Elite Outdoor stairlift include:

Marine-grade vinyl padded seat and durable outdoor paint
Waterproof cover that travels with the chair
Anodized aluminum rail with covered gear rack
Performance-tested between 0 and 125 degrees Fahrenheit
Space-saving vertical rail installs close to walls
Extended rail lengths available
Onboard diagnostics for troubleshooting
Emergency stop when obstructions are sensed on track or stairs
No matter the distance, angles, and elevation of your outdoor stairs, the Elite Curve Outdoor (CRE-2110E) can handle it all. This is Bruno's premium outdoor model, and as such, it carries the highest cost of all Bruno stairlifts. The Elite Curve Outdoor is the premier curved outdoor stairlift in North America, capable of operating in rain or snow and in hot or cold weather.
Features of the Elite Curve Outdoor stairlift include:

Fits twists, turns and corners of challenging stairs
Marine-grade vinyl padded seat, weather-resistant paint, and protective waterproof cover
Anodized aluminum rail with covered gear rack
Performance-tested between 0 and 125 degrees Fahrenheit
Adjustable-width armrests and height-adjustable seats
Onboard diagnostics
Retractable seat belt and emergency stop when obstructions are sensed
Bruno Stairlift Safety Features
Bruno stairlifts are fitted with many features to protect those who use them as well as their families. Below is a table describing the safety features commonly found in most of its products.
-Joystick embedded in armrest allows users to stop and reverse the lift 
-Soft start and stop technology for a smooth ride
-Obstruction detection and automatic stop
-Manual or power swivel and chair locking
-Audio and/or visual stairlift status indicators 
-Outdoor models feature anodized aluminum rails to protect them from chipping, flaking, or peeling
-High-capacity batteries keep stairlifts in operation for up to 20 minutes even in a power outage
-Batteries charged continuously through household energy, protecting against power surge and electrocution
-Key locking option available at some authorized Bruno dealerships
Bruno Stairlift Pros and Cons
Pros:
Space-saving vertical rails and hidden gear racks save space and limit exposure to grease and dirt
Installation is often completed the same day for straight tracks and within three days for custom curved installations
Generous limited lifetime or 5-year long warranties on all major parts
Continuously charging batteries protect against power surges and electrocution and keep lifts running during power outages
Cons:
Most expensive outdoor models may exceed $14,000+, but are known for their exceptional quality
Purchases cannot be made through the Bruno website, but Bruno helps customers search for a dealer near them
FYI
Buying Bruno stairlifts from nationally authorized dealers can provide an added layer of warranty coverage. The largest Bruno dealer in the country, 101 Mobility, provides a one-year service contract to cover any parts that may malfunction due to manufacturer error. While this sort of coverage is commonly offered by other dealers, 101 Mobility also covers costs associated with services provided in your first full year of ownership, such as a repair team's travel and labor expenses.

Best for Accessibility Features
Handicare was founded in the UK, but has grown to become an international organization and an industry leader in mobility equipment manufacture. With its stairlifts' high quality, comprehensive standard packages, and highly customizable design, Handicare was a contender for more than a few of the other "Best" awards conferred in this guide.
The factor that makes Handicare stand out from the competition, other than its industry-first Hinged Track straight rail option, is the high-accessibility design elements of its Xclusive stairlift. These features make it a great choice for many people, including those who have dementia or severe joint discomfort.
With its color-contrasted and high-visibility user controls, power swivel and power footrest features, simple-to-access battery housing, and softened hand rests for people with arthritis, nearly anyone can have a more capable and secure stairlift experience with the thoughtfully designed Xclusive.
-350 pounds
-440 pounds for extra heavy duty kit
-300 pounds for perch seat
287-309 pounds depending on incline
-250 pounds
-300 pounds for heavy duty kit
-350 pounds
-440 pounds for extra heavy duty kit
-300 pounds for perch seat
-250 pounds
-300 pounds with heavy duty kit
High-accessibility features 
Best seat options for people with reduced joint mobility
Slim design and seat options for people with reduced joint mobility
One of the most inexpensive curved stairlifts available
Largest variety of mobility-supporting features
Weather resistant even in harsh climates
Curved option for complicated outdoor stairs
Leather grain or faux leather
Weather-resistant materials
Weather-resistant materials
-Limited lifetime on motor and gearbox
-2 year for parts
-Limited lifetime on motor and gearbox
-2 years for parts
-10 year motor and gearbox
-Limited lifetime for motor and gearbox
-Limited lifetime for motor and gearbox
-Limited lifetime on motor and gearbox
-2 year for parts
-Limited lifetime on motor and gearbox
-2 years for parts
*Note: Handicare does not list its own prices on its website. This company's prices have tended to fluctuate significantly in the past few years. The costs above are estimates only that are obtained from dealer websites in April 2022. Prices may not reflect the costs of upgrades, shipping, or installation.
Handicare Stairlift Models
Handicare stairlifts all come standard with an impressive array of features, including key safety features common in modern, quality stairlifts. Many, though not all, Handicare models can be modified with a Heavy duty kit so that they can carry up to 300 pounds or more. Many models also have seats with adjustable heights or other special features, too. These modifications mean that Handicare is often a great choice for seniors of all weights and heights.
Features common in Handicare models include:

Two wireless remote controls
Ergonomic paddle controls
Swivel seats in manual and powered options
Powered folding rail option (most models)
Continuous charging function
Manual emergency stop
Carpeted or textured footrests
Plug-in powered battery operation
Fold-away seat, footrests, and armrests
Key-lockable
We have primarily referred to the models below by the names that they are listed under on Handicare's own website. However, you should note that most models have two different names- usually a name that's a number (1000, 2000, etc. ) and a name that has a word used along with that number (1000 Sterling, Sterling 2000, etc). Since you may see one or the other name used on other websites, we have included alternate names in parentheses as needed.
The Xclusive is Handicare's best option for people with severely diminished eyesight, or who are losing the full use of their hands due to arthritis. The Xclusive's user controls are designed with contrasting colors to make them always visible, and the lift's soft, ergonomic hand rests and easy-to-open battery terminals allow arthritic users to enjoy their stairlift pain-free.

Features of the Xclusive stairlift include:

Rounded seat provides a more supportive ride and a softer look
Swivel seat turns at both top and bottom of stairs for easy sitting/standing
Onboard diagnostics display
Seat depth of 15 inches
Fold-away width of only 13 inches
Maximum rail length of 15.6 feet
Maximum incline of 52 degrees
Option to add footplate spacers for an extra 2 inches of legroom
Options to add power folding footrest and power swivel seat function
The Handicare 1000 (1000 Sterling) is a straight-track stairlift that comes with seating options for those who have mobility issues in their hips, backs or legs. The perch seat option is particularly suited to those who find it difficult to get comfortable in a fully seated position and instead prefer to maintain an upright posture. Also available in an extra heavy duty version that can accommodate up to 440 pounds.
Features of the Handicare 1000 include:

Choice of 6 leather grain, anti-slip upholstery colors
Smart or Perch seats available for the comfort of people with limited flexibility
Body harness add-on available
Retractable seat belts (not available for the extra heavy-duty option)
Optional powered or manual folding rail
Manual or power swivel seat and footrest fold-away
Optional internal or external armrest spacers
Optional extended seat
The Handicare 1100 (1100 Sterling) straight track stairlift is a relatively new addition to the Handicare catalog. It features a patented multi-drive system that's designed for long wear and easy maintenance. Its slim design is great for narrow stairs. Seniors will also enjoy the fact that this stairlift is quieter than most since its drive system uses friction instead of a toothed track.
Features of the Handicare 1100 stairlift include:
Weight capacity between 287-309 pounds depending on the angle of installation
Fully folding seat when not in use
Built in brush heads on the chair keep the track free of dust and hair
Optional powered seat swivel and footrest upgrades
Anti-slip footrest with obstruction sensors and retracting seatbelt
Batteries power stairlifts for up to 10 rides even during power outages
Slide track, easy hinge, and zero intrusion options to eliminate track extending into doors or hallways
The 2000 Curved stairlift (Sterling 2000) is a highly customizable option suited to multi-tiered or twisting stairs and is one of the most affordable curved stairlifts you'll find. This model accommodates four of Handicare's seat options, including the Simplicity, Style, Smart and Perch chair configurations.
Features of the Handicare 2000 stairlift include:

Comes with four chair options — the Simplicity, Style, Perch or Smart seat
Multiple seat upholstery and color options available
Twin rail system for added stability
Rails come in your choice of three standard colors or a custom color
Chair folds for storage and optional powered hinge folds track at base of stairs
Option to add powered footrest and automatic seat swivel
The Freecurve is one of the few single-rail curved stairlifts on the market, lending it a less obtrusive profile. It is customized to your home and designed using photographs uploaded into a PhotoSurvey system that allow you to preview how the lift will look upon installation. The freecurve has several useful upgrades available, such as an Active Seat that helps users lift themselves to a standing position or sit down gently and 2-way power swivel that moves the seat forward while riding to navigate narrow staircases.
Features of the Freecurve stairlift include:

Fits three seat styles–the Alliance, the Elegance, or the Classic
Multiple color and design options available for rails and seats
2-way power swivel moves seat forward for more space on narrow staircases
Onboard diagnostics display and obstruction detection
Option to add an LED illuminated footrest or body harness
Powered hinge and drop nose railing options prevent railing from extending into doorways or hallways
Active Seat option provides greater support getting into and out of your chair
The 1000 Outdoor is Handicare's straight-track model for outdoor spaces, and it comes with all of the 1000 indoor model's standard features and upgrade choices. It features UV protected and weather-resistant surfaces and can withstand both low and high temperatures. Available with either Smart or Perch seats.
Features of the Handicare 1000 Outdoor stairlift include:

Waterproofed and comes with UV-resistant, slate-grey upholstery
All-weather cover included
Onboard diagnostics display
Smart seat assists people with limited flexibility
Adjustable seat height, width, and depth and optional arm spacers
Retractable seat belt, obstruction detection, emergency stop, and key locking
Manual swivel seat, footrest fold-away with optional powered upgrades
Optional power or manual folding rail
The 2000 Outdoor is Handicare's curved-track model for outdoor spaces, and it comes with many of the 2000 indoor model's standard features and upgrade choices. It features weather-resistant surfaces and can withstand extreme temperatures. While both 2000 models have a lower carrying capacity than the 1000 models, adding Handicare's heavy duty upgrade kit brings the 2000 Outdoor's capacity to 300 pounds.
Features of the Handicare 2000 Outdoor stairlift include:
Comes with UV-resistant, slate-grey upholstery
All-weather cover included
Onboard diagnostics display
Comes with three chair options — the Simplicity, Style or Smart seat
Body harness option for additional safety
Twin rail system for added stability
Large carpeted footrest, manual emergency stop, and seat swivel for additional safety
Handicare Stairlift Safety Features
Handicare ensures that its customers can feel safe and confident while using its products. Some of the safety features present in many of its stairlifts are detailed in the table below.
-Obstruction sensors
-Swivel lock for stable dismount
-Flame retardant upholstery 
-Retractable or across-body harness options
-Diagnostic displays to warn of mechanical or battery issues
-Powered hinge, slide track, or zero invasion options prevent railing from extending out at bottom of stairs
-Stairlifts operate with a battery charged via household electricity that function in a power outage
-Key lockable to prevent unauthorized use
Handicare Stairlift Pros and Cons
Pros:
Many models come with a heavy duty kit and can carry 350 or more pounds
Manual and powered swivel seats and footrests and many seat style options
Optional drop nose or folding hinge at base of stairs to keep track from obstructing halls or doorways
Seats designed for those with limited mobility or strength in consultation with therapists
Cons:
Prices unavailable on Handicare website and upgrades or track extensions can add hundreds or thousands of dollars to your total
No purchases possible on the Handicare website, but a "find a dealer" page is available to customers
Get a Free Quote for Handicare Stairlifts Seniors and Medicare beneficiaries can receive free quotes for the purchase and installation of stairlifts. Get Started Here.
Best for Custom Options
From its humble beginnings as a crane and hoist manufacturer in England in the 1860s, family-owned Stannah Stairlifts has become an award-winning accessibility equipment manufacturer with locations all over the world. Stannah now has multiple U.S. offices, as well as a trusted dealer network with locations in every state.
Stannah's feature models, the Starla and the Siena, stand out in the mobility device industry for their custom design appeal. Both can be ordered with such a broad range of options that nearly every part of these devices, from its cushions to its rail systems, may be made with custom colorways, even including an option to add wood trim in one of two finishes.

A Stannah stairlift also offers highly specific safety and accessibility options. Buyers can initiate a simple, three-part design and installation process to create a stairlift that is unique to their needs and blends with their home decor, all with the benefit of industry-leading functionality.
Pricing available with consultation
Pricing available with consultation
Pricing available with consultation
Pricing available with consultation
Pricing available with consultation
Pricing available with consultation
Pricing available with consultation
Large selection of premium options with a custom curved rail
Large selection of premium options
Standard model designed for narrow stairs that require a custom curved rail
Standard model designed for narrow stairs and larger people
Designed for people with low joint mobility and curved or multi-tiered stairs
High tolerance to extreme heat and cold
Economy lift with basic design but many key features
Weather-resistant plastics
-Limited lifetime for motor, gearbox, and rail
-Limited lifetime for motor, gearbox, and rail
-Limited lifetime for motor, gearbox, and rail
-Limited lifetime for motor, gearbox, and rail
-Limited lifetime for motor, gearbox, and rail
-Limited lifetime for motor, gearbox, and rail
-Limited lifetime for motor, gearbox, and rail
Stannah Stairlift Models
All Stannah stairlifts come with a set of standard features that promote independence for the user, including two remote controls that can send or call the chair to your preferred position. The remotes can be locked with the use of a key and come with wall mounts so they can be positioned at the top and bottom of the stairs.

Other standard controls and safety features include:

Can fit any length stairs
Ergonomic slimline control built into armrests where hands lay naturally
A comprehensive suite of safety features
Option to add supplemental safety features
Power outlet charging battery system that enables stairlift use in power outages
Manual and automatic seat swivel functions available
Easy fold-away mechanisms
Multiple style choices
Anti-slip footrests
Automatic hinged rail option for straight rail models
Chair position lock and fold-away come in either manual or power configurations
Options for people with limited manual dexterity or joint immobility
The Starla comes in the 600 version, which has a straight track, and the 260 version, which has a curved configuration and features a tilted seat for added comfort and security. What makes both versions of this model stand out is their potential for customizability. With multiple upholstery, trim, and color options for nearly every part of the Starla, this model is made to blend into the decor of your home. The Starla's standard package includes pearl-toned rails, a powered footrest, Stannah's light touch hand control, and a retractable seat belt.
Other available features of the Starla include:

300 pound weight capacity for the curved track and 350 pound weight capacity for the straight track
Wood trim available in dark and light finishes
Your choice of waterproof vinyl or woven fabric upholstery
Tilted seat for security and easily accessible seat belt on armrest
Safety sensors stop stairlift for obstacles and seat load sensors ensure you are seated safely before moving
Powered footrests do not require bending over
High-backed and generously padded seat
The Siena model is best for people who desire a few custom options and a high-quality stairlift but do not require the high customizability of Stannah's more expensive Starla model. Like the Starla, however, this model is offered with a curved track (the 260 model) and a straight track (the 300 model). Both versions of Siena are well-suited to more narrow staircases, as the seat's curved back provides a deeper, and thus space-saving seated position. The Siena's vinyl upholstery comes in six different colors.
Features of the Siena include:
300 pound weight capacity for the curved track and 350 pound weight capacity for the straight track
Waterproof vinyl seat upholstery
Wider seats, longer armrests, and retractable seat belt fitted to chair arms
Curved seat back for a more deeply-seated position
Slim profile
Curved 260 model can be anchored to either side of your stairs
Easy fold-away mechanism does not require bending over
Batteries allow stairlift use even during power outages
Stannah's Sadler model is a curved track stairlift specifically designed for people who have difficulty bending or pain when they bend at the hip, knee or back. The seat is positioned to maintain an upright position, or "perch," while keeping the user secure while in motion. Added safety features and a powered tilting seat make the Sadler an exceptionally supportive stairlift.

Features of the Sadler include:
300 pound weight capacity
Powered tilting seat gently raises and lowers users for easy sitting and standing
Saddle-style seat reduces joint strain by forming upright posture
Immobilizing seatbelt restricts movement of the chair until it is buckled securely
Curves to travel beyond the top stair all the way onto the landing
Height of seat can be customized at installation
Footrest automatically folds to the wall when armrests are raised
Stannah's straight-track, outdoor model is a rugged, all-weather version of the indoor models that retains those chairs' functionality and safety features. Stannah does not currently offer this unit in a curved track version, but in some cases stairlift users can install more than one straight rail model to navigate complex stairways. The straight tracks can be made to fit any length of stairway.
Features of the Outdoor 320 Stairlift include:

300 pound weight capacity
Withstands extreme temperatures from 14 degrees to 105 degrees Fahrenheit
Compatible with minimum stairway widths of 27"
UV-resistant and waterproof
Sensors stop the chair on contact with debris on the track or stairs
Comes with a fitted, all-weather cover
Manual swivel seat and continually charging batteries that work in power outages
Controlled with an ergonomically-positioned joystick
The Siena One stairlift is an economic and budget-friendly option. It is perfect for those with simple straight stairs, but who still want the high-quality functionality and safety features of the popular Siena and Starla models. It is also a cheaper alternative to a residential elevator or home modifications that help with mobility.
Features of the Siena One Stairlift include:
Slim profile that can fit in small spaces such as stairs to the basement or garage
Weight capacity of 350 pounds
Anti-slip footrest and safety obstruction detectors
Vinyl upholstery in the color walnut
Diagnostic window below the seat to help with troubleshooting problems
Adjustable seat height upon installation to suit user preferences
Manual swiveling chair to assist with exiting the stairlift
A solution to getting down the stairs to basements
Stannah Stairlift Safety Features
Stannah stairlifts are designed for optimal user safety. Below are some of the many safety features that are often included in Stannah's seven stairlift models.
-Sensors prevent movement until securely positioned on some models
-Obstruction detection 
-Multiple seat belt options for extra security and ease of use
-Manual and powered swivel seats
-Rails can continue to top landing for added safety and can be installed on either side of stairs for ease of use
-Batteries continue to operate for six to twenty minutes during power outages
-Stairlifts come with a key to prevent unauthorized use
Pros and Cons of Stannah Stairlifts
Pros:
Customers who have made a stairlift purchase receive free consultations, call-out servicing, and clean, fast installations
Custom height adjustment and precision staircase measurement by trained installation experts
Folding stairlifts don't require bending, seat belts are easily accessed on armrest, and narrow tracks reduce the chance of things getting caught
Generous limited lifetime warranty on the motor, gearbox, and rail of every stairlift
Cons:
Pricing is complex and a representative can only give you a quote after measuring and evaluating your stairway
FYI
Depending on whether you buy through Stannah or through a dealer not included in their authorized dealer network, your warranty and financing options can vary significantly. Stannah cannot guarantee warranties provided by an unauthorized dealer, and unauthorized dealers cannot guarantee a Stannah manufacturer's warranty. To find store locations included in Stannah's network, visit Stannah-Stairlifts.com. Otherwise, consider contacting Stannah online or by phone and let them refer your query to an authorized dealer nearest you.

Best for Fast Delivery and Installation
Acorn Stairlifts is a United Kingdom-based manufacturer that has been in business since 1992 and is one of the largest stairlift companies in the world. Acorn may be the only company of its kind to exclusively sell directly to consumers rather than employing licensed dealers or third-party installation engineers. Its dedication to service and design has led Acorn to innovate new ways to fabricate and install stairlifts.

Acorn's curved stairlift models — intended for more complex staircases — are constructed using a unique modular design called FastTrack. The FastTrack rail system removes the long waiting period many stairlift buyers must endure while their curved stairlift rails are custom built in a factory. Acorn also emphasizes features that give its lifts unusually fast and easy installations, such as the stair-mounted (rather than wall-mounted) design, which alleviates the need to make alterations to your home's construction before your installation can begin.

Pricing available with consultation
Pricing available with consultation
Pricing available with consultation
-280 pounds 
-350 pounds for heavy-duty version
Simple design with numerous safety features
Faster than average installation and delivery
Comes with a weather-resistant cover and keyed lock
12-month manufacturer guarantee
12-month manufacturer guarantee
12-month manufacturer guarantee
Acorn Stairlift Models
Acorn's stairlifts come in three models, with options for larger people, indoor or outdoor use, and straight or curved stairs. All models are shipped from Acorn's factories complete with a comprehensive suite of features intended to promote convenience, safety, and long-term satisfaction.
Features common to all Acorn Stairlift models include:
Uses 24V DC (battery) that charges on home power
Consumes very little power and is quiet
Fast installation due to innovative design
Extruded aluminum rails
Light, neutral rail and seat colors
Folding footrests
Remote control to send the chair where it is needed
Slimline designs for narrow stairwells
Optional hinged power rails fold away for even more space-saving
Seat modifications for greater accessibility (availability may vary by location, model, or other factors)
The 130 is Acorn's standard straight track stairlift model. It features most of the same functions and style as the Acorn 180 and 130 Outdoor. With Acorn's sensor system and intuitive controls, the 130 offers a simple yet safety-enhanced option.
Features of the Acorn 130 include:
Most affordable model
Diagnostic display for troubleshooting
Standard maximum weight capacity is 280 pounds
Model can be upgraded to an "HD" (heavy duty) package, which increases its weight capacity to 350 pounds
Intuitively designed controls embedded in armrests
Upgrading to the folding rail can help you save space
*You may encounter discrepancies in which this model's capacity is sometimes listed as 280 pounds online. However, the official user manual lists its capacity as 300 pounds.

Acorn's 180 model is intended primarily for use on curved or multi-tiered staircases. Its modular "FastTrack" rail system ensures that your stairlift rail is the best fit for your space, and is eligible for surprisingly fast delivery and installation since its pieces do not have to be custom-built.

Features of the Acorn 180 include:
Maximum weight capacity of 265 pounds
Diagnostic display for troubleshooting
Power hinge option for folding away track at base of stairs
FastTrack system offers the fastest delivery and installation in the business- next day installation available in many cases
Can fit almost any staircase
Acorn's 130 Outdoor model is built to withstand the elements and provide safe passage to and from your home. It is nearly identical to the standard 130 model, but it complies with all industry standards set for outdoor stairlift models. Since this outdoor model is only available in the straight track style, people who require a stairlift on curved or multi-tiered outdoor stairs will often have multiple straight lifts installed on the same stairwell.
Features of the Acorn 130 include:
Comes with all-weather, fitted cover
Waterproof and UV-resistant
Withstands extreme temperatures
Diagnostic display and backup battery
Automatically stops for obstructions
Hinged rail option to fold away track at the base of stairs
Acorn Stairlift Safety Features
-Retracting seat belt
-Diagnostic display for troubleshooting issues
-Obstruction sensors 
-Swivel seat locks to allow dismount
-Hinge option to fold track up and away from in front of doors or hallways at the base of the stairs
-All lifts have a battery that charges via the main electricity supply and can power the lift for six to twenty minutes during power outages
-Key locks lift when not in use
Get a Free Quote for Acorn Stairlifts Seniors and Medicare beneficiaries can receive free quotes for the purchase and installation of stairlifts. Get Started Here.
Acorn Stairlift Pros and Cons
Pros:
Offers next day installation for its Acorn 180 Curved Stairlift featuring its innovative FastTrack system
All models have a hinge option to fold railing away from the base of the stairs
Features a slimline design and folding seats to save space
Low running costs for operation and causes no structural damage to home on installation
Cons:
Only three models of stairlifts to choose from
FYI
It pays to read your Acorn Stairlifts owner's manual. If it is assessed that you have improperly used your stairlift — according to the definitions of improper use laid out in your user manual — then you will be held responsible for any repair costs you incur. It may also void your warranty if you do not perform routine maintenance on your stairlift, which includes basic cleanings and checking for full functionality of certain components once every few months. The specific upkeep guidelines can be found in your user's manual.

Best Standard Package
Savaria is a Canadian mobility equipment company that makes everything from home elevators to wheelchair lifts. 400 dealers and affiliates throughout North America distribute and install its many products. One of the things Savaria is most well-known for is the high practicality of its stairlifts' basic features.
Savaria includes a set of standard features in the price of all of their models that should soundly accommodate most buyers' needs. Not all manufacturers include adjustable armrests or a 350-pound weight capacity as standard, but Savaria stairlifts are all made to comfortably hold people of most sizes.

Pricing available with consultation
Pricing available with consultation
Pricing available with consultation
-350 pounds 
-300 pounds for stairs with an angle greater than 45 or with flip-up rail option
400 pounds
-350 with flip-up rail option
Exceptionally small fold-away footprint
Extra-wide seat with unusually high weight capacity
Out-of-the-way parking deposits the rider around the bend of their landing
Vinyl or synthetic leather
-36 months for parts
-Ask dealer for details
-36 months for parts
-Ask dealer for details
-36 months for parts
-Ask dealer for details
Savaria Stairlift Models
Savaria provides a highly pragmatic set of features as standard on all of their stairlifts, including large, 24-volt batteries, adjustable armrests, and weight capacities of 350 or more pounds. Savaria models also come with safety features and upgrade options that make them a solid contender in the stairlift manufacturing space.
Savaria's standard features and options include:
Two infrared remote controls that send signals through obstructions
Retractable seat belts
24-volt batteries
Non-slip footrests
Swivel lock seats for safer dismount
Stair and rail system obstruction sensors and auto-stop
Soft start and smooth stop operation
Mounts to either side of your stairs
Option to add flip-up rail, emergency stop button, and continuous-charge system
Savaria's most popular model, the K2, has one of the smallest folded-away profiles in the industry, making it a great option for people with high-traffic or narrow stairways. It is a straight-track model lift appropriate for single-flight, straight stairwells, and offers the option to add a fold-away rail for a less intrusive profile.

Features of the Savaria K2 include:
A 10.75-inch profile when stowed
Fits stairs up to 32 feet long and inclines of up to 55 degrees
Maximum weight capacity of 300 pounds on inclines over 45 degrees
Quiet and smooth-riding rack and pinion drive
LED status lights to indicate battery life and diagnostics
Can be installed to the left or right of stairs
Adjustable arm width of up to 20 inches
Optional flip-up rail, emergency stop button, and radio frequency remotes
The Savaria K2 also comes with the option to upgrade to an outdoor stairlift. The K2 outdoor package will come at an increased cost. It is suitable for moderate climates and includes:

Stainless steel rack and support legs
Zinc hardware for rust resistance
UV-rated, water repellent, closed-cell foam seat
Seat cover
Sturdy clip seatbelt
Upgraded battery for long-lasting charge in variable temperatures
This model is similar in most respects to the K2 (above), but it boasts an unusually high weight capacity. Whereas virtually all other stairlifts max out between 250 and 350 pounds, this one maxes out between 350 and 400 pounds. Exact capacity is determined by which seat option you select.
Features of the Savaria K2 Plus include:
Similar look and mechanical features of the regular K2 model
"L seat" option that is up to 20" wide with 350 pound weight capacity
"Plus Seat" option that is up to 24.25" wide with 400 pound weight capacity
Fold-up chair width 13.5″ is slightly more bulky than in the regular K2 model
Made to fit any stairway configuration, the Stairfriend can be adapted to multiple tiers, hard turns and spiral staircases. This model comes standard with a length of rail that overextends stairs and runs along the wall at the top landing to deposit the rider safely and unobtrusively. The Stairfriend may also be used in public spaces depending on regional regulations.

Features of the Savaria Stairfriend include:
Appropriate for commercial applications in some states
Travels stairs up to 84 feet long at up to a 52 degree incline
Folded width of 15.5 inches
Choice of "L" or "V" seat with varying sizes and shapes
Dual-rail design for added strength and stability
Optional extra-long seat belt and 5-point harness
Overspeed brake, obstruction sensors, and swivel and locking seat for added safety
Savaria Stairlift Safety Features
Savaria values the safety of its customers and has fitted all of its stairlifts with a comprehensive set of safety features. Many of these are detailed in the chart below.
-Obstacle sensor and auto stop if chair meets a barrier 
-Seat swivel and lock for safe dismount
-Soft start and stop
-Overspeed brake on some models
-LED status lights indicate low batteries or mechanical malfunctions
-Optional flip-up rail at bottom landing on straight stair models to avoid obstructions
-Top or bottom rail overrun for easier boarding or dismount 
-24-volt batteries can power 40 round trips during power outages
-Key switch that ensures seat will not move without an inserted key 
Savaria Stairlift Pros and Cons
Pros:
Continuous charge batteries twice the size of average stairlift batteries will power lifts during power outages
Stairlift models with small fold-away profile and optional fold-up rail to prevent obstructions and save space
Multiple seat options, including heavy-duty seats with a larger weight capacity
Quick installation with straight lifts installed in three or fewer hours (more complex curved staircases typically take a day or more)
Cons:
No direct sales to customers within US so difficult to determine specific model costs
FYI
Dealers of Savaria stairlifts may offer extended warranties or service agreements at their own discretion, but buyers should be careful about accepting an extended warranty. Salespeople often overestimate the likelihood that a major appliance will need servicing, so it's best to always research any warranty terms and guarantors, no matter how reputable your stairlift dealer may be.

What You Should Know About Stairlifts
Stairlifts are battery powered chairs that glide on a track to help people with limited mobility maintain easy access to every level of their home. Whether your stairs are indoors or outdoors, short or long, and whether they are straight, curved or multi-tiered, there's probably a stairlift for you. Below you'll find some basic information on the different types of stairlifts that are available to help you find the best option to suit your needs.
Types of Stairlifts
Straight Stairlifts

A basic, straight stairlift is the most inexpensive form of the machine, though it is only suitable for people who have average, straight stairs. In homes that have straight staircases with multiple tiers and landings, installing more than one straight lift is an option. This may still be less expensive than purchasing a single curved stairlift since these can cost up to ten times more apiece. However, navigating a multi-tiered stairwell using more than one straight lift requires transferring from one chair to another at each landing.
Curved Stairlifts

Curved lifts must be custom-made after purchase, as curved stairways are not a well-standardized feature of home design. A curved lift can be engineered to fit with nearly any stairway, including spiral stairs or uneven, outdoor terrain. However, a highly curved stair may present stairlift design challenges, such as reduced carrying capacity or rail length.
Wheelchair (Platform) Lifts

For those who require the use of a wheelchair, wheelchair lifts are designed to bear a much heavier load than average stairlifts. These lifts either have a large platform topped by a high-walled, roll-in box that limits movement of the chair while the lift is in motion, or un-walled platforms that lock in place between the wheels, supporting a chair by its frame.
Vertical Lifts

In homes where stairs are bordered by a wall over which a person can be vertically lifted to an upper landing or floor, use of the stairs can be avoided altogether. Vertical lifts attach to the wall beside your stairs, and will sometimes require home alterations to reinforce the weight-bearing capacity of the wall itself. Vertical lifts can be found in multiple styles to accommodate a seated or wheelchair-bound rider.
Portable Stairlifts

A portable lift is ideal for wheelchair users who frequent less easily accessible buildings or who may not be able to self-evacuate in an emergency. It is essentially a large-platformed dolly on a motorized, caterpillar track, and it moves freely, unattached to any surface. While a friend or caregiver who can lift at least 60 pounds must be available to help maneuver a portable stairlift, this style of lift has proven an invaluable tool in emergency situations and day-to-day travel outside the home.
A Stairlift's Main Components
User Controls
Hand controls: A key feature of any stairlift is an ergonomically positioned hand control mounted in either the right or left armrest. A user moves their stairlift by applying a small amount of constant pressure to a paddle-shaped switch or joystick. The constant-pressure feature allows a rider to quickly stop or reverse their stairlift by releasing the control or applying pressure in the reverse direction.
Power buttons: Power buttons are positioned either within reach of a rider on the armrest or on the pedestal of their chair. Users are advised to keep their stairlift powered on so that the batteries can continue charging while the chair is in a parked position.
Fold-away levers: Levers for fold-away are usually mounted near a stairlift's seat, so these often do not require much bending at the waist to engage. A fold-away lever can be used to fold the seat, armrests and footrest so that the chair becomes flattened to the wall, making the stairlift less obtrusive while it is parked. Fold-away systems can often be upgraded to function automatically with the push of a button.
Swivel-seat levers: Swivel-seat levers can usually be found on either side of the seat. Swivel seats allow riders to safely turn their stairlift seat toward the top or bottom landing of their stairs and then lock the seat in position, providing stability as the user sits or stands. Swivel-seats can often be upgraded to function automatically with the push of a button.
Diagnostic displays: A diagnostic window may be found on a stairlift's pedestal, armrest or remote control. If there is ever a functional issue, such as a low battery or malfunctioning mechanical component, diagnostic windows will display an error code. This code will have a corresponding explanation in the user's manual, clarifying what the error code means.
Remote call systems: Most stairlifts come with a set of two remote controls that can be carried by the rider or set into wall-mounted cradles, though some may be wall-mounted only. Remotes will bring the stairlift to your position, either at the top or bottom of the stairs. Most modern remotes offer infrared functionality that sends a signal over a long distance and through any obstructions. Some remote controls have the capacity to control automatic fold-away or swivel-seat functions.
Seat adjustments: All stairlift chairs are height-adjustable, allowing for more legroom between the footrest and the seat base. Part of the stairlift installation process should involve your installer helping you select the right height adjustment for you. Other adjustments may also be possible, depending on the brand and model of your stairlift. Many lifts come with adjustable armrests for additional room and some feature adjustable backrests to accommodate taller people.
Folding rails: Most stairlifts offer the option to upgrade to a folding rail in either a manual or remote-controlled configuration. To make sure the railing isn't blocking foot traffic or doors near the top or bottom of the stairs, the ending section of the rail will fold away on a hinge to save space. Some manufacturers may offer slimline rail options as well, or other innovations like Handicare's Slide Track rail, which travels a short distance as the chair moves, sliding it along the wall away from the final few steps and toward the rider's destination.
Rail Systems
Stairlift chairs house motors that pull the rider along a rail mounted to the homeowner's stairs by bolted-down, metal brackets. Some rails, such as those used with vertical lifts or wheelchair platforms, may be bolted to a wall instead.
Stairlift rails come in many brand-specific shapes and sizes, though they are usually made of extruded aluminum and can be mounted to either side of your stairs. Straight-track stairlifts commonly run on one rail while curved lifts glide almost exclusively on a double-rail system for extra stability. Curved rail systems must be custom-made, and due to the high variability of curved stairs, additional costs for things like extra lengths of rail and other hardware can add up quickly.
Motors and Power Supplies
If your stairlift uses battery power, it will come with either two 12-volt batteries or one 24-volt battery. While the lift is powered on and in a parked position, batteries will continuously charge via charge strips or charge points along the rail.
Some stairlift models operate exclusively on your home's electricity. These stairlifts, usually called AC models, carry a slightly lower price tag than battery-powered options. However, an AC model can leave you stranded on the stairs if there's a power outage. Batteries store power and can support up to 20 minutes of continued stairlift use without household electricity.
Drivetrains that motorize stairlifts are housed within the seat's base and are most commonly found in the "rack and pinion" configuration. The average speed of a stairlift motor is 15 to 20 feet per minute (FPM).
Buyer's Guide: How to Choose a Stairlift for Your Home
Determine Your Price Range
When thinking over your budget for a stairlift purchase, it can be difficult to plan for additional costs for things like accessibility upgrades or extra hardware for longer stairs. However, stairlift manufacturers tend to stock their standard models with specs and features that are suitable for the majority of users, and most brands offer many of the same upgrades. However, each brand will have their own prices for these added features.
As stairlifts are single-function machines, there is little variation between the features offered by most top brands. If Harmar or Bruno has it, AmeriGlide and the other companies we've listed here probably offer it too. However, each brand will have their own prices for added features.

Even if you know you will need to add extra features and upgrades, to get an idea of each brand's relative costs, start your search by looking at brand-specific price ranges for standard models. Keep in mind that curved stairlifts must be custom-made, so their listed prices can vary significantly depending on your stairway design.

Compare Costs for Renting or Buying Used
Renting is a good short-term option for people who need a straight lift for only about six months or less. Stairlift rental can be a great option for those who are recovering from an injury or surgery, or who will have a family member with limited mobility in their home for a time.

However, continuing a rental beyond three to six months can easily result in expenses beyond the average cost of buying a new stairlift. For stairlift users who desire a long-term option that is cheaper than purchasing new, used and factory refurbished stairlifts can cost hundreds less.

Renting a Stairlift

Renting a stairlift comes with startup fees as well as recurring monthly costs that vary depending on the average price of the model you choose. Startup fees are likely to include installation, uninstallation, service visit coverage and a security deposit. Average costs for each of these items frequently fall into the following ranges.
Stairlift installation: $350 to $600
Stairlift uninstallation: $200 to $500
Service visit coverage: $100 to $300
Security deposit: $200 to $800, depending on chosen equipment
Monthly rental costs: $180 to $300 per month depending on chosen equipment
Curved stairlifts are almost never offered as rentals due to their customized curvatures, and straight stairlift rentals may be difficult to find for unusually long or short stairs.

Buying a Used Stairlift

Prices for used stairlifts vary broadly depending on things like brand, stairlift age and the dealers who sell them. Used stairlifts can often be found at significant discounts and are usually less expensive than lifts that have been factory reconditioned. An exact price range for used stairlifts is impossible to quantify, though it is not uncommon to find one with a $300 to $800 discount.
Buying used can come with certain risks as the stairlift you choose may have a short remaining lifespan. Costs for service calls and replacement parts may also become an issue with a well-used lift, and for people who are highly dependent on their stairlift, an unreliable product can present a major problem.
Buying a Refurbished Stairlift

Some manufacturers sell used stairlifts of their own brand after refurbishing them at the same factories where new stairlifts are made. In factory refurbishing, parts showing signs of wear are replaced with new, proprietary parts, including torn or stained upholstery and mechanical components. Reconditioned lifts usually come with manufacturer warranty coverage. Buyers of factory reconditioned stairlifts can expect discounts of about $100 to $500 off.
Consider Upgrading for Comfort and Accessibility
Finding the right stairlift brand for your needs should involve a review of both the standard and upgradable options each vendor offers. Even if you're on a tight budget or aren't the type to pay for extra bells and whistles, most stairlift upgrades are engineered for practicality and can make life much easier for people who have joint pain or limited mobility.
Upgrade options can support physical comfort, blend a stairlift into your home's decor, save space in narrow places, and provide support as your or your loved one's care needs increase. The following are commonly offered stairlift upgrades.
Automatic seat swiveling: While all stairlifts come with a swivel-seat function that allows the user to turn their chair toward the stair landing to safely get up or sit down, it's common to find powered versions for an added fee. Manual swivel seats must be engaged either by manipulating a lever mounted next to the seated rider or by planting one's feet on a stairlift's footrest and pushing the chair to swivel toward the landing. Powered swivel seats turn at the push of a button and are a welcome addition for people who have pain or weakness in their hands, hips or legs.
Automatic folding rails: Manual folding rails are a common upgrade that provides more space toward the end of a stairway for foot traffic and doorways. Automatically folding rails, however, may be much easier to operate, as the segment of rail that must be lifted with a manual configuration can be awkward to maneuver.
Cosmetic upgrades: Though most stairlift manufacturers stick with a relatively basic set of color and design choices, some offer upgrades to upholstery color, rail color and seating fabrics. Stannah, Bruno and Handicare offer a particularly broad range of color and upholstery options.
Comfort seats: Most stairlift manufacturers carry a premium option that comes with a more ergonomic or thickly padded seat. There are also options to add high-accessibility functions to seating, such as a perch design that maintains upright posture, or assistive seats that gently aid the user in standing and sitting.
Extended rails: Both straight- and curved-track stairlift rails can be extended or cut down to suit the length of your stairway. Most manufacturers have specific footage that they consider "standard" for their stairlift rails and will add charges for rail installations of greater length. When building a curved stairlift, the tightness of your stairs' turns and how many turns there are will also factor into how much you ultimately pay. Note that extending either a curved or straight rail or adding a folding rail option can potentially reduce the lift's carrying capacity.
Find a Reputable Dealer
Authorized Dealer Networks

Once you've found a few stairlift brands to consider, search their websites to find store locations for their authorized dealer network. These are stairlift retail stores that have contracts with manufacturers. They can usually guarantee a manufacturer's warranties and installation standards, and have their installation engineers factory trained to install the stairlifts of their preferred brands. Some stairlift brands will also sell directly to the public online or by phone, but buying through an authorized dealer can add some advantages such as additional warranty coverage and nearby locations.

Researching Dealers and Manufacturers

Learning more about a brand or dealer before you buy is also an important part of the process. As a first step, check a company's consumer reviews with the Better Business Bureau. There, users can find reviews that cite specific product and customer service grievances, so it may be helpful to write these down as you read through the reviews section. Submitting a review with the BBB can be a detailed and time-consuming process, which makes it likely that consumers who complete BBB reviews are more committed to the process than those using other product review outlets, like Yelp or Facebook.
Look for Strong Warranties
There are many warranty features to look out for when making a stairlift purchase. While nothing is as useful as going through a specific warranty with the help of a knowledgeable dealer, below you'll find some common aspects of stairlift warranties that are of particular importance.

Installation guarantees: Find out if a manufacturer and/or dealer's warranty will cover you in the event of an improper installation.
Drivetrain coverage: A drivetrain contains the mechanical components of a stairlift that are subjected to the most friction and movement, making it a high priority for warranty coverage.
Lifetime parts coverage: While outdoor and curved-rail stairlifts are less likely to come with lifetime parts warranties, some manufacturers do offer lifetime warranties for parts not included in the drivetrain. Note that parts coverage does not include wear and tear caused by average use.
Non-transferable warranties: If you're buying used, while original manufacturer warranties for stairlifts are almost always non-transferrable to second-hand owners, your dealer may provide their own coverage. Sometimes, the term "non-transferrable" also applies to stairlifts that have been moved from one home to another by the same owner.
Authorized dealers: If buying your stairlift from a dealer rather than directly from the manufacturer, ensure that the retailer is included in the manufacturer's authorized dealer network, as unauthorized sales can void a warranty.
Extended warranties: If you are ever offered an extended warranty after your original warranty expires, make sure the dealer or guarantor is affiliated with the manufacturer of your stairlift. Extended warranty sales have become a large industry, so it's not uncommon for salespeople to offer unnecessary or unhelpful coverage in pursuit of a commission.
Financial Assistance for Low-Income Stairlift Buyers
Paying for a stairlift can be tough for many seniors, but there are plenty of financing options available to offset the cost. Certain insurance programs such as Medicare and Medicaid can help take care of part of the cost, and veterans can apply for assistance through the VA. Private insurance and loans can also be viable sources of financing for a stairlift.
Below, we review the many financing options available to those who wish to install a stairlift in their home.
Medicare Coverage for Stairlifts
Even though a stairlift can be considered durable medical equipment (DME), Medicare does not typically cover its cost. However, there are a few Medicare-related options for those who need financial assistance:
The elevating seat of a stairlift can be considered DME because it helps a person to sit and stand more easily. Medicare plus Medigap can be used to cover the cost of the seat on its own, lowering the overall cost of installing a stairlift.
Medicare recipients can also look into Medicare Advantage Plans (Medicare Part C) for additional coverage. These plans are required to match a standard set by Medicare, but they are also allowed to add extras. Some plans will offer coverage for DME and could pay part or all of the cost of a stairlift.
If a patient wants to obtain durable medical equipment of any kind through Medicare, they may need prior authorization. A Medicare-enrolled doctor will determine that a patient needs the equipment and will provide the supplier with documentation to submit to Medicare for approval. The patient does not have to do anything more than discuss their needs with their doctor and choose a Medicare-enrolled supplier.
Medicare may be difficult to use for installing a stairlift, but there are many other options that are more likely to provide the funds you need for the project.
Medicaid Waivers and State Entitlements
It is difficult to say for sure whether a stairlift purchase can be covered by Medicaid, as each state decides the terms of their own coverage for stairlifts. However, it's not uncommon for people receiving their Medicaid benefits through a waiver program to get some coverage for a stairlift purchase.
Medicaid Waiver program facts:
Available for people whose health status makes them eligible for nursing home care
Available for those who wish to receive home or community-based services at home instead
Accept a limited number of applicants on a yearly basis
Capped in most states due to receiving limited funding annually
If you or a loved one may qualify for nursing home care, find out if your state's waiver program can cover a stairlift purchase by contacting your local Area Agency on Aging.
Below is a list of Medicaid waiver programs specifically designed to cover durable medical equipment, or DME. These programs are the most likely Medicaid options to provide coverage for part or all of a stairlift's cost:
Financial Assistance From The Department of Veterans Affairs
Veterans Affairs provides healthcare coverage options for military veterans and their families. Below is a table detailing the types of financial support available to veterans and their family members who may need a stairlift:
Though determining if you qualify can be a long and challenging process, for low-income seniors and people who require the assistance of a caregiver at home, the effort can be well worth it. For more information on Veterans Affairs financial assistance programs and to find out if you may qualify, call (877) 222-VETS.
The Federal Housing Administration
The FHA is a department within the Department of Housing and Urban Development. It helps low-income people finance qualifying purchases by insuring mortgages and loan refinances so that lenders can give with confidence. Title I Insured Loans offer financing for a variety of projects, including those that improve the livability of the home, such as adding a stairlift. To find out if you qualify or for more information, find your local HUD office at HUD.gov or call (800) 225-5342.
Non-Medicaid State Assistance Programs
In every state, there is likely to be a list of nonprofits and other organizations that provide a safety net for local elders and people with disabilities who require home modifications and accessibility aids.
For example, low-income people with disabilities in the state of Georgia can turn to the Center for Financial Independence and Information for help, or to a number of their affiliates, such as First $tep, Credit-Able, and Tools for Life.
To find assistance programs in your state and local area, contact your nearest Area Agency on Aging.
Additional Payment Assistance for Stairlift Purchases
Many people cannot make large, out-of-pocket purchases for a big-ticket item like a stairlift. Financing is sometimes available for people who buy through manufacturers or dealers, but depending on the brand you're buying and what region you live in, this is not always the case.
If you do find financing, it's common for financial institutions to charge stairlift buyers sales tax just to simplify the financing process, even though the purchase is supposed to be sales-tax exempt.
Fortunately, there are multiple sources of coverage to support mobility equipment purchases for both middle-class and low-income consumers. The following outlets offer grants, low-interest loans, and lines of credit that may help you keep your home safe and accessible with a new stairlift.
Low-Interest Home Improvement Loans
Home improvement loans are usually offered for repairs needed after an emergency situation, such as interior flooding or a natural disaster, but they are also available to pay for accessibility upgrades such as the installation of a stairlift. These loans may be offered by state and local government agencies or unaffiliated banks, and usually involve deferred interest.
Some home improvement loan options include:
Allows you to borrow against the equity (home value minus remaining mortgage) of your home
Home Equity Line of Credit (HELOC)
Allows you to borrow up to a pre-approved limit, much like a credit card
Allows you to borrow money for nearly any use, including home upgrades
Zero-Interest Credit Cards
For people with fair to excellent credit, a zero-interest card may be an option for making a stairlift purchase. These cards offer zero interest for a set period of time, and some offer people with fair credit the opportunity to transfer a balance from an existing credit card to take advantage of a long, interest-free term with a new card.
Here are a few tips for getting the most out of a zero-interest credit card when making a large purchase, such as a stairlift:
Be aware that you will still need to make a minimum monthly payment on the card.
Be sure to know the ending month of your interest-free period.
Allocate funds for paying off the card in full during the interest-free period so you can pay off the card one month before interest is charged.
Private and Long-Term Care Insurance
Many people don't realize that some personal insurance and long-term care insurance plans will help pay for the purchase of a stairlift. To find a plan that could qualify you for this coverage, you may need to spend some time comparison shopping.
If you happen to have an accountant or financial advisor, he or she can help you select the best insurance policy. The insurance shopping process becomes far simpler and more productive when you have a knowledgeable guide — and someone who can help you figure out if your stairlift is tax deductible.
The Area Agencies on Aging
The Area Agencies on Aging (AAA) is a national organization that works with the federal government to deliver resources and information to America's aging population. The AAA is able to distribute funding allocated by the Older Americans Act Title III to help low-income seniors install stairlifts.
The Older Americans Act Title III:
Was enacted in 1965 to help protect the most vulnerable Americans.
Allocates funds to each state based on the state's percentage of older Americans (age 60+).
Provides about 3 million people with a variety of services, including home care, transportation, and meals.
The Area Agencies on Aging have readily available locations throughout every state. To learn more about them or to find an office near you, contact your nearest Area Agency on Aging.
Frequently Asked Questions
Which is better, the Bruno or Acorn stairlift?
Bruno and Acorn both make safe, attractive, and functional stairlifts; however, each has its own area of strength. Acorn stands apart for its fast delivery and installation services. With its innovative FastTrack rail system and stair-mounting designs, customers don't need to wait for lengthy rail customization processes or home alterations prior to installation. Bruno is known for the high-quality of its lifts which feature a vertical rail for a low space profile, have a high weight capacity, and come with a generous warranty.
Can stairlifts be fitted to any stairs?
Stairlifts can be fit to most staircases. However, staircases need to be wide enough so that those riding in a stairlift do not hurt themselves by hitting against the opposing wall and others do not trip over the stairlift while navigating the staircase. Vertical height may also be a limiting factor for perch seats, where the user requires more vertical clearance. Those with curved staircases will require customized stairlifts, though several companies can accommodate complex multi-level and even spiral staircases.
How do I choose a stairlift?
To choose a stairlift, first determine how much you are willing to spend and consider whether you want to rent or buy a used stairlift. Then narrow down your options by your staircase and whether it is straight or curved, indoors or outdoors. Think about the added safety or accessibility features you will need or any upgrades you will want to have included. Then ensure your customized stairlift has sufficient warranty coverage and will be installed correctly by experts.
How long do stairlifts last?
Generally speaking, a starlift should last about 10 years. However, this depends on many factors. These include the quality of its manufacturing and design, its maintenance, and the amount of daily use it undergoes. User weight and whether or not it is operated indoors or outside are also important. Heavy use, exposure to extreme conditions, and less durable engineering may reduce the lifespan of a stairlift.
Do stairlifts need regular maintenance?
Stairlift gears may need to be oiled occasionally, and batteries are often due for replacement every three years, though this varies according to model. Performing basic checks on the integrity of key parts every few months may help keep your stairlift in good repair. When you purchase your stairlift, check the user manual for tips on maintenance and cleaning.
Can I customize my stairlift?
Many companies allow you to select customizable features such as colors, chair upholstery type, and which armrest the manufacturer places the controls on. Moreover, curved stairlifts are highly customized to the length and shape of the stairway. Customizations tend to add to the cost of the stairlift.
Can I return my stairlift?
A stairlift can't be returned, per se, but some companies will buy the stairlift back from you at a fair but reduced cost. Stairlifts that are bought back will be refurbished and resold by the company later. Selling back isn't a guaranteed option- some brands don't have a buyback program, and some may have a buyback program but will decline to purchase older models or models that have received significant damage.
Will a straight stairlift work for me?
Straight stairlifts are the most affordable option, but they work best for stairways that don't have landings or curves. If your stairway isn't straight, you'll have to invest more in a stairlift that curves with your home's structure. In some cases, you can buy two straight stairlifts instead of a curved one, but this will be expensive as well as inconvenient since the person using the lift will need to switch chairs when she or he reaches the landing.
Can any stairlifts be purchased with a payment plan?
A few manufacturers do offer payment plans, but payment plans often include extra fees and taxes that can make them more expensive in the long run. If the large upfront payment required for a stairlift is more than you can afford, however, a payment plan could be a good solution.
How can I save money on a stairlift?
Buying a factory refurbished stairlift is a smart way to save money on your purchase while still receiving excellent quality. Never buy a used stairlift directly from another consumer, however. A used stairlift that hasn't been tuned up by a professional at the original factory could end up costing more down the road as well as be dangerous.
Another way to save money is by renting a stairlift. This option will only save you money for short-term use. Experts say that rentals that progress beyond six months will likely cost as much as or more than buying a stairlift outright.
Is there anyone who should not use a stairlift?
Anyone whose mobility is so limited that getting into and out of the stairlift's chair poses a great risk of falling may not be a good candidate for use of a chair. Each person should assess the safety of using a stairlift along with their caretaker and doctor.
---
Assistive Resources and Guides
To find out more about other assistive devices and safety-enhancing technology, read our guides to these topics: