The Best Adjustable Beds of 2022
Date Updated: July 11, 2022
Best Customer Satisfaction Guarantee
Starting Price: $1,199
Split Options: Yes
Warranty: Limited Lifetime
---
Longest, Most-Inclusive Warranty
Starting Price: $1,449
Split Options: Yes
Warranty: Limited Lifetime
---
Starting Price: $650
Split Options: No
Warranty: 2-5 Year Limited
---
What You Should Know About Adjustable Beds:
As many as 1 in 3 adults in America don't get the recommended 7 hours of nightly sleep.
Bad sleep has been linked to health issues such as heart disease, depression, and obesity.
Doctors may recommend an adjustable bed for patients who suffer from sleep issues.
Medicare, Medicaid, and VA benefits could help supplement the cost of an adjustable bed.
Most adjustable bed manufacturers offer 0% interest financing options to help consumers make a purchase.
According to the Centers for Disease Control and Prevention (CDC), as many as one in three adults do not get the recommended 7 hours of sleep. This puts them at risk for developing certain health conditions associated with inadequate sleep, such as obesity, depression, diabetes, and heart disease. Many people who struggle with insomnia turn to adjustable beds for relief, enjoying the way these beds can elevate their feet and heads and reduce any pain or discomfort. In some cases, doctors even recommend adjustable beds as part of treatment for certain conditions that contribute to sleep issues, such as sleep apnea or arthritis.
Unfortunately, individuals who are interested in adjustable beds face a market that has become somewhat oversaturated by internet startup mattress brands. Further, because many brands have been around for less than a decade, it can be a challenge to compare them based on word-of-mouth alone. Those who have never had an adjustable bed may also be overwhelmed by the range of prices and the number of features available from different companies.
To help you sift through the many brands and models of adjustable beds available, we've created a guide that covers the prices, features, warranties, and more of the top ten brands on the market. We've also included a step-by-step guide to help you navigate the adjustable bed-buying process.
Overview of the Best Adjustable Beds
Overview of the Best Adjustable Beds

Starts at $1,199
Twin XL, Full, Queen, and Split King sizes available
101-night trial period

See Packages → Read Our Review →

Starts at $1,449
Twin XL, Queen, and Split King sizes available
Limited lifetime warranty

See Packages → Read Our Review →

Starts at $2,030
Standard Twin, Twin XL, Full, Queen, Standard and Split King, and California King sizes available
Most models are foldable and all models have removable legs

See Packages → Read Our Review →

Starts at $650
Twin XL, Queen, King, and California King sizes available
Some models compatible with mobile app

See Packages → Read Our Review →

Starts at $1,225
Twin XL, Queen, Standard and Split King sizes available
Bed is foldable for easy moving and storage

See Packages → Read Our Review →

Starts at $849
Twin XL, Full, Queen, and Split King sizes available
50-night trial period

See Packages → Read Our Review →

Starts at $1,249
Standard Twin, Twin XL, Full, Standard and Split Queen, Standard and Split King, and Standard and Split California King sizes available
Free shipping within the contiguous U.S.

See Packages → Read Our Review →

Starts at $899
Standard Twin, Twin XL, Full, Standard and Upper-Flex Queen, Standard and Upper-Flex and Split King, and Standard and Split California King sizes available
White glove service included

See Packages → Read Our Review →

Starts at $1,299
Twin XL, Queen, Standard and Split King, and California King sizes available
10% discount for military personnel, first responders, and students

See Packages → Read Our Review →

Starts at $1,500
Twin XL, Full, Queen, Split King, and Standard and Split California King sizes available
Made in the USA

See Packages → Read Our Review →
How We Chose the Best Adjustable Beds
We read over 100 online reviews and compared over 20 companies to find the 10 best adjustable bed options. The main criteria we considered are:
Pricing Transparency
Some companies aren't transparent about their pricing and require potential customers to submit personal information in order to find out product costs.
We cut all such companies from our list, knowing that most individuals prefer to wait to give companies their information on their own terms later on in the buying process.
Mattress Compatibility
We only included brands with frames that are compatible with any mattress designed for an adjustable bed.
The only possible exception to cross-brand compatibility on our list comes in the case of "split" designs, explained below.
Split Options
These beds allow each partner to make their own adjustments without disturbing the other person sleeping beside them.
Since partners rarely have exactly the same sleeping preferences, we decided to only include companies that offer at least one split bed option in their catalogs.
How Adjustable Beds Work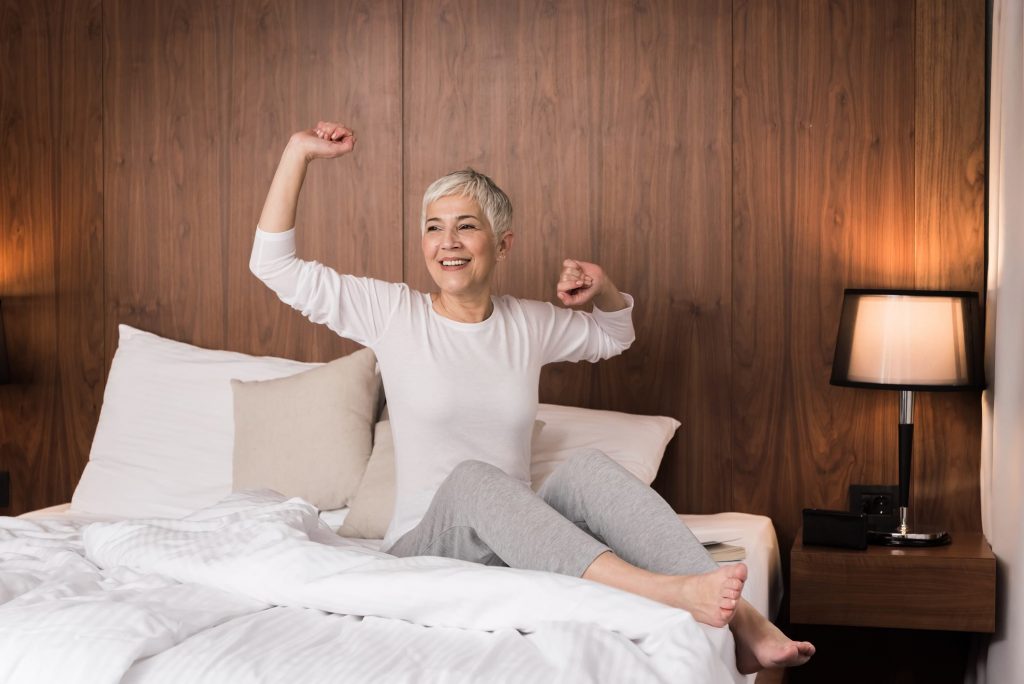 When shopping for an adjustable bed, it's important to understand what is and what is not included with your purchase. Equally as important is knowing the basic, industry-wide terms used by most adjustable bed companies to describe their products and services.

Bed Variability

Some adjustable beds have legs and can stand alone or even be placed inside of another, more decorative bed frame. Other adjustable beds are more mat-like, lacking legs. The latter is designed to be placed atop an existing bed frame.

There's no universal language within the industry that will indicate if a bed frame is the mat-type or the standalone type, so it's always a good idea to look closely at descriptions to determine what you're getting. Don't rely on photos alone since many show the bed in use complete with mattress, bedding, and other items that may not be included with your adjustable bed purchase.

Compatible Mattresses
Companies usually sell adjustable bed frames separately from their mattresses. This gives consumers the opportunity to choose a mattress that suits them best, even if it's from another brand.

Adjustable beds typically work with the following mattress types:
Memory foam
Latex
Air beds
Innerspring
Innerspring mattresses sometimes have compatibility issues due to their comparative stiffness, so check compatibility with the manufacturer before you purchase one. All of the above mattresses can be made in a "split" design that allows the right and left side of the bed to be adjusted independently. However, you may need to refrain from mixing frame and mattress brands if buying a split design since not all of them work in the same way. Some designs are fully split, and some are only split at the top, and if combined they may not function correctly.

White Glove Services
Many companies offer optional setup services that they refer to as "white glove." When you purchase a white glove service package, the company will typically not only deliver the bed and related purchases, but will also set up the bed and take your old, unwanted mattresses for recycling, donation, or the landfill. White glove services can cost $100 or more, and each item added to the order may have an additional fee, depending on company policy.

Compare The Best Adjustable Bed Companies
*Note: Listed price ranges provide an idea of what is available, but costs may fluctuate seasonally. The lowest end of the price range represents the smallest, most basic model available (usually Twin XL size), and the highest end represents the largest, most expensive model.
Expert Reviews of The 10 Best Adjustable Bed Companies
Best Adjustment and Personalization Options
Puffy is an American mattress company that was founded by Arthur Andreasyan in 2016. Launched the following year, the company soon expanded its operations as it underwent exponential growth. Puffy's success is due to its great memory foam and hybrid bed mattresses that offer cooling, pressure relief, and motion isolation. According to many satisfied customers, these mattresses give the sensation of sleeping on a cloud. Puffy's adjustable bases are also the very best quality, which is why they are included under the exceptional Puffy sleep trial and warranty.
Puffy adjustable beds provide more personalization and adjustment settings than many of its competitors. Customers can enjoy dual massage zones, adjustable leg height, independent adjustment of head and legs, and a zero-gravity mode for ultimate comfort. Each adjustable base also features LED lighting and USB charging ports for added security and convenience. Combine all this with Puffy's 101-night sleep trial, free pickup for returns, and limited lifetime warranty, and Puffy is a great choice for anyone looking for an adjustable bed
Overview of Puffy Adjustable Beds
Twin XL
Full
Queen
Split King
After 14 days of a 101-night trial
Yes–Zero-gravity and Flat
Puffy adjustable beds are only sold online. They can be paired with Puffy mattresses, which also have a 101–night trial period and a limited lifetime warranty.

Pros and Cons of Puffy Adjustable Beds

Pros:
Ships in 1-3 business days, and shipping is free within the contiguous United States.
Easy setup includes joining the top to the bottom and putting in the legs.
Has 3-speed, dual-independent massage motors for full-body massage and zero gravity positions for weightless comfort.
Comes with a universal headboard mount so you can attach your headboard of choice.
Cons:
White glove services not offered.
Only adjustable via wireless remote and cannot be synced with mobile phones.
Best for Massage Features
GhostBed, a division of Nature's Sleep, was founded by Marc L. Werner. Nature's Sleep has been operating since 2001, and GhostBed launched about ten years later. Werner was driven to invest in the sleep industry due to his own personal struggle with neck pain and his frustration with high-pressure sales during mattress shopping. GhostBed's affordable adjustable base came out in 2017, backed by 15 years of sleep science experience from Nature's Sleep. The company also offers a generous lifetime warranty, covering defective steel and mechanical base parts as long as the bed is still owned by the original purchaser.

GhostBed provides the best adjustable bed frame for those who want a massage system in their new bed. The two-zone massage system provides a soothing massage for both head and feet. Three modes and three intensity levels allow for much more customized massages than that of other adjustable beds. A timer setting also lets customers drift off to sleep with a comforting massage.

Overview of Ghostbed Adjustable Beds
Yes – Zero-gravity, Anti-snore, Watching TV, Lounging
1st year full warranty, Limited Lifetime after that
Ghostbed adjustable bases can stand alone, but will fit in most bed frames. Slats will have to be removed from a slatted frame. They are compatible with any mattress designed for an adjustable bed.

Pros and Cons of Ghostbed Adjustable Beds
Pros:
Built-in zero-gravity and other presets, head and foot massage, under-bed LED lights, and USB ports for device charging
Comes almost entirely preassembled and takes just a few simple steps to put together with no tools required
Bundles featuring an adjustable bed and a mattress come with a 40% discount.
Offers 30% discounts to military personnel, students and teachers, government employees, and first responders.
Cons:
Ghostbed allows returns on mattresses, but not on its power bases.
Best for High-Tech Features
PlushBeds was founded in 2008 with the goal of providing healthier, chemical-free sleep options and has continued to be an independently run family business. It attributes its success in the industry to its core underlying principles, such as a commitment to designing only the best mattresses as well as using the highest quality materials. All PlushBeds bedding is created in a certified-organic California facility, and by sending orders factory-direct and cutting out the middlemen, customers enjoy great savings on exceptional products.

These mattresses pair perfectly with PlushBeds' adjustable bases, offered in four different variations. Each has a versatile, durable design and comes with different levels of built-in features. In addition to its more basic options equipped with quiet motor technology, memory and preset positions, and a zero clearance design, PlushBeds offers an advanced Ultra Ergonomic S755 model featuring its newest, most innovative technology. This includes head tilt, lumbar support, reach assist, and vibrational massage options that can be controlled through a phone or with your voice. Further, the Ultra Ergonomic S755 can automatically adjust when its snore detection software activates as users sleep. PlushBeds is the perfect company for those who want high-quality for a great price, as well as those who are willing to spend more for the best and newest adjustable bed technology.
Overview of PlushBeds Adjustable Beds
Twin (standard and XL)
Full
Queen
King (standard & split)
Cal King (stand & split)
Twin (standard and XL)
Full
Queen (standard & split)
King (standard & split)
Cal King (standard & split)
Twin XL
Queen
King (standard & split)
Cal King (standard & split)
Yes–Zero-gravity, Anti-snore, Flat
Yes–Zero-gravity, Anti-snore, Flat
Yes–Zero-gravity, Anti-snore, Lounge, TV, Flat
Yes–Zero-gravity, Anti-snore, Lounge, TV, Flat
You can purchase a PlushBed adjustable bed online, and shipping is free within the contiguous United States. Delivery to Alaska, Hawaii, US territories, or internationally will require filling out a special request form. PlushBed adjustable beds do not require a box spring or foundation, but come with removable legs so they can be placed on foundations, bases, or slat beds if desired.

Pros and Cons of PlushBed Adjustable Beds
Pros:
All but the most advanced S755 model are foldable to allow for easy moving and storage.
Sync cable is included with all but the most basic E255 model to allow for split bed functionality.
All models have position presets and favorite position memory.
All models have removable legs so they can be used alone or on top of a foundation, base, or slat bed.
Cons:
No returns and warranties vary based on model.
The most advanced S755 model is more than double the cost of many of the higher-end options from other brands.
Best Low-Cost Option

Diamond Mattress is a 4th generation family-owned business and has prided itself on creating the highest quality products for the best value. Over the last 80 years, Diamond Mattress has designed mattresses that fit the unique needs of every individual, with varying firmness, exceptionally supportive coils, temperature adjustments, and airflow improvements that ensure users get the very best sleep possible. Its bases are also designed with the same goal in mind: to improve sleep and thereby make a positive difference in the lives of its customers. All of this people-first innovation comes at a great value.

In fact, the Diamond Mattress brand has one of the most budget-friendly adjustable bed options on the market. Its Sleep Essential Adjustable Base starts at just $800 and is the cheapest of all adjustable beds offered by our top 10 companies. This model is intended for those who are new to adjustable beds and want something simple, yet functional, and it has minimal included features. Diamond's more advanced models are equipped with additional technology, yet are still offered at more affordable prices than many of its competitors. Overall, Diamond Mattress is a great company for a beginner to adjustable beds who doesn't want anything too complex, as well as those who want a more luxurious option for less.
Overview of Diamond Mattress Adjustable Beds
Sleep Essential Adjustable Base
Sleep Zero Gravity Adjustable Base
Sleep Omni Massage Platform Adjustable Base
Yes–Zero-gravity, Anti-snore, Lounge, and Flat 
Yes–Zero-gravity, Anti-snore, Lounge, and Flat
Diamond Mattress adjustable beds are sold online through the Diamond Mattress website and also by retailers across the United States. All adjustable bases and foundations can be synced for use with split mattresses.
Pros and Cons of Diamond Mattress Adjustable Beds
Pros:
The most basic model elevates the torso and is priced as low as $800.
Luxurious models have multiple massage options, zero gravity settings, anti-snore technology, and under-bed lighting.
Some bases can be controlled through a mobile app as well as with a wireless remote.
All bases can be synched for split mattress setups.
Cons:
No position presets available for the most basic model and it can only be used with a wired remote.
Best for Easy Bed Assembly
Bear Mattress, LLC is headquartered in Hoboken, NJ, and run by a small, tightly-knit team of professionals. Its goals are to create high-quality products for exceptional value as well as offer the very best overall customer experience. To meet these goals, Bear Mattress provides an impressive 365-night mattress trial and accompanying 10-year limited warranty and includes the option of low, interest-free financing when making a purchase. Should customers have any questions or concerns about any of its products or services, Bear Mattress makes it easy to reach a company representative, with a real person available via call, text, chat, email, or social media.

The basic design and limited number of parts featured in the construction of the bed don't take away from its quality. In fact, the simplicity of its design makes for very simple assembly. Customers can enjoy knowing that their bed doesn't require an expert for quick and simple construction. Bear strives to make it easy for everyone to own an adjustable bed. Coupling the easy assembly with generous discounts of up to 30% for healthcare professionals, military members, and more makes Bear a standout choice for those looking for an adjustable bed for themselves or loved ones.
Overview of Bear Mattress Adjustable Beds
Twin XL
Queen
King (standard & split)
Yes–Zero-gravity and Flat
Bear Mattress adjustable beds are compatible with all Bear mattresses in addition to mattresses from other companies. The Adjustable Flex Bed can stand alone or be put inside a bed frame or on top of a platform base.
Pros and Cons of Bear Mattress Adjustable Beds
Pros:
Fast shipping of 2 to 7 business days.
Adjustable bed has under-bed storage and folds so it can be easily moved for maximum space efficiency.
Has flat position and zero-gravity presets as well as two customizable presets.
Silent drive motors ensure quiet and restful sleep and remote flashlight helps with seeing at night.
Cons:
The Adjustable Flex Bed is non-refundable, non-exchangeable, and does not have a home trial period.
Does not have built-in massage technology or mobile pairing abilities.
Best Value
Nectar, or Nectar Sleep, is one of the most well-known bed-in-a-box mattress brands. Owned by a San Francisco home goods company called Resident, Nectar was founded by entrepreneurs Ran Reske and Craig Schmeizer. Previously considered one of the fastest-growing E-commerce companies in the United States, Nectar has gone on to establish offices in San Francisco, New York, Tel Aviv, and London. Expanding far beyond its online operations, Nectar products are now available in more than 2,000 stores across 49 states.
Nectar is known for the value it provides through feature-rich, affordable beds. Starting at $849 for its Twin XL model, Nectar beds offer 3-zone massage, head and foot adjustment, many presets, USB chargers, and a wireless remote. Unlike most adjustable bed companies, Nectar allows for returns, and it also doesn't charge restocking fees. Its 50-day trial period also allows people to request a swap on day one, while other companies require customers to wait two weeks or more. Customers who aren't satisfied with their Nectar bed can also return it based solely on their preference, without any need to prove that it has a defect.
Overview of Nectar Adjustable Beds
The Nectar Adjustable Bed Frame
Twin XL
Full
Queen
Split King
Free returns during 50-night trial
Yes–Zero-gravity, TV recline
Nectar adjustable beds are sold online through the company's website and in thousands of stores nationwide. These bed frames can be paired with Nectar mattresses, which have a one-year trial period. Like all of the frames on our list, they can also be used with compatible mattress styles from other brands.
Pros and Cons of Nectar Adjustable Beds
Pros:
Has attractive dark gray upholstery covering the sides that will blend in with any decor.
Low cost, with a twin XL priced at $849 and its most expensive split king size priced at $1,698.
Has preset zero gravity and television recline positions, as well as customizable settings and massage options.
Fastest setup of adjustable beds available on the market.
Cons:
White glove service fees are charged for all eligible items, so large orders may have multiple fees.
Widest Availability
Tempur-Pedic, founded in 1992, is probably the most well-known memory foam brand in the world. Tempur-Pedic traces the development of its first product to a Swedish company that turned NASA foam into a consumer mattress. Since that time, Tempur-Pedic has merged with multiple companies, consolidating resources and expertise from around the world to develop cutting-edge beds.

As a giant in the sleep industry, Tempur-Pedic brings its products into all kinds of communities, including the non-contiguous states of Alaska and Hawaii as well as to US territories. While most companies either refuse to ship to or else charge several hundred dollars to ship to such remote places, Tempur-Pedic charges modest fees. Tempur-Pedic is even able to offer white glove services in remote locations.
Overview of Tempur-Pedic Adjustable Beds
Twin (standard and XL)
Full
Queen
King (standard & split)
Cal King (standard & split)
Twin XL
Full
Queen (standard & split)
King (standard & split)
Cal King (standard & split)
Twin XL
Full
Queen
King (standard & split)
CA King (standard & split)
Twin XL
Queen
King (standard & split)
CA King (standard & split)
Yes–Zero Gravity, Anti-snore/ QuietMode
Yes–Zero Gravity, Anti-snore/ QuietMode
Yes–Zero Gravity, Anti-snore/ QuietMode, PerfectSeat, Pillow Tilt
Tempur-Pedic power bases can be purchased online, at retailers across the United States, and even at stores in US territories. Each is designed to be compatible with any mattresses intended for adjustable beds and to fit within solid bed frames or frames with removable slats.

Pros and Cons of Tempur-pedic Adjustable Beds
Pros:
One of the best warranties with three years of full coverage, including parts and labor.
Free white glove delivery within the continental United States when you buy directly through Tempur-Pedic.
Large variety of adjustable bed options, with four distinct models offering unique features.
The most luxurious model, the TEMPUR-Ergo Extend, includes anti-snore and zero-gravity positions, four-zone massage, voice control, and more.
Cons:
Pricier than competitor brands, with the TEMPUR-Ergo reaching a price of $4,198 for the split king size.
Adjustable bases are non-returnable and do not qualify for a sleep trial.
Best Range of Size Options
Saatva, a mostly online sleep company with just a few physical locations, was founded in 2010 by Ron Rudzin and Ricky Joshi. Based in New York City, Saatva products like mattresses, bedding, and bed frames are made in U.S. factories and shipped to customers from distribution points across the nation. The Saatva brand develops sleep product lines that combine luxury features and eco-friendly production.

Of all the brands we have reviewed, Saatva has the most varied size options for its adjustable beds. Its sizes include standard and XL twin, full, standard Queen, standard and split King, and standard and split California King. Offerings also include upper-flex (half-split) versions of King and Queen sized beds, which are difficult to find from other companies. The upper-flex design allows the head of both sides to adjust independently while the foot of the bed moves as one, unlike a typical split bed where both the head and foot of each side move independently. The many size options of the Saatva adjustable bed make it a versatile choice to suit every individual or couple.

Overview of Saatva Adjustable Beds
Lineal Adjustable Bed Base
Twin (standard & XL)
Full
Queen 
King (standard & split & upper-flex)
Cal King (standard & split)
Yes–Zero-gravity, Anti-Snoring, Flat
While Saatva's Lineal Adjustable Base in standard and split sizes pairs well with many mattresses from other brands, its upper-flex adjustable beds pair exclusively with Saatva's upper-flex mattresses.
Pros and Cons of Saatva Adjustable Beds
Pros:
Special discounts on holidays make this luxury brand more accessible.
Adjustable base has a wall-hugging design, quiet motor, wireless remote, under-bed lights, and three-speed massage options.
Free white glove service, including delivery, setup, and old mattress or bed removal.
Eco-friendly business with products made in the US and typically shipped less than 100 miles from American factories to customers.
Cons:
Adjustable beds are final sale, as each is made to order.
Best Full-Service Option
Purple is a mattress company founded by brothers Tony and Terry Pearce. The brothers, both engineers, didn't set out to make or sell mattresses and bedroom furniture. Instead, the Pearce's got their start in the mobility industry, developing comfortable memory foam wheelchair cushions. Over the years, the Pearce brothers began to use their newly developed foam materials in exciting ways, eventually making a best-selling bed-in-a-box mattress in 2013. Purple products, including the Purple PowerBase, are now available both online and in a growing network of brick-and-mortar stores across the United States.

The Purple PowerBase provides the best full-service option for those who want to purchase an advanced sleep system and take advantage of white glove delivery. Although not the cheapest adjustable bed on the market, Purple's is one of the best designed, especially when combined with the innovative support of the Purple mattress. Purchasing both a mattress and the PowerBase together gives customers a $200 discount, in addition to free white glove delivery within the contiguous United States.
Overview of Purple Adjustable Beds
The Purple Ascent Adjustable Base
Twin XL
Queen
King (standard & split)
Cal King
Yes, after 21 days of a 100-night trial. A 10% restocking fee applies.
Yes–Zero-gravity, Anti-snoring, Sitting 
The Purple adjustable base can stand alone or be used within most bed frames, although you should verify compatibility before purchase.
Pros and Cons of Purple Adjustable Beds
Pros:
Luxury features include a zero-gravity position, anti-snore option, one-touch flat button, and base with USB ports for charging devices.
Free shipping and white glove set-up included with purchases within the contiguous United States.
Military personnel, first responders, and students receive a 10% discount.
Adding more items to your adjustable bed and mattress sleep system gives you additional savings of up to 20%.
Cons:
Free in-home setup requires a qualifying mattress to be added to an adjustable base purchase.
Best U.S.-Made Adjustable Base
Founded by Moe Kittaneh, Firas Kittaneh, and Joey Holt, Amerisleep began as an online mattress retailer in 2010. The company has since branched out and now has twelve physical locations where non-commissioned sales representatives help customers test its popular beds. Throughout the years, Amerisleep has made a name for itself through advances in mattress and bed designs as well as through eco-friendly production processes.

Many sleep brands manufacture their mattresses in the United States, but most of them outsource the production of their adjustable bed bases to factories in other countries. Amerisleep is a rare exception. Customers who dislike purchasing foreign-made products due to concerns about quality or labor practices can buy an Amerisleep bed with confidence.
Overview of Amerisleep Adjustable Beds
Amerisleep Adjustable Bed Base
Amerisleep Adjustable Bed +
Twin XL
Queen
Split King
California Split King
Twin XL
Full
Queen
Split King
California King
Yes – Zero-gravity and Flat
Yes– Zero-gravity, Anti-snore, Flat
Amerisleep's adjustable bed bases can be used alone or placed within most types of bed frames.
Pros and Cons of Amerisleep Adjustable Beds
Pros:
Amerisleep offers 30% discounts when you bundle its mattresses and adjustable beds.
Shipping of both adjustable bed bases is free within the continental US.
The Amerisleep Adjustable Bed + comes with free in-home setup.
High-tech features include ultra-quiet motor technology, full-body rolling-wave massage, under-bed lighting, wireless remote, mobile app, and voice control options.
Cons:
The more basic Amerisleep Adjustable Bed Base does not come with free in-home setup.
More Adjustable Beds
How to Get Financial Assistance for Adjustable Beds
With the least expensive adjustable beds running north of $800, they may seem out of reach for some consumers. Luckily, there are a few financing options that could help lower the out-of-pocket expense of purchasing an adjustable bed.
Below are resources for seniors, veterans, and anyone else who finds that an adjustable bed could be beneficial to their sleep and health.
Medicare Coverage of Adjustable Beds
Medicare does not directly cover the cost of an adjustable bed like the ones on our list. However, Medicare Part B (hospital coverage) can be used to cover the cost of a hospital bed in a patient's home.
In-home hospital beds are considered durable medical equipment (DME) by Medicare. If a primary care physician determines that an adjustable hospital bed would be beneficial to a patient, they can prescribe it and Medicare Part B will help cover the cost. Both the physician and the DME supplier must be part of Medicare.
Patients must be eligible for Medicare Part B to cover the cost of a hospital bed in their homes. Below are a few factors that can affect eligibility:
A physician's prescription for an in-home hospital bed is required.
Additional documents from a doctor to prove a medical need for the bed may be required by the Medicare Administrative Contractor (MAC).
Proof that a regular bed would be detrimental to the patient's health may be required.
For a variable-height bed, documentation must show that the patient has a serious condition that requires it, such as severe arthritis, severe cardiac issues, spinal cord injuries, or other major disabilities.
For beds with electric-powered controls, documentation must show that regular, quick adjustments may be needed by the patient.
Side rails can also be added to hospital beds if the doctor and MAC determine the patient needs them for safety.
Medicare Part B plans include a deductible that the patient must pay before any benefits are paid out. Once the deductible is met, Part B will require only 20% of the remaining cost to be paid by the patient. For those that have already paid their deductible, this could provide substantial savings when obtaining an adjustable hospital bed.
Depending on the situation, your doctor or Medicare may allow you to either buy or rent the bed. In some cases, the choice will be yours.
While Medicare Part B will cover part of the cost of an adjustable hospital bed, these models don't offer the same amenities as the beds listed above. Hospital beds are much less feature-rich, usually only offering basic adjustments and no special features or technology. If these extras aren't important to you, then this may be a good route to go when purchasing or renting an adjustable bed.
Medicaid Coverage for Adjustable Beds
Much like Medicare, Medicaid is limited in its coverage of adjustable beds. In most situations, the best you can expect is partial payment for an adjustable hospital bed.
As with Medicare Part B coverage of adjustable beds, both your doctor and the DME supplier must be members of Medicaid. If one or both parties are not part of the Medicaid program, benefits will not be paid out. Be sure to confirm that your doctor and the DME supplier are members of Medicaid before purchasing a bed with plans for Medicaid to cover part of the cost.
Medicaid is run by each state individually, so the rules may be different from state to state in terms of how much coverage is available for an adjustable hospital bed. Many states have waiver programs that can cover part or full cost of durable medical equipment. Find your state in the table below for more information and the contact information for your state's Medicaid office.
Veterans Resources for Adjustable Beds
Veterans' Affairs doesn't directly cover any costs related to adjustable beds, but in some instances, a hospital bed can be considered durable medical equipment (DME) and therefore partially covered by the VA. The VA's Durable Medical Equipment FAQs page provides details on what exactly may be required to obtain DME such as an adjustable bed.
Another option for VA members who need an adjustable bed is to use finances that come from the VA. Veteran pensions and money from Aid & Attendance benefits can be used for any expenses a veteran may need. These finances can help cover the cost of a proper adjustable bed.
Veteran-specific charities are also available as a resource for obtaining adjustable beds. EasyRest and QBMedical are two charities that offer free or low-cost adjustable beds to those who served in the military. Currently, EasyRest is not accepting applications. QBMedical works directly with healthcare providers and veterans to help veterans obtain a variety of healthcare products and services. Check their websites to determine if you personally qualify for discounted or free adjustable beds.
Additional Financial Resources for Adjustable Beds
If Medicare, Medicaid, and VA benefits don't work out, there are still financing options for getting an adjustable bed. Two of the most common options are:
Financing Plans: Most brands offer financing directly through their website or store. Some work with Affirm, PayPal, and other third-party financing firms to help you cover the cost of an adjustable bed. Some of these financing options can feature 0% interest for the first few months or 0$ down at the time of purchase. Be sure to read the financing details carefully before making a commitment.
Adjustable Bed Rentals: If you only need an adjustable bed for a short period of time, furniture rental stores are another option. These types of stores may have adjustable beds available for rental or rent-to-own. Call or visit a local furniture rental store to see what they have in stock and inquire about pricing.
How to Choose an Adjustable Bed
Buying furniture tends to be a bit nerve-wracking. It's expensive compared to more everyday purchases, and if you don't like what you selected, you'll still have to use it every day until you replace it with another pricey item. It's important not to let the fear of making the wrong choice stop you from beginning your search for an adjustable bed. By following the steps outlined below, you can approach the market with a clear idea of your options and feel confident that you will make a smart selection.

Step 1: Determine Your Payment Method and Budget
Before diving into the shopping process, it's best to decide how you'll pay for your adjustable bed and how much you're willing to spend.

Payment Options
Most individuals can pay for their adjustable bed with cash or debit payment, a credit card, or a finance plan. Using funds in your bank account is often the best option because paying upfront can save you money through discounts and helps you avoid interest fees. However, if you need to use some form of credit, a finance plan can offer you a way to get a bed with low payments. It's common to find payment plans offered through finance partners such as Affirm, Paypal, or a variety of private banks.

Price Ranges
The cost of adjustable beds ranges from roughly $300-$4,000. On the lower end of the price range, you'll find utilitarian beds that adjust on the top half only. In some cases, these basic beds may have remotes that aren't wireless or that lack presets. On the high end of the price range, you'll find beds with attractive exteriors, high-tech accessories, multiple presets, and more. As you decide which part of the price spectrum is ideal for you, keep in mind that most bed frames do not include a mattress in their cost.

Step 2: Choose Your Preferred Mattress Type
If you're going to get an adjustable bed, you'll need to make sure the mattress you have or plan to purchase is compatible. Always check with the manufacturer if the compatibility of your mattress with the bed frame is unclear. The following kinds of mattresses typically work with an adjustable bed, usually without regard to the brand, although there may be some exceptions.
Memory foam: Memory foam mattresses are made from entirely synthetic materials. They're very flexible, molding closely to both sleeper and bed frame regardless of position.
Latex: Latex mattresses are made of natural or synthetic latex foam and they are usually slightly less moldable than memory foam. Like memory foam, these work very well with adjustable beds. They also tend to allow more airflow and thus feel cooler to the sleeper than memory foam.
Air beds: Air beds have chambers filled with air and are padded with foam or other soft materials on top. Most air beds are adjustable, letting the user control which chamber is the firmest. Some air beds are made specifically for use with adjustable frames.
Innerspring: Innerspring mattresses have metal coils inside that provide support to the body. These beds are popular, but they are more prone to creating uncomfortable pressure points on the sleeper's body than foam and air beds. Some hybrid innerspring mattresses incorporate layers of memory foam and latex for additional comfort.
All of the above mattresses are usually available in split or half-split styles as well as solid styles. The sizing for all adjustable beds is standardized, so choose whatever size of bed you are already happy with. Most companies sell Twin XL (extra long) through California King sizes, but sometimes Full beds are difficult to find.

If you already have a compatible mattress, there's no need to purchase a new mattress unless you're finding yours uncomfortable or worn out. If you do want or need a new mattress, you may be able to save money by purchasing a "sleep system" that bundles a mattress and adjustable base together and comes with a discount on your order.

Step 3: Consider Technology Upgrades
Many adjustable bed companies offer features like massage settings to add comfort for the customer. Others add convenience features like USB ports for charging smartphones and other tech products. Depending on the person and their needs, a wide range of features can be well worth the money.
Below are just a few different features that you may find while searching for an adjustable bed. Some models may have a few of these features, just one of these features, or none of these features at all. Be aware that, the more feature-rich and adjustable the bed, the higher the cost is likely to be.
Comforting vibration system for massage, can be installed in the head or foot of the adjustable bed
People who suffer from sore muscles or tightness
Multiple preset adjustments for relaxing, sleeping, watching TV, etc
People who use their bed for sleep as well as other activities like watching TV or reading
Remote changing of adjustable bed settings
People who want easy control over their bed's adjustments
Smartphone app that allows for remote adjustments or voice control of the bed
People who want a quick and easy way to adjust their bed
Power ports for charging USB devices such as smartphones and tablets
People who use their smartphone or tablet while in bed
LED lights that illuminate under the edge of the bed
People who are prone to falls or tripping in the dark
As you look for an adjustable bed, keep in mind that these features will increase the cost of your purchase. Consider which of these features are most beneficial for you personally and may be worth the expense before making a purchase.
Step 4: Understand Warranty and Trial Limits
Trial periods and warranties are two common perks that furniture companies offer to help customers feel comfortable making large purchases. Misunderstanding the terms of a trial period or warranty can be devastating, however, if it means you lose the money you thought you'd be able to get back. Before you make a purchase based on the warranty or trial period offered, read our tips on understanding these two perks.
Warranties
Adjustable bed frames are almost universally advertised with included warranties, but not all warranties are created equal. Some warranties provide coverage for upwards of 20 years, or even for a "lifetime," but this is almost always limited coverage. Many other warranties are as short as one year.
With limited warranties, coverage is often staggered, with full coverage in the first one to three years and partial coverage after that. During the partial coverage phase of the warranty, you may find that certain parts (especially motors) are excluded, or you may have to pay for shipping and labor costs. Given how limited warranties typically are, warranty terms are not the deciding factor in most customers' choice of an adjustable bed brand.
Trial Periods
Mattress companies often offer free trials, some for as long as a year. Being able to return a mattress after using it for such a long time makes purchasing online less risky. Many customers assume that if the brand has a free mattress trial, they will also have a free adjustable bed trial. Sadly, this is rarely true. Only a few companies offer trial periods for adjustable beds, and those that do usually offer a shorter period than they do for their mattresses. Most adjustable beds are final sale items. Always verify what, if any, trial terms are available for an adjustable bed.
Step 5: Compare Benefits Across Brands
There's a huge spectrum of adjustable bed styles. Consider features from the following categories as you shop.
Appearance: Will the adjustable bed frame fit inside of the bed frame that you currently have? Most adjustable bed frames are designed to do so. If not, do you like the appearance of the frame? Some adjustable frames come unembellished in either black or aluminum. Some come upholstered in an attractive, neutral fabric. When you consider the appearance, also consider whether or not having under-bed storage is important to you.
Presets: Does the bed come with preset positions, like zero gravity or anti-snore, that you'll use? Does the app or remote allow you to customize your own presets? Both anti-snore and anti-gravity settings can benefit individuals' health by improving sleep quality or reducing stress on the heart.
Technology: Can the bed interface with smart home devices or phone apps? If so, look up user reviews online to see if customers offer information about design problems. Other technology features to consider include USB charging ports in the frame, alarm clock and massage features, and wall-hugging technology that keeps the bed close to the wall regardless of position.
Bundles: Maybe you're in the market for a new mattress as well as an adjustable base. If so, make sure you look for product bundles. Many companies offer a discount if you buy a mattress and bed frame at the same time.
Whenever possible, test a bed and any mattress you plan to buy in person. This, of course, isn't an option with online-only companies, but you may find customer reviews and video demonstrations helpful substitutes for product testing.
Step 6: Make The Purchase
Once you're happy with a brand, model, and price, there are a few final steps you can take to make sure you're taking advantage of all available offers before completing your purchase.

As you are making your final purchase, ask about:
Discounts: Many companies offer a discount for educators, students, military personnel or veterans, government workers, or first responders. Discounts may be a flat amount, like $100, or they may be a percentage of the product cost.
Sales: Mattress and furniture companies typically run promotional pricing during some holidays. If you don't mind waiting for the next major holiday, you may be able to cash in on serious savings online or in person.
Delivery: A few companies offer free white glove delivery, and many more offer it for a fee, usually around $100. White glove services usually include delivery, setup, product demonstration, and the removal of the old mattress or bed frame. Some white glove services may also include a demonstration on how to use the product safely.
Frequently Asked Questions
Does Medicare cover adjustable beds?
Medicare does not cover the kind of adjustable beds that we have featured in our reviews. Medicare does, however, cover semi-electric and manually operated hospital beds for some patients. Hospital beds and adjustable beds can achieve many of the same positions and are more or less equally beneficial for many health concerns, but hospital beds usually don't have aesthetically pleasing designs. They also lack convenience features like wireless or app controllers and massage functions. To learn more about who qualifies for hospital bed coverage, visit Medicare's own article on the topic.
How does bed shopping online work?
In the last few years, online mattress and bedframe sales have become quite common, and many consumers trust online companies. Mattresses and other parts usually arrive tightly rolled inside boxes and can ship anywhere in the continental United States. Some companies also ship to Alaska, Hawaii, US territories, or even Canada. The main risk of buying online is that it's difficult to know if you'll like a mattress that you've never been able to test. Thankfully, if you get a defective model, most brands will deal with the problem through their warranty. Getting a model you just don't like can be a bigger issue, however, since a return may not be allowed. Always check into the company's policies before you buy so you understand the financial risk.

Do adjustable beds have trial periods?

Strangely enough, many adjustable beds are final sale items, even in cases where the brand allows returns of its mattresses. A few companies do allow returns within a limited "trial period" timeframe, such as 30, 50, or 120 days. Trial periods for these beds are often far shorter than trial periods for mattresses. Limits on returns of adjustable bases may be due to the fact that checking the motors, electronics, and moving parts of an adjustable bed in order to certify it for resale after a return is prohibitively expensive for many companies.

Are adjustable beds dangerous for pets and children?

Since they have large moving parts, adjustable beds pose a pinching and crushing danger for both pets and children. It's extremely important to ensure that your cat, dog, or child has not gone under or behind an adjustable bed before you attempt to change positions. Children in the household who are old enough to understand should be instructed not to hide under the bed and not to operate it without an adult present. If you have very young, impulsive, or developmentally delayed children in your home, it may be wise to keep the remote where they cannot access it and keep the bedroom door shut.

What is memory foam off-gassing?
Memory foam mattresses are frequently combined with adjustable beds due to their flexibility and comfort. A brand new memory foam mattress, freshly unboxed, will usually give off a strong chemical odor called off-gassing that can last a few weeks. This odor is a by-product of the regulated synthetic materials used to make memory foam. Scientists don't know if there are long-term effects associated with breathing these trace amounts of chemicals. Many companies suggest airing your memory foam mattress for a week or two before applying bedding and setting it up in your room. Many organic mattresses or latex mattresses produce less or no off-gassing.

Is an adjustable bed good for my health?

Adjustable beds can improve health in numerous ways. Being able to change your sleeping position can relieve pain or pressure for many people. Those with sleep apnea can benefit from better support that improves breathing. The "zero-gravity" position, a preset on most adjustable beds, simulates a weightless feeling, reducing strain on the heart and other key areas of the body. Ultimately, if your adjustable bed helps you sleep longer or more soundly, it will improve your health simply through rest.

If you're having sleeping problems, you should reevaluate not only your bed base but also your mattress. Many mattress companies provide guides that will help you decide the structure and firmness of the mattress that most suits your sleeping style and body. You can use these resources to determine if you may benefit from a different type of mattress.