Caregiver: Abby S.
A Caring Champion 2013 Nominee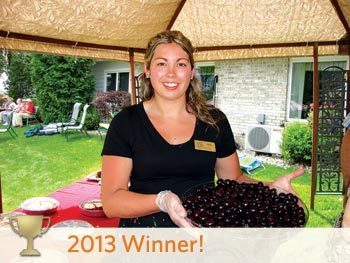 Employer: Boardman Lake Glens
Location: Traverse City, Michigan
Inspiration for this Nomination:
When I seen the opportunity to say a huge "thank you" to a job that is not for anyone because of it's content, I thought of Abby....you must have a heart to shine in care giving for the elderly due to what it all entails. Abby goes beyond the call of duty to not only give each of our residents top notch physical care, but always includes maintaining their dignity as well gaining their love and trust due to her personality. She talks with them and not at them, she assists in a way they do not feel like a child but a blessing to be able to help just because she was happened to be in their apartment....and the list goes on. I have watched this young lady mature to where she is today and know that she is in the right calling due to her heart....it takes a special person that is gifted to care for the elderly , as their day, memory, and quality of life's have slowed down and changed dramatically....you must have a heart and patience to be great at what you do....Abby is all the above
Caregiver's Best Skills and Attributes:
Her heart brings out her strength with an end result of great cares and never ending friendships
Feedback About This Caregiver:
Most residents will ask for her by name should she not be the one who answered the call light. Many times has she been praised for a job well done.....
More About This Caregiver:
She takes new employees under her wing to"train" teaching particulars of what each of the residents "like" to go the extra mile that doesn't have to be completed.
Read More Stories
|
Find Assisted Living
| Hire This Company:
Boardman Lake Glens
---
Stay Connected With Caring.com
Get news & tips via e-mail
---