Brookdale Westlake Village
28550 Westlake Village Dr., Westlake, OH, 44145
Talk to a Family Advisor: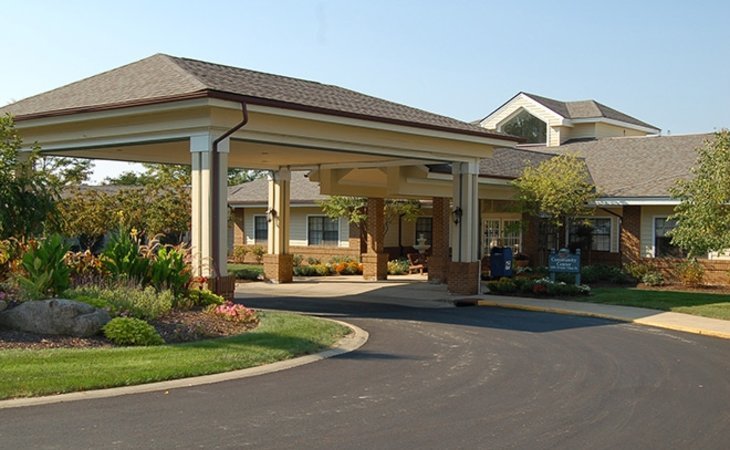 Promotion ends in 6 days!
NOTHING SAYS SUMMER LIKE SAVINGS. Move into a Brookdale community by June 30, and receive a $1,000 rent credit! *Eligible new residents will receive a one-time $1,000 credit to the Basic Service Rate/Monthly Fee following the first 90 days of residency.
Reviews of Brookdale Westlake Village
---
Marjorie525224
March 13, 2017
I am a friend or relative of a current/past resident
The nursing home of Brookdale Westlake Village was excellent. The staff was very good, and the rooms were very clean and well maintained. They had a lot of activities. I highly recommend them. The place was big, and the layout was in sections. It was continuing care, so they had three different buildings all connected together. The skilled nursing's dining room was pretty basic, the assisted living's dining room was bigger, and independent living's dining was even bigger. They had a church there, which my mom liked. It was a very good place.
---
Martha858644
November 30, 2016
I visited this facility
Brookdale didn't accept motorized wheelchairs in the dementia Alzheimer's unit, and the only other option I had was assisted living with no memory care. I didn't see a 1 bedroom at all; they had nothing available. I didn't like what was available to me.
---
Lora7
February 15, 2016
I am a friend or relative of a resident
Brookdale Westlake Village is well cared for. They have a wonderful staff. They have all three levels of care there. They have therapy onsite. My parent is in personalized living, so that's nice. They have nice activities. The staff is very friendly. They're very good. They're very attentive. The rooms are all updated and new. When there's anything wrong, the repair people attend to it right away, so that's good.
---
loving daughter20
January 01, 2016
I am a friend or relative of a resident
Brookdale Westlake Village (Formerly Westlake Village) was pleasant, comfortable, and cheerful and they had friendly staff. My parents will be moving in the spring. The rooms were very roomy, larger than other places we looked at. I would recommend them. There was a lecture going on in one of the rooms. There were a few people in the dining area having lunch, and they looked good. The gym was nice and larger than the other places, but no pool. It's also closer to family.
---
Anonymous112779750
September 07, 2015
I visited this facility
I just felt that the people at Brookdale Westlake Village were very nice, and the facility was very beautiful and brand new, so it was a nice experience. We didn't get into it a whole lot, but they have activities everyday going on where they involve the residents, so they have stuff going on everyday for them. It had a nice, open concept -- a nice big open area, nice comfy living room that was nice and big, and a nice big kitchen-dining area. It was just a very homey feel.
---
Caring115697850
August 21, 2015
I visited this facility
I went to visit Brookdale Westlake Village, and I like everything about the place except that it was too expensive for me. They do have many activities, but I don't like their activities really. I am not interested in games; I don't like cards. I also don't like the view from the window; it just looks out into a parking lot. I like to have a look at a grass or a little river or something like that, but it's still a beautiful place inside.
---
David109737350
April 22, 2015
I am a friend or relative of a resident
Westlake Village is a very nice facility. Their staff is very friendly. They're more intelligent and educated than a lot of the people I deal with. I just really like their enthusiasm, and they're caring towards the people that lived there. My mom's a retired school teacher, Porter library is a big deal in her life, and they have a bus that goes out weekly. The Porter Library also comes to the facility once a month with books, and my mom too enjoys that. They will drive my mom to go visit her sister that's in the dementia ward in another facility. They will take her anywhere she needs to go for shopping. They have art activities; they have an art room, and my mom is also an artist so she enjoys that. They have a book club, and there are other activities that go on that my mom does not partake.
---
Anonymous103632350
March 20, 2015
I visited this facility
Westlake Village was nice. The woman we met was very nice. She gave us a tour of the property, and it seemed like it would be a good environment for my father. However, it was out of our price range.
---
John79810150
March 27, 2014
I visited this facility
I only saw Westlake Village once, but it looked like a resort place and like you're going into a big hotel. It was definitely grand in respect to its presentation. It would entice a lot of people just walking in the door, and my wife and I both agreed that in respect to just that, we could have made the decision. That was the first place we checked out and we could have said yes, let's go here. The woman who showed us around there was extremely nice. The rooms were excellent. I would recommend that place.
---
Merbil
January 30, 2014
I visited this facility
I went over the assisted living area of Westlake Village and I like everything about this facility. I like it's location as well as the people there. I was able to check on their room and its good enough. I went to the cafeteria and it's very clean.
---
Ruth24
January 30, 2014
I visited this facility
Westlake was very nice and the staff was very helpful, kind and courteous. I was really impressed. They were very empathic with the situation I was in. They provided me with a wealth of information about the place and they followed up very well.
---
Assunta
July 26, 2013
I visited this facility
I had a very good experience at Westlake Village. Both of the individuals that I talked to were able to answer my questions. They were wiling to sit down and go over the financial aspects with me and looked at the options and alternatives. I took my mom to visit it and she really liked it. Although, I thought it was a lot larger than what I wanted for my Mom because I thought she needed a smaller environment to get better, I felt comfortable with them. With my few visit there, I got the impression that everybody was happy and was receiving the level of care that they needed. I was hoping to get her in but did not got the chance to do so.
---
Mr. Blue
September 27, 2012
I am a friend or relative of a resident
My grandmother was put into this facility after her hospitalization. The staff at Westlake Village were more than happy to help her out with everyday activites/chores. I was always greeted with a smile from these people, and they were always more than willing to make me and my grandmother comfortable there.
---
kkovacic123
May 19, 2012
I am a friend or relative of a resident
The women at the front desk are very nice and always greet you when you walk in. My grandma stays on the first floor. Her room is a little small but they are kept nice clean and offer room service. I went to dinner with my grandma at the dining hall. They have three different times that you can choose from to go to. The meal was decent, could of been a little warmer but overall it was pretty good. Our waitress was super nice and attentive. The waiters were all dressed up in white button ups and ties just like at a fancy restaurant. They also had a salad bar available for the residents. They hold concerts in the main room by the front doors. They also have a recreational room where they have bingo nights or any other type of event like that. Overall I think this is one of the better retirement homes that I have seen.
---
Marie4
May 16, 2012
I visited this facility
This is one of the nicest retirement communities I have been to. When my grandfather first moved in, I remember thinking how nice his new apartment was, and hoping that he would take advantage of all the social activities and trips that the staff at Westlake Village plan for the residents. It took him a little bit of time to adjust, but he ended up fitting in just fine there and make a lot of friends. He was very happy while he was living there. If you are considering Westlake Village for yourself or someone you love, I would recommend it. The only thing to keep in mind is that they do not provide assisted-living services. When my grandfather fell and broke his hip, he had to move to somewhere that provided help with daily activities such as bathing and using the restroom. Staff members do check on residents, though--that's how we were able to find out so quickly that he fell!
---
caring family member
March 07, 2012
I visited this facility
This is a beautiful facility both inside and outside. It provides a warm and exciting atmosphere for its residents. There are many opportunities for the residents to mingle, enjoy activities and take day trips. I was especially impressed with the variety of meals offered to the residents. The dinner menu included about six different entree options. The dinning room was bright and the staff seemed very friendly. The facility also offers cleaning services for the residents' rooms. There are opportunities for religious services at the facility. Additionally, the facility provides transportation to various churches in the area. The transportation schedule also includes regular trips to the local grocery stores and drug stores. The residents can opt to schedule transportation to necessary doctor or dentist appointments. I believe this is an excellent facility providing extensive services to their residents. I would be happy to have my family member living at Westlake Village.
---
From Brookdale Westlake Village
---
Westlake Village provides assisted living residents with lifestyles, housing, and services in comfortable surroundings combined with exceptional amenities, programs, and care. Through Brookdale's signature Personalized Assisted Living, we customize our care offerings for the individual. This allows each resident at our community the freedom and opportunity to make choices that will ease their lifestyle transitions. Residents enjoy life with the support they need, coupled with the appropriate accommodations as their needs change.
We promise Respect for Individual Preferences by offering personalized care needs and providing an atmosphere that encourages each assisted living resident to live in health and longevity. We also offer special housing and care options for those who require assistance with the activities of daily living such as dressing, bathing and assistance with medication. We offer graduated levels of care based upon the individual need of residents, as determined by our continual assessment process. We are dedicated to enriching the lives of residents every day with signature services for those who value their freedom and independence, but desire or need services providing them with the highest level of quality, care, and value.
Features of Brookdale Westlake Village
---
Room and housing options
1-bedroom apartments
2-bedroom apartments
Studio Apartments
Location of Brookdale Westlake Village
---
Get Cost Information
Get full access to reviews, cost information, and amenities