Sunrise of Park Ridge
1725 Ballard Road, Park Ridge, IL, 60068
Talk to a Family Advisor: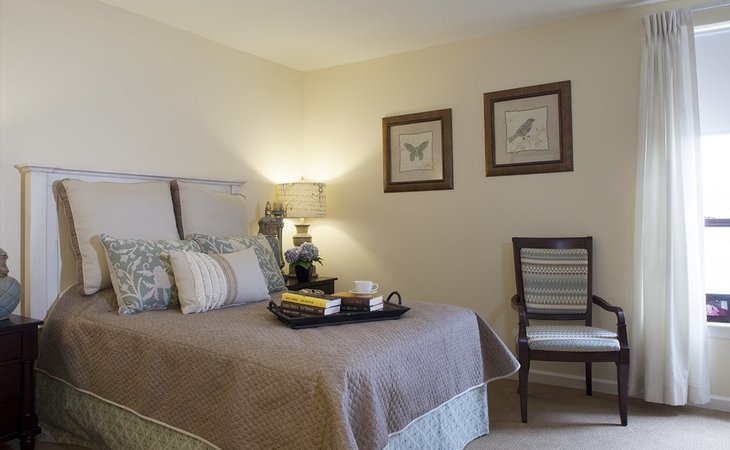 Reviews of Sunrise of Park Ridge
---
Betty085476
November 09, 2016
I am a friend or relative of a current/past resident
My mother has been in Sunrise for about 2 years. The food is marvelous, and it was more like a home-cooked meal. It was very good and very healthy, and they think of the people there. However, we couldn't keep her there because it was expensive. She has a room to herself, she doesn't have any problem getting in and out, and she used a walker. It's one big room, and you have a little kitchenette and a bathroom. I had a hard time with communication with the management. Other than that, they're top notch. The people were caring, they know your name when you walk in, they're open 24 hours, and we could come in if mom had a problem.
---
Marian041174
September 30, 2016
I visited this facility
Sunrise of Park Ridge is a much bigger facility, and they have one whole floor with just memory patients. They were in the process of doing a lot of painting and redecorating, and it was very clean and nice. The staff was very good, friendly, and nice. There were no problems.
---
MariaKVELI
May 17, 2016
I visited this facility
Sunrise was a beautiful and bright place but too expensive for my mom. It was convenient for us and close to my home. We just talked to the marketing people, who were friendly. The rooms were small but fine.
---
Anonymous107142150
November 30, 2015
I am a friend or relative of a resident
My brother used to stay at Sunrise of Park Ridge. I think their care was fine, and the staff was very good. Every time I went there, they could always tell me where my brother was. My brother stayed in a nice, single room. The place was a little bit better than the other communities we know. They also seemed to have more activities there, like singing and exercise programs. Their food was good and had good choices on their menu, so you could pick between three different things for each meal. It was better than the others. I highly recommend it.
---
Karen Z.
July 14, 2015
I visited this facility
I visited Sunrise at Park Ridge, and it was very nice. The only thing is that it didn't suit my mom's needs. My mom will probably run out of money and have to go on Medicaid, and they don't accept Medicaid. But it was a lovely facility, the people who I met were very nice, and they took me on a tour. They just didn't need my mom's needs, but the facility was great.
---
Caring106670950
February 25, 2015
I visited this facility
The first impression I got when I visited Sunrise of Park Ridge is that it was busy. I wasn't there long enough. I went in, walked in, and looked at it. It was not exactly what I was looking for, and I don't recall anything else. I was there very quickly, and I don't really recall except that I didn't think it was the place I was looking for. I don't think there was anything wrong with it. It was just not the location I was looking for, and it didn't have the ambiance I was looking for in a facility. I'm sure there is probably nothing wrong with it.
---
Caring101193150
November 28, 2014
I am a friend or relative of a resident
We chose Sunrise of Park Ridge because it was more of nature than some of the others that we looked at. They seem to be a lot of workers around. You won't see an area with residents that there is no staff and that would be the biggest factor for us. They are always there if somebody needs something. The facility is very clean. They do have different activities, like they have bingo and they play games. They have a separate area where the residents can watch TV.
---
Chris45
April 22, 2014
I visited this facility
Everything is fine and we're all set to move Mom to Sunrise Park Ridge. The staff is excellent, understanding, and they care about our needs, so that's why we went with them, and as far as the price, availability, convenience, and location. The rooms were nice and bright and cheery. It didn't look like a retirement home, so that's why we picked it. Everyone seemed to be enjoying themselves. The staff is really friendly, and they go out of their way to assist. They meet the needs of the individual there rather than the other way around. So we found that very encouraging. We're moving Mom this weekend. It might be a completely different experience, so we just don't know yet.
---
Pat77487950
February 28, 2014
I visited this facility
I really like Sunrise of Park Ridge. I really wish I could put my mother in there. The facility was very nice, warm and not really big. They have this long side porch enclosed and it was nice. People can go out there and look out at the forest and the little area that they have there. Just the feel of it was like residents were on cruise ship or something. It was like they're at a home out on the country.
The people seemed to be happy there. They also had a bigger area where they could watch TV, a big dining area and a kitchen area. Regarding accommodations, residents can decorate their room and bring in their stuff. For activities, I think they have bingo and movies or sports for the guys. People play in the area where they have some music with the jukebox going on. They also would take them out to outing and to doctor's appointments.
---
Yasmine
May 16, 2013
I visited this facility
I took a tour of Sunrise of Park Ridge and they showed me a private room that my mom would be in and what was available. They also took me to the dining room and showed me the menus. They also have a beauty shop. They have physical therapy if mom needed that for the month that she would be there. It looked very nice and I'm quite satisfied with what I saw. Mom has Alzheimer's, but not severe. And she also has several physical problems.
---
bananasarebananas
July 06, 2012
I am a friend or relative of a resident
The staff were very friendly to my grandmother. They seemed happy about their jobs and put general thought into the care of their patients. You could tell they must be treated well because they treated the patients like actual people. The facilities were clean, and my grandmother had a very large room all to herself. The food was bland, but the patients seemed to enjoy it, so I think it was good food. My grandma loved good food, and she said she liked what they were giving her. I wish there were more outside areas, but overall, the facility seemed nice. They had themed meals during holidays, such as Thanksgiving. They also had a good variety of different food. They kept their patients very clean, and the facility did not smell bad.
---
Social Wk Care Mngr
December 13, 2011
I visited this facility
Sunrise is a corporate chain with some, but not too much, variability in their different locations. All Sunrise facilities are pretty nice, and this is what could be considered a typical Sunrise community. It is a multi-storied building set in between a business district and a quiet, safe residential neighborhood. It has close proximity to Lutheran General Hospital which is about one mile away. There is limited outdoor space due to the high density location, but there are a few outdoor places for residents and visitors to sit and relax. It is easy to go for a walk on the sidewalks of the nearby residential streets if one chooses. The interior of the building is typical Sunrise with tasteful decor that provides a home-like atmosphere. There are spacious and numerous common areas that include a Bistro, library area, and multiple sitting areas on both the main level and the upper floors that are quite conducive to visiting or relaxing. The apartment sizes vary based on price and come in different configurations. They are typically fairly spacious and provide adequate storage in closets and bath areas. All units have large windows so most have good natural light. The food is above average in appearance and is tastefully presented. Staffing is average to above average with plentiful enough staff at most times. All staff are polite, courteous, and professional.
---
dollfaceb911
July 28, 2011
I am a friend or relative of a resident
My dad lived at Sunrise for just over three years. Sunrise staff is made up of caring, helpful caregivers who get to know the residents and their families. Sunrise offers many, many activities for its residents, and they can participate as much or as little as they choose. The center is always clean; it's attractively furnished. We visited several facilities before selecting Sunrise and are very happy with our choice. Dad felt very much at home there.
---
arjayeph
May 14, 2011
Friend or relative of resident
Sunrise of Park Ridge is, initially, a physically charming and impressive place. The spacious central area is attractive and inviting, giving one the impression of a European ski lodge. There is also a "bistro" lounge area, a private party room, a sun porch complete with birds, and a large patio area. The kitchenette rooms are nicely-sized, the halls are broad, and most wings feature their own lounge area with TV's and VCR's.
However, beyond the physical aspects, there are issues with the operation of the facility- starting with the fact that many elements simply are not as presented. For example, the inviting patio area is essentially off limits,either alarmed or locked at all times, even when visting. The food has a decidedly "institutional"taste and feel, with a notable absence of fresh fruits and vegetables; favorite menu choices are frequently unavailable 20-25 minutes into a mealtime, as often are the "always available" alternate-menu items. The problems with the food are representative of the overall shortcomings in the service here. We experienced repeated incidents of seeming gaps in supervision of residents on both an individual and group level. Though most staff members were courteous and caring, we observed occassions of assistance calls being ignored and groups of residents left unsupervised for significant periods of time in the central areas. As a corollary, the front door, locked from without AND within after 7:30pm and left unattended, often required us to track down a staff member in order to exit, or to wait in the vestibule for a staff member in order to enter. When we formally made reasonable requests of the staff appropriate to our mother's care level- in our case, to encourage consistent basic hygeine measures and to to point out the fruits/foods we'd leave in our mother's refrigerator- it seemed that our requests were largely ignored.
Probably the most troubling aspect of this institution was the inconsistency of their communication with us. While sometimes we'd receive frantic late-night calls to report a simple, non-injurious fall, other times we would not find out about more serious matters- repeated incidences of incontinence, initiations or changes of therapy (with associated costs), or in-house doctor appointments- for days or weeks after the occurrence.
In truth, there are many positive aspects to Sunrise/ Park Ridge: it is a quality location and an attractive facility that could be considered a good value for the appropriate resident. However, whether the blame lies in insufficient staffing, corporate cost cutting (Sunrise is a very large company), or overly casual supervision and policy enforcement, the inconsistencies of care here are very troublesome in the context of caring for dementia-stricken residents.
Provider Response
Thank you for your review. We appreciate your feedback and do take your concerns regarding menu selections and quality of care seriously, and would like to learn more about your experience. Please email us at Information@sunriseseniorliving.com so we can learn more and follow up with you. Thanks, Sunrise Team.
---
From Sunrise of Park Ridge
---
Located 15 miles from downtown Chicago, Sunrise of Park Ridge is just minutes from Chicago's O'Hare Airport, Lutheran General Hospital, Holy Family Medical Center, and Nessett's Pavilion, with easy access from two major expressways. Our community is nestled in a residential neighborhood in close proximity to the many shopping and dining venues in the area. Also, many exciting cultural opportunities are to be found within a short drive from our front door. We pride ourselves in our ability to tailor services to meet the diverse needs of each of our unique residents, as well as to fulfill their individual desires on a daily basis. We can care for seniors at various stages of life, with our special neighborhood for the memory impaired and the addition of our in-house hospice care wing.
Step into a Sunrise Assisted Living community and you can?t help but feel at home. We stop at nothing to make your experience warm and inviting, from our homelike exterior architecture, to our comfortable community areas and choice of suites to our exceptional outdoor gardens and landscaping. Look around and you?ll notice fresh flowers throughout the residence, and you may even spot our dog or our cat. And of course, there are always the friendly smiling faces of our staff to ensure that each day spent here is a welcome one.
Features of Sunrise of Park Ridge
---
Features
Resident Parking
Security Gate
Health services
Nurse On Staff Available During Business Hours
Location of Sunrise of Park Ridge
---
Get Cost Information
Get full access to reviews, cost information, and amenities