Atria Park at Lake Forest
5433 West State Road 46, Sanford, FL, 32771
Talk to a Family Advisor: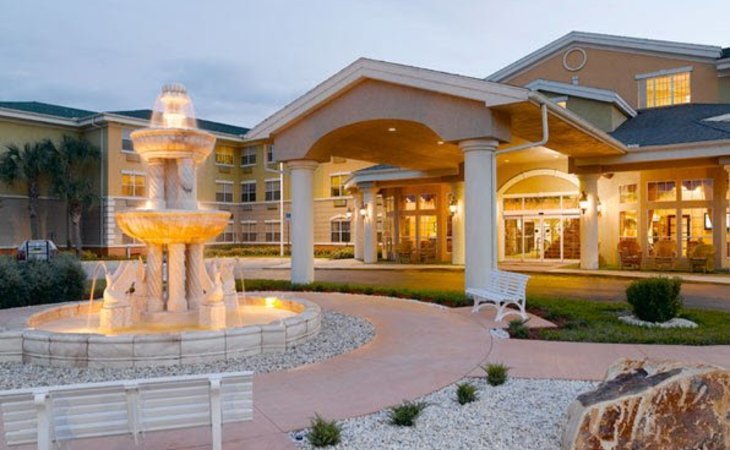 Reviews of Atria Park at Lake Forest
---
Susan155410
January 02, 2017
I visited this facility
Atria Park of Lake Forest was really nice and clean but expensive. The residents looked really clean and alert. They seemed to have a lot of activities. They had a doctor on-site and transportation.
---
Paul810516
November 21, 2016
I am a friend or relative of a current/past resident
My mom has been at Atria Park at Lake Forest since August. I would say the food is a good restaurant to a home-cooked meal. The rooms are very nice. Everything is within a reasonable distance. She does the exercise, the bingo, the cards, and trips out to lunch. The outdoor grounds are very nice. It has more of a nice hotel feel than a typical assisted living place.
---
RL1
December 30, 2015
I visited this facility
Atria at Lake Forest was very nice. The only difference was it was a little far for me to drive to go see my loved one. The place was very open and decorated very nicely. The dining room was restaurant-style. They had buses that come and go for different activities, plus they had bingo, arts and crafts, and exercises.
---
Anonymous117233250
December 17, 2015
I am a friend or relative of a resident
My parents are doing well at Atria Lake Forest. I really like it. The staff is very good. They are always informing us when something is going on, if we need to take care of something, or if they need more medicine. They are always good, and they like my them too. They are in the memory care unit, and they have a small dining room. The place is very clean, and there is no bad smell.
---
Anonymous113631550
September 30, 2015
I visited this facility
We were very impressed with Atria at Lake Forest. They had a movie room, a private dining room, and a library.
---
Brian23
June 25, 2015
I am a friend or relative of a resident
I think Atria at Lake Forest fits the needs of my father. It is a little expensive though. It is more than what we wanted to spend. However my father has unique requirements, and they seem to accept his needs. The staff there does a very good job. They are very helpful and caring. They know when to leave my father alone and when to provide incremental way of assisted care with a 92 year old resident. I also consider their apartments very spacious. Their food is top notch, and it doesn't get any better than that. They have all kinds of activities. My father likes to play bingo and poker from Mondays to Fridays. They have transportation and a movie theater there. They have various outings to various restaurants. There are more things that my father can sign up for and is capable of doing there. The place is also extremely safe. They have emergency buttons in every room. The residents have a personal pendant which they can press if they have any problem, and the staff will know where they are. They will then respond after three minutes. In totality, I am very happy with Atria at Lake Forest.
---
Kim107518250
June 01, 2015
I am a friend or relative of a resident
I have visited the Atria at Lake Forest. I am very familiar with this facility. Actually, I have a relative that lives there. I have nothing but good things to say about it. They are extremely caring and accommodating. They are aware of the rest of the family, and they are always very friendly and welcoming to us. She is in the Alzheimer's portion of the facility, and she has a very nice accommodation. She also likes the food. The dining room has a nice size, and it is very clean. They have an activities room and a TV room. They also bring in entertainment for the residents. She likes to walk a lot, and they have a nice courtyard.
---
Susan91400250
February 25, 2015
I am a friend or relative of a resident
My parents were in Atria assisted living, and we were fairly happy with this facility. It was clean, and the food was good. When my parents left and I had to go back and enter their apartment, so many people stopped by, asked personally about them, and cared about them. So they really were very personally engaged in the care. We had a problem with the geriatrician who was in contact there. We were not impressed with her. I think she really put our parents' health at risk, but we ultimately had to move them out of there into a rehab facility. The activities were good, although my parents didn't get involved in those because of health issues. The sanitation was not perfect, but it was good. There were occasions when we didn't get housekeeping services for their room, and we had to request it, but it was taken care of.
---
Jill16
September 24, 2014
I am a friend or relative of a resident
My parents were at Atria at Lake Forest. The facility is wonderful and I am very, very pleased. The staff are very loving, caring, and dedicated. Their rooms were very nice, spacious, and comfortable. We ate in their dining area and it was fantastic. It was one of the better ones that I have come across. They have a movie room and they do outings, poker, bingo; they do all kinds of different things. My dad is in their independent living, and my mom is in their memory care. I think she is having some difficulty with the food; it's every three or four hours and it is too soon. They are getting her up too early and giving the food too soon.
Provider Response
Thank you for your wonderful comments. We are thrilled hearing that you are happy as we know how difficult it can be to trust someone to care for your parents. We strive do our best everyday to instill that trust and peace of mind. I encourage you to reach out to our Resident Services Director in regards to your mother's dining concerns to learn more about our policies and what we can do for your mom. Please feel free to reach out via customerservice@atriaseniorliving.com if we can be of further service to you and your family. We are here to help!
---
Bert4
August 28, 2014
I am/was a resident of this facility
My wife is at The Atria. I visited four other locations besides this location and this one had the best facility from the standpoint of the size of the room and the overall condition of the facility. The place is immaculate, very clean, modern and very up-to-date. The food is spectacular. I've been here for a month and the food is fabulous. It is very good, they bring it out in perfect timing. The dining area is very, very good. They have white tablecloths, cloths napkin and remarkable serving staff. There are more than enough people to take care of the crowd. The staff is unbelievable. They're terrific people. They are extremely accommodating. The people are marvelous. They can't do enough for you. What I like best about this community? It is hard to pick just one thing, but the staff is very excellent. They listen to you, they react right away. My wife got a little problem and they jumped on it immediately. They just can't do enough for you. In terms of activities, they post a monthly schedule in advance and they have activities every hour of the day, from 7:00 a.m. all the way through 7:00 p.m. when they run a new movie every night. They have card games, exercises and bingo. Right now, I'm in the middle of a poker game. We're only here about a month and my wife has very much acclimated already. She has already made several friends. She likes the food and her room. She likes everything about. The people are just so accommodating and so helpful. They came in early morning and they want to know what they can do for you. They help her get dressed and wheel her in her wheelchair over to the dining room. She is quite happy.
---
KHFP
July 14, 2014
I am a friend or relative of resident
I searched for several months to find a place that was right for my father in law and met my high standards. This is the ONLY ALF in the Seminole county area that met my requirements. The food is amazing and they have nice furnishings and tablecloths! My father was eating lobster and shrimp when I arrived one day and they remember his breakfast choices and bring him "the usual" when family dine with him. They have live bands and events and lots of activities and field trips. The nursing staff is very good and housekeeping responds quickly when needed. Several of his friends upon visiting him have commented that they would like to live here when they need an ALF. There is a library and two computers / printers to use free of charge. It's like a resort but with a lot of walkers!
---
Bill44
April 22, 2014
I am a friend or relative of a resident
We have our step-father in Atria, and everything exceeds my expectations. The staff amd caregivers who work there really seem to care, and I give them the highest praise. They have many activities. I wish they had greater proximity because they are half an hour or more away.
---
flore
September 21, 2013
I visited this facility
I visited this facility when I was looking for Respite Care for my Dad while we were away. It is a beautiful place and quite large. The staff member who gave me the tour was most welcoming and very helpful. The rooms were clean and nicely furnished for those seeking a temporary stay. The activity rooms were large and lovely. Residents have a wide variety of lovely places to gather both inside and out.
---
Mary Jo2
September 11, 2013
I am a friend or relative of a resident
My mom stayed at The Atria for a year and a half. The place is very nice. The care was good for her at that time because she was not very well, but she got to a point where she was more alert than the other people. She didn't like the food though.
Provider Response
Thank you for taking the time to review our community. While it sounds like your overall experience with our community was positive, I am concerned to hear about your mother's displeasure with the dining selections. We always strive to provide a flavorful mealtime experience. If you can provide further details on what types of entrees she did not enjoy or anything in general about the food that she didn't like, we can certainly assess the options and make changes as needed. Please contact us at customerservice@atriaseniorliving.com and include the Atria community name in your subject line if you are willing to provide additional information.
---
caring5966
April 30, 2013
I visited this facility
I was very impressed the first time I went to the Atria. It's really fancy when you walk in and I really wanted to put my parents there, so I went back for an unannounced visit. One of the ladies there just had coffee with me and told me that I couldn't take pictures of the residents. She looked like she had a really bad day, her hair was messed up and everything like she was running around. Basically, I felt kind of rushed through, so that knocked it off my list completely. If she's going to treat me that way, then that's exactly how she's going to treat my parents too.
Provider Response
Please accept our apologies for your experience with our community on your second visit. Rest assured that this is not common. Our staff are known for being welcoming to visitors and patient with all of our residents. We hope that you will consider another visit, announced or not, so that you can see how pleasant our staff are and hopefully get a chance to speak with some of our residents. Please contact us at customerservice@atriaseniorliving.com if you have any questions.
---
bhicks
March 01, 2013
I visited this facility
Atria Lake Forest was very well-kept. The quality of care seem high. The residents were all dressed, and there is a myriad of activities all charted on a calendar. The staff was very accommodating. They still contact me every couple of months to see how things are going. They were also very personal with the patients and addresses them by their name. They're very calm speaking with the patients. You can bring in your own furniture and set up your room like it was at home. They also have a chef and a cafeteria.
---
UnhappywithAtria
February 24, 2013
I am a friend or relative of resident
The memory care has very limited understanding of how to handle dimentia residents that need extra care. They have and will call the sheriff's department and fire department to resolve issues they can't manage and have done so with frequency. CNA's who have managed dimentia patients told us that they didn't understand why the staff is surprised or unable to manage dimentia if that is what they claim they can do. If your loved one poses challenges, they will send them to the ER over and over again and will eventually Baker Act them so they don't have to deal with them. Be warned.
Provider Response
We appreciate your feedback about our community and welcome the opportunity to discuss your experience with us. Please contact us at customerservice@atriaseniorliving.com and include the details of your review and the community name so that we can talk further about the situation.
---
caring0104213
January 24, 2013
I visited this facility
We're hoping to move my mother at Atria Lake Forest within the next week or so. We loved what we have seen that's why we chose it. We know that there's going to be a transition period, but my mom chose it because she like the staff. They're recently remodeling the Alzheimer's area, so we were pleased with that. Right now, the ratio of staff to patient is very nice and not an overwhelming amount. They've been very accommodating. And so far so good.
---
kendra1030
October 13, 2012
I visited this facility
The location is great and close to losts of public restuarants and stores that are easily accessable. The inside of the building was clean and looked as though routine maitnence had been done. The landscape was welcoming also. i really enjoyed talking to the staff. they were very friendly and seemed as though they all enjoyed their jobs. it came off as a very positive environment and is still close to where i love. i would definetly keep this in mind. it is still an option.
---
PattyC1
March 16, 2012
I visited this facility
I live near this facility and occasionally thought about visiting it to see if the inside was as nice as the outside. When a friend of mine went to visit her aunt I had the chance to see what I'd always been curious about. Take it from me, the inside is just as impressive as the outside! Climate control is important in Florida, and the temperature was perfect throughout. The staff was friendly directed us to the aunt's residence. Comfort was everywhere, and from what I saw in passing, there isn't a single amenity missing. I have no doubt careful thought and plenty of time was put into making this facility exactly the type of place anyone would like having a senior family member reside at. There is also an area set aside for a Hospice, which I think is one of the things that puts Atria at the top of the list in this area.
---
From Atria Park at Lake Forest
---
Atria Park of Lake Forest offers independent living, assisted living, and memory care services. The community is surrounded by majestic oak trees on a beautiful eight-acre campus and is just minutes from downtown Sanford, the Seminole Mall, and nearby Orlando and Mt. Dora. Our residents enjoy luxury amenities, delicious restaurant-style dining, dynamic calendars with more than 200 monthly events, and the freedom to choose which opportunities to explore next. Atria Park of Lake Forest offers many care options that can be tailored to your needs as they change. Select a senior apartment from more than 200 suites in various sizes, including studio, and one- and two-bedroom floor plans. Then, choose the level of discreet care that feels right. With Atria Park of Lake Forest, the choice is yours. Visit us today, and see what exceptional senior living is all about.
Atria Senior Living is a leading operator of independent living, assisted living, supportive living and memory care communities in more than 180 locations in 28 states and seven Canadian provinces. We are the residence of choice for more than 21,000 seniors, and the workplace of choice for more than 13,500 employees. We create vibrant communities where older adults can thrive and participate, know that their contributions are valued, and enjoy access to opportunities and support that help them keep making a positive difference in our world.
What Makes Us Special
---
Blended independent and assisted living (50%/50% currently) so people can move in as independent and when they need more assistance they do not need to change apartments/buildings/wings. 3 neighborhoods for memory care: high functioning, moderate functioning, and low functioning. This allows residents to be with others who are in the same phases of dementia. LNS license allows us to do some higher level nursing care (oxygen management, diabetic care, injections, wound care, catheter care).
Features of Atria Park at Lake Forest
---
Costs
Rent Plus Care Fees
Entry Fee
Fee Structure Extra

We Offer A Month To Month Rental
Room and housing options
1-bedroom apartments
2-bedroom apartments
Companion Suites

We Do Not Offer Companion Suites

Studio Apartments
Features
Beauty Barber Shop
Resident Transportation
Party Space
Tv Room
Garden And Patio
Resident Parking
Features Extra

Library, Fitness Room/Gym
Cleaning services
Laundry For Linens
Private Cleaning Services
Housekeeping
Laundry For Clothing
Technology and entertainment
Cable In Rooms
Wifi
Technology Extra

Emergency Call System
Health services
Medication Management
Physical Therapy
Nurse On Staff

Yes
Activities
Offsite Activities
Music
Games
Stories
Religious Services
Lectures Discussions
Book Clubs
Wii Sports
Tai Chi
Fitness Room
Yoga
Gardening
Cooking
Arts And Crafts
Activities Extra

Computer Class
Financial guidance
Va Benefits Consultation
Financing Advice
General
Respite Care
Minimum Age

55

Pets

Small Pets Allowed
Licenses
Licenses

LNS

State Licenses

ALF AL10233
Location of Atria Park at Lake Forest
---
Get Cost Information
Get full access to reviews, cost information, and amenities