Atria Hacienda
44-600 Monterey Avenue, Palm Desert, CA, 92260
Talk to a Family Advisor: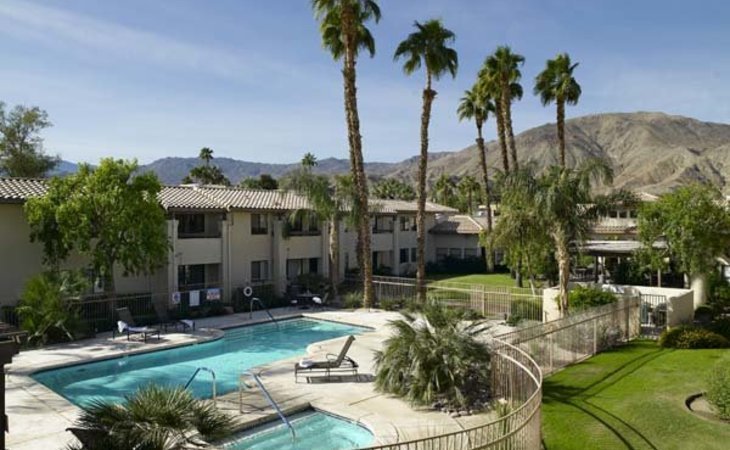 Promotion ends in 39 days!
The best time to choose Atria is right Now! For a limited time, you can lock in our current rental rate with no increases until at least January 1, 2019 - Details apply.
Reviews of Atria Hacienda
---
Bart882201
March 29, 2017
I visited this facility
I would give Atria Hacienda a 5. They had three dining areas, tablecloth linens, a salad bar, excellent choices, and good food, and there is a café that is separate from the dining. It is the best in the area.
---
Kay078477
November 28, 2016
I visited this facility
What I like about Atria Hacienda are the people that are there and the people that take care of you. The rooms are very wonderful. You have choices of sizes that you want or need, so you make the choices according to what you can afford. The rooms are very nice. They're exactly what I want. The food was excellent. I was given choices and options. Every time I come into town, I have been invited to go at lunch or dinner or whatever I want. The dining area is very nice. There's 2 of them. There's a dining area and a grill kind of. They have more activities than I can ever do in my lifetime.
---
Dori687566
October 13, 2016
I am a friend or relative of a current/past resident
Atria is probably one of the best of its kind, and I'm extremely happy with it. The care of the staff was absolutely wonderful. Mary is the person in charge of memory care, and there couldn't be a better person. She is helpful, kind, and always ready and able to do anything she can to make my husband, and I am comfortable and satisfied. He's only been there a week and a half, and I'm extremely happy. It couldn't be a better situation.
---
SM637561
September 30, 2016
I visited this facility
Atria was quite nice, but it wasn't what I wanted. I only saw apartments, and either the people I was visiting were not as needy as I, but I have maid service at the facility that I am in or housekeeper once a week -- and I think they also do -- but it was nothing like home. They had a 2-bedroom, and it looked just like an apartment. I came in to the patio -- which was quite small -- and they had no garage. The staff was very friendly, and it looked like a place for old people. It's clean and well-maintained.
Provider Response
Thanks for visiting our community and letting us know about your experience. We welcome you back at any time!
---
Caring Wife13
April 15, 2016
I visited this facility
The tour we had at Atria Hacienda was just wonderful. They answered all of our questions and were really good and accommodating. The one person who gave us the tour was so helpful and spent a lot of time with us. It was such a good experience. The rooms were a good size. The lady showed us the library and the other rooms where they do their activities. The food was great, and the dining area was nice. I liked the whole place because it was so family-oriented. The staff talked to the residents.
---
A Neighbor1
January 14, 2016
I visited this facility
We visited Atria Hacienda. The staff was very lovely, nice, helpful, and not pushy, but they do call me all of the time. The room would have been fine for my neighbor, and she could afford it. They have a theater, movie room, and a lot of activities. We had lunch there, and the food was very good.
---
A Fellow Reviewer11
December 22, 2015
I visited this facility
We are moving to Atria Hacienda. Their rooms have a top burner, a refrigerator, and a microwave. We want somewhere to fix breakfast but then eat the rest of the meals in the dining room. The dining room looked very pleasant. They had a nice menu, and you can eat anytime of the day you want. I was very pleased that Atria Hacienda could work with me quite a bit. It was the most expensive one, so I don't like the price, but they have done a lot for me. It has been a very pleasant experience.
---
Y.D.P.
November 25, 2015
I visited this facility
My parents are going to Atria Hacienda. We toured the facility, and it is absolutely beautiful. The people are nice and lovely. I feel very comfortable with my parents being there for the winter. They have a lovely dining, common, outside, and pool areas. The staff, of course, is absolutely attentive. It is really worth a five-star rating. They have a two-bedroom apartment that is lovely. It does not feel institutional at all.
---
Anonymous118878750
October 31, 2015
I visited this facility
I visited Atria Hacienda. It is the top-of-the-line. Out of the four that I have gone to, it is my favorite because of their flexibility. They have a dining room that is open. You can go in whenever you want to get food. You do not have to show up at noon for lunch or be cut off at 1 or 1:30, so I like that flexibility. The location is excellent. It is across the street from our regional mall and so there is many places you could walk to. Also they have early-morning walking in the mall when the weather is bad. They have two separate restaurants and very good and very nice rooms for the library and theater seating for movies. It is top-of-the-line, but it is also the most expensive. One bedroom is ranging around $4,400 to $4,600.
---
Caring109706350
June 29, 2015
I am a friend or relative of a resident
My friend is at Atria Hacienda. It is an excellent facility. There are lots of activities for the people. The food is fantastic. All the staff is very friendly. The facility is very clean. I looked at several facilities, but I felt Atria was the best.
---
Marcia22
May 24, 2015
I visited this facility
Our experience with Atria is great. They are wonderful, and we are moving in there today. We decided to move our parent there because the staff is very caring and helpful. The facilities are beautiful. The food is really good, and it seems like a really nice place. The apartments are beautiful. Everything is clean and new. As for activities, you name it, they got it.
---
Caring105522250
April 27, 2015
I am a friend or relative of a resident
Mom is at Atria Hacienda. The staff was bending backwards to do everything my mom wants, and I think that is the reason why she is deciding to stay. It's one of the nicest places in the area. They also do her medications. Her room is very nice, and it is clean. It has a nice view.
---
Marilyn36
January 13, 2015
I visited this facility
I liked the Atria Hacienda very much. Everything about it was nice. If I were to consider going to a place that I could afford, that is probably where I would have gone. The room where my cousin was is small, but I did see the other rooms and they were larger. They were a decent size. The food was good, the facility was nice and clean, and I thought it was a good place to be.
---
Caring102132650
November 24, 2014
I am a friend or relative of a resident
What I like about Atria Hacienda is that the people are very friendly. My mom got into several conversations with different people. They seem to have a lot of different activities going on for seniors. They had a cute little beach shore place which is adorable. The rooms are pretty good, and their sizes are decent. The biggest issue I had with the room is that it's dark. It's painted with dark colors and the bathroom also has dark colors. What we didn't care for was their dining area as it was very much like a cafeteria. They have just very casual tables, and it just didn't feel like fine dining. The food was outstanding.
---
Caring80538650
March 27, 2014
I visited this facility
I picked Atria Hacienda for my parents, and they will be moving soon. I chose it because it didn?t feel like an assisted living place. The apartments felt like condominiums and not like a hotel. Everything looks very new. The room is very clean and really pretty. They all have balconies or patios, and I really like that. The staff were very helpful, and they always tell me that I can call them, and every time I call them, they call me right back. We have eaten there several times, and there are two dining rooms, and the food is very good. They have a very large exercise room with an outdoor pool and Jacuzzi. I would like to live there. I would just like for them to have an indoor pool because when it's summertime, nobody can use the pool because it's too hot.
---
Gail17
December 29, 2013
I visited this facility
I did visit Atria Hacienda and I was about to sign a contract there. I like the facility very much. I like the layout of the place. I like the way the personnel interacted with the patients there. I had a one-on-one with one of the counselor and she was very helpful. They were able to check on me again. We had dinner there one night and it was excellent.
---
KindyLee
December 27, 2013
I visited this facility
I have come across Atria Hacienda through an online senior services website. Its price was within the market. They're an excellent facility. They're very nicely laid out and I think they have the facilities to assist my dad. The staff was friendly and caring. They were very receptive and they did a lot of following up with me.
---
Cathy33
November 30, 2013
I visited this facility
Atria had an extra staff for memory care patients. They actually had computer room for people like my mom that had some memory issues and worked with them. They don't have to be in a special designated place because she was not that bad. She could take care of herself. She just couldn't remember things. They had special program for people there in that place that they take them into these classes, which I thought was pretty cool. They had an indoor pool. I liked the food. I thought the staff was very knowledgeable and had more to offer for memory care people. They were friendly and very helpful. They had a nice dining room. They had a designated movie area. However, the rooms were smaller than where my mom was right now. It had a window but no balcony.
---
Waterbill
October 09, 2013
I am/was a resident of this facility
We chose Atria Hacienda because of the well-founded reputation especially for having excellent food. The caregivers were very accommodating and caring. Although on occasions, the serving people at the grill took a little too long to notice you.
Provider Response
Thank you for your review. I'm very happy to hear that you were pleased with our staff and meal options. We certainly aim to exceed the expectations of our residents. I will be sure to share your comments with the appropriate staff so that we can make sure that we acknowledge our guests in the dining areas right away. If we can be of any assistance to you at any time, please contact us at customerservice@atriaseniorliving.com and be sure to include the Atria community name in your subject line.
---
Juan4
July 24, 2013
I visited this facility
The only problem that I had with the Atria Hacienda as with most of the facilities was there were not that many, I don't think there was any Spanish speaking personnel. Unfortunately, that's one thing that we need because my mom speaks very broken English. I need a place where she can relate to some other people. I am sixty seven years old and if I had my way, I would go there myself. The amenities were excellent, the staff was perfect, and I did not see any problems at all.
Provider Response
I am glad to hear that you were happy with our staff and the amenities we offer, and I will certainly share your suggestion of expanded language options with the appropriate staff. Please contact us at customerservice@atriaseniorliving.com with any questions or concerns that may come up in the future.
---
Carolee1
June 19, 2013
I visited this facility
Atria Hacienda is very, very nice but it's just too small for me. The receptionist Gretchen is great. They have lots of entertainment, movies, bingo socials, and someone comes in to play the piano for them. I recommend Atria very, very highly.
---
Shirley10
January 08, 2013
I am/was a resident of this facility
I lived there for 8 years. I moved out once because I decided to live in a condo and I didn't like it so I went back. I had a lot of friends there. I was very active then and I was in charged of entertainment. I got 3 or 4 tables of bridge that I started and I ran it. I had a nice one bedroom apartment. The food is better because we paid more there. The staff there are fine. I think that the top management there needs to improve in handling the facility. They try to ran it more and tell the residents what they want instead of asking the residents what they want.
Provider Response
Thank you for your feedback on our community. I will make sure that the appropriate people also read your suggestion of making sure we are always asking residents what they would like their Atria experience to include. I encourage you to also make sure you include this the next time to receive your customer satisfaction survey. If you would like to discuss any concerns or you have any questions, just email us at customerservice@atriaseniorliving.com and include you Atria community name in the subject line.
---
Thad
January 28, 2012
I visited this facility
The rooms were very nice, a bit larger than some, personnel we met were great. But found an equally nice place closer to our home. The Hacienda was in our top 3 places to make a choice from
---
---
Inspiring is the best word to describe all the wonderful enhancements and entirely new amenities at Atria Hacienda. We want your living experience to be the finest so we've made some changes that are sure to impress. All of our community areas have received a bright and stylish makeover. Exciting new spaces include the Bistro Grill for casual dining, a dedicated theater with cinema-style seating, and a new fitness center with equipment designed specifically for seniors. At Atria, we keep the senior experience fresh and inspiring.
Seniors at Atria Hacienda enjoy a full calendar of activities and take advantage of the convenient scheduled shuttle service for shopping, entertainment, medical facilities and places of worship. Atria Hacienda is just 15 minutes east of Palm Springs, California, and offers breathtaking views of the Santa Rosa and San Jacinto Mountains.
At Atria Senior Living, older people find more than a place to call home - they become part of an independent living community of thoughtful peers and considerate caregivers. Our residents enjoy the highest quality services; a wide choice of activities that nurture the body, mind and spirit; delicious, nourishing meals; a variety of senior housing options; and just the right amount of personal aid to enjoy assisted living with confidence. Helping seniors make a better life - that's what Atria Senior Living is all about.
Schedule a visit to see the newest amenities
NEW Movie Theater with projection screen and surround sound
Enhanced dining experience with new Bistro Grill, restaurant-style Dining Room and Cocktail Lounge
A Cognitive Learning Center with computers and wireless network
State-of-the-art Salon & Spa with manicure, pedicure, massage, and hair care services
NEW Fitness Center with equipment specifically designed for seniors
NEW Library featuring an outdoor patio
Renovated Pool Deck including resort-style outdoor dining patio and BBQ kitchen
Atria Senior Living is a leading operator of independent living, assisted living, supportive living and memory care communities in more than 180 locations in 28 states and seven Canadian provinces. We are the residence of choice for more than 21,000 seniors, and the workplace of choice for more than 13,500 employees. We create vibrant communities where older adults can thrive and participate, know that their contributions are valued, and enjoy access to opportunities and support that help them keep making a positive difference in our world.
Features of Atria Hacienda
---
Licenses
Licenses

License #336400075

State Licenses

336400075
Location of Atria Hacienda
---
Get Cost Information
Get full access to reviews, cost information, and amenities