Sunrise of Mission Viejo
26151 Country Club Drive, Mission Viejo, CA, 92691
Talk to a Family Advisor: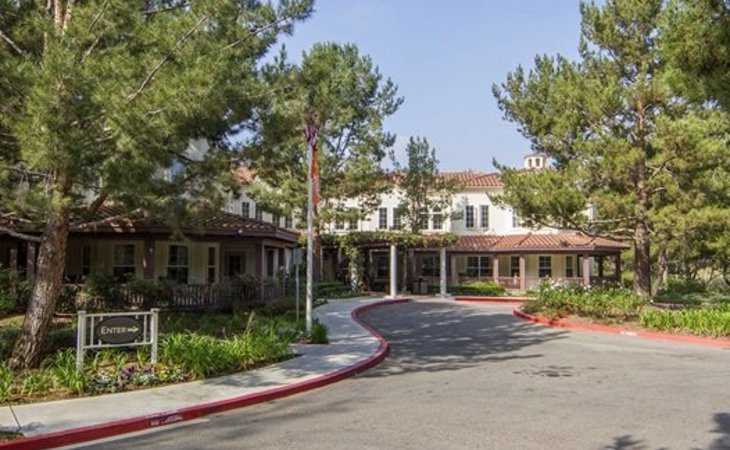 Reviews of Sunrise of Mission Viejo
---
Sara127605
February 12, 2017
I am a friend or relative of a current/past resident
We found Sunrise for my aunt. It was most homey and very clean. The staff was very nice and very friendly. We haven't had any problems so far.
---
Natalie016405
February 10, 2017
I visited this facility
Sunrise of Mission Viejo was a nice facility. I loved the atmosphere. Trisha was great. She was very helpful and very informative. She knew the history behind the owner and what the owner had done in the industry, which was remarkable. We went down to one of the floors where the memory care was, and it was so lively. They were singing, and it was decorated so nicely. It was a very warm, inviting, and positive environment. I loved it. The only thing was it was very pricey.
---
Russ E.
November 25, 2016
I visited this facility
Sunrise of Mission Viejo was a nice place. It looked like the communal areas were good for socialization. The room, as we walked into it, was a little small with a little kitchenette and a small table. The staff was very good and very professional. The eating area was very nice.
---
Nancy523586
November 14, 2016
I visited this facility
Sunrise of Mission Viejo's food was OK, and my mother liked it. It was an OK-restaurant type of meal, but definitely not gourmet. The rooms were extremely small, and they would call a 2-bedroom which is really only a 1-bedroom without a living room, for example, so you'd have to use one of the 2 rooms as a living room, but they would charge you for a 2-bedroom, so I didn't care for that setup at all. The facility and common areas were very nice; however, they didn't have as many activity rooms. When we had lunch there, we sat with a couple of residents, and they said their shuttle hadn't worked for weeks. If they were taken anywhere, they were charged, and they were not at all happy with the place. We left there and never looked back. They're misrepresenting the place.
Provider Response
We are sorry to hear about your experience at our community. We take your comments very seriously and would like to speak with you further. Please email information (at) sunriseseniorliving (dot) com with your contact information so that we can reach out to you. Thank you, The Sunrise Team
---
Lisa420247
October 05, 2016
I visited this facility
We chose Sunrise in Mission Viejo as it's a much smaller community than many of them. It's got a very homey feeling as opposed to some of the more expensive sort of over the top communities. My client has some early Alzheimer's, and they are willing to place her in the regular community until such time as she truly needs dementia care. That was a really big selling point for us, and we are on the waiting list. The staff was extremely friendly. They have a program where one caregiver is designated to an individual resident, so there's continuity of care.
---
Tom143611
September 11, 2016
I visited this facility
Sunrise was very clean and bright, and the help was very friendly and attentive. The rooms were small, and most were double occupancy. The staff was very friendly and knowledgeable. However, we didn't choose it because it did not fit our needs.
---
Sandra504316
August 16, 2016
I visited this facility
Sunrise of Mission Viejo is an 80-unit place with memory care in a separate building. It's the best, and the place you want to be in. It has really friendly management, and I like that it's not a luxury place at all. The residents look extremely happy, and that's a good sign. There aren't a lot of wheelchairs and walkers, and it's a small community, which works for me. The dining area is small but open all day, so people can eat whenever they want. If you want breakfast in the afternoon, you can have it. It didn't have a huge area for social activities because they don't need one. Independent living is definitely what they want people to have. They have a salon, a library, walking areas and gardens with flowers and great view. It's very quiet.
---
mtt
March 02, 2016
Other
My mother lived at Sunrise of Mission Viejo for 6 months. After 5 months, she was charged an extra $37 a day for "higher level care needs," which it was explained to me that staff would be checking daily on my mother to make sure she was alright. On October 22 and 23, 2015 my mother fell twice in her room and hit her head. No one had walked in her room to check with her to see if she was alright, notwithstanding the extra $37 a day she was charged for this "higher level needs" service. I do not recommend Sunrise of Mission Viejo.
Provider Response
Thank you for sharing a review. Please know that we take all concerns, like yours, seriously and would like to learn more about your experience with Sunrise in regards to your mother's fall and care. Please email us at Information(at)SunriseSeniorLiving(dot)com so we may follow up. Thank you, Sunrise Team
---
Maryanne7
January 26, 2016
I visited this facility
Of all the places, I liked Sunrise of Mission Viejo the best. The people were really nice, and the staff seemed to be very caring to the residents. They had a beauty shop. They even suggested that I setup a time when my parents could go in to see what it was like, and they did follow-up also. I would recommend them.
---
Caring Daughter116552750
December 21, 2015
I visited this facility
We visited Sunrise. It was fine but way too expensive. There seemed to be a lot of people out and about. The staff is very pleasant, and the woman I spoke with was very knowledgeable. The rooms were small and nothing special.
---
Beverly120674250
December 11, 2015
I visited this facility
Sunrise of Mission Viejo is good. It is homey in a good way. The staff were all very friendly and looked like they knew all their residents. It was a good visit. The residents looked happy to be there. I talked with a lady while I was waiting in the lobby, and she was happy with the place. My overall impressions were good ones.
---
Kathy B2
November 25, 2015
I visited this facility
I went back the second time to Sunrise of Mission Viejo. The tour ladies were wonderful, answered all of our questions, very polite and personable. It was beautiful. They had a covered porch outside with chairs and some of the residents were enjoying sitting there. It was very clean on the inside, decorated tastefully, and they had a nice dining facility. The rooms were clean and well kept. A lady took me into a room that was being lived in with the permission of the resident and it was very clean and neat and looked great. The only thing that I would have liked more is a little bit more outdoor space for the residents because all they had was the porch. There were no gardens or walk through, and that was my only drawback on that one. There were some activities going on when I was there, some music, piano playing, and the residents were enjoying that. I got to see their activities list, which were very abundant. There was plenty to do for the residents.
---
tdcrump
August 18, 2015
I visited this facility
Very nice, quiet facility. Room were bring and airy, and the staff was friendly. They knew all residents, and were helpful.
---
Jeff38
May 28, 2015
I visited this facility
Sunrise of Mission Viejo had the best apple pie I had ever eaten. The rooms were nice. The staff was very nice and helpful, and they had different activities. It's across the street from a golf course, and it seemed pretty new. They had nursing staff on the floor to do medications.
---
Caring107659850
May 17, 2015
I visited this facility
Sunrise of Mission Viejo was very beautiful and very well taken care of with lots of amenities and very friendly people. The apartments were good sized, very clean, and looked like they had all they would need for assisted living. The dining area was very nice like a semi upscale restaurant. The memory care section had a coffee shop setup, and the food looked OK. They had different people that come in and talk to them or entertain them every day in the main lounge. They had crafts, and they had some trips for the more ambulatory ones. The staff were friendly and helpful, and they looked pretty strong, so they could manage the ones that would need a little bit extra assistance.
---
Terry106127250
May 16, 2015
I am a friend or relative of a resident
My dad had been at Sunrise in Mission Viejo. It was crowded, and they had more people, but they didn't have many areas to do activities, so it was kind of in the same space. They'd be eating where they had dinner, and then when they clear people out of there, they'd have activities there or right in the area where you first walk in. His room was a little small, and it got very hot in the afternoon because the sun came in, and he didn't have as many activities, so he would be sitting in his room a lot when he needed to get out. The people were nice; you just felt rushed and crowded. The food was OK. He didn't really do any activities. I know they had little things, but it wasn't much, and then the room was a little smaller than what he has now. It was a shared one where they shared a bathroom and a kitchen area.
Provider Response
Thank you for your review. Please know that we take all concerns seriously and would like to learn more about your experience. Please email Information(At)SunriseSeniorLiving(dot)com with further details so we may follow up. Thank you, Sunrise Team.
---
Brian22
April 30, 2015
I am a friend or relative of a resident
I chose Sunrise of Mission Viejo for a family member because it is convenient and also because of their overall reputation. The room is pretty good actually; not bad. The staff are very good and attentive. Their food is good as well. Everything seemed okay with the facility. They have trips and exercise program. They also have music-related things.
---
James100560050
February 10, 2015
I visited this facility
I went there at Sunrise of Mission Viejo with my mother and my sister for my father. It is a nice facility. They have real nice people, nice place, and a nice tour. I just couldn't get my mom to stick my dad in there though. He wants to go, but she says that he won't do that to her, so she's not going to do that to him. They have single and double rooms. They showed us everything. We didn't eat there, but the people were setting down and eating in there. It almost like a restaurant you'd visit. It sure is a nice place. As for activities, there might have been something about getting out on vans or small buses and doing things on certain days. The ladies we talked to were nice people. It's a nice place and a really nice facility.
---
Sheri7
January 16, 2015
I visited this facility
Sunrise of Mission Viejo was very small and very personable. When we first looked at it close to 2 years ago, my mother-in-law didn't want to be there. It was her first experience looking at senior living. She wanted to stay in her house. But the impression I got with the environment and the staff was that it was very nice, and they were very personable. It seemed to be a very small facility. It wasn't the big open floor plan that is so welcoming. It seemed a little dark, and the buildings were a bit older. They were quite busy, and they had a good operation there.
---
slave4ups
August 08, 2014
I visited this facility
My husband and I went on a tour of this facility because my mother-in-law is in need of respite care for a couple of weeks after she leaves the hospital. First the parking situation is kind of weird as there is only maybe 8 spots in the front. I guess you can park on the street, but the day we went, there were no spots there either. There is a back parking lot, but it is a far walk to the entrance. As well, there is an enormous apartment complex being built right next to the facility which will be completed in another year or so. Our tour guide was very helpful and very knowledgeable. As we went into the room to start our meeting, one of the head chefs came in to greet us and gave us an entire homemade apple pie. He was also very nice and suggested we come by the dining room if we had any questions. This facility is very clean and did smell like a Fabreeze air plug in when we walked in. This facility has three bedroom styles: the studio, the Denver (two rooms separated by a wall with a large walkway to the back room), and a 2-bedroom. We were shown the room my mother-in-law would be using and it could use some work. The covering on the kitchen counter was peeling back by the refrigerator, but overall it was nice. I think the rooms need some remodeling as they look dated, but they are clean. If you are looking for a place for a loved one, I do recommend you stop by Sunrise and check them out.
---
Caring88465850
July 20, 2014
I visited this facility
Sunrise at Mission Viejo is a pretty good facility. The facility was very clean, and it smelled good. For the couple of hours that I was there, it seemed very nice. They have a skilled nursing facility. If my dad gets any worse, I will move him to this facility. The rooms are a lot smaller in this facility.
---
Debra26
March 29, 2014
I am a friend or relative of a resident
My dad has been living in Sunrise for two and a half months now. It looks like a Mexican hacienda with a drive-through circle in front, and there are lots of trees all around. They plant flowers to match the season, and inside at all the tables are fresh flowers every day. Dad's room is upstairs, and they have furniture where you can sit and beautiful pictures on the wall. The staff who helped me on the tour was excellent. The place is real cozy and it feels like home. They have walking, movies and popcorn, ice cream socials, parties for the holidays, and puzzles. They don't have a lot of outside activities; they take them out for drives sometimes but with no specific places. They have doctor assistance and staff who comes to the facilities, and we take advantage of that. The people who work there are so friendly, and they treat the residents with such respect and kindness. They're always talking to them and just stopping in the room, and they check on them constantly. There's such a real relationship between the people and the residents. There's a group of caregivers that is in charge of a group of people, and they check on them every hour and are aware of what they're doing.
---
Hilda1
December 01, 2013
I am a friend or relative of a resident
My client is now at Sunrise of Mission Viejo. I was impressed with the staff and how they handle things; it was incredible. The facility was very clean. I would consider living there, but I would like the outdoor facility a little bit more spacious.
---
LovelyLady0000087
November 21, 2013
I visited this facility
The physical location of Sunrise is great. The staff who talked to us was nice and extremely pleasant. But the bedroom is not separated and the community room is very small, just like a TV room in the house. However, I will still recommend this facility to others.
---
Roco
March 31, 2012
I am a friend or relative of a resident
The caregivers for the Alzheimer's Unit are the best, caring, giving & loving!
---
stephsandiego1987
August 05, 2011
Other
Sunrise Senior Living provides Assisted Living, Alzheimer's, and Respite/Short Term care. It is located right next to a golf course, which provides a nice backdrop for the walking trails and is very quiet. It is a very friendly and professional environment, and the staff seems to take pride in their work and the facilities. What surprised me the most was the atmosphere at Sunrise - it feels like home and there is a sense of community.
---
From Sunrise of Mission Viejo
---
Located near the I-5 freeway, just east of the OSO Parkway, Sunrise of Mission Viejo is nestled in the heart of Mission Viejo, California, adjacent to the Mission Viejo Country Club with a variety of suites that offer a wonderful view of the golf course and surrounding valley. We pride ourselves in championing quality of life for all seniors. Our passion is to provide extraordinary care for our residents while offering a unique living experience and a variety of care options.
Step into a Sunrise Assisted Living community and you can't help but feel at home. We stop at nothing to make your experience warm and inviting, from our homelike exterior architecture, to our comfortable community areas and choice of suites, to our exceptional outdoor gardens and landscaping. You'll notice fresh flowers throughout the residence, and you may even spot our dog or our cat. And of course, there are always the friendly smiling faces of our staff to ensure that each day spent here is a welcome one.
What Makes Us Special
---
We staff for need 365 days a year. Every Sunrise resident has a customized Individual Service Plan (plan of care) upon move-in. Care services delivered by the Sunrise Signature Designated Care Manager. Nurses on site every day.
Features of Sunrise of Mission Viejo
---
Costs
Rent Plus Care Fees
Entry Fee
Fee Structure Extra

We Offer A Month To Month Rental
Room and housing options
1-bedroom apartments
2-bedroom apartments
Studio Apartments
Dining options
In Room Kitchenette
Dining Room Shared Meals
Room Service For Meals
Features
Beauty Barber Shop
Resident Transportation
Party Space
Tv Room
Garden And Patio
Resident Parking
Spa
Features Extra

Library
Cleaning services
Laundry For Linens
Private Cleaning Services
Housekeeping
Laundry For Clothing
Technology and entertainment
Cable In Rooms
Internet Enabled Rooms
Wifi
Technology Extra

Emergency Call System
Health services
Hospice Care
Medication Management
Physical Therapy
Nurse On Staff

Available During Business Hours
Activities
Offsite Activities
Music
Games
Stories
Religious Services
Book Clubs
Tai Chi
Fitness Room
Yoga
Gardening
Cooking
Arts And Crafts
Financial guidance
Home Sale Assistance
Va Benefits Consultation
Financing Advice
Financial Aid
Guest services
Guests At Mealtime
Overnight Guests
General
Staff Patient Ratio

8 To 1

Respite Care
Pets

Small Pets Allowed
Licenses
Licenses

RCFE

State Licenses

306002644
Location of Sunrise of Mission Viejo
---
Get Cost Information
Get full access to reviews, cost information, and amenities