Atria Riverdale
3718-3726 Henry Hudson Parkway, Riverdale, NY, 10463
Talk to a Family Advisor: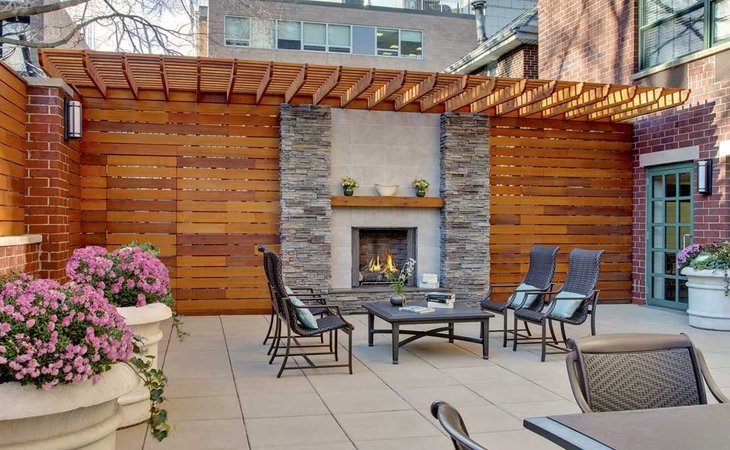 Top nearby Assisted Living Facilities
Reviews of Atria Riverdale
---
Janis216834
April 10, 2017
I visited this facility
Atria Riverdale seemed really nice, but I felt like it was quite restrictive for the residents. It didn't seem like people had much freedom to move around. They had extensive activities, and the rooms were beautiful. It was in a neighborhood where you can go places, but the residents were too debilitated. It didn't have that open feeling to it. It had a homey atmosphere but everything seemed pretty regimented. The staff was very nice and very friendly. I got feedback from family members that they were pretty unhappy with the place, and that is why I ruled it out. It was a beautiful facility.
Provider Response
Thanks for visiting our community and taking the time to let me know about your experience. If you have any other feedback you'd like to share, you can email me at customerservice@atriaseniorliving.com.
---
SF208633
February 23, 2017
I am a friend or relative of a current/past resident
Atria was the only one that her insurance would cover as far as the price went and had an opening. The care is excellent, and the people who take care of her are excellent. They had good activities, exercise, and everything. However, the administration cannot get their act together. I do everything 5 times, and they call me all the time. They're very disorganized, and I'm not happy about how they run it.
Provider Response
Thank you for reaching out to let me know about your concerns. If you would like to connect directly to discuss your experience in detail, I'm happy to help and welcome you to email me at customerservice@atriaseniorliving.com.
---
Pamela130514
November 08, 2016
I visited this facility
Atria is neat and clean, and it's all very lovely. We liked everything there. There's a lot of space, and they have a lot of activities. What was agreeable for me was the location, and there's easy access for the family members to visit her.
---
TB580632
September 13, 2016
I am a friend or relative of a resident
My dad is in the Atria Riverdale. This is a facility that's very good for those who want Kosher food and who think keeping a Jewish lifestyle is important to them. I would just advise whoever is going to bring their loved one there to ask a lot of questions beforehand. It's a facility that gives the bare minimum of what they can offer you, and if you want Kosher food or to maintain a more Jewish lifestyle and want to be in that area, then this would be the place for you. They do have a memory care facility, and there's also a hospice facility. It's a very clean, well taken care of, nice building. They have a lot of activities because every time I was there, there were concerts going on or different things happening downstairs. They have a computer room with a couple of computers for people to use and a dining hall that's set up restaurant style, including the menus so you have a good choice of different entrees that you can take. They have wellness care as well for people who need to take their medications and such. They have a doctor in the facility. He's not there daily, but he has certain hours and just comes to visit the patients. They have a beauty salon and other amenities as well. The staff is very nice -- the nurses and everybody I met were very nice. The people in there seemed to be very happy as well.
---
visitor143412
September 11, 2016
I visited this facility
I thought the people that greeted us at Atria were very nice. When I went back a second time, it was on a weekend, and it wasn't as clean. I don't think they have as much help on the weekend, and their focus is not on dementia care but assisted living. They were doing music which seemed fine.
---
Ray718004
August 23, 2016
I am a friend or relative of a resident
I moved my dad into Atria Riverdale. I like that the people are friendly, and that there are a lot of activities. The place is bright. I think he is treated well. They have three meals a day. So far, the staff is very good and very quick. The facility is clean, spacious, and very bright with a nice outdoor area.
---
Donna053718
May 29, 2016
I am a friend or relative of a resident
Riverdale is pretty and have very nice cultural activities going on all day, every day. My aunt's apartment is very nice. The people there seem to be very cooperative and easy to deal with, have been very caring, and made her feel very comfortable. The food is OK, not great. Some of it is very good, and some of it is not.
---
RichardOLTYP
May 22, 2016
I visited this facility
Atria Riverdale looked very comfortable when I visited the place. It looked like they had done a lot of updating of the place. Everything was very nice and clean. They offer a lot of help and had very nice people.
---
Caring daughter-in-law3
January 15, 2016
I visited this facility
I really liked Atria Riverdale. The apartments were tiny, the staff was fantastic and very caring, and the place was beautiful.
---
Visitor43
December 31, 2015
I visited this facility
Atria Riverdale was very nice but it wasn't for me because most of the residents were in wheelchairs and walkers. It wasn't a very mobile environment.
Provider Response
Thank you for visiting our community, where we value an active and engaging lifestyle. If you'd like to talk about your concerns, please feel free to send me an email at customerservice@atriaseniorliving.com.
---
Caring104094350
March 27, 2015
I am a friend or relative of a resident
I have moved my mother into Atria Riverdale, and she liked it. I was moving her from Manhattan, and we looked at a few places in Manhattan. They were much more expensive, and they also just didn't feel like a fit. Then we saw the one in Riverdale, and it was much less expensive. The Atria itself was more like a fit for her. We had a good vibe, and she is actually very happy there. She loves her apartment because it is cozy. She thinks all the people are all friendly, and she loves the activity and entertainment. She has done some painting, jewelry making, and watching movies. She loves all the entertainment. It felt warm, and it had a certain kind of warmth. I don't know how else to explain it, but we just thought it will be a fit for her, and it is. It seems homier, and she brought her own furniture.
---
Caring95896250
November 03, 2014
I visited this facility
I visited Atria Riverdale for my parent. We didn't like this place. Their rooms/apartments were small, cramped, and there was no closet space. The staff was mediocre. Atria Riverdale seemed more like a nursing home than an assisted living facility. What they could improve on is sanitation and staff preparedness.
Provider Response
I'm sorry to learn we weren't a perfect fit for your parent, and I'd like to ask you some questions about your visit. If you're willing to connect, please email me directly at customerservice@atriaseniorliving.com.
---
MyOpinion
October 20, 2014
I am a friend or relative of resident
Don't be fooled by appearances. When you go and visit everything is nice and pretty and everything seems so well run. BUT - - - after your loved one is actually living at Atria Riverdale for a while, you realize there is massive confusion in management. Our latest complaint is that Atria, since January 2014, has been charging an ADDITIONAL $475 to medicate the residents. What was formerly done as part of the monthly fee is now being done for an additional $5000 plus annually and the system is not working. Residents are forced to leave their apartments to be medicated, often waiting in crowded conditions amidst confusion for the person administering the prescriptions to actually show up. Sometimes you have hunt the med-tech down to actually GET your medication. Mom sometimes has had to wait HOURS for her medications and, worst of all, SHE HAS BEEN MIS-MEDICATED at least four times to our knowledge. She's even missed medications because no one followed up to make certain she received it. One time she was handed her night time medications in the morning (luckily she realized that before she agreed to take the pills) and the "staff" has trouble following her doctor's changes in her medications, continuing to give her older medicines after the doctor has changed her prescriptions. Basically she is paying someone else to medicate her while she has to manage her own supervision to make certain it's being done properly. I'm sure this is not a unique situation and luckily Mom is on top of things enough to make sure something serious doesn't happen to her. The attitude in "Wellness" (the euphemism used to call the nursing office) is not acceptable. Staff seems more concerned with their performance reviews than with the actual wellness of the people whose lives are entrusted to them. Their attitudes are at times argumentative, surly, and in general completely unprofessional and often, they don't return urgent attempts by the residents to reach them when there's a problem for several hours or even not at all. In all honesty, we are deeply disappointed and feel that we've been misled as to Atria Riverdale's ability to address, maintain and protect the quality of life of their residents. We've been asked several times by people if we would recommend Atria Riverdale and we've responded "emphatically not." The only reason Mom remains there is because of the many deeply satisfying friendships she has formed with members of the resident community and the truthfully high level of caring and commitment she receives from the aids. Her leaving now would be emotionally very stressful to her, but she finds the mismanagement and bungling by the administration at Atria Riverdale extremely stressful as well. Cheech and Chong could do a better job of running this place.
Provider Response
Your description of your experience in our community is very concerning to me. I'd like to talk directly about your concerns so that I can help find a solution. Please contact me at customerservice@atriaseniorliving.com so that we can continue this conversation.
---
Caring1705
October 19, 2014
I visited this facility
Atria is excellent! The room was pretty and the dining room was very nice. The best about it is the convenient location, the staff was very friendly and nice.
---
Caring72697050
October 03, 2014
I am/was a resident of this facility
We lived in Atria Riverdale for a month and moved out to another facility. It was a clean facility. They provided three meals a day, and I think it was OK. The one thing that was a remarkable offense was when I didn't feel good and asked the nurse to take my blood pressure, the nurse said that they didn't do blood pressure there. That was unacceptable for an assisted living facility. The place turned out to be not in our liking because of the level of care they provided to the residents there.
Provider Response
I'm concerned about your experience and want to learn more so I can help. Please send me an email at customerservice@atriaseniorliving.com.
---
Caring99667850
September 30, 2014
I visited this facility
The Atria was OK for what it has to offer, but it did not have what I wanted. It seems to be a top priority facility. It's a good facility. It's clean. The people are clean. The building is clean. There's no odor. It's a good nursing home.
---
Caring97069350
August 07, 2014
I am a friend or relative of a resident
The last place my mother was at was the Atria Riverdale, which I am pretty mad at. They went to the trouble of getting themselves certified for enhanced assisted living by the state, then when it seemed as if she might need to have oxygen all the time they said, "Well, we can't manage that." The reason why we needed to move stated was because they didn't even want to discuss the idea of helping with oxygen. It would have been more useful to me when she was still there, but they were doing seriously badly. For example, I am reminding myself that I still need to talk to them because they continued to charge her, at least a month, after she left. They would charge for when she was in hospital and rehab, and then you had to go back to them and say, "You know what, you overcharged us." They overcharged for all different kinds of things. I was in about six months of contention with their over charges, and I don't think that it has still been rectified. And, whenever I would ask them for a full accounting, they would give me a spreadsheet that wouldn't have a balance column, and they didn't seem to understand the concept of a final balance column, and they wouldn't do it. I understand now that they are in the middle of a renovation of some of the public areas, which didn't need renovation. What really needs renovation is the nursing, which is another issue. They just didn't have enough medical staff nearby. Also, just not enough doctor staff around; there was no doctor's suite at all. My opinion is, for an assisted living facility, you need to have a doctor there a lot, but that was definitely not the case at Atria. The apartment was fine. The food was fine, but the nursing was a big issue because if you don't have good medical staff then you have hospitalizations that are unnecessary.
Provider Response
We're sorry to hear about your experience, and we hope your billing concerns have been addressed. If you still have questions regarding billing, please contact us at customerservice@atriaseniorliving.com and we will connect you with the appropriate person. Also know that the specific services we offer are in line with the license we hold. We follow these guidelines closely to ensure our residents receive the best possible care, as their wellbeing comes first.
---
Rita19
April 01, 2014
I visited this facility
I would really recommend Atria Riverdale to the one who has the money to pay because it was too much for my budget. I couldn't get my loved one there. The facility was gorgeous. The place was very clean. We visited the dementia unit. It was nice. People had their own rooms. It was big. Some people painted and decorated it to their tastes. Most of the people who are there were famous people. There was a lady there; she used to be an actress. She has a picture of when she was young in a horror movie. The gentleman who gave us the tour was nice. The people were very attentive. As a matter of fact, they gave us a baked apple pie from the premises.
---
caring79244050
March 26, 2014
I visited this facility
Atria Riverdale is the first one I visited. The lady that gave us the tour was very friendly and nice. It looked clean, but old. It's also huge. The dining room was very beautiful, it looked like a hotel dining room, but that's the only thing that's nice. There was one room filled with 29 people, sitting just behind each other. There was one man conducting with music on screen. The people were sleeping and they looked very sick. They could get something comfortable like they're living at home. It's also pricey for me.
Provider Response
Thank you for coming in for a tour of our community. I'm sorry our planned activity that day was not more exciting. If you like, we would be more than happy to introduce you to our other communities in the area. Please contact us for more information or to answer any questions you may have at customerservice@atriaseniorliving.com and be sure to include "Atria Riverdale" in your subject line.
---
rkorny
February 14, 2014
I visited this facility
Atria is like a hotel. My ex-boss, a physician, sort of joked about it's almost like an ocean cruiser, because they've got the facilities there. It's fairly inexpensive, comparatively speaking. There's a restaurant that you can come to during the day, and almost anytime you can get a snack. If you want to go somewhere they have buses that take groups of people to downtown New York. There is a respite nurse on duty at all times, which made me feel fairly comfortable. There's also a big screen TV and there's piano. I went into a lounge area where people are sitting and watching TV and I got into conversations with several people, to see how they like it, just to get information how do they like being there. I also noticed that the people who work there seemed quite happy and would interact with residents.
---
Atria Riverdale getting steadily worse
January 14, 2014
I am a friend or relative of resident
We were very hopeful when we had our mom move into Atria. She's been there more than two years and remains there because she has made so many friends among the residents and staff. The care-providers in general are deeply caring and committed to keeping her happy and comfortable. Her aids have been consistently outstanding and extremely capable and caring. Clearly they are under-appreciated and treated with disrespect by management. While the care-providers do the "REAL" (and often nasty) work, management regularly implements new policy changes that make their work more difficult. Now, suddenly, care providers are no longer allowed to give out their charge's medication. Rather, the resident must go down to the nurse's office to be medicated. OUR MOTHER WAS MIS-MEDICATED, given the WRONG MEDICATIONS at the nurse's office. If it hadn't been for her aid, this would have gone unnoticed. Did they thank her? Did they interact with us? No. They simply tried to sweep it under the rug. The food is also pathetically bad. Frequently they run out of staples like orange juice, coffee, or eggs for breakfast and mom has to order in. Often they run out of food at dinner as well. Luckily mom keeps her refrigerator stocked, but at Atria's prices she shouldn't have to. There is also no allowance made for people who are NOT kosher or jewish. They are forced to eat kosher foods and during the high holy days mom's non-jewish friends have often gone hungry or been forced to eat out. There are THREE kitchens in the facility. Something could be done to provide for non-kosher residents, even if it were as simple as pizza ordered in and served in one of the other dining areas. Management is unresponsive and disorganized. We have trouble being connected to the right person when we need to, and they often don't know what they're talking about and clearly think of their residents as commodities rather than persons. Changeover is very frequent ("chronic" is the word) and we are rarely informed of policy changes or certain important decisions we should be CONSULTED on since they immediately effect our mom. We are realizing we need to be much more proactive in order to keep our mom's quality of life acceptable. Housekeeping is adequate and erratic - no better than that - and mom had underclothing supplies STOLEN from her apartment. Activities are also chaotic. The daily activities calendar is often wrong, and events scheduled don't actually happen or are poorly run. Now, suddenly, aids are no longer permitted to stay with their patients during activities. Road trips have been cancelled many times because they were mis-scheduled for days when residents couldn't actually go due to religious observances. Transportation, although provided for free within a five-mile radius has often been unreliable, late, and the previous driver surly. We chose this Atria because of its location, the need to find someplace quickly, and because of a positive first impression it has failed to live up to. We were even sent home with a delicious apple pie we were told was "baked on the premises." It was NOT, and we haven't seen it in the resident's dining room since. All in all, a very disappointing experience. We would move mom out tomorrow but we fear it would be too unsettling for her now that she's made so many friends. But we may be forced to anyway as our frustration level grows and grows.
Provider Response
We are grateful for your feedback. While we are happy to hear your mother loves her caregivers, we're very sorry to hear about your experience with other aspects of our Riverdale community. We appreciate you bringing this matter to our attention. We strive to continually improve the experience of all residents and families and fulfill the expectation to deliver the highest level of respect and quality of care. We would welcome the opportunity to discuss your experience with us in more detail in order to better understand the situation. Please feel free to email us directly at customerservice@atriaseniorliving.com and please include the community name and the specifics of your review.
---
Yvette4
November 22, 2013
I visited this facility
I wish I could afford Atria because this place was gorgeous! From their corridors to their restaurants, it looked like a five-star hotel. They have a mini café there where patients can go and it was the cutest little thing. There were beautiful restaurants there where everyday they change their menus. They also have beautiful rooms. Their one-bedroom small apartments have their own bathrooms, little bedrooms, little living rooms. They were very small but they looked like a room from Hilton Hotel. This place looked happy. They have a movie room and I was able to go in and saw some of the elderly patients watching a movie. They even have a community room where they have their patients visit once or twice a week and have "conversations." Like two or three times a week, they'll start a conversation, e.g., political conversation, to get their minds going.
---
Marna Halpern
November 21, 2013
I am a friend or relative of a resident
My mom is at Atria and she's very happy there. They have activities like music concerts, crafts, movies every night, different kinds of games, mind exercises and field trips. They have different sizes of rooms according to price. You can have a very small studio or a very large one-bedroom apartment. I think the people that work there are wonderful. They are very warm and engaging. However, my mom sometimes gets frustrated because sometimes there is something she needs in her apartment or there is something not working and she has to ask several times. But our experience has been pretty good and my mother loves the food.
---
Dedicated God-daughter
August 13, 2013
I visited this facility
We visited this residence and were warmly greeted by our tour guide. We were offered tea/coffee and something to snack on upon our arrival. We spoke briefly about my Godmother and why we were visiting Atria as a possible residence that could provide a warm encouraging environment as well as provide medication management. We had the opportunity to look around before being shown Studio, One Bedroom and One bedroom Deluxe apartments. We visited the dining room and very briefly chatted with residents. We were shown the vast activity calendar and had the opportunity to be introduced to staff members. They indicated that they enjoyed working at Atria and were sure that our loved one would enjoy living at the Atria. There was the opportunity to travel in the elevator with residents and family members. There was an aura of happiness and calm. The residence was clean and we left with the feeling that our Godmother would enjoy and flourish at the Atria. This was also a residence that I would consider living in because there is independent , assisted living and continued care available in this community. We left placing Atria at the top of our list of strong possibilities. We received a warm thank you gift just prior to our departure on a rainy afternoon.
---
Sussanna
July 29, 2013
I am a friend or relative of resident
My grandmother has been at this facility for a number of years. We have seen many changes over time and they are mostly negative changes. There is a high turnover of senior management. The executive directors come and go. Recently, a lot of other staff members left or were transferred to other facilities. Thus, no one is accountable. The dining room has no permanent supervisor. The dining staff is often surly and impatient with the elderly residents. The food is mediocre. As the Atria becomes more "corporate", it has begun to nickel and dime the residents for many items and has become stingier with cleaning, linens, etc. They have become a regulated assisted living facility and I understand that they are following certain guidelines, however, some of the humanity that used be present, is lost. There is a colder feel to the personnel. The nursing/ aide care is also a major problem. Residents are being told that those who need health aides must go "on service" with the in-house group. We are familiar with some of the aides that have been hired and do not find them competent or caring. Another issue for the families is that there is no forum for family members to compare notes and discuss issues that they have in common which would need to be addressed by management. My grandmother pays quite a lot to be at the Atria, but there a many issues that are not satisfactory.
Provider Response
I am so sorry to hear about your negative experience with our community, and I value your feedback greatly. Our community did undergo some changes this year as we transitioned to a full assisted living provider to better serve our residents' needs. Some staff changes were also a result of this transition. All staff are trained to be respectful and patient with residents, and we will certainly share your information with the appropriate supervisors to ensure that Atria's high standards are constantly met. We want your grandmother to feel at home in her community and cared for at all times, and we want your family's experience with us to be positive. Please contact us at customerservice@atriaseniorliving.com to discuss your review more in depth. We would like to update you on any further changes and improvements to our community as we move forward.
---
Madelin1
July 25, 2013
I am a friend or relative of a resident
Atria Riverdale is a very nice place. The staff is excellent. They got three meals a day plus a snack bar that's open 24 hours. They provide assistance as needed. It's the right place for my mother-in-law.
---
Richard30
July 25, 2013
I am a friend or relative of a resident
My mother is already in Atria Riverdale. I chose this facility because of their pricing, the proximity to my residence, the cleanliness and the facility management. In general, I'm very pleased with them. Everything is very efficient, very well-organized and very diversified. The room that she is in is considered a one-bedroom apartment but it really is like a large studio with a divided wall. They have many activities for their residents. They have arts and crafts, poetry readings, trivial pursuit games, and dominos. They also have movie every night. They also got chair aerobics and stretching exercises. This facility also provides car service that takes the residents to a local senior center, the YMCA and to mass every Sunday morning. I have had my lunch there and I would have to say that their food is fair to good. It is not restaurant-quality type, although it is a kosher facility.
---
eroshevsky
June 13, 2013
I visited this facility
Atria Riverdale is a very luxurious place. I had lunch there and it was wonderful. The person who showed me around was very nice. They even gave me an apple pie to take home and I was very enthusiastic except that when I got home, I figured out that I couldn't afford it.
---
maryatria
March 26, 2013
I am a friend or relative of resident
The food is often spoiled, looks unappleaing, smells, undercooked, overcooked and hot food, served cold. Although about 90% of the waitstaff tries very hard to please, the dining staff keeps getting cut and service takes an extremely long time. Tables aren't set timely and often lacking equipment, which makes service even longer. There is no one to deliver if you need room service - although this an offered pay per use service, there is no one to do it. The housekeepers do as little as possible. Lose your laundry? No big deal. They will give you someone elses. The always changing administration is totally non-responsisve. The general staff is helpful and caring. There is a decent variety of activities. As a whole, the place is disjointed, disorganized, understaffed and overwhelmed.
Provider Response
I appreciate your feedback about our community, and I am concerned about the issues you bring up in your review. Atria prides itself on maintaining high standards of service and culinary expertise. We welcome the opportunity to correct the situation and learn more about how we can improve your experience with us. Please contact us at customerservice@atriaseniorliving.com so we can set up a time to talk further (be sure to include the community name).
---
Caring2363
March 22, 2013
I am a friend or relative of a resident
Atria Riverdale was becoming expensive with a rate of US $4,000 per month. I am not very happy because they have gotten diferent executive directors over the past 2 years, and nobody seemed to last a couple of months. The satff was nice, but the services were not. Housekeeping was atrcious. They never came to clean the room when they said they would. It was an apartment building but it was very old. The rooms were small and simple. The activities were okay and the food was average. But they don't get enough salads and vegetables. They give potatoes and things that are unhealthy.
Provider Response
Although I am glad to hear that you liked the staff at Atria Riverdale, I'm very sorry to hear about your experience with the housekeeping services and the foods being offered. We will be sure to share your review with the appropriate people to ensure that Atria standards are being met and that our residents are receiving the services and delicious meals they deserve. If there is further feedback that you are willing to provide to help us make improvements, please contact us at customerservice@atriaseniorliving.com (be sure to include the community name).
---
kotmekot
June 16, 2012
I visited this facility
Friendly staff all the time. Sometimes the elevators smelled unsanitary, but overall they were good.
---
pedro abreu
October 19, 2011
I visited this facility
The Assited Living Home was great for my grandma. She felt happy and safe in the home with good assistance at all hours! When we went to the faculty to visit, I was suprised at how beautiful her room was, it looked like a hotel suite.! I was very jealous but happy she was ecstatic. The assistance and support speak my grandma first language, which will understand her concerns and comments. The price is also not to expensive and is good enough for my family to afford. I am more than proud my grandma feels happy, safe and comfortable at this luxury home. I recommend to all seniors in help or in need! The people who assist the seniors will be right at your door before you know it, either because you need company, help or feel discomfort. I do recommend Astria Riverdale to all seniors in need in the Bronx! There no better offer to take.
---
Mockingjay
October 14, 2011
I am a friend or relative of a resident
This facility was absolutely perfect for my grandmother. We couldn't really find a decent place to put her because the either costs were too high or she just didn't like the place. She's very particular about these things and where she stays. But anyway, this is a wonderful environment, the rooms are wonderful, and it's very affordable. My only gripe is some of the staff members can be rude to the visitors. I don't understand why. Sure, I understand if you're having a bad day, but you should at least try to remain professional since you're at work. I believe if some of them work on this, I would rate this 5 stars. So all in all, I would definitely recommend this place for your elderly. Just be wary of the grumpy staff members.
Provider Response
We appreciate your feedback about our community and are happy to hear that your grandmother has enjoyed living at Atria Riverdale. I regret that you encountered the issue you mentioned, however. We would welcome the opportunity to discuss the situation in detail and learn how we can further improve your experience with us. Please contact us at customerservice@atriaseniorliving.com.
---
CeasarS
July 31, 2011
I am a friend or relative of a resident
This Assisted Living Facility was the perfect fit for our dear Grandpa. We searched everywhere for a suitable assisted living facility for him, but ran into many problems. Some high-brow assisted living facilities were too expensive, and others had no Spanish speaking residents and/or workers. We wanted our Grandpa to feel comfortable and free to speak in his first language, so we brought him to this Bronx Assisted Living Facility, Atria Riverdale. The employees are very kind and there always seems like there is something to do for our dear Grandpa.
---
Home Health PT
July 28, 2011
Other
The Atria is one of the first assisted living facilities established in the heart of Riverdale. I have been able to come and work with different patients who are residents here, a few times and through the years their standards had never change. They have a very nice , feel at home ambiance throughout the bldg. The staff and personnel are all helpful and pleasant. Most especially I find the people who lives there very happy and satisfied. They also have a specialized memory care unit that cares for your loved ones who are diagnosed with dementia. The care is exemplary and the place is worth looking in to.
---
---
Conveniently located just minutes from the City, Westchester and New Jersey, Atria Riverdale has been the Bronx's senior living community of choice for more than 15 years. With a continued commitment to quality, they have just completed a $14 million renovation to enhance the beauty and functionality of the community – and better serve the growing needs of those living with Alzheimer's or other forms of dementia.
Recent upgrades include a redesigned lobby and common areas, a new outdoor terrace, a contemporary bistro with vegan options, a cocktail lounge with casual fare, a restyled salon, library and movie theater, and an expanded Life Guidance&reg memory care neighborhood featuring upgraded apartments and a remodeled restaurant.
Residents of Atria Riverdale also enjoy a wealth of daily events including guest lectures, exercise opportunities and creative workshops, as well as a vibrant Jewish lifestyle featuring gourmet kosher cuisine, weekly religious services and traditional holiday observances.
Atria Senior Living is a leading operator of independent living, assisted living, supportive living and memory care communities in more than 180 locations in 28 states and seven Canadian provinces. We are the residence of choice for more than 21,000 seniors, and the workplace of choice for more than 13,500 employees. We create vibrant communities where older adults can thrive and participate, know that their contributions are valued, and enjoy access to opportunities and support that help them keep making a positive difference in our world.
Location of Atria Riverdale
---
Request Info
Get full access to reviews, cost information, and amenities