Skin Cancer Solution Center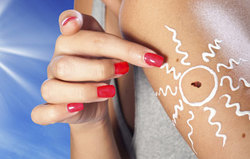 Skin cancer -- the most commonly diagnosed type of cancer -- falls into three major types: basal cell carcinoma, squamous cell carcinoma, and melanoma. Melanoma is the most serious, but all forms of skin cancer are most easily treated when caught early.
WHAT KIND OF HELP DO YOU NEED?
I Want to Learn More About Skin Cancer
FAQ: Should I Be Screened for Skin Cancer?
I Want to Learn About Skin Cancer Treatments
FAQ: What Kind of Follow-up Should I Have After Treatment for Skin Cancer
I'm Worried I Might Have Skin Cancer
FAQ: How Is Skin Cancer Staged?
Frequently Asked Questions About Skin Cancer 
Sunscreen for Older Skin?
Am I still getting the vitamin D I need by sitting outside?
Caregiving at Home
Long-Term Residential Care
Tip: Be Wary of Consuming Too Much Ginger to Combat Nausea
Ginger is often recommended for combating nausea. But too much ginger can raise the risk of internal bleeding in chemotherapy patients with low platelet counts.
read more