Arlington Plaza
Offers Independent Living
6801 W Poly Webb Rd, Arlington, TX 76016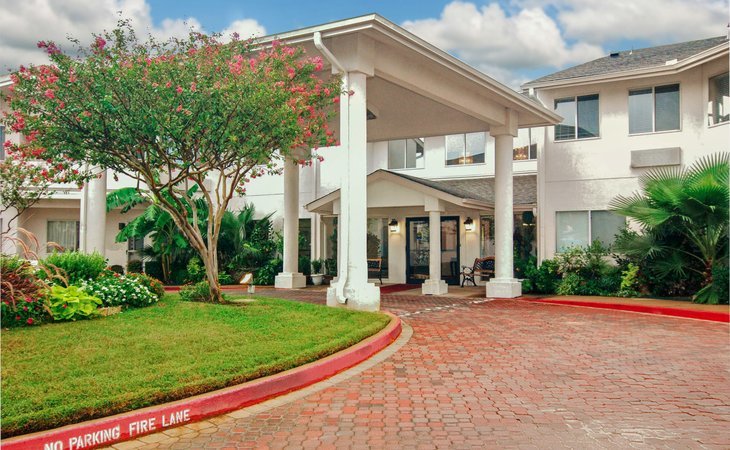 ---
Reviews of Arlington Plaza
Independent Living Reviews for Arlington Plaza
September 27, 2021
I visited this facility
Mary assisted my mom and I with a tour. Mary is amazing experience! Mom can't wait to move in.
September 23, 2021
I am a friend or relative of a current/past resident
My mother is a resident of Arlington Plaza. So far, it's going great. It was a choice we had to make because we were afraid of her trying to cook for herself and things like that and she needed some interaction with other people to do activities and just be more social. It's perfect. It's really close to where I live. I can go over there as often as I want. The place is nice. The staff is just amazing. They have really made her feel welcomed, and me, too. It's like a big family there. Everyone looks out for each other. Her room is nice, it has a nice view, and it has a patio. She's in a studio, which is all she wanted. It's very nice and it's very cute. We like it. The food is great. She loves the food. We even talked with the chef because she likes the food so much. I've even eaten with her once myself and the food was really good. She raves about that every day. She hasn't been to many of the activities, but I know there were therapists there that were testing different residents' balance and let them know what they needed help with and taught them different ways to use the walker or their chair for more stability, which is something she really needed to know and she was really excited to learn it that day. She is looking forward to doing bingo this afternoon. There's no staff member there that hadn't been welcoming or hadn't been very helpful. It's like really going above and beyond for her. There's no staff member that I haven't seen that's very accommodating and very nice. They're hiring people right now. They're short staffed, but they're still accommodating people with a good attitude. They still manage to keep a good personality about themselves and I like that about them. She's only done one activity so far, but she really enjoyed that activity. I've seen them doing other activities around there. She just hasn't participated in them. The food is great. She has not complained at all about the food. She's loving the fact that she doesn't have to cook for herself and the food is really good. She told the chef that his apple cobbler was even better than hers and she's a baker, so that says a lot.
September 17, 2021
I am a friend or relative of a current/past resident
The staff at Arlington Plaza truly care about the residents. The facility is very clean and the food is great! My mom loves everything about Arlington Plaza. Thank you Mary for making this happen so quickly.
August 21, 2021
I visited this facility
I toured Arlington Plaza. The parking was atrocious. My sister had to leave because the odor in there was making her sick. The pictures on the internet or on their website were nothing like it was. The only thing true was the fountain out front. It was very old. The staff was pushing the more expensive unit. When I questioned her about the price quoted, she totally stepped around, and said it wasn't correct that it must have been a typo because they didn't have any unit at that price. It looked to me like they didn't have any upkeep to the property, and all the amenities that were mentioned were an extra charge. There was no courtyard, It was all concrete. The only courtyard was the fountain up front, and it was covered in cobwebs. They did have a salon, but it was closed; there was a fee to the salon. There was a fee to have the meals delivered to the room. The room was completely unfurnished. There were no ceiling fans in any of the ones she showed us. She said we could hire an electrician, but they would have to drill to the ceiling to put up one. They advertised walk-in tubs, but they didn't have walk-in tubs.
Provider Response
Hello Karen, we are disappointed in your experience at Arlington Plaza. We aim to provide fulfilling experiences and appropriate environments for all residents. We apologize for the miscommunication on our pricing, as we are an all-inclusive cost community where residents pay for their utilities, meals, and other home amenities all at one price. Arlington Plaza is transitioning to the exceptional community by providing 3 delicious and nutritious meals a day, light weekly housekeeping, and a variety of engaging activities for our residents. The salon is operated by a third-party vendor with its own hours separate from the community. We want to make this right on our part and invite you and your loved ones for a complimentary meal and to give Arlington Plaza a second opportunity to make this community your next home. Thank You.
January 13, 2021
I am a friend or relative of a current/past resident
My mom moved into Arlington Plaza. We chose it because that was about the only community that would allow her to smoke, and she enjoys smoking in her room. The staff has been great, they were wonderful, and very accommodating. My mom kind of likes the food, but she's kind of tired of the repetitive stuff, and she would like them to expand the menu, other than that, it's OK, nothing extravagant. It's very clean, organized, they're very careful with the COVID. The only thing I don't like about it is the parking there's not enough parking for them. The residents have to park underground and then walk, and then there's really no parking for the family. She says her 1-bedroom apartment is very small. They were doing bingo, horse racing games, and those were about the only activities I've seen, or heard my mom talked about. They're really trying to accommodate the best that they can, I would like to see more activities and stuff, but I know that that's because of COVID.
October 06, 2020
I am/was a resident of this facility
I enjoy living here. Staff and residents are like family. Staff always makes sure we can come to them any time we need help or just to visit. I will live here until I can't.
October 06, 2020
I visited this facility
Property very clean and staff very friendly. I toured the building and I absolutely recommend this community.
October 06, 2020
I am/was a resident of this facility
Really love activities. Beanbag baseball, horse races, and bingo. I truly enjoy walking the walk trails around Arlington Plaza.
October 03, 2020
I visited this facility
Positive and upbeat place to live. It has a very welcoming environment.
October 02, 2020
I visited this facility
The staff is very engaged with the residents and are always so friendly. Mary and Tiffany are so genuine and make everyone feel welcomed.
September 10, 2020
I visited this facility
The staff I met were very knowledgeable and professional. They answered all my questions. I was pleased with the community and its layout. I was impressed with the safety steps Arlington Plaza has to keep the residents safe with Covid! I loved its homey feel. It was clean. Has a coming home feel. I will recommend Arlington Plaza to anyone looking for a community.
August 08, 2020
I am a friend or relative of a current/past resident
My mother is currently at Arlington Plaza. We chose it for the location and the price. They've been great, the staff goes above and beyond what they advertised, and I'm very happy with it. I think the food was terrible, but it is what it is. The staff is very helpful, and the building is old. They have lots of activities, and the activity staff is very proactive in getting my mom to participate.
October 10, 2019
I visited this facility
Arlington Plaza was nice. The staff was very respectful, embraced us, and were very detailed about what each location offered. It had a pleasant atmosphere. I didn't see anything out of place. It's pretty much what I expected out of an independent living facility. They tried to do whatever they could do to make things accessible. The rooms were nice, but the design was a little dated. It had a basic sleeping area, and the restrooms had tools and things you can use for any type of disability.
Provider Response
Thank you for your review, Thomas! We appreciate you taking the time to share your experience of visiting our community.
April 23, 2019
I visited this facility
We had a very good experience at Arlington Plaza. The living atmosphere was wonderful. I have no complaints. The residents were nice and they make you feel welcome. If I had the money I would want my mother to live there. The staff was wonderful, very friendly, and answered any questions we asked. Everything looked great. We watched an activity going on and it was very neat.
May 14, 2018
I visited this facility
I visited Arlington Plaza, and the visit went very well. They do not have many activities, but they have arts and crafts, and they serve three meals. They showed us a studio, and a 1-bedroom, and it was very adequate. The staff was well-informed, very thorough, and very professional.
Provider Response
Hi Nick, we are very happy to have provided you with such a positive experience! We hope you are still considering Arlington Plaza as your home. Please let us know if you have any further questions. Have a great day!
November 08, 2017
I am/was a resident of this facility
My husband and I moved into Arlington Plaza. The staff is really friendly. The location is good, not busy, and is pretty easy. They have games and different things and they have garage parking. They have pretty good-sized rooms and it's not claustrophobic.
June 07, 2017
I am a friend or relative of a current/past resident
First week of parent's moving in. The only social activity tried so far is Bingo but the activity calendar is filled with fun-looking, enriching past-times. A nice size library, activity room with some exercise equipment and beautiful billiards table are also available. There are three on-site agencies that provide personal care and home health services; and at least two of the three have a 24/7 presence on site. The dining room is lovely and the meal presentation is straight out of an upscale restaurant with the service, linens and settings. The food looks and smells delicious and I hear that it is very tasty. The executive chef prepares several options per meal and I have seen him interact with the residents and they are encouraged to give feedback. Snacks and hydration stations are accessible all day and again with nice presentation. This is an older facility but has been maintained well. The shared areas seem to be in good condition and there is elevator access as well as stairs. The unit we chose has new flooring and paint and we can hang artwork or TVs as we please. Each room is climate-controlled by the resident. The facility provides cable TV and local transportation at no extra charge. They also provide all towels and sheets and launder them weekly. Residents have access to free washers and dryers or can contract with one of the on-site agencies for laundry service. There is a screen door leading from the apartment to the patio in addition to windows so the apartment can be opened on nice days. The landscaping is colorful and well-maintained. The parking garages only have a 6' clearance and require walking access by steps or stairs. There is handicap parking in back but it is limited. The staff have gone out of their way to make us feel welcome and have even checked on our loved one when late to a meal. The worry about whether or not she eats, socializes, or the general condition of her welfare is gone. Mom has made some new friends, loves the food and the ability to keep her apartment at 80 if she wants. We love that she is still as independent in a clean, safe, enjoyable environment but can still get the occasional help as needed. Have already recommended to others.
February 01, 2017
I visited this facility
I visited Arlington Plaza. They had a pool, poker table, and a library. They could walk around the grounds. The staff was very nice.
November 22, 2016
I visited this facility
Arlington Plaza was very clean, very well maintained, and beautiful. Everything was fresh. The appliances and the carpeting were fresh. The tour was good, and I loved what I saw. The staff was very personable people. They explained a lot of stuff on the tour. They were very nice. The room was spacious. There was a lot of extra space like in the bedroom that I did not expect to be in an apartment. It was very nice.
November 21, 2016
I visited this facility
Arlington Plaza was OK, but it this reminded me of a nursing home instead of a senior independent living. The staff was friendly. It smelled like a nursing home. They have music, a recreational area, and church services. The rooms were nice and clean.
Provider Response
Hi VE564143, we appreciate you taking the time to respond. We also appreciate your very kind words around our nice, clean rooms. The staff at Arlington Plaza takes our reviews very seriously, and we appreciate very much your reaching out to share these thoughts with us around your tour. We also appreciate you taking the time to visit, and wish you a positive experience and the very best of luck in your search! Let us know if we can ever be of any assistance or answer any questions for you!
November 01, 2016
I visited this facility
Arlington Plaza was a smaller and older community. It was very clean and scaled down from the other facility in every way -- in size, the amenities and the quantity of options -- but the staff was very nice. Our visit was different because we didn't have a meal, so we didn't get to meet people and engage with them as much as we get it. The staff and the people that we did talk to were very nice. I think the downfall on that facility is it was too small, and they self-park, but they do offer a valet service. The parking is under the building and it's on a hill and it's not safe for people for my mom mobile and impaired. It didn't meet any of our needs.
August 15, 2016
I visited this facility
Arlington Plaza is a nice community, but the buildings are a little bit older. They have front porches, which my mom loves.
May 10, 2016
I visited this facility
Arlington Plaza was very warm and welcoming. Everything was very nice and well put together. The rooms were kind of small, and the prices were high, but that's what they said you had to expect. They had lots of activities on a monthly calendar and had something every day for the participants. I would recommend it because of the variety of menus, activities, and the friendliness of the staff.
May 10, 2016
I am a friend or relative of a resident
I visited my mom in Arlington Plaza and it's wonderful. My mom's room is setup really nice. She loves it. They have songs, country clubs, they do Bingo, they have St. Patrick's day party, and casinos. There's exercise, theater, pharmacy, bank and hair salon. The staff is very nice and their service is wonderful.
May 10, 2016
I visited this facility
I visited Arlington Plaza. They were very friendly and kind and acted like you're their friend that could sit down and talk with for half the day. The living quarters were more spacious. They have little patios or sitting areas outside your room, which I liked. They were all very nice and clean. The dining room was very open and spacious. Everyone was very friendly and seemed to enjoy visiting with each other. I think I could be friends with the lady who introduced me to the place and took me around to the different activities and things to do.
March 21, 2016
I am a friend or relative of a resident
My mom has been in Arlington Plaza for almost a year and is doing very well. It's a very nice, little, two-story place. The staff treats us very well. They have exercises and bring in people for church services and all kinds of different things. They have very good food and provide all three meals. They do a very good job.
March 20, 2016
I visited this facility
Arlington Plaza was a very nice place with seemingly lots of activities going on. Everyone was very friendly and very social. The staff was very exceptional in their relationships with the residents. The cleanliness wasn't above average, but it was good.
February 15, 2016
I visited this facility
I would have chosen Arlington Plaza over the other place I visited; although it was an older building, and it was not as fancy. However, it was very clean. It was very roomy to walk through. I had to walk with assistance, but I had no problems getting around in there. They had an exercise area as well as a TV room. They had a generalized open area. The dining area was upstairs, and a little further back; but it was very easy to get around. It was very well laid out. All of the servers who were there made, to my knowledge, extra efforts to make sure that I had everything that I wanted. If they did not have it, they looked at what they did have, and checked with the chef.
December 16, 2015
I visited this facility
Arlington Plaza is an older facility and needs to be upgraded. There's a nasty smell when you walk in the room.
Provider Response
Hi, I'm Katie, I work at Holiday Retirement Home Office. I'm sorry to hear you had a negative experience at Arlington Plaza. We pride ourselves on cleanliness, so your concerns about smell and mustiness are very discerning. I've passed your review on to our Resident Relations department for investigation and resolve. Thank you again for bringing this to my attention, Katie
September 29, 2015
I visited this facility
I visited Arlington Plaza. It was a nice place. It was a little bit older so the furnishings were a little bit older, but it was still clean. The good thing I liked about it was that the managers lived onsite so they were available 24/7. The disadvantage was that they had a limited parking space available for visitors. They had a covered parking space, but it do not accommodate large vehicles like SUV. The food there was good. The hospitality was good. The price was a little bit more than what we were paying at the place we chose, but it was comparable to other places. The only suggestion I had, was for them to redo the parking garage, the level of it so that it could accommodate larger size vehicles.
August 08, 2015
I visited this facility
I visited Arlington Plaza. They were great. Everything was great. It was good; however, it had an older feel to it than the other facility.
June 25, 2015
I visited this facility
We liked Arlington Plaza, but she needs more care than they are able to give her. We liked it,, and she liked it, but it is a senior living place, and she needs more care. It is more or less living on her own at an apartment, and she needs more than that. She needs to be checked on a lot more than that. My husband and I liked the place and the staff. We liked the people we met. She liked it too, but once she got away from there, she just doesn't want to leave home. I took her up there, we ate lunch, and it was very nice. The people were friendly, and the food was good. If we were in that kind of situation, we would have both liked it. The room she had picked up was really nice. It was roomy and fine.
April 19, 2015
I am a friend or relative of a resident
We placed our mom at Arlington Plaza. I think she will be there for a while. When we first moved her in, it did not look like we were going to be able to have enough care for her, but she settled in very well. The staff is terrific. She has a one-bedroom apartment, and it is fairly nice, very well maintained, and very clean. The food is good, and the dining room seems nice.
March 19, 2015
I visited this facility
There is another one in Arlington that I visited. It is independent living, and it is off of Poly Web Road. I came across Arlington Plaza from the Caring.com website. They were knowledgeable and accommodating. They gave us a tour, and they talked to us. The hallway smelled like smoke. They did not control the patients smoking in the room. They overlooked it. As for activities, it is pretty much the same as the other places. I didn't like the place at all. I didn't like how it smelled. It smelled like smoke and urine but mainly smoke. They kind of overlook residents smoking in the rooms. It was too hot. The heat was too high. The décor was very old fashioned, and it was not modern at all. It was very stuffy. It is too smoky, too stuffy, and too old.
Provider Response
Hi, I'm Katie, I work at Holiday Retirement's Home Office. Thank you for leaving a sincere review. Although we can't stop residents from smoking (we are an independent living community, so essentially we are an apartment building for seniors) we can definitely control our buildings' cleanliness. Please feel free to call our Resident Relations department directly at 1-800-370-8331 with any other feedback.
March 18, 2015
I visited this facility
The location seemed the worst for me & my family but the facilities and amenities are superior to any other place I visited. They seem to have thought of everything yet it doesn't feel like an "institution".
March 07, 2015
I am a friend or relative of a resident
My sister is in Arlington Plaza, and the staff is very helpful there. The rooms are very nice; they have efficiency apartments so you can just make your choice of what size you can afford. The food and dining were very good. They have a nice selection, and they have a chef. They have a variety of activities, and they take the people out to eat. They have managers all the time, and they also allow homecare to come into the home.
December 26, 2014
I am/was a resident of this facility
I moved in to Arlington Plaza, and it is fine. The price is pretty good. I like what they have to offer the residents, plus they have a travel program. The food is good, and I like the activities.
July 26, 2014
I visited this facility
Arlington Plaza was good. I really liked the couple that oversaw the property. They were very nice, very informed, and seemed to enjoy working there. The rooms were average. They're OK based on the price range that I'm looking at. I think they have all kinds of activities, but I can't remember what they were.
May 20, 2014
I am/was a resident of this facility
I am at Arlington Plaza, and I like this facility. I like the people. We have an exercise room and a pool. We play cards, dominos, anything you want to play. They have quite a bit of entertainment coming in. They also have a bus that takes you to anywhere you need to go. It's a really nice place.
See all Independent Living reviews (39)
See fewer reviews
Get Costs
---
Questions about Arlington Plaza
Describe the overall population of independent living residents at Arlington Plaza. What is their average age? What are their favorite things to do?
Our residents range from 55 to early 100s and everything in between! Their favorite activities are as different as their personalities! By using our Holiday 365 app each resident is able to view the daily calendar and sign up for events that interest them. If they are unable to find something that peaks their interest on the calendar they can simply message a friend to join them for a game of cards or to enjoy a walk around the community.
What places are nearby for independent living residents to enjoy?
Arlington Plaza's residents enjoy shopping, movies, sports venues, and outdoor activities at nearby beautiful Lake Arlington.
What are some recent off-site events that the community activity director at Arlington Plaza has organized?
Art Classes at Lake Arlington, resident led art and Spanish courses!
What transportation services does Arlington Plaza offer to independent living residents?
Our residents can take advantage of the complimentary transportation to help them get around town. The scheduled shuttle can take residents to stores, doctor appointments, dining, or group outings.
What makes the chef or dining program at Arlington Plaza exceptional? What kind of menu can independent living residents expect?
Our community has an Executive Chef and Sous Chef who care about providing residents not only delicious but also nutritious meals, 3 times a day. Our menus are changed seasonally to ensure the freshest products and flavors and we offer over 150 different entrees with each season. Residents can select a la carte items for breakfast, lunch, and dinner. Entrees at each service include specials like our Holiday Fresh option or Resident's Choice. All meals are served in our restaurant-style dining rooms with friends and neighbors, allowing everyone to enjoy good food and good conversation.
What common areas are available for independent living residents?
Residents are able to socialize in our game room or activity room, sit back with a good book at our library, get physical at our fitness room or just catch up with some friends in the atrium.
What safety features or security measures does Arlington Plaza offer to independent living residents?
Our residents can feel safe 24/7 knowing that they can access help with just a push of a button. Each resident receives their own Lively Mobile Plus emergency device that goes anywhere they do. The device, which is included in monthly rent, can be activated for a variety of reasons, including emergencies, directions, health concerns, or to just speak to a friendly voice. The community is also only accessible to residents from 7:30 a.m. to 7:30 p.m. so you can rest easy knowing that there will not be unwanted late-night visitors.
If Arlington Plaza accepts dogs or cats, what indoor/outdoor areas can they enjoy?
We love our residents and we love their pets! Our community is pet friendly so you can bring your furry friend with you to your new home. There are green spaces and courtyards as well as walking paths where you can enjoy nice long walks.
Does Arlington Plaza work with an agency or registry to provide nursing and medical assistance as needed?
Our community provides the option to each resident to choose their own third party care provider. This allows the freedom of choice and flexibility for each resident to determine how much, or how little, support they need.
---
Services and Amenities of Arlington Plaza
Costs
Fee Structure Extra:

Included In Rent: Basic Cable, Electric, Gas, Sewer, Water

Independent Living Starting At:

$1754/month
Room and housing options
1-bedroom apartments
2-bedroom apartments
Studio Apartments
Housing Extra:

Handicap Barrier Free Units Available, Individual Climate Control, Safety Rails In Bathroom, Telephone Hookup, Walk In Tub
Dining options
In Room Kitchenette
Dining Room Shared Meals
Dining Extra:

Private Dining Room, Resident Kitchen
Features
Beauty Barber Shop
Computer Room
Resident Transportation
Hiking Trails
Tv Room
Garden And Patio
Resident Parking
Features Extra:

Laundry Room For Use, Chapel, Library, Locked Mailboxes, Elevator, Parking: Underground
Cleaning services
Laundry For Linens
Housekeeping
Technology and entertainment
Cable In Rooms
Technology Extra:

Business Center, Wi Fi In Common Areas
Activities
Offsite Activities
Fitness Room
Activities Extra:

Billiard Lounge, Game Room, Activity Room
Guest services
Guest Parking
Guests At Mealtime
Overnight Guests
General
Minimum Age:

55

Pets:

Most Pets Allowed
Get Costs
---
About Arlington Plaza
Arlington Plaza is located in Arlington, TX, providing a vibrant backdrop for your new life as a valued member of our caring community.
From pleasant housekeepers, to attentive servers at mealtime and helpful maintenance technicians who are there when you need them, this community is the new extension of your family. We take pleasure in getting to know each of our residents and look out for their comfort and happiness. Our chefs prepare three delicious meals each day, served in our beautiful dining room. We provide housekeeping, linen services, fun and stimulating activities, off-site excursions, transportation to your personal appointments and a variety of classes and programs. Our warm, comfortable community and our friendly staff and residents will welcome you. We look forward to making your life easier any way we can.
So come to Arlington Plaza for a visit...and stay!
*We understand that each individual is unique and that needs may change over time. Holiday Retirement does not provide any health care services. However, residents are welcome to receive services from any outside home health care provider of their choice to help them continue enjoying life at our community.
Get Costs
---
Senior Living Communities near Tarrant County, TX
Senior Living Communities near Arlington, TX
Other Senior Care in Arlington, TX